Are you an adult coloring book addict? Do you want to take your coloring to the next level? These coloring tips will help you think outside the box, if not the lines, to create gorgeous coloring book pages! 
Photos and art via CakeSpy unless otherwise noted
From multimedia works of art to collage-like effects using common household objects, these cool and creative ways to color adult coloring book pages are bound to get you inspired to break out your art supplies and create something beautiful!
8 coloring tips for creative ways to color adult coloring book pages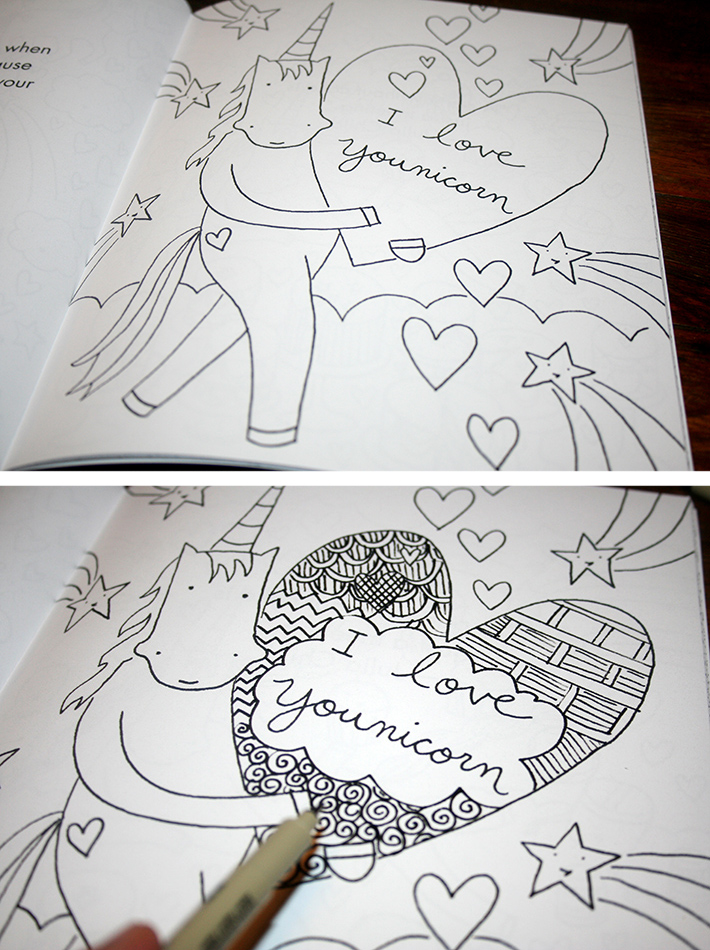 1. Make it a zentangle 
By using ink, you can "color" in the page using different pen strokes like hatching and cross hatching and tiny patterns to create an intricate coloring wonderland. Before you know it, the page will completely change character, becoming almost like a collaborative work between you and the coloring book page illustrator. 
Check out our tutorial on how to draw a zentangle!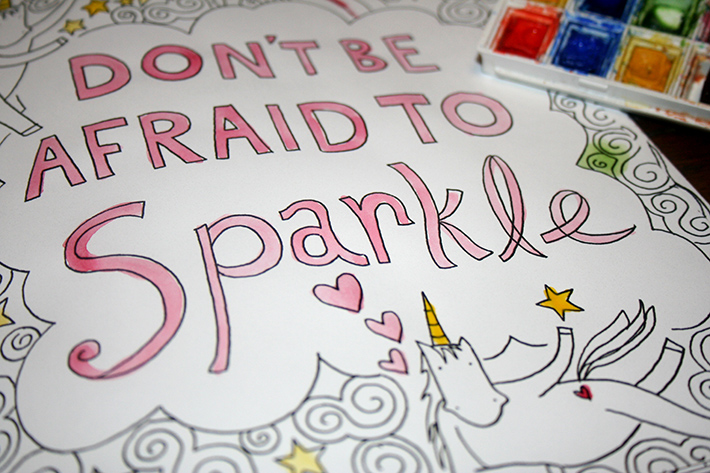 2. Use paint 
Using paint instead of pencils or crayons can make coloring a totally new experience. In the above photo, watercolor is used to apply a delicate, translucent tone to the coloring book page, giving it a soft effect and a different character than a page colored in with crayon or colored pencil. Watercolor isn't your only option; you could use gouache or acrylic, too (oil paint is not suggested).
For best results, remove the coloring book page from the book before painting so the paint doesn't warp the pages below or seep through. Using removable tape, affix it to a rigid work surface to prevent buckling of the page as you paint.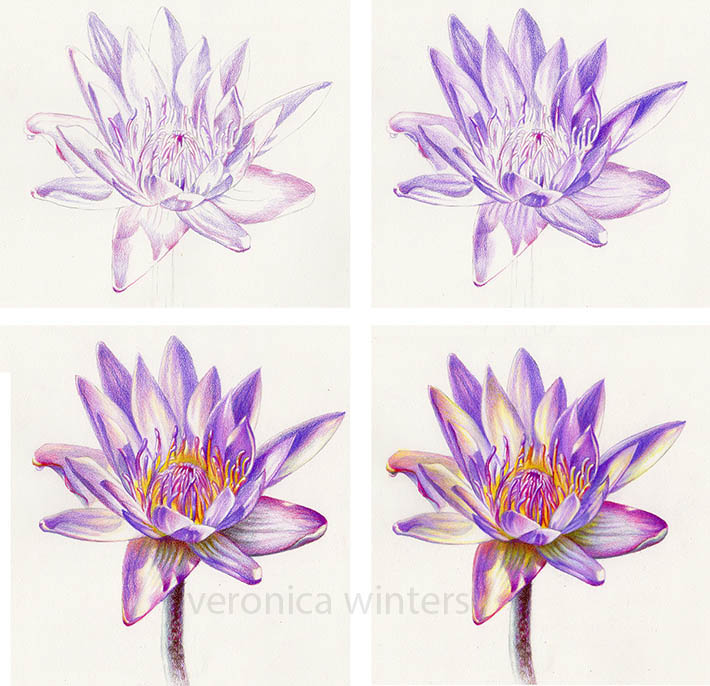 3. Create lush layers
Working in layers, you can create a lush, soft effect in colored pencil that can create truly stunning coloring book pages. In this post on the Bluprint blog, the artist offers a tutorial for how to build layers slowly, with one color at a time, allowing for better control over value and consistency of color. A little bit different than working with several colors at the same time on your piece, the results are luminous and stunning.
Learn this layering method on the Bluprint blog!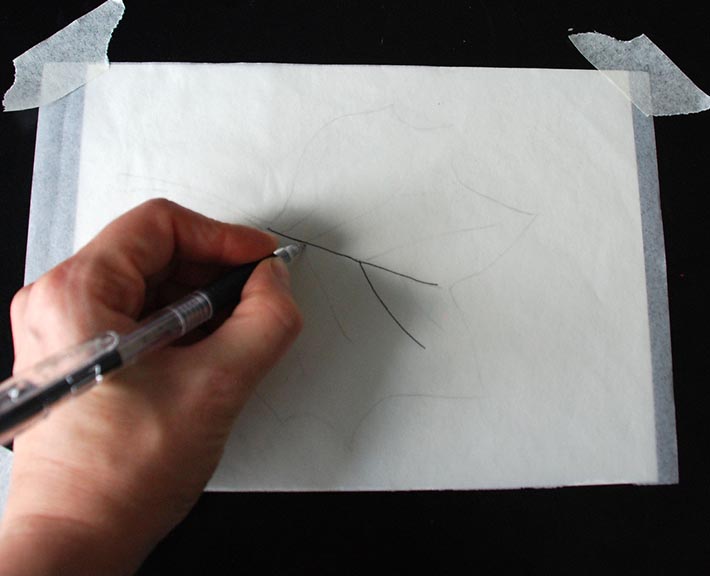 4. Try indenting
Indenting is an awesome technique that can add texture and character to your coloring book pages. First, start by either removing the page you're working with, or by inserting a rigid backing, so that you won't inadvertently add texture to the pages below the one you're coloring. 
Place a sheet of tracing paper over the image, and then use a pencil or pen to indent the image. You won't be actually drawing on the image, but rather indenting the paper so that your colored pencil or coloring medium will leave ghostly white outlines in the spots you indented. This could be as simple as adding details to flower imagery or adding zentangle-like patterns within your coloring book page. It makes for a magical effect as you color.
Check out this post for more detail on how to indent an image!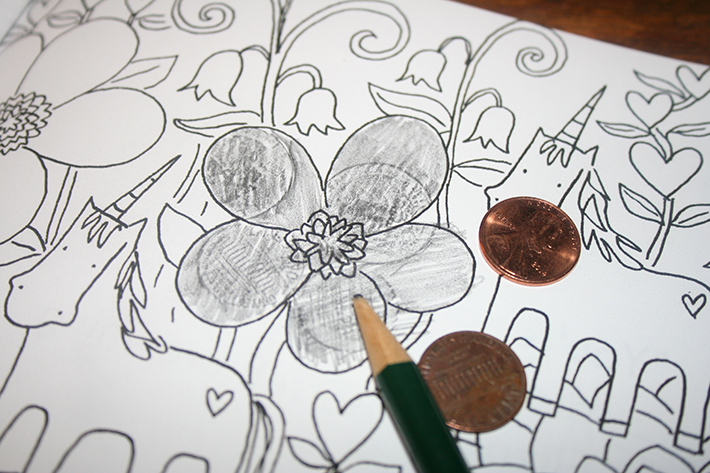 5. Make a rubbing 
Here's a fun way to add a collage-like feel to your coloring book page: try make a rubbing! All you have to do is put some sort of textured object under the coloring book page (above, it's a series of coins). Then gently shade the space with the side of the pencil or colored pencil point to fill in an area. It can give interesting bits of texture to an area in your coloring book page, and when used on an entire page, it can create a cool effect.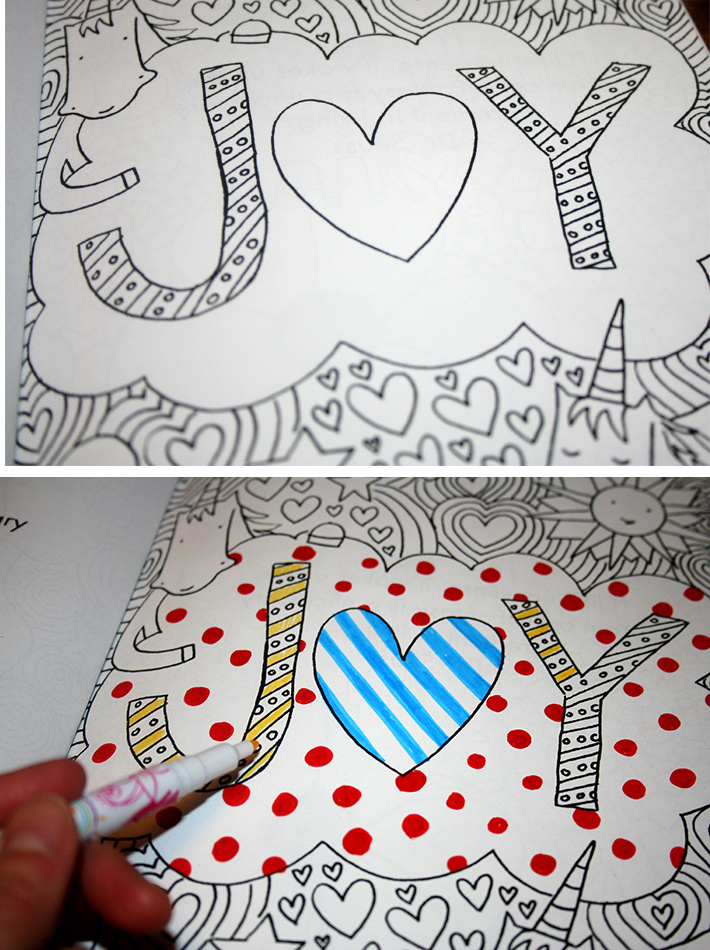 6. Make it pop with markers 
Make your coloring book pages pop by using markers to color it in! Similar to using paint, you'll want to make sure to remove the coloring book page, or at the very least insert a rigid, thick board behind the page in question so that the ink doesn't bleed. 
You can be straightforward with your marker coloring, or you can use it as an opportunity to transform your page into a work of pop art by filling in areas with boldly colored patterns. 
Learn how to create pop art style works of art on the Bluprint blog!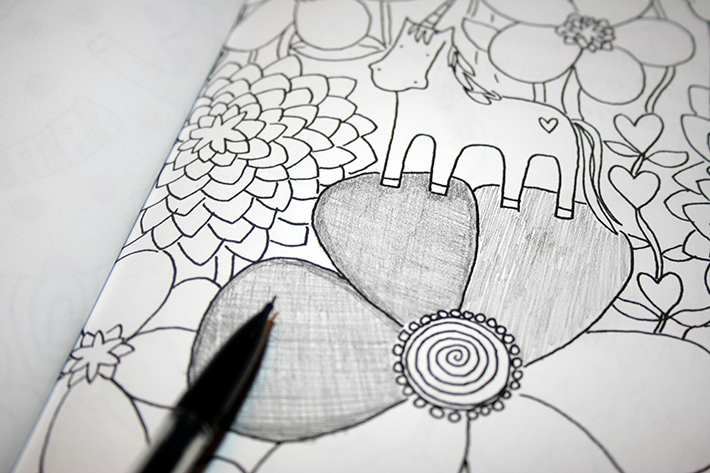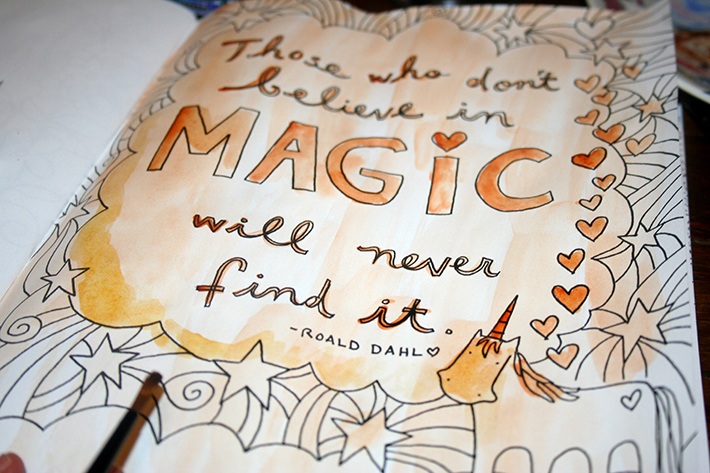 7. Work in a monochromatic palette 
Consider this the coloring book version of applying a black and white or "antique" filter, as you would do on your Instagram feed. Working in pencil, marker or paint, choose a neutral palette. As you can see on the top image, shading with regular pencil on your coloring book image makes it look less like a coloring book image, and more like a hand drawing. 
By using a palette of browns, you can create an "antiqued" look on your coloring book pages, as if they are treasures from a different era.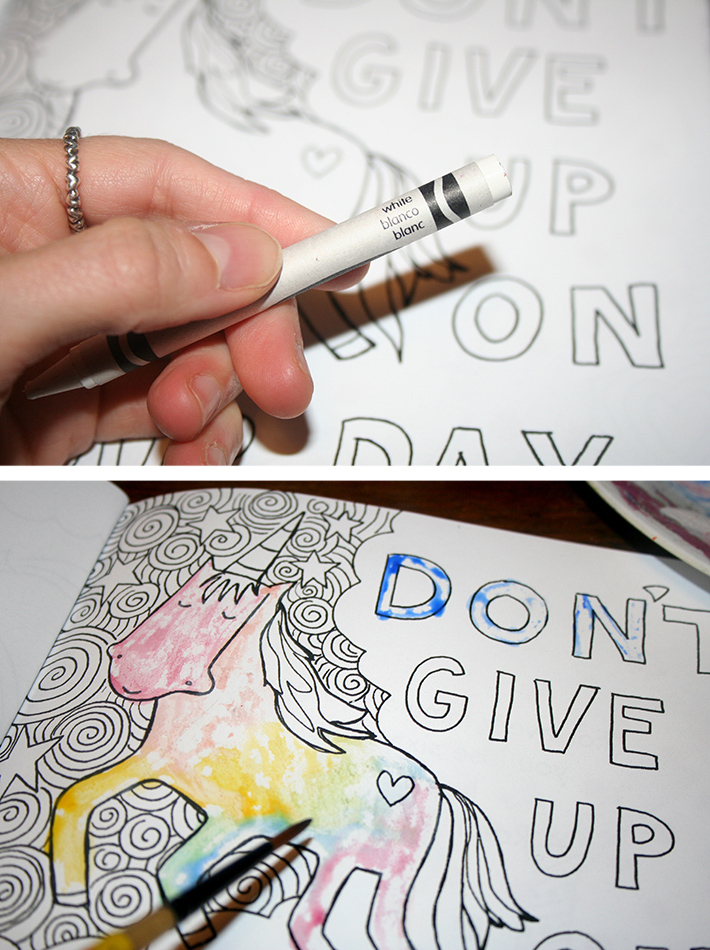 8. Try a blocking technique 
Here's a cool and easy effect to use for coloring: using a white colored pencil or crayon, sketchily color in areas of your image. Then, apply a watercolor wash on top. The paint will resist the areas colored in, leaving you with a cool, distressed effect on your page. 
For more cool resist painting, check out our post on how to create a batik-style painting!
Get Coloring With This FREE Adult Coloring Book
Who says coloring is just for kids? Enjoy adding gorgeous color to these one-of-a-kind designs with your favorite art medium. Get my FREE coloring book »