A rainbow is an inherently magical thing. It's the guide that leads you to the leprechaun's pot of gold. It's a beacon at the end of a rainstorm. When doubled, it's the stuff of viral YouTube legend. So it should almost go without saying that a rainbow theme will certainly add some magic to your next cake decorating project. Go ahead: taste the rainbow with this sweet spectrum of inspiring rainbow-themed cakes!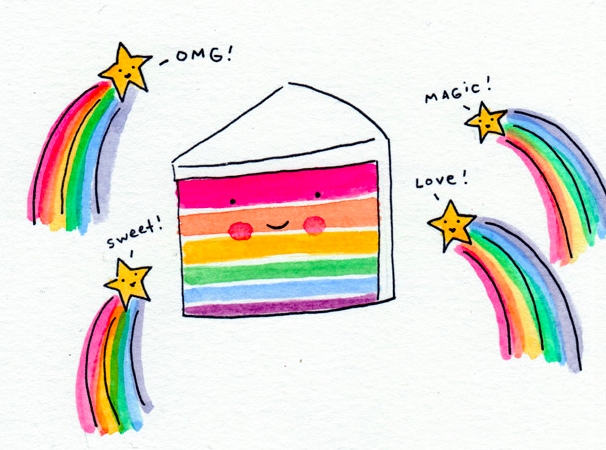 Elegant rainbow cakes:
These cakes prove that rainbow cakes can have enough panache to feel at home at elegant affairs.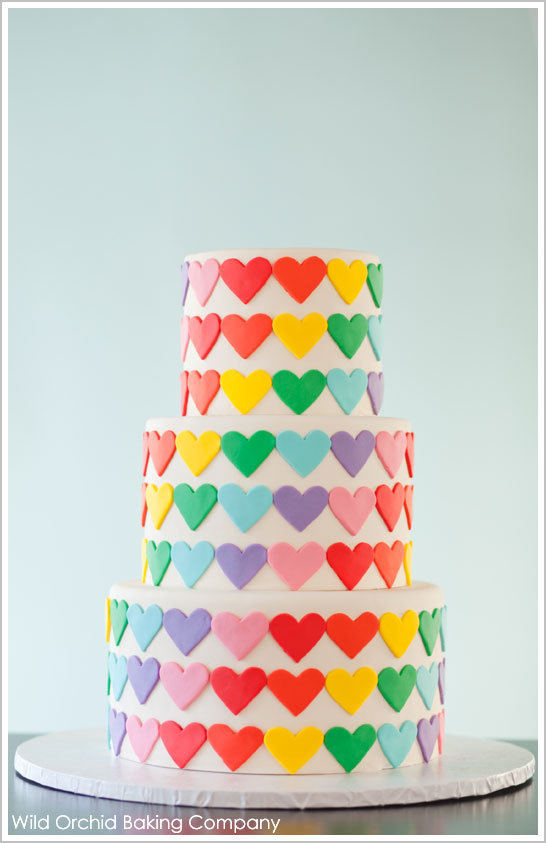 Photo via ErinBakes
Rainbow heart cake:
The secret to this elegant look? Simplicity. A white backdrop allows the simple heart cutouts, which are arranged to form a rainbow gradient of color, to shine. While the color gives the cake a certain playfulness, it is pretty and elegant enough to be served as a wedding cake.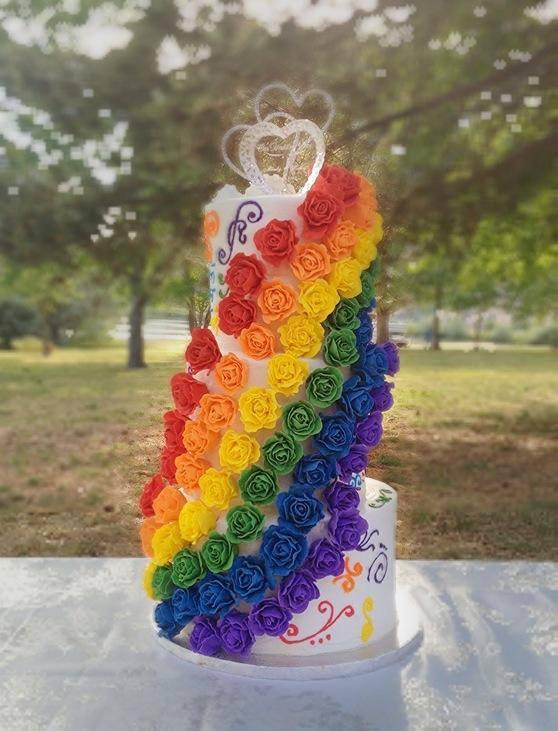 Photo via Bluprint member Gwenitht
Rainbow rose cake:
Here's another wedding-worthy rainbow cake. After taking the Bluprint class The Ultimate Sugar Rose, this baker worked absolute magic with gum paste to create realistic roses in all the colors of the rainbow. When they are arranged trailing down the side of the three-tiered cake, which bears little other adornments, the effect is simply stunning.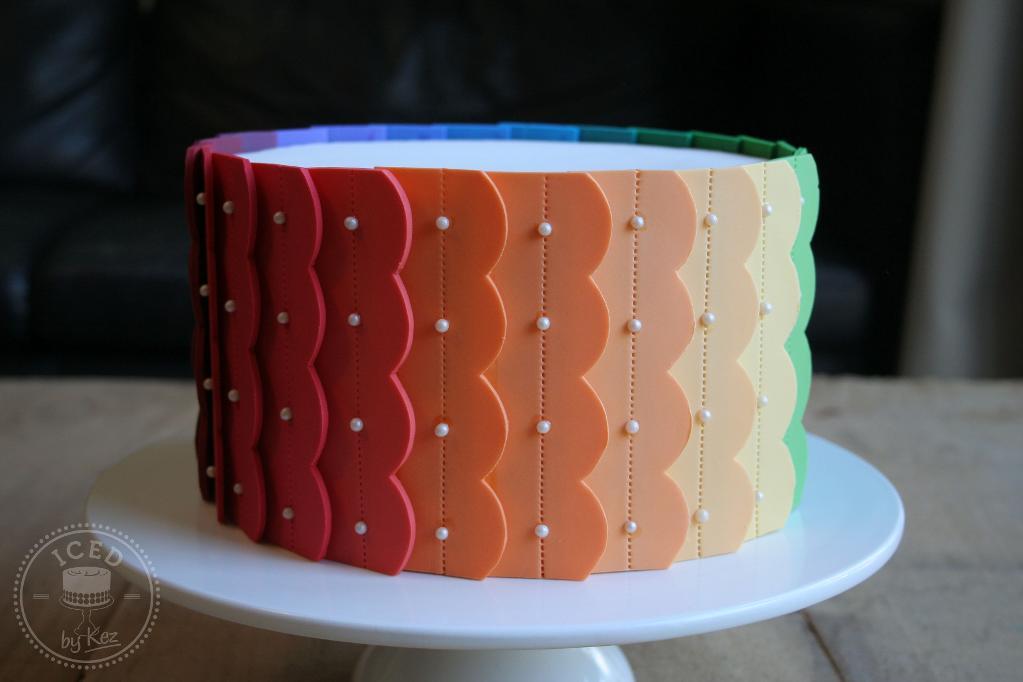 Photo via Bluprint member IcedbyKez
Graduating rainbow ruffles:
Sometimes, repeating a simple pattern can have a breathtaking result. After taking Clean & Simple Cake Design, this Bluprint member created a cake using rows of fondant tinted in graduating rainbow shades. While the look is understated and timeless, the colors add a touch of whimsy to this lovely cake.
Fancy rainbow party cakes:
These cakes are dressed up and ready to party!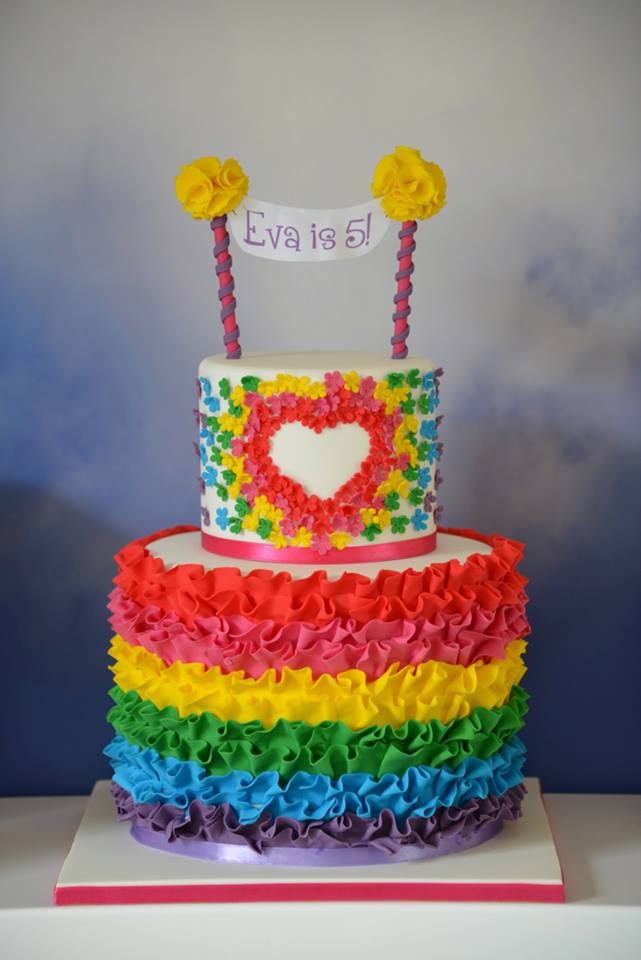 Photo via Takes the Cake
Rainbow ruffle cake:
The alternate title for this cake might be "childhood dream cake." It's fancy, with multiple tiers and charming effects, such as ruffled fondant on the bottom tier and a lovely heart formed from flowers. But the rainbow color scheme makes it fanciful, too.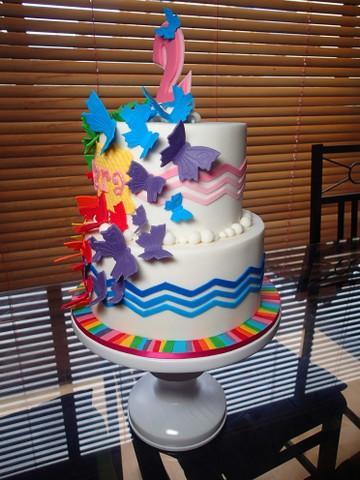 Photo via Bluprint member Kitstar
Rainbow butterfly cake:
Fondant, food coloring and butterfly cutters were put to work to make this colorful cake, which also features stripes inspired by the Clean & Simple Cake Design Bluprint class. Though this cake is for a fairly informal occasion — a second birthday party — it is precise and pretty enough to work at a far fancier event, as well.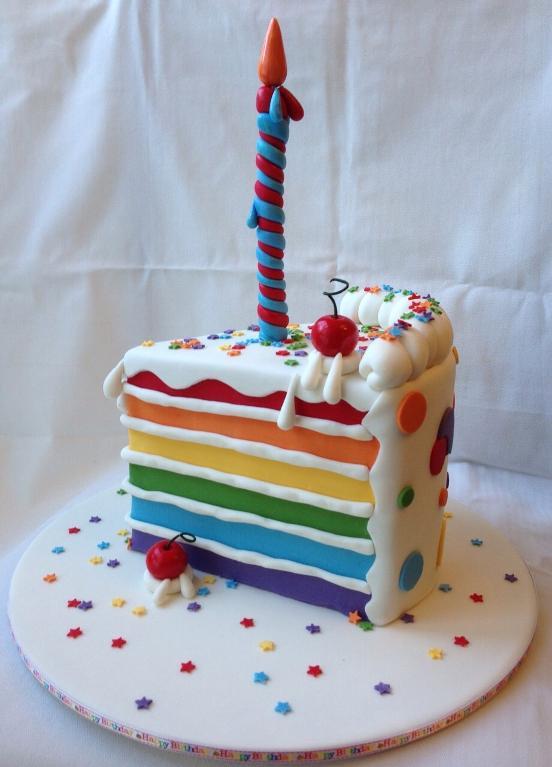 Photo via Bluprint member Diane Taylor
Rainbow cake slice:
For a dose of whimsy, here's a cake that is decorated with many colors of fondant to resemble a slice of rainbow cake! But the fun doesn't end there — beneath the icing, the cake is also tinted in rainbow shades.
Rainbows on the outside:
These cakes proudly wear their many colors like a technicolor dreamcoat.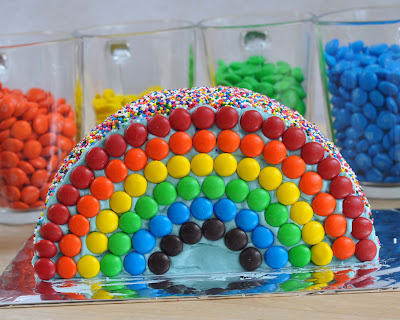 Photo via Beki Cook's Cake Blog
Rainbow candy cake:
It may look like it took hours to make, but this cake is actually surprisingly easy. Created by halving a round cake into a hemisphere, all it takes is a steady hand and plenty of multicolored candy to create a pretty rainbow on the side of a cake. While certainly not necessary, rainbow sprinkles on the top don't hurt one bit.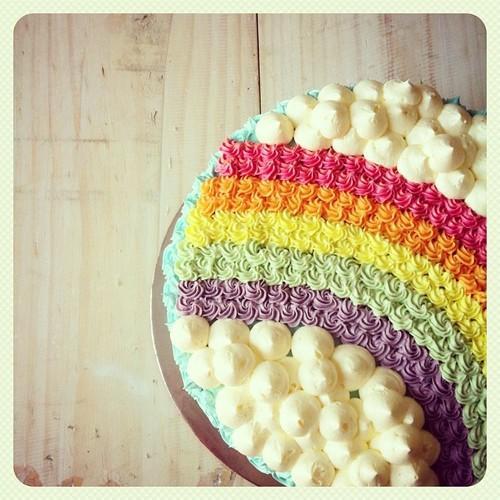 Photo via Bluprint member ditut
Rainbow piping:
A wonder of clever piping, this textural rainbow is created by using different decorating tips to get a variety of textures. Piped "kisses" give the idea of clouds, and piped arcs using a star tip in different colors form a rainbow.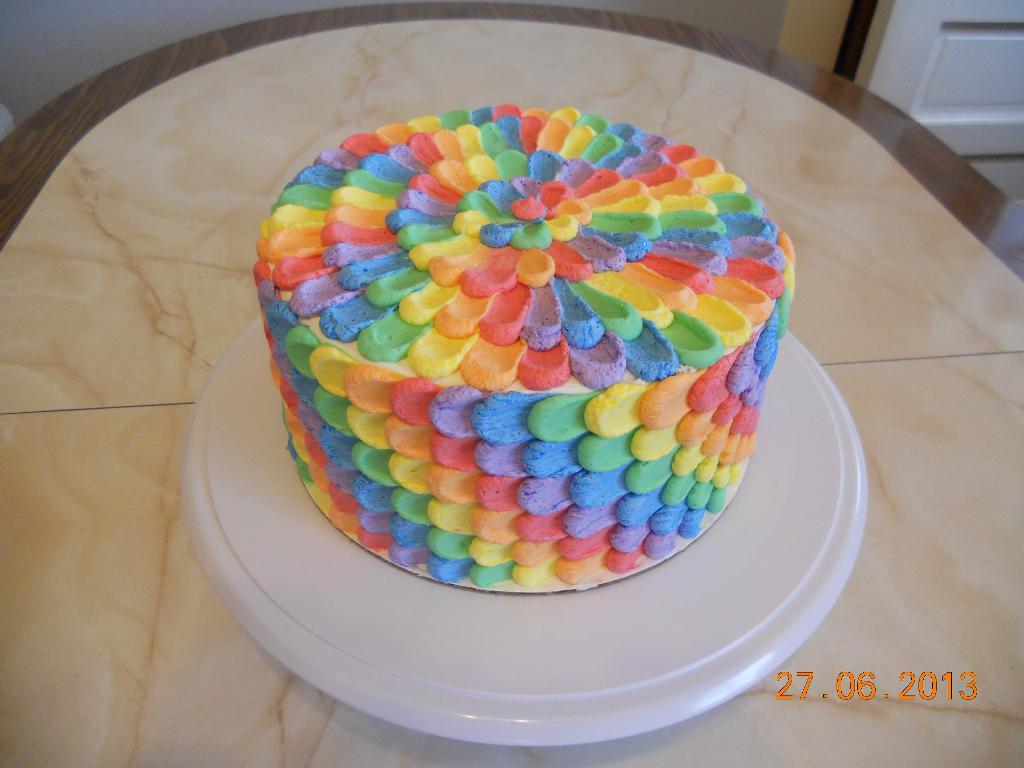 Photo via Bluprint member Rubinad
Rainbow petal cake:
Piped with fingers of icing that resemble sweet petals, this cake is extra special in its rainbow coloring. Arranged so that the rainbow colors form a diagonal gradient, the look remains clean while also managing to be mesmerizing.
Rainbow on the inside:
What matters most is on the inside with these kaleidoscopic cakes.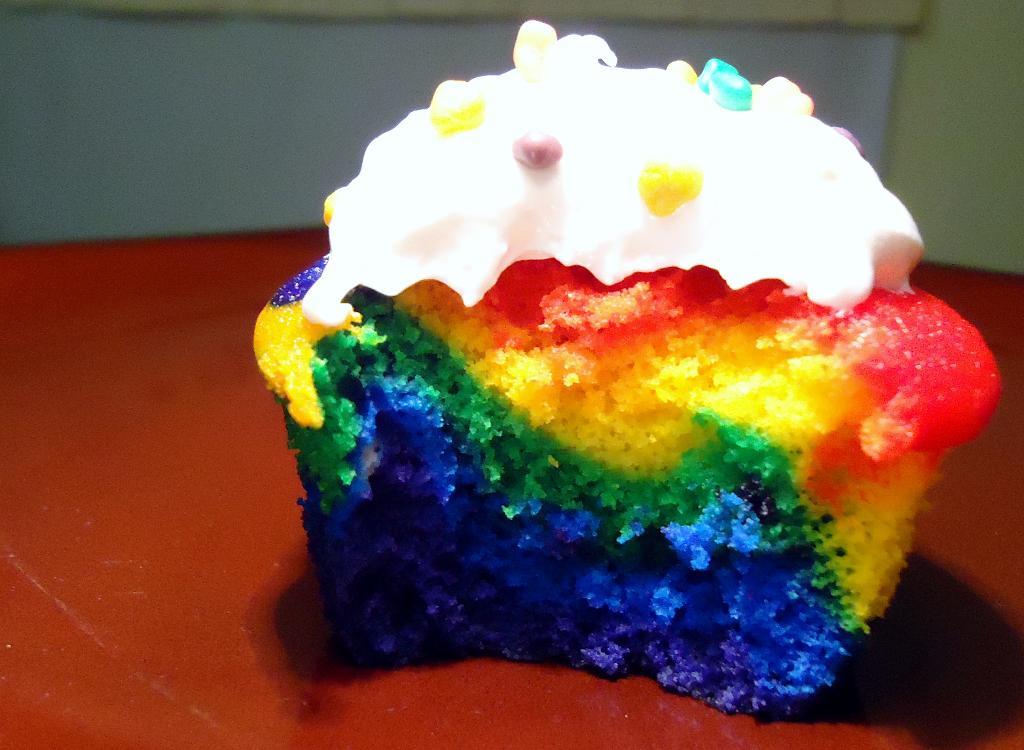 Photo via Bluprint member CakesByJessica
Rainbow cupcakes:
It's a delight to unwrap these cupcakes, because you're rewarded with a multitude of cake colors. Simple vanilla cake gets a "wow" effect by layering different colors of batter in the same cup. Easy enough to make with kids, and so much fun to serve.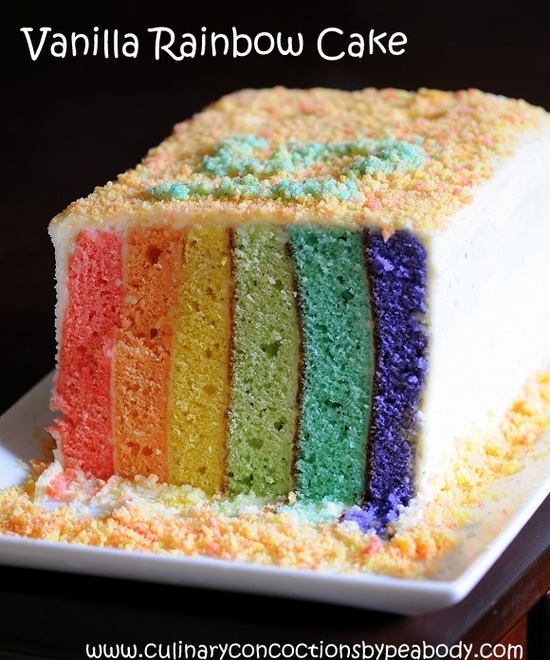 Photo via Culinary Concoctions by Peabody
Vertical rainbow cake:
This cake takes the rainbow theme and puts it on its side, delivering an unexpected look. It's easy enough to attain, baking long strips of cake and then aligning them on their side, but it really elicits a "wow" reaction.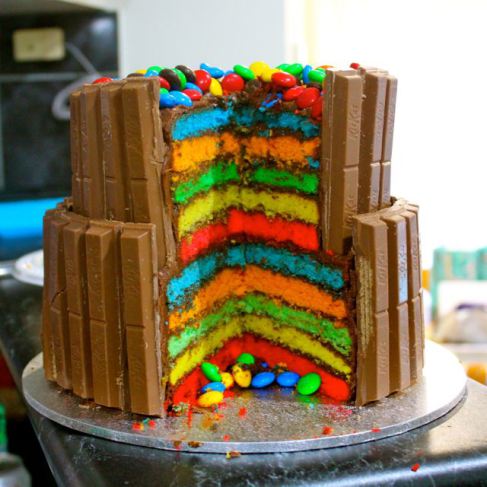 Photo via Micakela: (Mis)Adventures in Baking & Caking

Rainbow cake with candy bars:
The rainbow array of colored cake layers is already visually pleasing, but it's a delight for the eyes as well as the taste buds to surround them with circles of candy bars. What already seems like a kid's fantasy gets even better when you cut into the cake and reveal its awesome interior.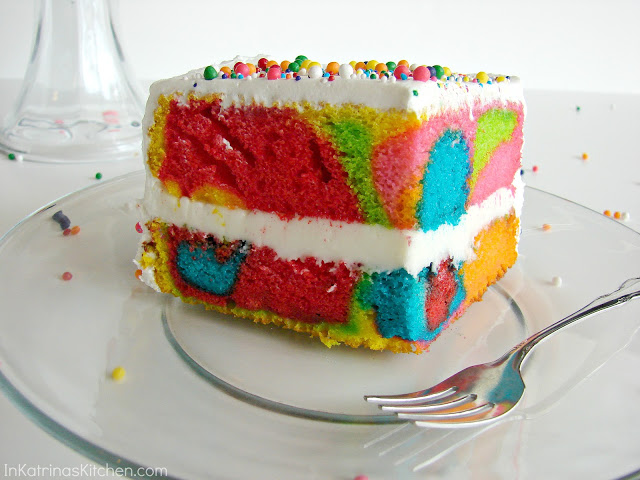 Photo via In Katrina's Kitchen
Organic rainbow design cake:
The rainbow colors need not be layered. This cake proves that an arbitrary application of dyed batter in the cake pan can result in a confection that looks like beautiful modern art…or at least a particularly pretty kaleidoscope.

Photo via Meaningful Mama
Rainbow overload cake:
This cake wears rainbows on the inside and outside, and on top, too! Layers of rainbow cake are stacked and crumb-coated with a simple white icing, and then the exterior is wrapped with ropes of rainbow-hued fondant. A topping of rainbow candies makes for a simple but very striking finish, making for a cake that is vibrant and joyful both inside and out.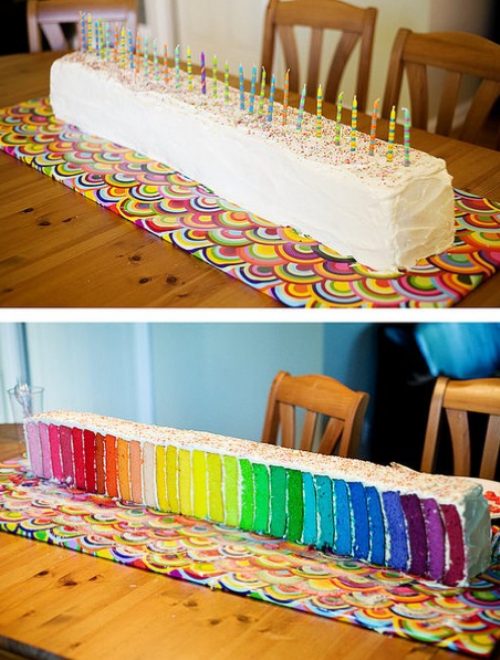 Photos via The Meta Picture
Rainbow overload:
Why settle for a six-layered spectrum when you can go for 30 vibrant layers? The subtle gradient on this cake makes for an absolutely awe-inspiring finished result. Corner piece, please!
Sign up for one of Bluprint's online cake decorating classes today, and learn all these clever cake decorating techniques and more!
Color your world with a magnificent cake! Which spectrum are you inspired to bake?