Few designers are as recognizable or as iconic as Mademoiselle Coco Chanel.
Let's take a look at the life of revered fashion icon Coco Chanel.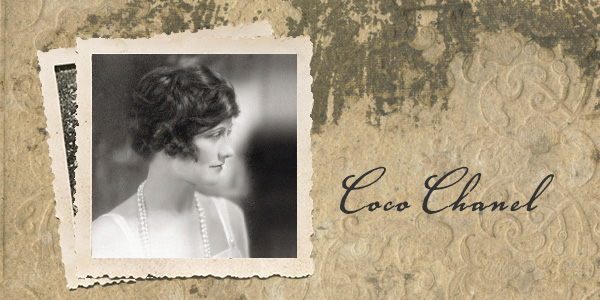 Humble beginnings
The woman who would become a famous French couturier was born Gabrielle Bonheur Chanel in Saumur, France, in 1883. She came from truly humble beginnings: her mother was unwed (though her parents did eventually marry) and employed as a laundress, and her father was a street vendor who frequently traveled to different towns selling his wares.
When Gabrielle was 12, her mother passed away from bronchitis. Her father then sent her and her two sisters to a convent in central France. The convent was a stark place, but it was during this time that Gabrielle learned how to sew. She remained there until she was 18.
Her early career
As a young adult, Gabrielle worked as a seamstress during the day and sang in a cabaret by night. It was at the cabaret that she acquired the nickname Coco, as well as the attention of Étienne Balsan, a textile heir. She was Etienne's mistress for three years, before she became involved with his friend Arthur Capel, a wealthy Englishman.
During her time at Balsan's estate, Chanel took up millinery. She became a licensed hat maker in 1910 and was soon selling her creations in a little storefront in Paris. Her career enjoyed a boost when a famous actress modeled one of her hats in a play.
Buoyed by her success as a milliner, Chanel opened a boutique in Deauville, France, in 1913 that was financed by Capel. There, she sold casual leisurewear made from jersey and tricot. At the time, these materials were mostly used for men's underwear. The boutique was enormously successful, and she opened a second boutique in the French seaside town of Biarritz in 1915.
Achieving couturier status
By 1919, Chanel was a registered couturier. Throughout the 1920s, she purchased several properties along Rue Cambon in Paris, which housed her boutique and atelier.
As a designer, Chanel mingled with aristocracy, which led to some lucrative collaborations. She befriended Hollywood producer Samuel Goldwyn and designed clothing for two of his films, Tonight or Never and The Greeks Had a Word for Them. Ultimately, she decided that she did not care for Hollywood, though she did go on to design for several French films.
Wartime controversy
World War II was a tricky time for Coco. She closed her shops, claiming it was not a time for fashion, and laid off 3000 employees. She was classified as an anti-Semitic and is rumored to have been a Nazi spy.
Post-WWII brought an influx of male couturiers, thanks in part to the success of Christian Dior's "New Look." Regardless, Chanel reestablished her couture house in 1954. Her return was not well received by the French, due to her Nazi associations. The British and the Americans were more forgiving, and became faithful customers.
Her legacy
Chanel passed away in 1971, at the age of 87, but her brand is still a success.
Some of Chanel's lasting contributions to the fashion world include the "Little Black Dress" and the Chanel suit. If you're inspired by Chanel's career, why not make your own versions of her iconic garments? I love this Little Black Couture Jacket by Bluprint member Lusha Wang, which was a project made for The Couture Dress Bluprint class.
Do you have a favorite Chanel design?