Mint Juleps are the official drink of the Kentucky Derby and have been served at Churchill Downs on race day since 1938. What better way to celebrate this race held the first weekend in May than with a refreshing cocktail recipe?
Mark your calender with a note of post time and pick up a bottle of your favorite bourbon to give this classic Mint Julep recipe a try at home!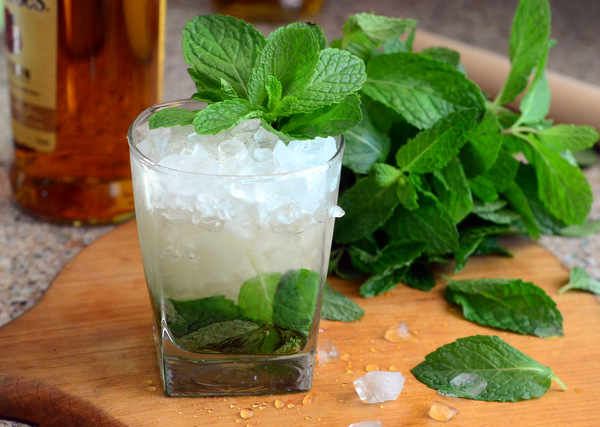 Juleps are especially refreshing for two reasons: they are made with generous quantities of fresh mint and they are served icy cold. The drink is a traditional Southern classic and well worth sipping on a hot summer day.
The cocktail is simple and only has four ingredients: mint, sugar, whiskey and ice. You should always use fresh mint, which is muddled in to the bottom of the glass before the other ingredients are added to release the oils from the mint leaves. Mint extract will overpower the other ingredients, so there really is no substitute for the real thing in this case. You'll also need a sprig of mint for garnish before serving the drink.
While some recipes call for granulated sugar, I always use a simple syrup to sweeten my mint juleps. Simple syrup is a liquid sweetener made by dissolving one part sugar into an equal part of water. This syrup dissolves instantly into any liquid, hot or cold, and allows you to easily adjust the sweetness of any drink, from cocktails to iced tea.
If you are making a small batch of cocktails, you might be tempted to scale down the recipe for the syrup, but the syrup will keep for at least a week in the refrigerator and it is handy to have around.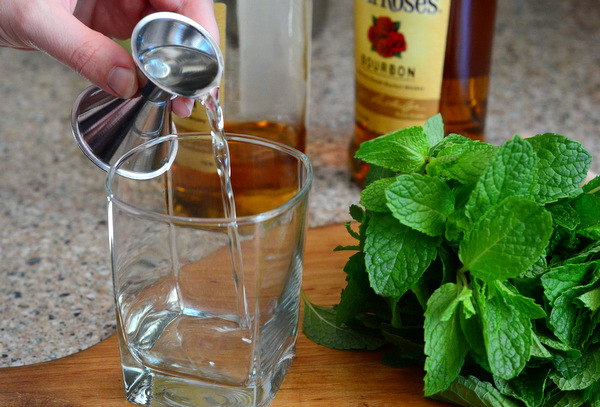 While the mint and sugar are essential, the bourbon whiskey is at the heart of this cocktail. You can use any bourbon that you like in your juleps and you can even use rye whiskey, if you prefer a little bit more spice to your cocktails. No matter which brand you choose to work with, make sure it is a bourbon that you enjoy the flavor of, because you're going to taste it through the sweetener and the mint. A good quality bourbon is always going to make a great julep.
The last ingredient in a julep is ice. Ice is an important part of a mint julep because it is a large part of what makes the drink so refreshing. A mint julep should always served with crushed ice, not cubed. Crushed ice will cool a drink down very rapidly because so much of your liquid is going to come into contact with the ice all at once.
Once your drink is assembled and all of the liquid is thoroughly chilled, the remaining ice will actually melt a bit more slowly, since it is now sitting in icy cold liquid. I always top off my juleps with an extra dose of crushed ice so that the glass is filled to the top, keeping things nice and cold while I'm enjoying the drink.
If you have an ice maker that produces crushed ice, you can use that for your cocktails. If you don't, you can crush the ice by hand. You can load the ice into a ziploc bag and hit it with the back of a large metal spoon or a mallet, or you can crack each piece by hand by hitting it with the back of a small metal spoon.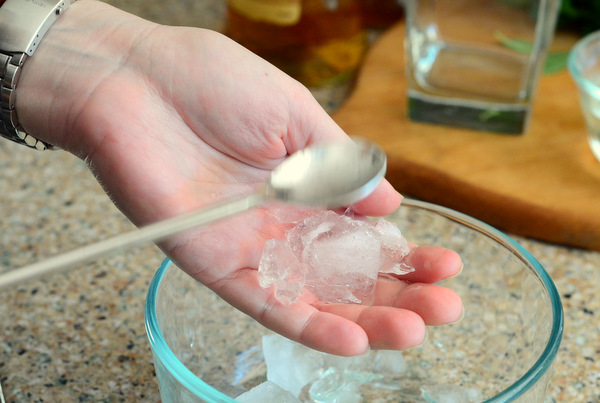 Classic Mint Julep
Serves 1
Ingredients
2 oz. bourbon
1/2 oz. simple syrup (recipe below)
10-12 fresh mint leaves
Crushed ice
Mint sprigs, for garnish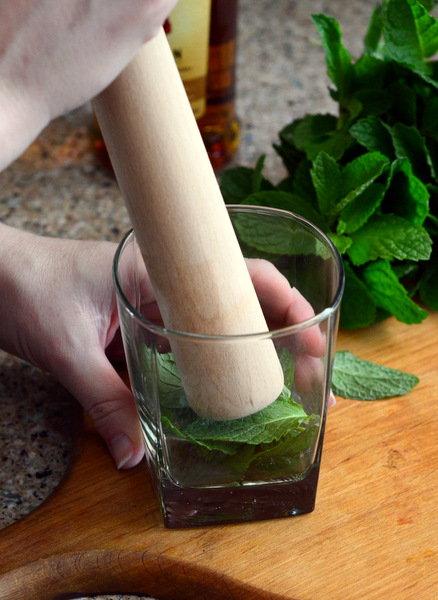 Step 1:
Combine simple syrup and mint leaves at the bottom of a rocks glass. Muddle gently with a muddler or with the back of a wooden spoon to release the oils from the mint.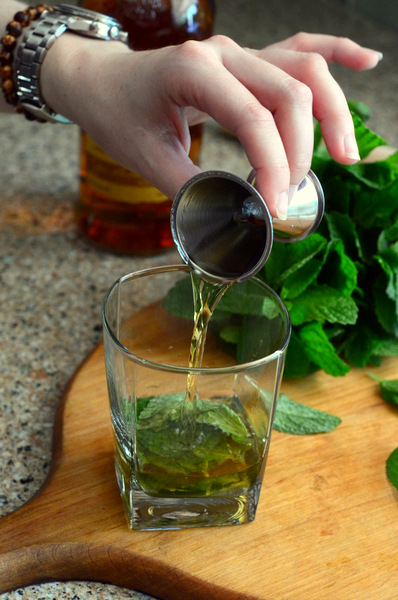 Step 2:
Add bourbon to mint mixture and stir to combine. Top with crushed ice. Stir gently, then add more crushed ice as needed to fill the glass to the top.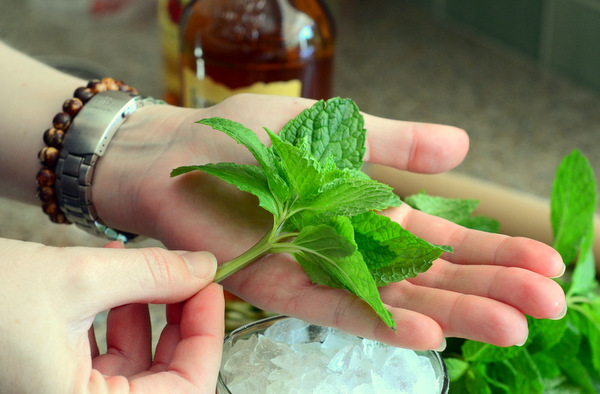 Step 3:
Take a small cluster of mint leaves and hold them by the stems. Slap the mint leaves against the palm of your hand to release their oils. Garnish drink with the mint leaves.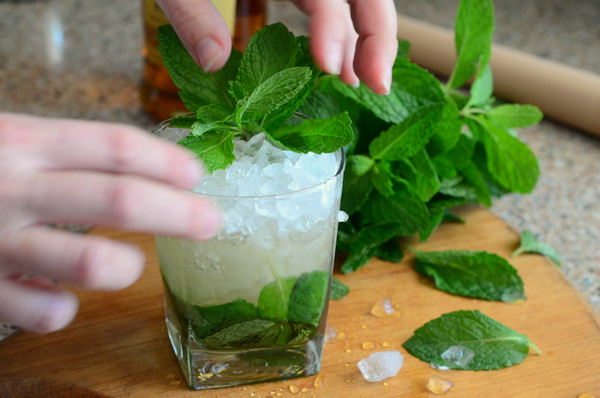 Simple Syrup Recipe
Makes 3/4 cup
1/2 cup sugar
1/2 cup water
Step 1:
Combine ingredients in a small, microwave-safe bowl and cook for 45-60 seconds, stirring until the sugar dissolves. Allow to cool before storing in an airtight container in the refrigerator.