Step right up to the Big Top, grab your popcorn and a sugary soda, and have a seat. Circus-themed cakes are here to delight and entertain! There are so many amazing circus cakes I could barely narrow down my favorites; from tiered buttercream circus cakes to a a fun clown cake, there's something for everyone in this round-up.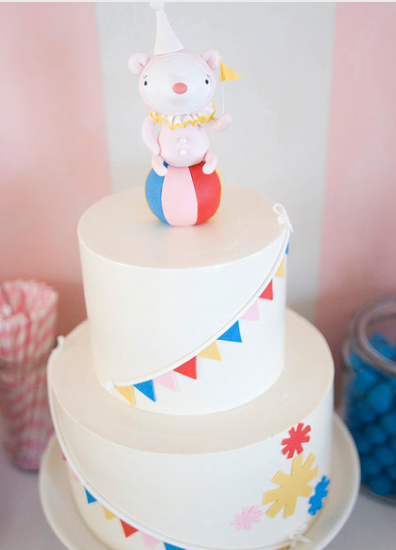 Photo via Tuff Cookie Cakes
Clown Bear on a Ball Buttercream Cake: Can't you just hear the circus music playing as this gum paste clown bear stays balanced on his fondant ball topper? I'm a big fan of the clean modern design and simplicity of this two tiered buttercream iced cake; it gets the point across without having every element under the circus tent on the cake. Also, Tuff Cookie Cakes is the master of smooth buttercream because this sure looks like fondant, doesn't it? Primary color bunting and whimsical star shapes add a minimalist and effective circus element to this cake.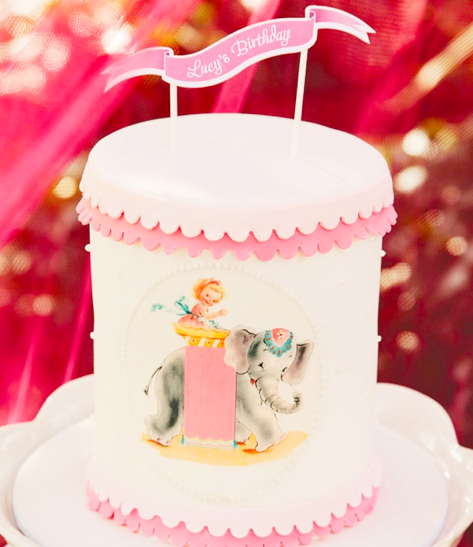 Photo via Hostess with the Mostess
Pink Vintage Circus Cake: This vintage-look circus cake has such a pretty and feminine touch with its sweet pink scalloped ruffles and the adorable printed edible image graphic. This is a nice example of how edible images can meld seamlessly into a cake. The pink paper cake topper banner really captures the feel of a circus flag blowing in the wind.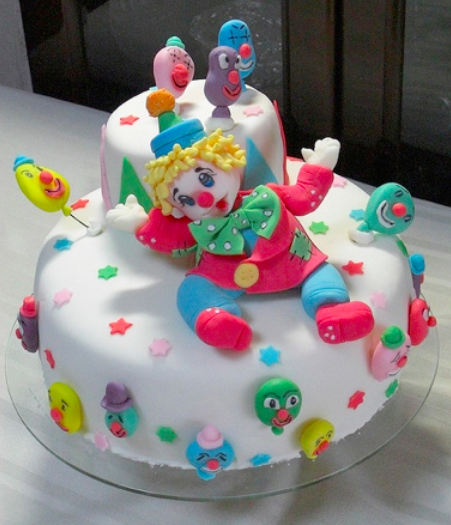 Photo via Dragonfly Doces
Fun Clown Cake: This fondant covered clown-themed cake has so many great clown-faced balloon heads throughout it; just look at the myriad of expressions! This is a fun and colorful cake and a little different from your everyday circus cake!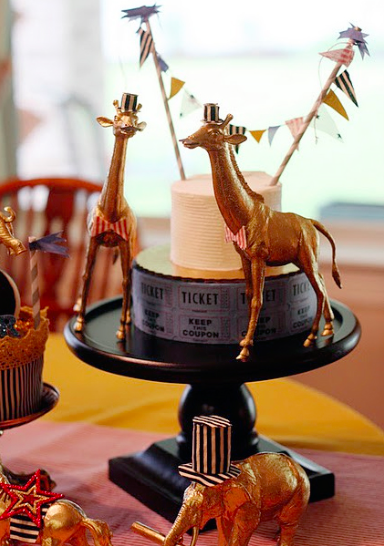 Photo via Pinterest
Bunting Topped Mini Circus Cake: A great version of a very simple cake with accoutrements that say "circus!" The colorful cake bunting and the ticket roll "cake" layer, along with the golden top-hatted and bow-tied giraffes, give this plain white iced cake a circus life of its own.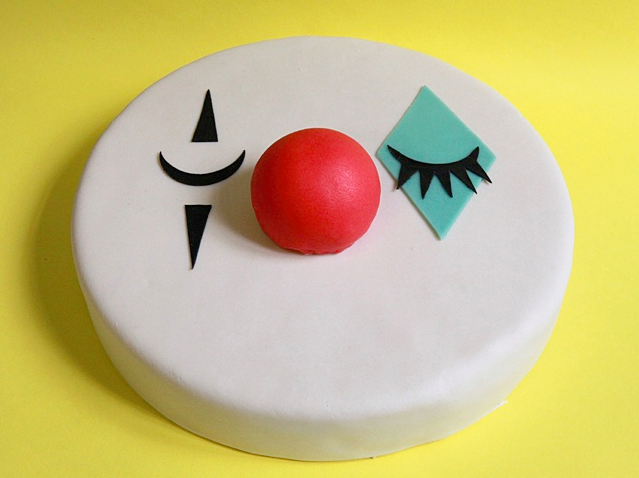 Photo via Chez Bogato
Minimalist French Clown Cake: A beautiful and simple creation: a white fondant cake with simple fondant accents to subtly but effectively suggest clown makeup and a big fondant ball nose as the 3D element. These would make great cupcake toppers, too, don't you agree?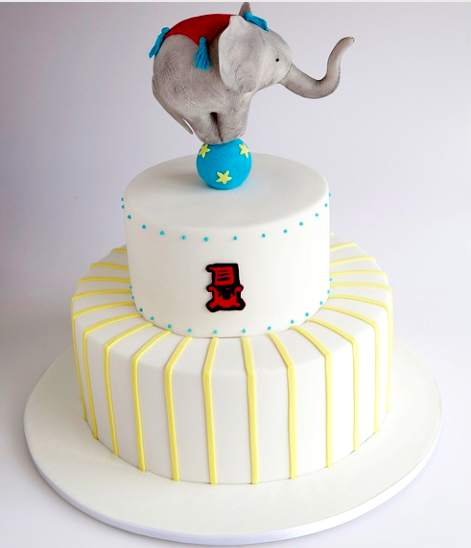 Photo via Sweet Tiers
Elephant On A Ball Tiered Circus Cake: This is such a fun cake featuring simple tiers with a ridiculously cute cake topper: a big elephant balancing on a too-small ball. The elephant body is carved from styrofoam, covered and decorated with fondant. Inside this cake is dark chocolate filled with dark chocolate ganache.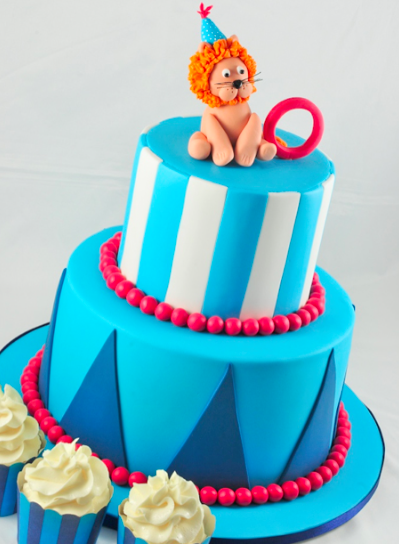 Photo via A Little Slice of Heaven
Lion Topper Tiered Circus Cake: Okay, back to sweet and child-friendly! This two tiered number has a nice, modern design. The bold stripes, triangles, and red fondant balls give it a playful feel. My favorite is the lion topper with the ruffle orange hair and I love the matching cupcake wrappers.
Are you feeling inspired to throw a Big Top bash of your own? To get your buttercream skills down pat, check out Bluprint's free mini-class Modern Buttercream with Joshua John Russell. Or, if your ready to discover the secrets to a modern and well designed cake, try Jessica Harris' class Clean and Simple Cake Design!