Today we're talking cake for breakfast. That's right, a cinnamon breakfast cake that tastes just like pancakes! You may wonder how is it possible to make a cake that tastes like pancakes. Great question. Easy answer. You use pancake batter!
I call it the "pancake-cake."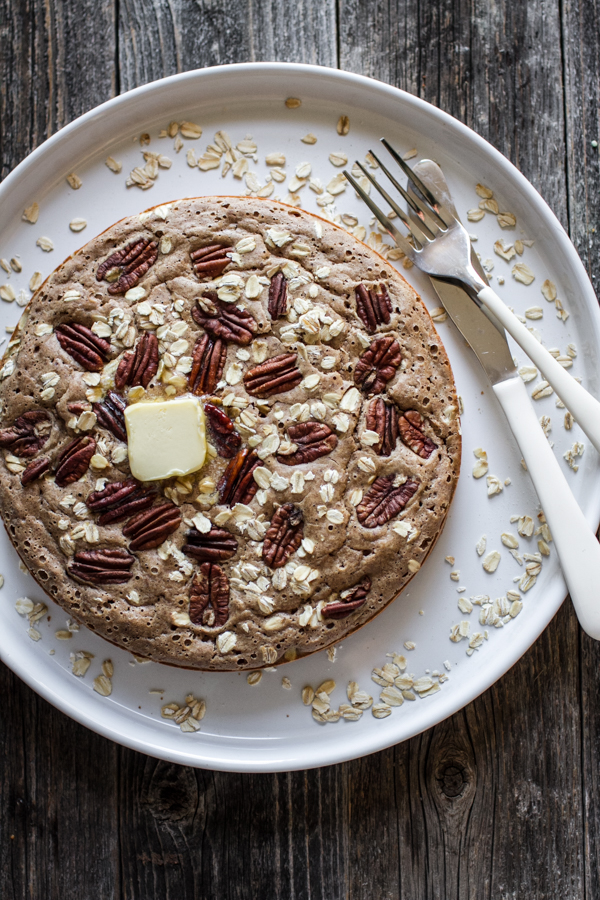 Photos via Edible Perspective
Today we're taking pancake batter, baking it in the oven, and turning it into a cinnamon breakfast cake!
I've talked about it a few times before, but I totally have a love-affair with all things breakfast. It's not just the food but also the time of day. Mornings are my favorite. I may not be the best at crawling out from under the warm covers, but I just love the calm of the morning.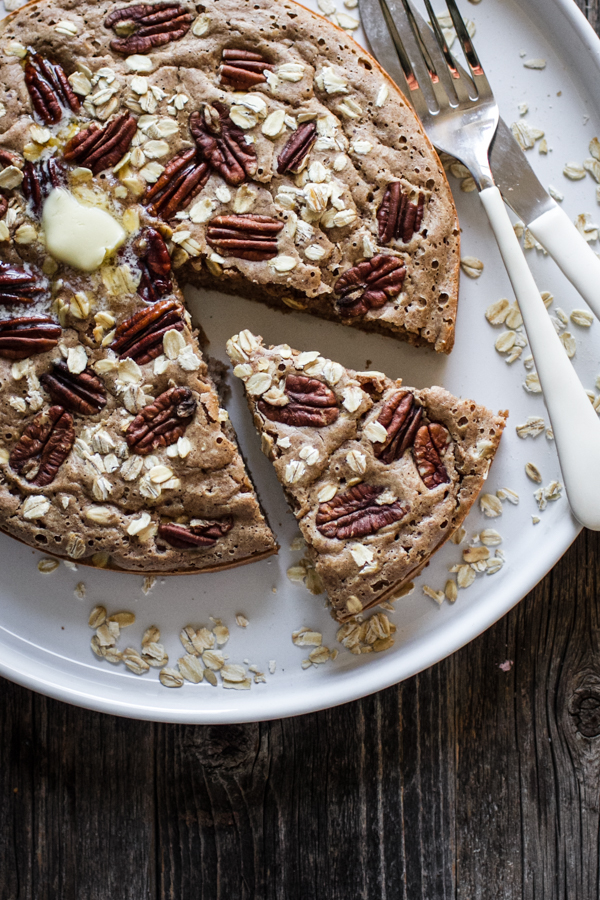 Growing up, my dad always had a morning routine. He would wake up extra early to enjoy the morning hours before heading out to work. I remember him reading the paper, drinking coffee, watching the news and always making breakfast (and also packing my lunch!).
He must have rubbed off on me because I now do a lot of the same.
After letting the dogs out and feeding them, I head straight to the coffee maker. Once that's going I start on breakfast for myself and my husband. Then, I catch up on the news (errr…blogs) at my computer.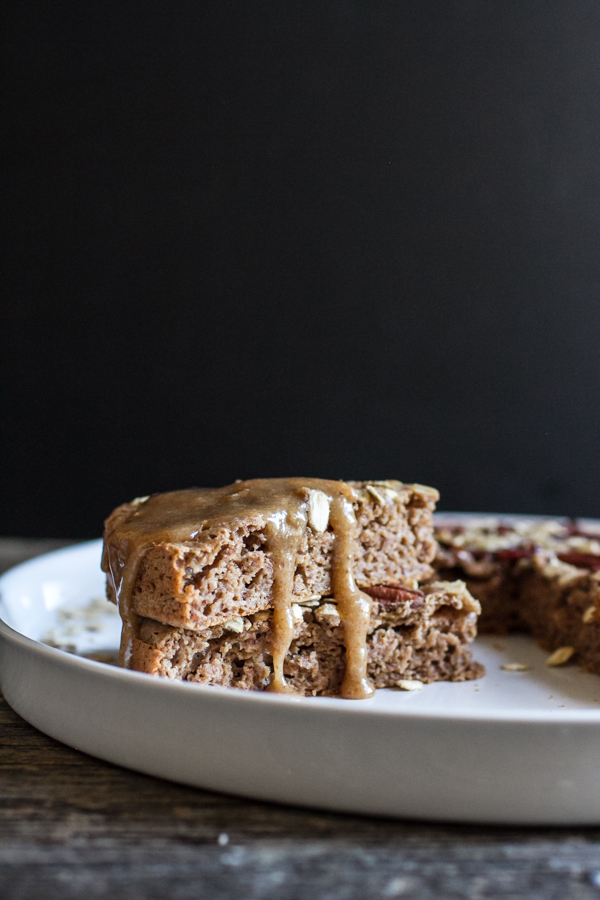 I pretty much have breakfast on the brain from the moment my eyes open. On the weekends, I spend a little more time creating a meal for us to share. Sometimes it's roasted potatoes, eggs and toast, and other times it's pancake-cake, waffles or breakfast burritos.
This recipe stems from my favorite pancake recipe using oat flour, sweet rice flour and almond meal. This flour combination results in a thick but fluffy and soft pancake. When baked in the oven the texture remains the same, only thicker! It's very lightly sweetened, just like pancakes, not actual cake. But don't you worry, we're definitely going to slather this with something sweet. I made an irresistible maple almond butter sauce to drizzle over each slice. You're definitely going to love it.
Cinnamon Pancake-Cake
Yield: 4-8 servings (depending if served with a large spread or if this is the main feature)
Ingredients:
For the cinnamon pancake-cake:
1/2 cup oat flour
6 tablespoons sweet rice flour
1/3 cup almond meal
2 teaspoons cinnamon
1 teaspoon baking powder
1/2 teaspoon salt
2 large eggs
7 tablespoons milk
3 tablespoons applesauce
2 tablespoons pure maple syrup
2 tablespoons melted coconut oil (lightly cooled)
2 teaspoons pure vanilla extract
pecans and rolled oats (optional)
For the maple almond butter syrup:
3 tablespoons creamy almond butter
3-4 tablespoons pure maple syrup
1/2-1 tablespoon half & half
Step 1:
Preheat your oven to 350 F. Grease an 8-inch cake pan with softened coconut oil on all sides.
Step 2:
Stir together all dry ingredients in a mixing bowl.
Step 3:
In another bowl, whisk together all of the wet ingredients. Pour into the dry mix then whisk until you no longer see dry flour.
Step 4:
Pour into the cake pan. Top with a handful of pecans and rolled oats if desired.
Step 5:
Bake for 24-28 minutes, until a toothpick comes out clean.
Step 6:
While baking mix the syrup ingredients together in a bowl. Add more almond butter for a thicker texture. Add more maple for sweetness. Add more half & half to thin out. Set aside or refrigerate if you prefer it to be cold. It will thicken up as it chills.
Step 7:
Let the cake cool for 5 minutes. Slide a knife around the edge of the pan. Place a plate over the cake pan then flip over and knock on the bottom of the pan to release the cake. It should release easily without breaking. Turn right side up and serve with maple almond butter syrup.
Recipe botes:
There is no substitute for sweet rice flour (also known as glutinous rice flour) but it can be found at many natural food stores (check Bob's Red Mill brand and Ener-G) and very easily at Asian markets.