It's a boy! Congratulations to Prince William and Princess Catherine on the birth of their first child! It won't be long before the world starts speculating about the Christening — the invitations, the robe, the cake… Let's give Wills and Kate a helping hand with some beautiful Christening and Naming Day cakes to inspire them.
Every new baby is a prince or princess to their parents. And whether they plan a traditional Christening or a non-secular Naming Day celebration, no doubt they'll be wanting a cake fit for royalty!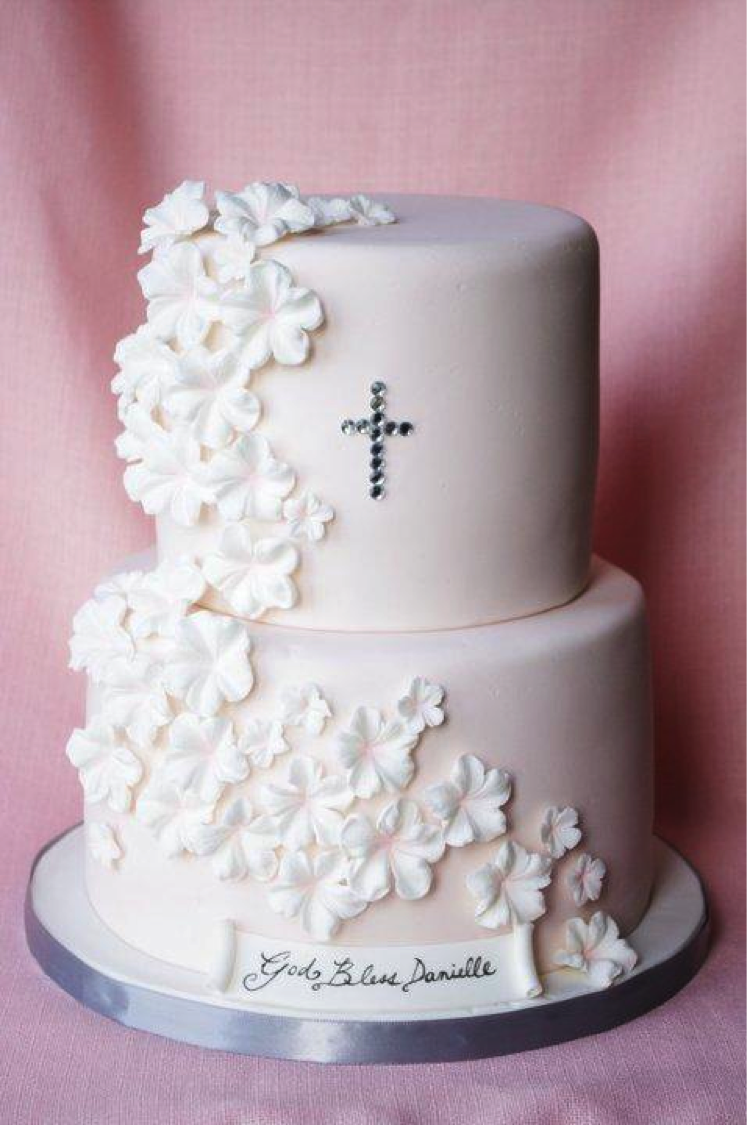 Photo via Sugarbelle Cakes

The palest pink fondant is finished with cascading white petunia blossoms. Each one has been shaped by hand and given a light shading of petal dust in the centre. A simple diamante cross and "God Bless" scroll convey an understated message for a religious ceremony.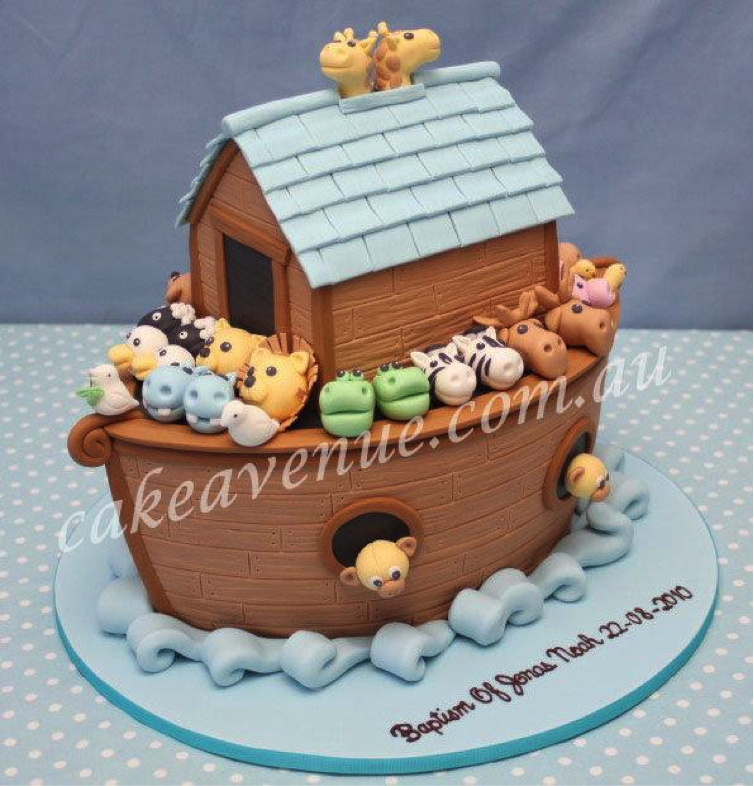 Photo via Cake Avenue
The story of Noah's Ark is the perfect choice for a Christening cake, especially when it's as adorable as this one! The animals are lined up along the side of the cake—two by two, of course—with giraffes popping out of the top, and monkeys looking out of the portholes. Sharon Wee's Fondant Animals Bluprint class will have you modeling cute critters like this in no time!

Photo via Cakes by Kerrin
This very traditional buttercream cake, with monogram and ornate molded cross, is given an updated look with pearl studded quilting on both tiers. Buttercream roses piped with a 1M or 2D tip adorn the top, and the cake is finished with tiny blue fondant bows and ribbons.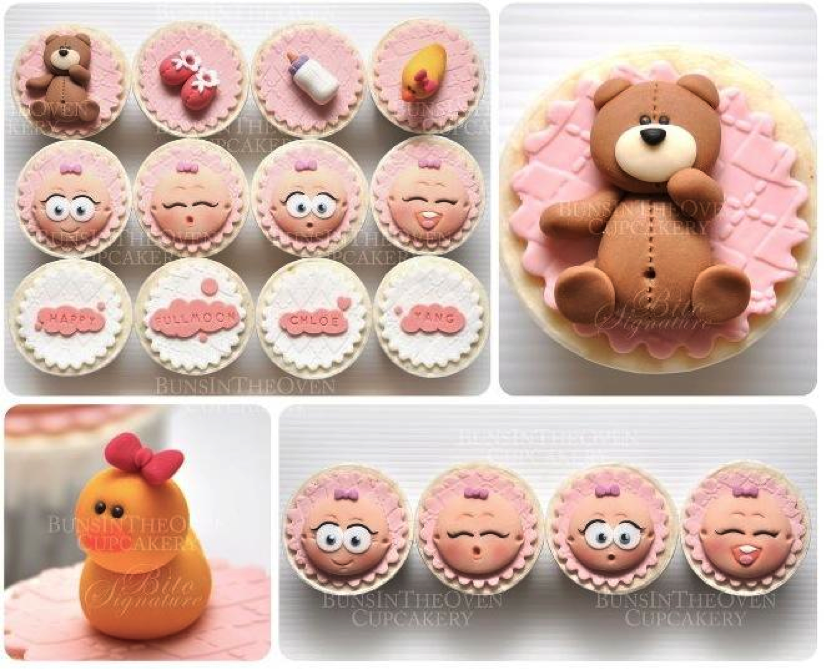 Photo via BunsInTheOven Cupcakery
These captivating cupcakes are actually to celebrate a baby's first month of life. According to Chinese customs, when a baby turns one month old, a ceremony is held to herald her first full moon. Cheeky baby faces, a chubby teddy and rubber duck sit on top of fluted fondant toppers.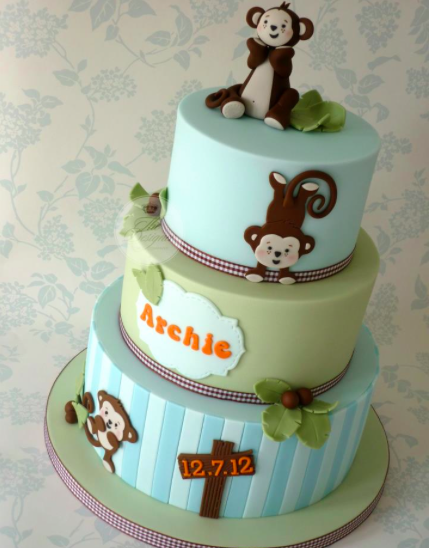 Photo via The Designer Cake Company
A design taken from a party invitation is perfectly translated to this three-tier cake for a non-traditional naming ceremony. The addition of the birth date is all that's needed to turn a birthday cake design into something suitable for a Christening occasion. Cheeky monkeys are a perfect birthday baby boy theme!

Photo via Blissfully Sweet
An exquisite study in shades of pink, this cake has a traditional feel with a modern twist. Hundreds of paper thin ruffles are layered on the bottom tier in a contemporary ombré pattern, while the top tier has been given a lustred finish. The cake is completed with a simple embossed plaque and hand-made gum paste rocking horse.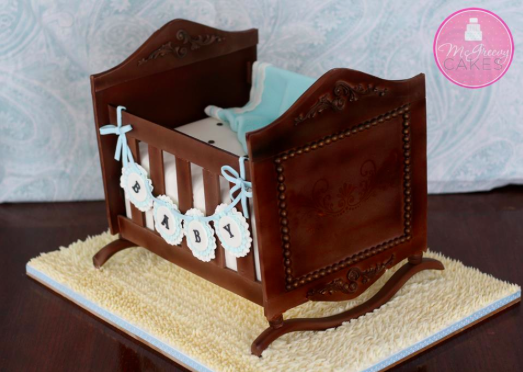 Photo via McGreevy Cakes
Definitely falling in the non-traditional category is this gravity-defying baby crib cake. Fondant and gum paste have been airbrushed to resemble beautiful aged mahogany, and finished with molded details that give a truly hand-carved look. The cake is softened with the addition of a lacy blanket and the word 'baby' strung along the side of the crib. Piped buttercream on the cake board gives the appearance of cozy carpet.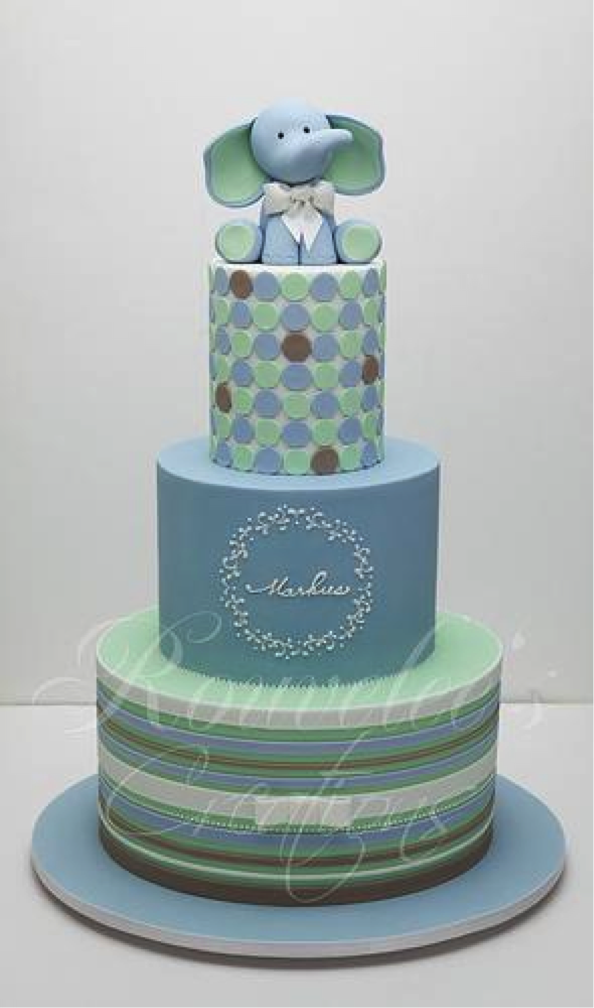 Photo via Rouvelee's Creations
Another combination of blue and green for a little boy, but this time featuring the sweetest baby elephant. It is difficult to imagine just how hard it is to apply horizontal stripes to a cake, especially when some are so narrow, but it's the perfect way to lend masculinity to a cake. Exquisitely delicate piping surrounds the baby's name and tiny beads have been piped around the base of the tier. The application of hundreds of uniform polka dots on the top tier maintain the geometric feel.
So what sort of cake do you think William and Kate will choose the Christen their new son? Traditional and elegant, or something a little more contemporary to reflect the new generation of royalty they have ushered in?