Chouquettes are easy to find in Parisian bakers, but they're harder to come by closer to home. This is such a shame, as the crisp and slightly sweet pastries are very delicious and make a wonderful snack. Fortunately, they are simple to make at home, so you don't have to catch a plane to France to give them a try!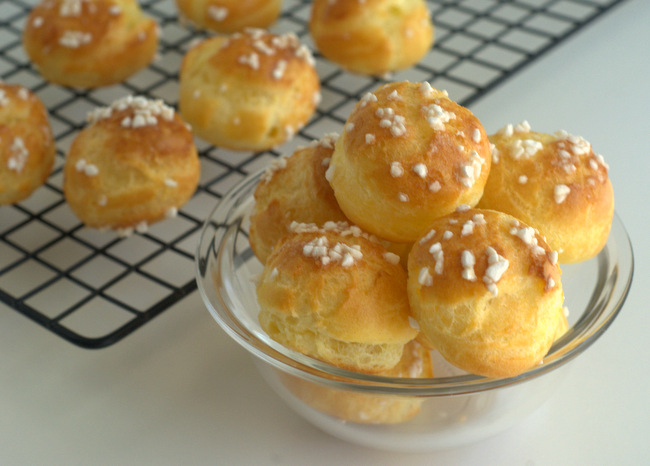 Make More with Choux Pastry
Once you master making pâte à choux, you can make so many more decadent French pastries. Learn how with pastry expert Gesine Bullock-Prado. Get the Class
How to make chouquettes at home
Chouquettes start with choux pastry, which is a type of pastry that's typically used to make cream puffs and éclairs. It's unique because the pastry is cooked on the stovetop before being baked.
Don't let the unusual method keep you from trying it, as it comes together quite quickly — and the process will go even faster for your second batch.
To make the chouquette pastry dough, you'll bring butter, water and milk to a boil in a saucepan, and then add flour. Cook the mixture until the floury flavor is cooked out. Once the dough has cooled, you'll mix in the eggs — that's what gives the pastry lift in the oven, allowing it to bake up into pretty, round puffs. 
Piping and sizing your chouquettes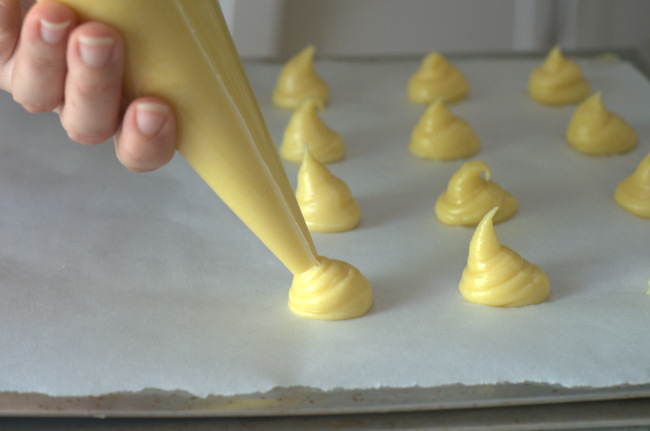 Before baking, you'll pipe the dough in small rounds on a baking sheet (just like cream puffs). If your puffs have peaks as you pipe them, simply use a moistened finger to press the peak back into place.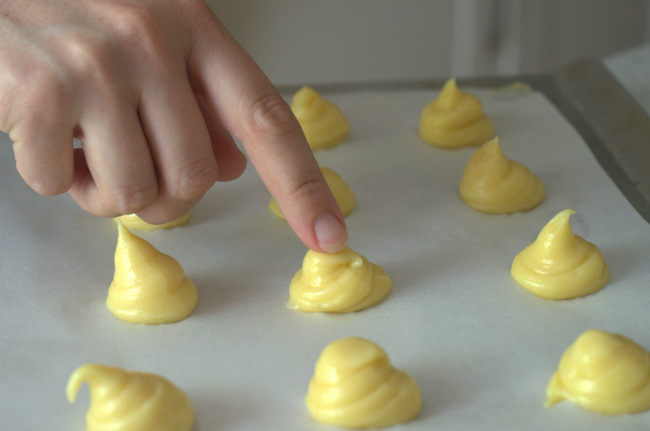 I tend to make mine on the small side — about 1″ or so in diameter — because I like the chouquettes to be snackable. I recommend using a ½" round piping tip, but you can also use a pastry bag with the corner snipped off or a star tip, if that's what you have on hand. You can make your slightly larger and simply extend the baking time by a minute or two. 
The key to making great chouquettes is using pearl sugar.
The final step before popping these pastries in the oven is sprinkling the pastry with pearl sugar.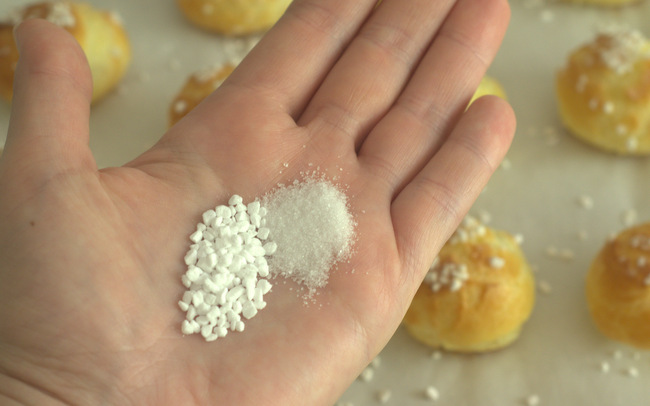 Pearl sugar is much larger than regular white sugar, resembling small pearls by comparison. Finer, white sugar would melt into the pastry as it bakes, but pearl sugar retains its color and shape.
These larger granules also give chouquettes their distinctive, sugary crunch. Plus, it brings a hint of sweetness to the treat — and this is critical because, unlike cream puffs, chouquettes are not filled with any kind of whipped cream or pastry cream. They are light, crisp and just sweet enough to keep you coming back for more. 
You can find pearl sugar at specialty baking stores and buy it online. If you don't want to make a trip to the store or wait for shipping, use the coarsest sugar you can find. Some raw sugars hold up very well for this and, while they won't give you a traditional look, they'll still taste delicious.
These French pastries best on the day they're made, when they are fresh out of the oven. I know that I can't seem to stop eating them when I have a fresh batch on my counter! If you do have leftovers, store them in an airtight container and pop them in the oven for a few minutes to crisp them back up before serving.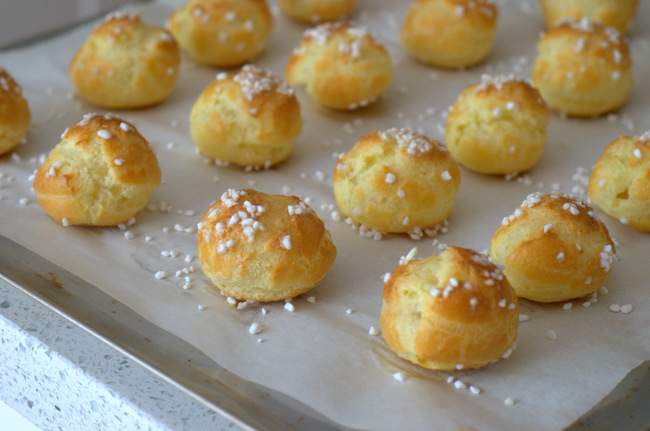 Chouquettes recipe
Makes 30-36
Ingredients:
½ cup water
½ cup milk (preferably whole)
8 tablespoons butter
½ teaspoon salt
1 cup all-purpose flour
4 large eggs
Approximately ½ cup pearl sugar
Step 1:
Preheat the oven to 400 F. Line a baking sheet with parchment paper.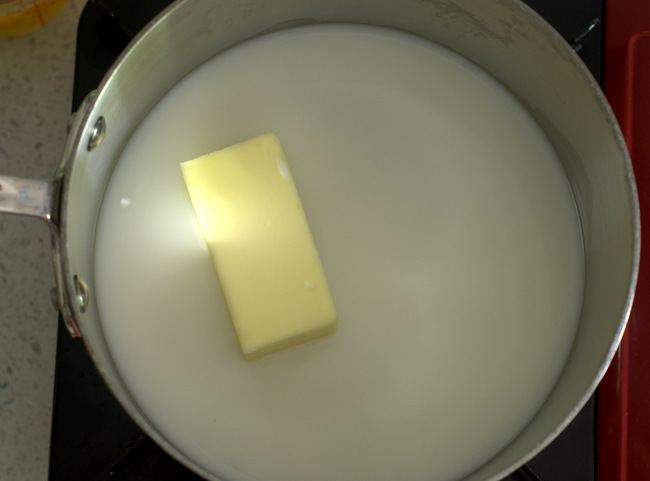 Combine water, milk, butter and salt in a medium saucepan and bring to a boil over medium heat.
Step 2: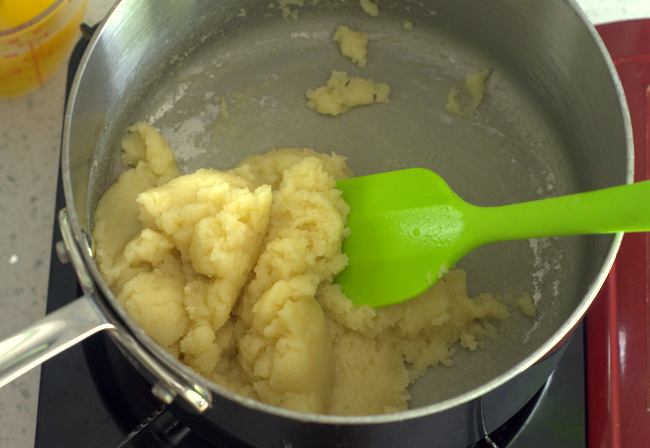 Add the flour to the boiling butter mixture all at once, stirring vigorously with a wooden spoon or spatula until dough comes together in a ball.
Continue to cook and stir for 1 to 1 1/2 minutes, then turn off the heat.
Step 3:
Transfer dough to mixer or clean bowl, and mix at a low speed for 2-3 minutes or until slightly cooled (bowl should not be too hot to touch). Beat in eggs one at a time, waiting until each egg is fully incorporated to add the next one. Increase mixer speed to make batter smooth and velvety.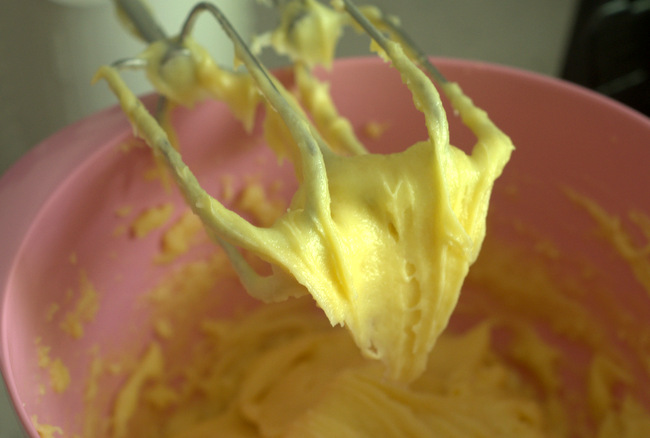 Transfer dough to a piping bag fitted with a large (approximately ½") round or star tip.
Step 5:
Pipe the dough onto prepared pans in 1″ rounds, allowing about about 2″ between each round to allow for spread. Sprinkle generously with pearl sugar.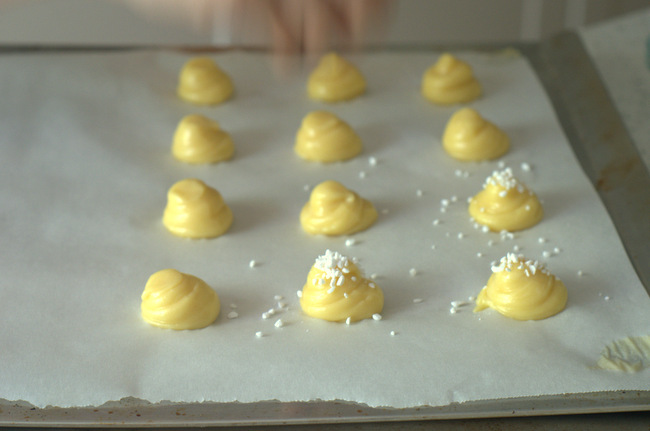 Step 6:
Bake the pastries for 20-25 minutes, or until deep golden brown and firmly set. Allow puffs to cool for 5-10 minutes on the baking sheet, then transfer to a wire rack to cool completely.
Make More with Choux Pastry
Once you master making pâte à choux, you can make so many more decadent French pastries. Learn how with pastry expert Gesine Bullock-Prado. Get the Class