Knit fabrics are at the top of everyone's list when it comes to favorites. They're easy to wear and care for, they come in a rainbow of prints and color and work with so many different styles of garments.
Sometimes that is the mystery — which knit fabric is right for a specific pattern? Here are some tips on choosing the right knit fabric for sewing success.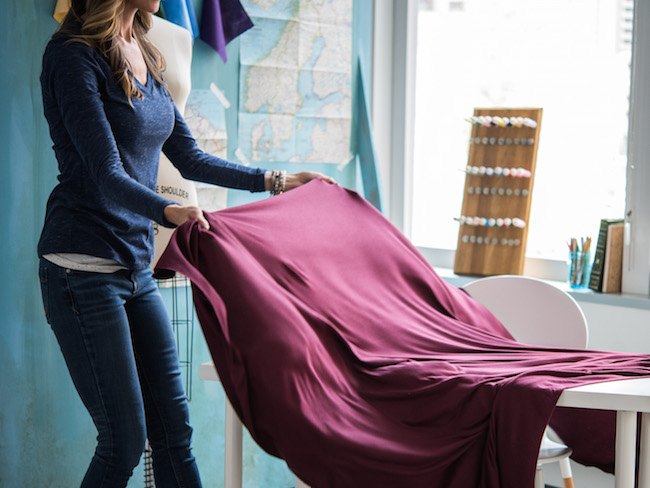 A bit about knit fabric
Knit fabrics are made with interlocking looped stitches and can be easy to sew since they don't unravel. They can be a any weight from a gossamer tissue knit to a stable wool double knit.
The descriptive information on a pattern usually give some suggested fabrics, and these guidelines are a helpful starting point. But if you want to use something other than what's suggested, you need to look for a few essential elements.
Choose the appropriate knit fabric for your garment by taking note of these 3 features.
1. Check the fiber content
When specific items are made with certain knits, it usually has to do with the fiber.
Think of the fabric in a swimsuit: It's technically a knit, but you probably wouldn't use that fabric to make a blouse to wear to work. The quick-drying nylon and lycra blend that's used for swim and sportswear isn't well-suited for everyday wear.
Here are a few more common fibers and when to use each:
Rayon-jersey is a soft and comfy knit that works well for tops and some dresses, but will probably not work at all when structure is required.
Cotton interlock knits are great for T-shirts and children's wear.
Cotton and rayon jersey work for tops, dresses, lightweight cardigans and items that have layers, wraps or gathers, since these fabrics are usually not too thick for those styles.
Ponte knits are usually made from a poly-rayon-lycra blend, which makes them good for pants and unstructured jackets, as well as dresses that resist wrinkling.
Lycra (also called spandex) can be combined with knits to add stretch in one or both directions. The different between a cotton knit T-shirt with or without lycra is very noticeable, with the lycra-added shirt being softer and much stretchier.
2. Check the type of knit
There are many types of knits, and each serves a different purpose.
Single knit
Single knits (such as jersey) have a good amount of stretch and come in a range of fibers including polyester, rayon, silk, cotton or wool.
Single knits curl to the right side when stretched on the crossgrain, which how you can identify the right side of the fabric, particularly on solid colors.
Single knits are perfect for lightweight T-shirts, wrap dresses or tops and layering pieces. Jersey knits can have different types of stretch, so take that into consideration when selecting. 
Double knit
Double knits, particularly ponte knits, are firm and stable knits that don't have a lot of stretch. They have become really popular again — and with great reason — because they have good recovery when stretched. This makes them really useful for so many types of garments like pants and dresses. Scuba knit is a type of double knit, it usually has a smooth surface and a slightly spongy texture. 
Sweater knits
Sweater knits offer the opportunity to sew something cozy without picking up a knitting needle.
3. Check the stretch
The stretch guide on the back of a pattern envelope can be a wealth of information. Do you look at that when choosing a fabric? You should!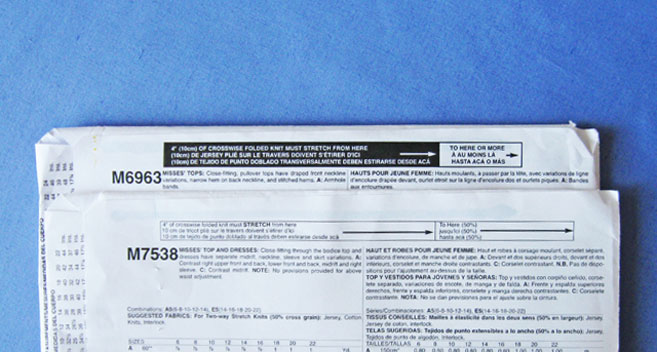 A sewing pattern for a knit item will include a stretch guide like you see above. It's a little like the height measurement at an amusement park that says "you must be this tall to ride." Essentially, this guide says "your fabric must stretch this much to use."
You start by marking the original distance (typically 4″) with pins. Then, stretch the fabric as far as possible. The fabric should reach the indicated line when stretched.
Here's an example with a cotton interlock knit: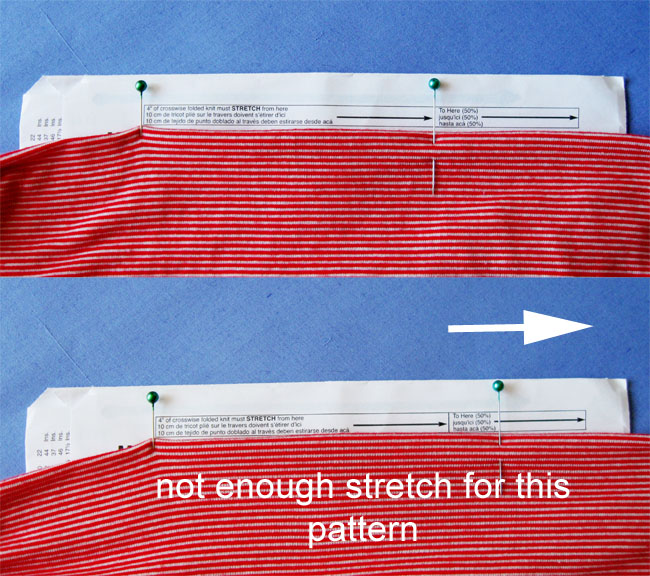 Because the pin doesn't reach the marked line, I can tell that this knit doesn't have enough stretch for this particular sewing pattern. A jersey knit would likely be ideal, as jersey has more stretch than interlock.
Note that some fabrics might stretch far enough but not have good recovery and look distorted when you let go. That's a good thing to find out before you sew up a garment that ends up droopy.
One-way, two-way and four-way stretch: What's the difference?
The terminology for knits has changed a lot, and you'll find various descriptions as you shop for knits. Here's a good reference guide:
One-way stretch is a knit that stretches on the crossgrain. It stretches from selvedge to selvedge, but not in the other direction. Sometimes this is labeled as two-way stretch.
Two-way stretch is a knit fabric that stretches both crossgrain and lengthwise. These fabrics have lycra added to create the stretch in the second direction. These fabrics can also be labeled as four-way stretch, presumably because they stretch up and down, and side to side. In any case, look out for the mention of the direction stretch and then you will see if it is right for your pattern.