At the heart of both knitting and crocheting, there is fiber. Your projects are made entirely out of fibers, so it makes sense they are the most important aspect of your work. What makes certain fibers more appealing to work with than others? Is there a secret to choosing a yarn for certain knitting and crocheting projects? Below we examine some of the most prevalent fibers in commercially available yarns. I'll explain some of the characteristics of the different kinds of yarn, how they work up, and the fabrics they create.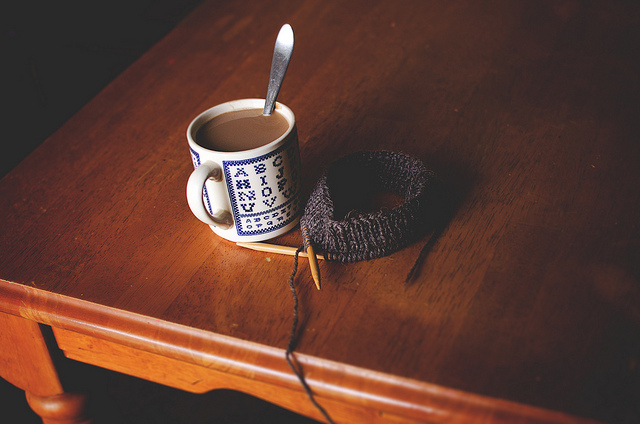 FREE Guide! Choose and Use the Right Yarn
Learn everything you need to know about yarn weights and fiber types to make savvy selections and achieve superb stitches.Get My FREE Guide »
Animal fibers
Below are three popular animal fibers. They are used in many yarns, alone and/or combined with other fibers. Animal fibers are generally very warm, yet lightweight, and are great choices for garments and cold weather accessories.
WOOL
(I'm talking about sheep's wool!)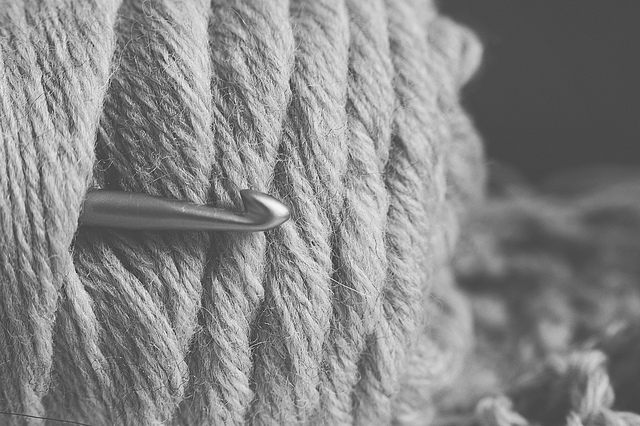 Wool comes in a great assortment of colors and styles from a variety of sources (there are many breeds of sheep!). The texture of the yarn is primarily affected by the source of the wool. It is an easy fiber to work with and creates a great fabric for garments and accessories. Its natural elasticity helps it to retain its shape when worn.
The fibers have microscopic barbs that like to stick to each other, so wool is prone to yarn felting when wet and agitated. It is a water-loving fiber and will absorb moisture readily. This gives it the great feature of wicking away moisture from skin, keeping its wearer dry.
You can knit and crochet easily with wool. Working with the suggested needles/hooks to get the specified gauge is always recommended. If you desire fabrics with more drape and flexibility, increasing needle/hook size is a good idea.
[box type="shadow"]For a more detailed look at the different properties of different wools, see our post on types of wool for knitting and crochet.[/box]
ALPACA
There are two types of alpaca yarns. The softer, silkier alpaca fiber is Suri. The more wool-like fiber is Huacaya. It is more suitable for knitting than Suri and a great alternative to sheep wool. It lacks lanolin, so it is hypoallergenic, and a good choice for knitted baby garments. The fiber creates a very soft and warm fabric that is less likely to felt when laundered.
Alpaca fiber is often combined with other fibers in yarns. It lends its warmth and strength to other fibers like silk or even plant-based fibers like viscose.
CASHMERE
Cashmere is a luxury fiber from the cashmere goat. It is insulating and very, very soft. When worked at a normal gauge, the fabric created is perfect for scarves, shawls or even sweaters. It has a lightweight and silky drape. While readily available and easy to find, this fine fiber can be a bit pricey for the casual crafter.
Plant-based fibers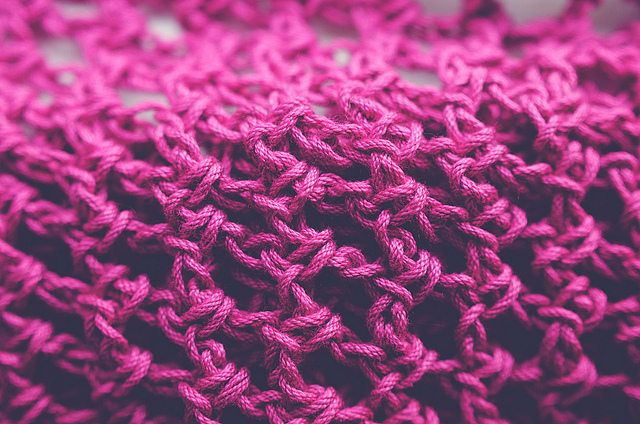 Plant-based fibers tend to be less elastic than animal fibers, but they are often stronger and more durable. They also retain less heat, so are more desirable in the spring and summer.
COTTON
There are a variety of cotton yarns on the market. There are also several different types of cotton yarn. It is generally a lightweight fiber that is great for warm weather projects. It is breathable, yet strong enough to withstand many washes, which will actually soften the yarn.
Stitch definition with cotton is superb! Some finer cottons produce a drape comparable to even the silkiest of wools, but in general, cotton is very inelastic and likely to stretch and sag, a problem exacerbated by its ability to hold water so well.
Cotton is great for knitting and crocheting things for the home. Finer cottons are suggested for garments and accessories.
Further Fiber Exploration
It would take me a long time to go through all of the fibers available for you to knit and crochet with. For much more detailed information about fibers and how fiber choice affects your projects, I implore you to check out Clara Parkes' new class: Know Your Yarn: Choose the Perfect Yarn Every Time. She goes beyond the fibers mentioned here and even talks about synthetic fibers, which are probably the most easily accessible yarns. There is also discussion about ply, which is extremely important when choosing yarn.
I'm a wool gal, myself. I have been using it for hats for my children since they were babies and I love how soft they got through out the seasons.
FREE Guide! Choose and Use the Right Yarn
Learn everything you need to know about yarn weights and fiber types to make savvy selections and achieve superb stitches.Get My FREE Guide »
What are your favorite fibers?