The idea of a cake wrapped in chocolate seems like something too good to be true, but it actually exists! Chocolate wrap cakes are stacked and buttercream-covered cakes (in any flavor that takes your fancy) that are then wrapped with delicious chocolate shards, "sheets" or "cages" — how tempting does that sound?
What's more important is that chocolate is an amazing medium to work with: it can be melted, moulded, turned into durable modeling chocolate, piped into gorgeous lace details or even drizzled temptingly on top of freshly baked cakes. Read on to discover more about the infamous chocolate wrap cake to help inspire your next creation… or to help your chocolate craving reach new heights!
Here are some stunning chocolate wrap cake design ideas for you to melt over…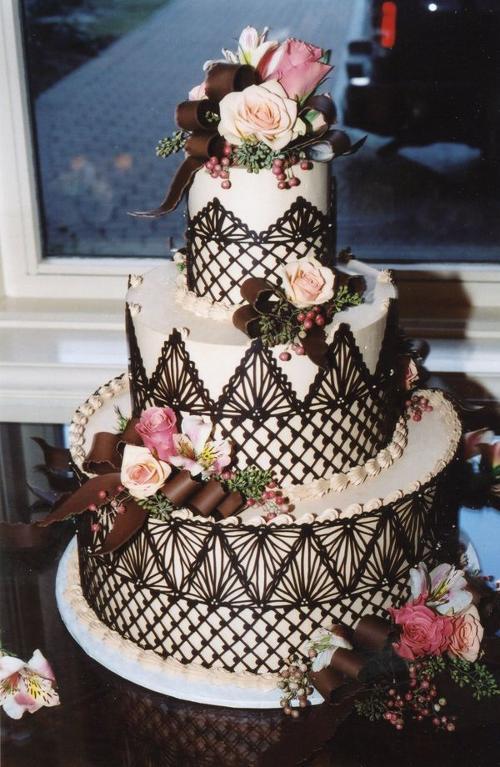 Photo via Bluprint member Zamira6133245341
Designing a decadent chocolate wrap cake is a fantastic way to create a sense of drama and structure to your next project. Utilizing chocolate as either shards or as pliable modeling chocolate to encase your cake inside lends itself to a whole host of imaginative ideas, styles and shapes! Use shards to create a striking modern look for a chic wedding. We love the idea of pouring melted chocolate onto textured silicone mats or using fun chocolate transfer sheets for a quirky print.
The wonderfully lavish cake above uses intricately piped chocolate cages to add a unique yet traditional look to the floral laden creation. We love the delicate pattern paired with the blush, brown and dusky pink color palette.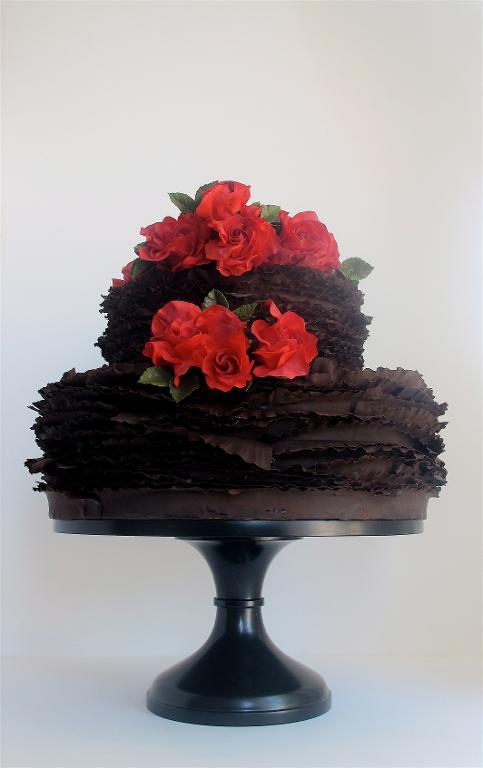 Photo via Bluprint instructor Maggie Austin
Here, Bluprint instructor Maggie Austin has added a romantic twist on the British treat by utilizing thin, delicate ruffles of modeling chocolate to add a wonderful texture to a chocolate and rose cake. We love the simplicity of this creation and think this design would be perfect for a rustic wedding reception or grown-up birthday celebration.
When decorating with modeling chocolate ruffles, try ombré layers in white, milk and dark chocolate, add fine chocolate truffles cascading down the sides, or guild the edges of frills with decadent gold leaf!
We couldn't recommend Maggie Austin's Fondant Frills class enough if you'd love to take your wedding cake designs to another level!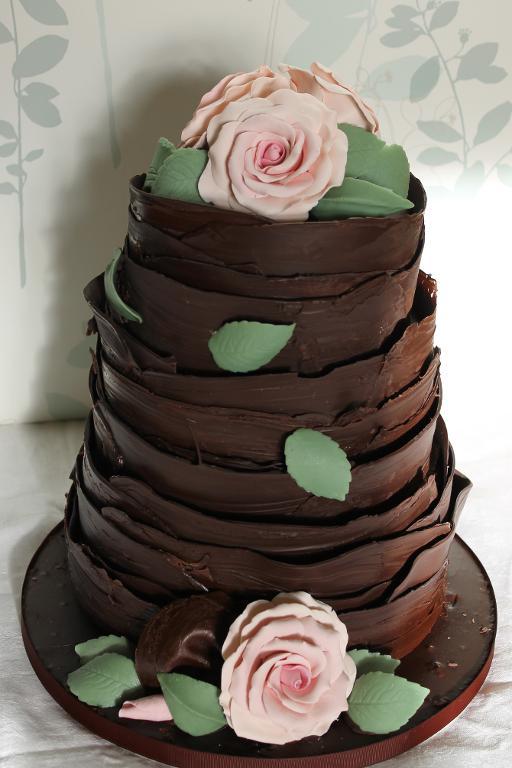 Photo via Bluprint member CatherineMason
The addition of soft pink roses with curled petals is perfect against the sharp edges and deep brown of the chocolate wraps on this wedding cake. Paring a softer and delicate look with a bolder element is a great way to create some subtle and eye-pleasing drama.
Another sweet idea would be to pair deep pink roses with a white chocolate wrap cake and add some great dimension and interest by hand painting 2-D roses onto the wraps with edible cocoa butter paint!
Discover how to whip up delicious and elegant chocolate cakes with Alice Medrich's Learn to Bake Decadent Chocolate Cakes class now!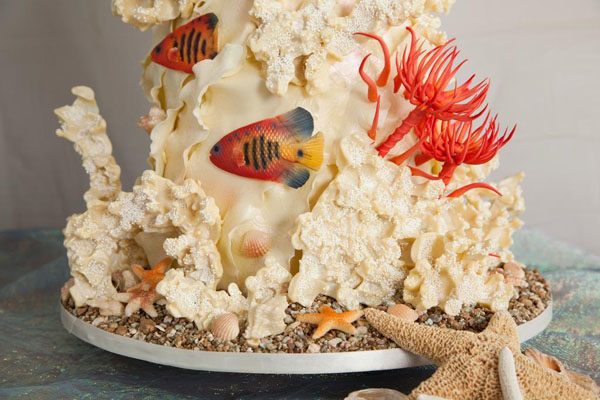 Photo via Bluprint instructor Paul Bradford
One of the best things about designing and creating a chocolate wrap cake is that it's fun so why not make a show-stopping and entertaining center piece! We love the playful under-the-sea theme of this fantastic white chocolate cake from the realistic tiny beach pebbles to the colorful hand-painted fish.
Another novel design idea for a towering wrap cake would be to create a rustic mountain complete with icing sugar snowdrifts, painted chocolate boulders and a detailed snow leopard. For Christmas why not color white chocolate green and decorate a lovely festive Christmas tree themed wrap cake sprinkled with edible sequins and shimmering baubles?
If creating a chocolate wrap cake has sparked your imagination why not sign-up for Paul Bradford's White Chocolate Wrap: Undersea Adventure class today!
One of the things that we love about chocolate wrap cakes is that there is really no one set way to utilize this technique. Chocolate wrap cakes are not only delicious and stunning but also can encompass any look you wish, from delicate lace to organic-like surfaces. So long as you "wrap" a chocolate design around your cake, the sky is certainly the limit! Be playful, embrace your personal style and have fun.
What's your favorite way to use chocolate in cake decorating, apart from enjoying a mid-baking snack?