Chocoholics unite! Having trouble deciding what kind of wedding cake to have? Not feeling the classic white fondant covered cake with flowers?
Check out these chic chocolate wedding cake ideas and let your taste buds be the judge!
From chocolate shards to rolled white chocolate wraps to decadent dark chocolate ganache, if it's a chocolate wedding cake you're after, you're bound to be inspired.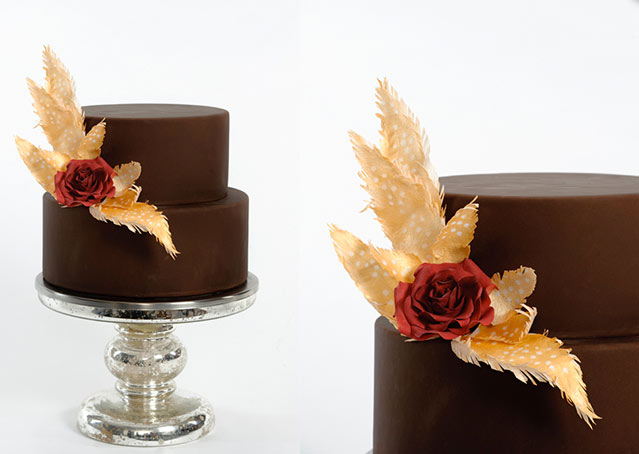 Photo via Style Sweet Ca
Dark chocolate beauty with rice paper leaves:
Modern, simple and oh-so-delicious looking! A cake you actually want to sink your teeth into, like, immediately! Do you know Style Sweet Ca? It's the work of cake artist Tessa Lindow Huff, and she's got gorgeous cake ideas a-plenty. Love this chocolate ganache beauty, offset by a perfect ornament — a beautiful lipstick-red sugar rose peeking out of gold rice-paper polka-dotted leaves.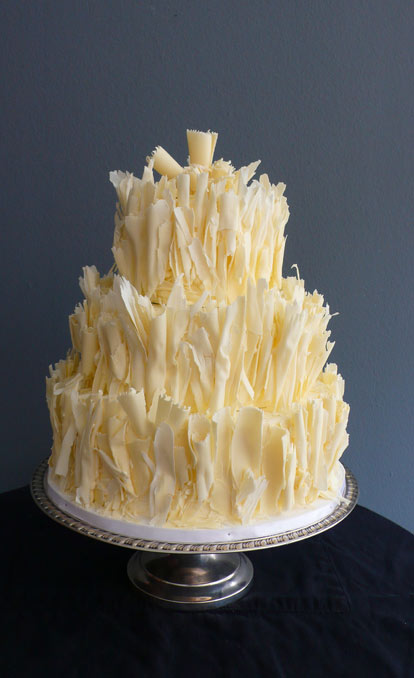 Photo via Cakes Amsterdam-Cakes By Zobot
White chocolate shards cake:
Doesn't this cake look like a malevolent yet beautiful witch's evil (and delicious) castle? I love it! So sculptural with its white chocolate shavings. The cake itself is carrot cake. It was made for a modern wedding.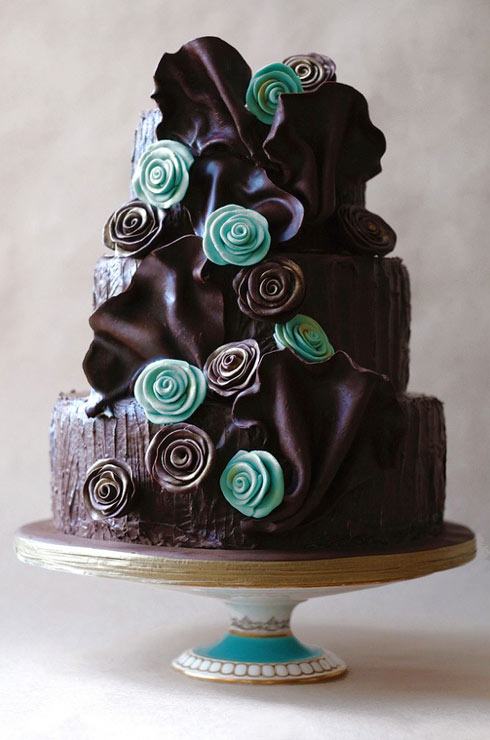 Photo via Ceri Olofson
Dark chocolate bark and ruffle cake:
This is the witch mentioned above's nemesis's castle! Another gorgeous sculptural chocolate wedding cake confection. I love the pops of color the teal roses bring out. This cake looks so scrumptious, like a piece of edible modern art.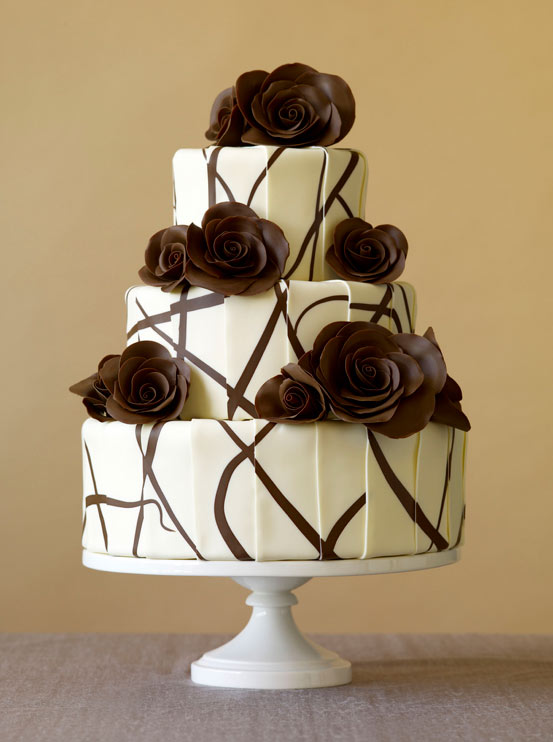 Photo via Baking Arts
Modern chocolate wedding cake:
Baking Arts created this very cool chocolate wedding cake. I love how the dark chocolate looks like painted ribbon throughout the panels of white chocolate. Don't you want to just pluck one of those chocolate roses and snack on one right now? I do!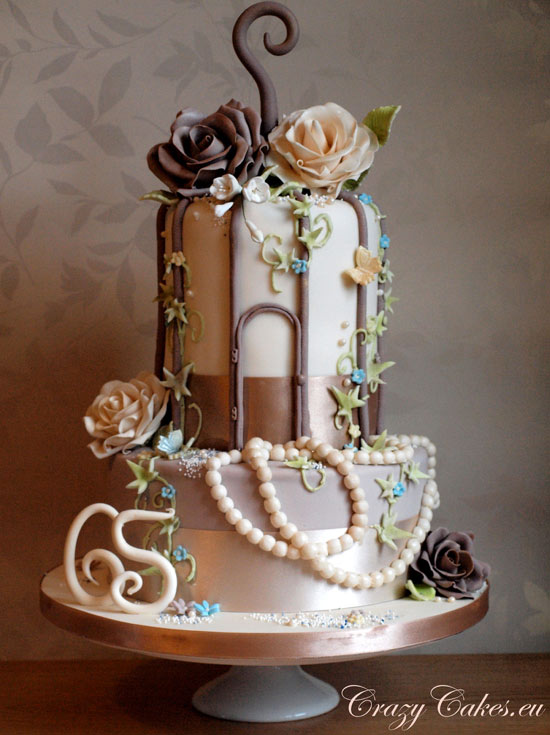 Photo via Crazy Cakes EU
Chocolate birdcage cake:
Crazy Cakes EU did a beautiful job in creating a birdcage cake for her mother's 65th birthday. Love the strands of pearls, tiny blue flowers and green stars adorning this cake, and of course, the chocolate roses.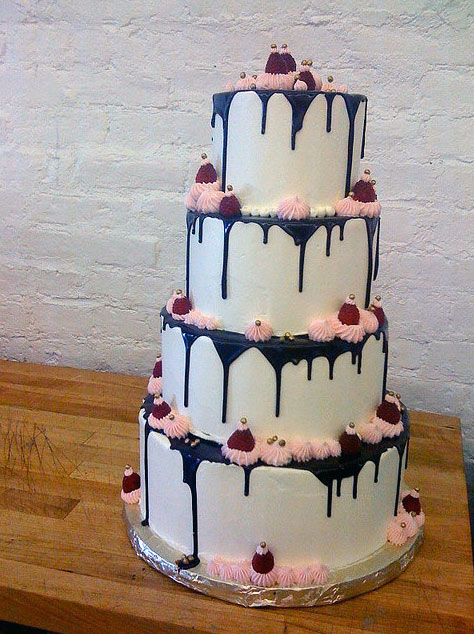 Photo via Nine Cakes
Dripping chocolate Valentine wedding cake:
Is it just me or does any cake (or any dessert, really) with drippy chocolate just make it look so tempting and delicious? I love how the chocolate drips have been incorporated into this Valentine's themed wedding cake. Just a few drips here and there, offset with pink buttercream piped drop rosettes and fresh raspberries.
Nine Cakes describes their confection as "Two tiers of dark chocolate cake, with a sour cherry chile filling, and layers of dark chocolate cinnamon buttercream. The other two tiers were fragrant almond cake, raspberry filling, and layered with rosewater buttercream. Dreamy, romantic, delicious."
Dreamy, romantic and delicious indeed. Cut me a slice, please!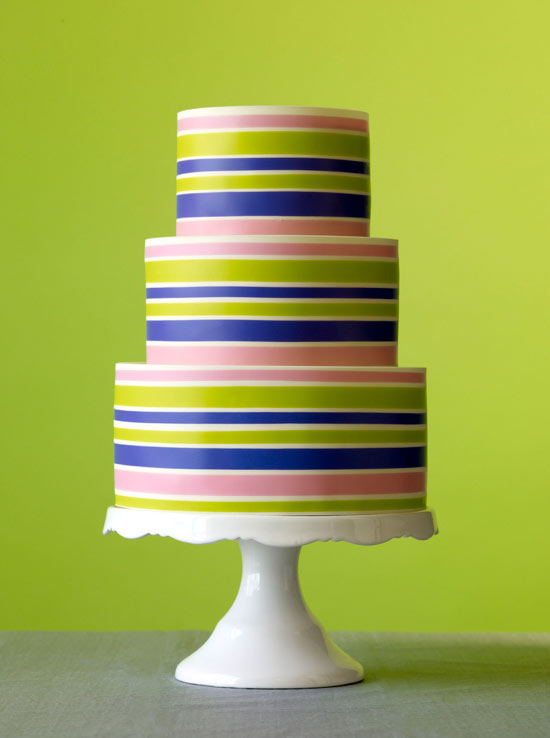 Photo via Baking Arts
Modern striped white chocolate wrapped wedding cake:
Isn't this the coolest technique?  Such a unique and beautiful cake, in bright and modern stripes, all created using modeling chocolate. Really loving this color scheme of lime green, pink and royal blue. I would love to try a slice of this modern masterpiece by Richard of Baking Arts.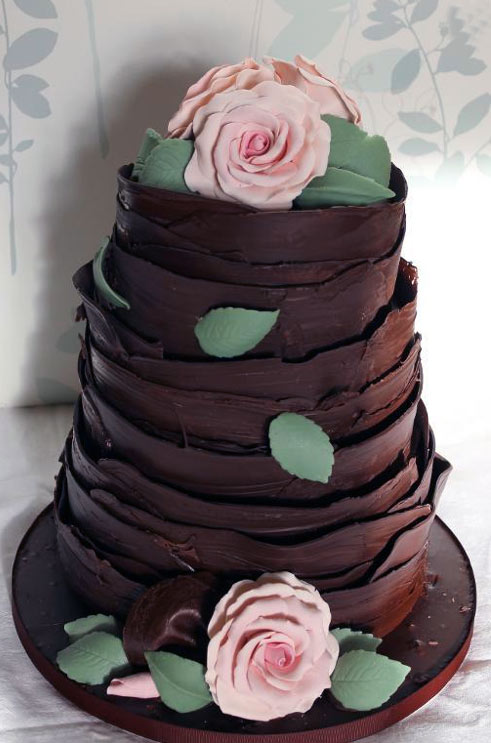 Photo via Bluprint member CatherineMason
Dark chocolate wrapped wedding cake with shabby-chic roses:
Bluprint member CatherineMason created this delectable looking chocolate wrapped cake topped with beautiful pale pink shabby-chic sugar roses. I love how sugar flowers can soften a dark colored cake, and she did a fantastic job on her roses. Learn how to make sugar flowers like the ones she created above in Nicholas Lodge's Classic Sugar Flowers class.
Okay, I'm running to the nearest corner store to buy some chocolate! So many great techniques used in these chocolate chic wedding cakes. I think modeling chocolate has peaked my interest the most — Lauren Kitchens' class Intro to Modeling Chocolate would be a great choice to get started on the techniques seen above and more.
Are you inspired by these chic chocolate wedding cakes? Which one is your favorite?