There is a reason that chocolate lava cake appears on so many restaurant menus: It is mind-blowingly delicious. Not every restaurant gets this chocolaty treat right, however, creating versions that aren't molten enough in the center or simply don't have enough chocolate flavor.
Fortunately, chocolate lava cakes are surprisingly easy to bake at home, which means you'll never have to rely on a restaurant to get it right again!
Learn how to make Chocolate Lava Cake for the perfect treat to indulge your chocolate cravings.
Chocolate lava cakes start life out as a sort of brownie batter, made with dark chocolate, butter and eggs. A very small amount of flour is added to the batter — just enough to ensure that it holds together when you are ready to unmold the cake. The difference between a chocolate lava cake and a brownie is the baking time and temperature: Brownies are often baked at a relatively low temperature, while lava cakes are baked at an unusually high temperature for a very short period of time.
The high-temperature baking method used here does two things: it helps to set the exterior of the cake and it heats the center of the cake enough to cook it without enough time for it to set completely. The result, of course, is a cake that has a firm exterior and a melting, rich chocolate center that will make you want to lick your plate clean!
Use an oven thermometer to ensure that your oven is properly calibrated when baking these. If the oven is too warm, your cake might be less custardy in the center, while an oven that is too cool will result in a cake that won't hold together when you go to unmold it. Since this recipe serves only two, I recommend baking your cakes in individual ramekins. They're easy to get in and out of the oven, and they are very maneuverable when it comes time to plate your finished cakes.
Chocolate Lava Cake for Two
Ingredients
3 ounces semisweet or dark chocolate, chopped
1/4 cup butter
1 large egg
1 large egg yolk
2 tablespoon sugar
1/8 teaspoon salt
1 tablespoon all-purpose flour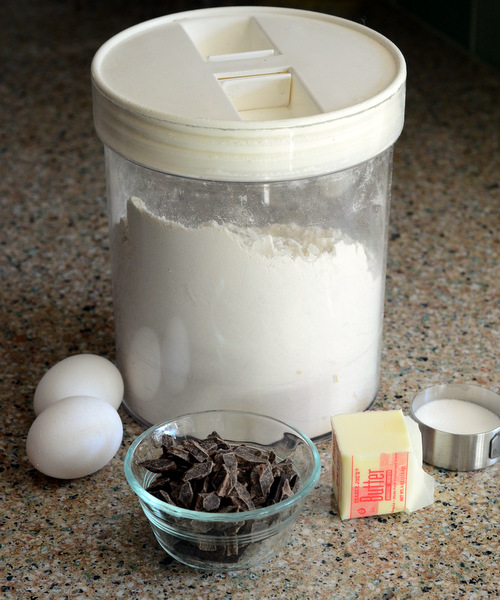 Step 1:
Preheat oven to 425 F. Butter two 8-ounce ramekins and dust with cocoa powder.
Step 2:
In a medium sized, microwave-safe bowl, melt together chocolate and butter on medium heat, stirring until smooth.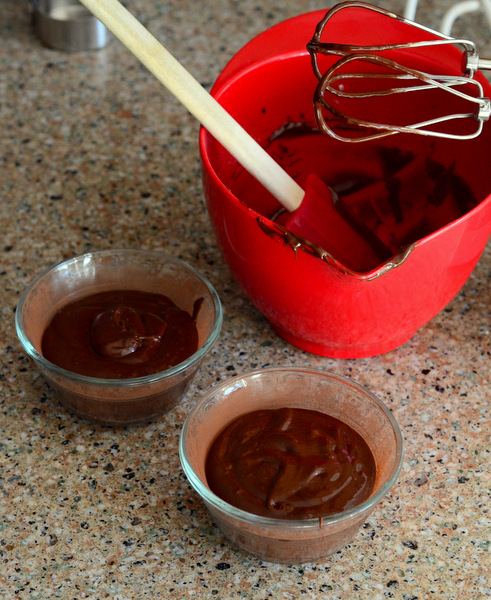 Step 3:
In a large bowl, beat together eggs and egg yolks on medium-high speed until foamy. Add in sugar and salt and beat on high speed for 1 minute. Blend in the chocolate mixture, mixing until very smooth. Blend in the flour, mixing until no streaks remain. Divide batter evenly into prepared ramekins.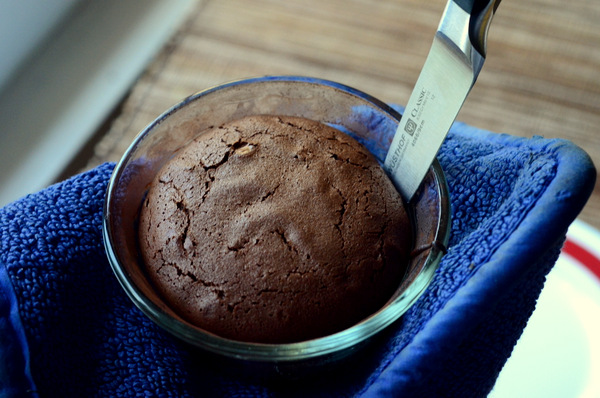 Step 4:
Bake for 10 minutes, until the tops of the cakes are dark golden and feel slightly firm to the touch. Remove from oven and run a knife around the outer edge of the ramekin. Place a small dessert plate on top of the ramekin and invert; when inverted, the cake should release from the ramekin.
Serve immediately.