We've dreamed up a new pop that's made for those of you who think peanut butter and chocolate are the perfect combination. Introducing our oh-so-delightful chocolate-covered peanut butter balls!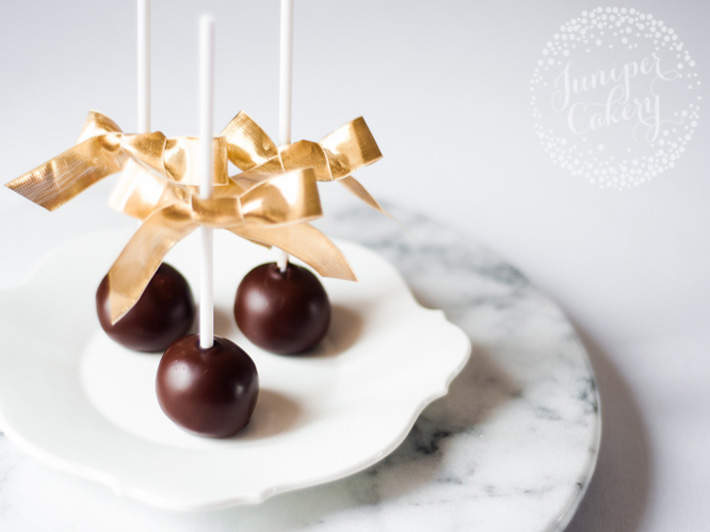 Satisfy your sweet tooth with this recipe for chocolate covered peanut butter balls!
This recipe makes around 10-12 peanut butter balls, but that depends on how generous each portion is — and how many you "taste test" along the way.
Start by making the peanut butter filling.
The filling recipe makes a cookie dough–like texture, which makes these chocolate-covered peanut butter cake balls a delight for those of you who tend to eat the extra cookie dough from your mixing bowl! You can even scrap turning them into chocolate covered peanut butter balls and enjoy them with ice cream.

Ingredients:
100 g (1/2 cup) chilled butter
175 g (7/8 cup) light brown sugar
1 teaspoon vanilla bean paste
140 g (about 1 cup) all-purpose flour
2 heaping tablespoons smooth peanut butter (Not into peanut butter? Try other spreads such as Nutella or cookie butter!)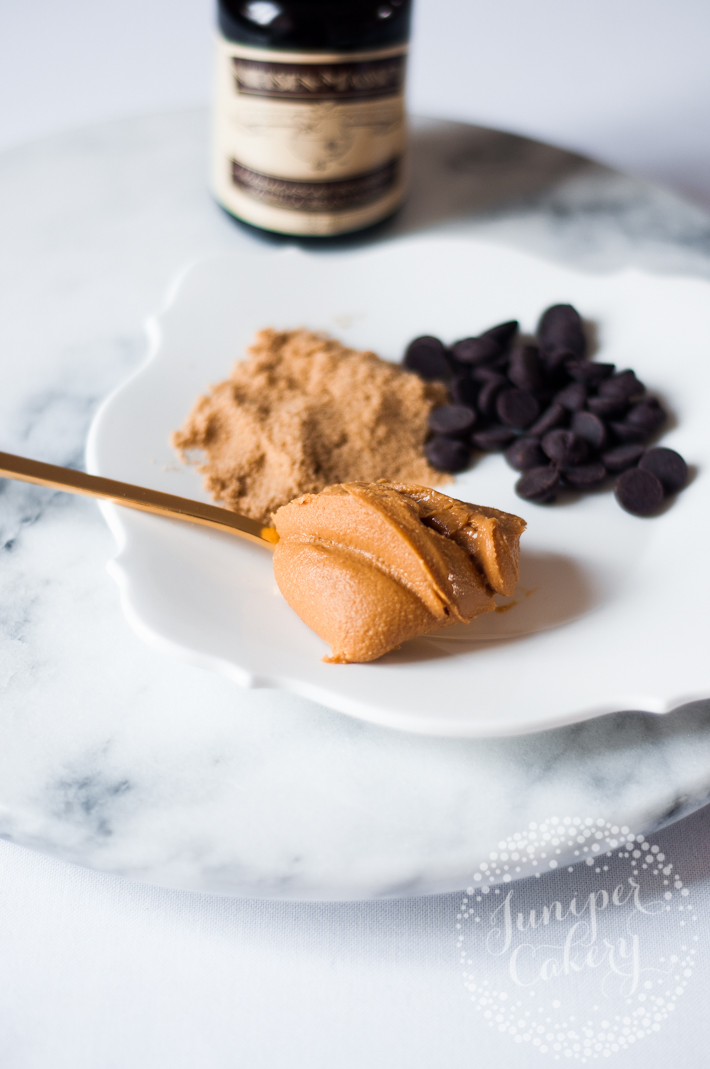 Step 1:
Cream together the butter, sugar and vanilla bean paste until well combined. This recipe calls for light brown sugar, which has a really nice, subtle caramelized taste to it, but you can swap it for caster sugar if your prefer (or if you're out of brown).
Step 2:
Add in the flour and mix until a breadcrumb-like texture begins to form. 
Step 3:
Now add in the creamy peanut butter. You can opt for crunchy peanut butter if you want, but it will creates a bumpier cake pop. We'd recommend smooth all the way.
Add a tablespoon of peanut butter at a time; mix it together and check the consistency. If it feels a little too dry and doesn't form a nice, smooth cake ball, then add a little more.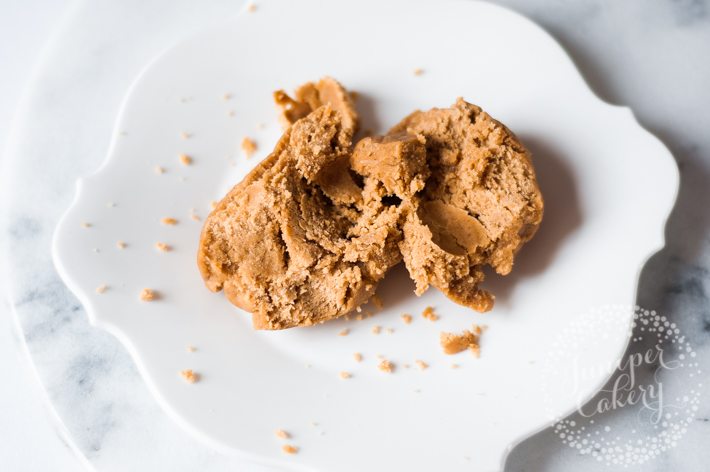 Now it's time to roll the dough into balls
What you need:
Greaseproof paper
Digital cooking scale 
Cookie tray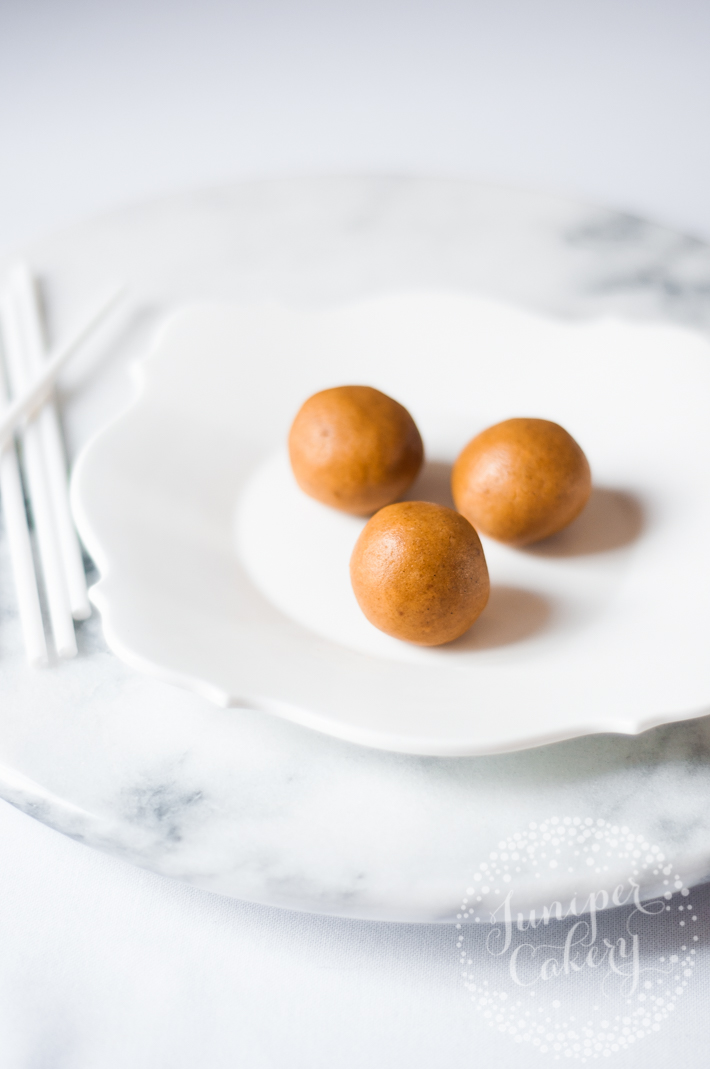 Step 1:
Add a small piece of greaseproof paper to your digital scale and weigh out even pieces of cookie dough. We aim for 25 grams per ball.
Step 2:
Roll the dough into smooth, even balls and set aside on a cookie tray lined with greaseproof paper.
This step creates a flat base that lets the cake pops that stand up on their own and cake balls that won't roll around.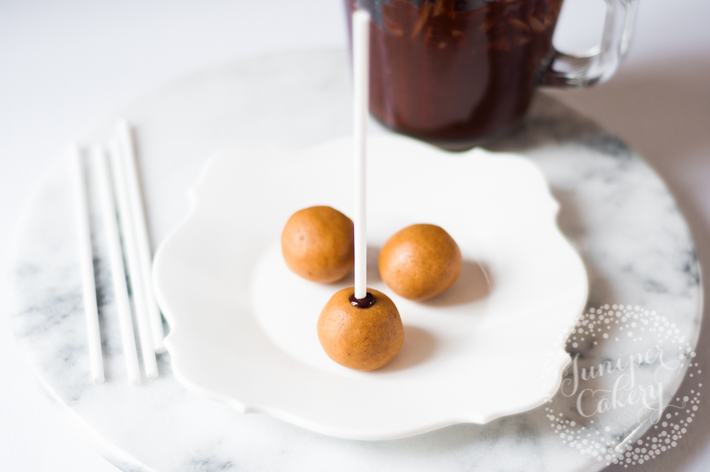 Next up, it's time to make the chocolate coating and get dipping!
What you need:
Microwave-safe bowl
Chocolate candy melts
Cake pop sticks (optional)
Paramount crystals, Crisco or Trex (if you're in the UK)
Cake pop holder (optional)
Step 1:
Place your just a small amount of candy melts in a microwave-safe bowl and microwave for 2 minutes, checking every 30 seconds to make sure they don't over-heat and burn. Stir them to make sure they're properly melted.
Step 2:
If you're making cake pops, dip a cake pop stick and dip it a little into your melted chocolate. Then, push pushing the stick into the center of a peanut butter balls.
Once all the balls have their sticks in place, pop them in the fridge until firm and well chilled. This should only take up to around 3 hours, but it depends on the settings of your fridge.
For chocolate-covered peanut butter balls — without the stick — skip this step and move on to the next step.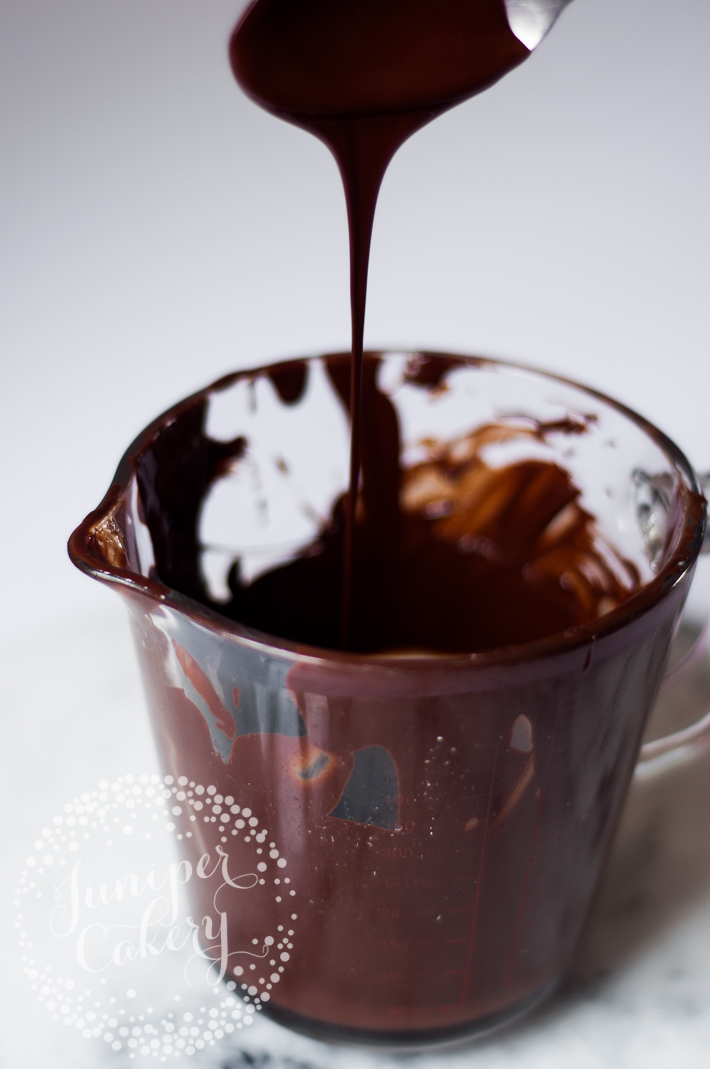 Step 3:
With your cake pops or balls still in the fridge, prepare your chocolate coating. Add the remaining candy melts to a microwave-save bowl and heat them up for 2-3 minutes. Remember to check and stir them every 30 seconds to make sure they don't burn.
To thin down the chocolate and make it less stiff, you can add in some paramount crystals or Crisco (in the U.K. you can use Trex). There isn't really a definite amount you need to add — just start with a small amount, stir until melted into the mixture and add more if needed.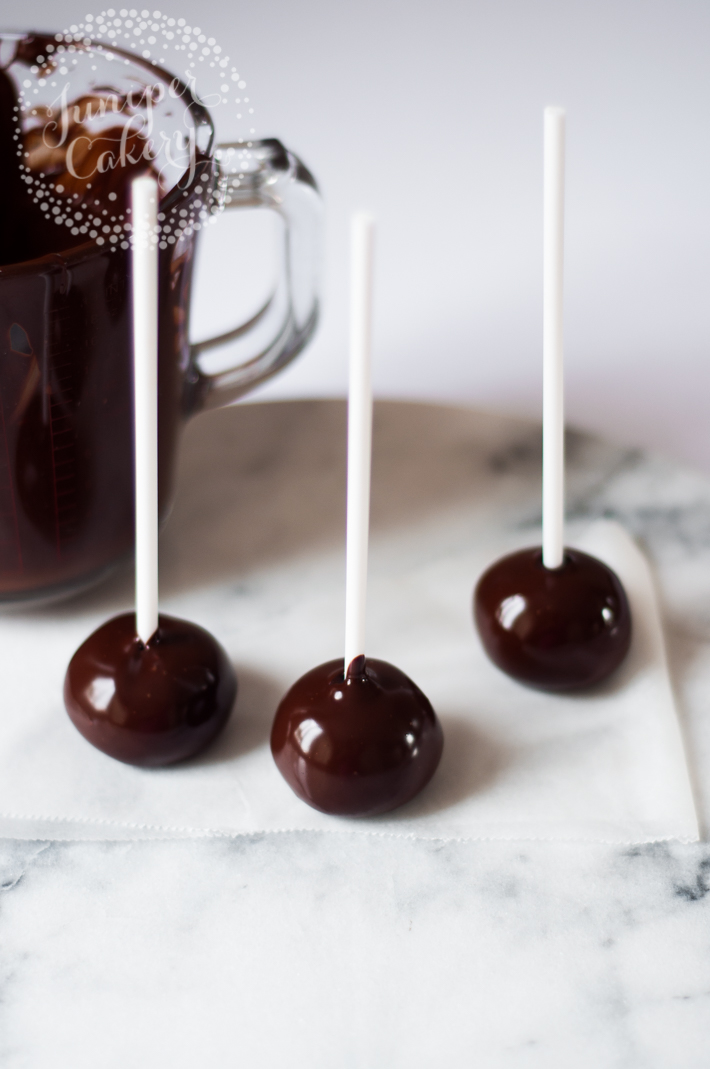 Step 4:
Now dip and gently swirl your peanut butter pops into the melted chocolate. Tap off any excess chocolate and set down on a cookie tray. If you're aiming for perfectly rounded pops, stand them into a cake pop stand to set.
For chocolate-covered peanut butter balls, lay out each ball onto a wire rack over a bowl or tray (make sure it has a ledge around every edge or your chocolate will drip off). Now, one at a time, pour the chocolate coating over it until covered. Repeat this until all are coated. Leave to set in a cool and dry environment.
Storing your chocolate-covered peanut butter balls
Don't put your chocolate-coated treats in the fridge, as the excess moisture inside could lead to a "sweaty" looking coating — especially when they're removed and the warmer room temperature air hits the cold chocolate.