Half chocolate cake, half flan. That's the best way to describe this dulce de leche–filled dessert. All three parts of this chocoflan cake are placed in a bundt pan in a specific order: dulce de leche, cake batter, then the flan mixture. As it all bakes together, the flan mixture sinks to the bottom, the chocolate cake batter rises to the very top and the dulce de leche rises to the center. It's pretty mind boggling!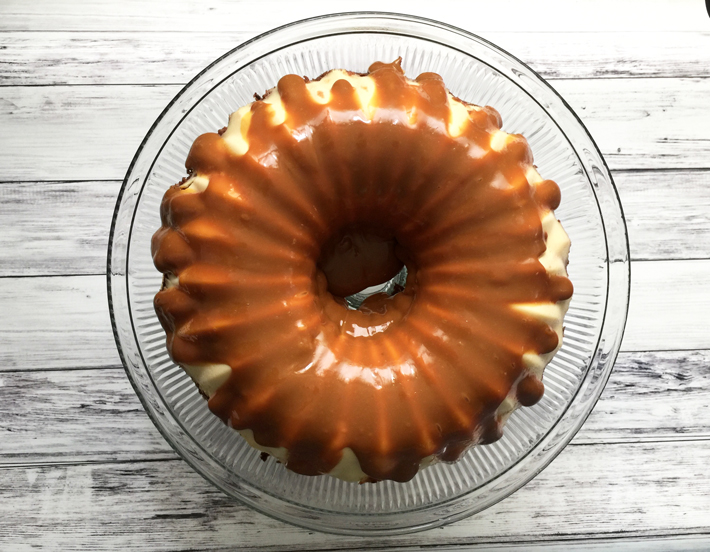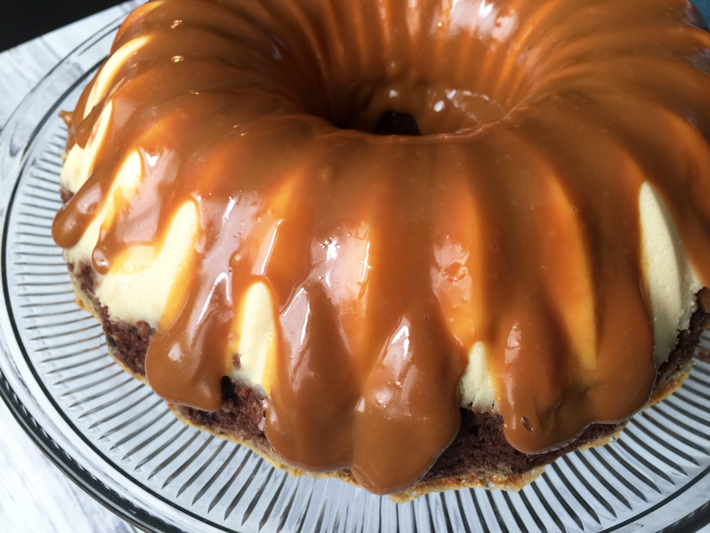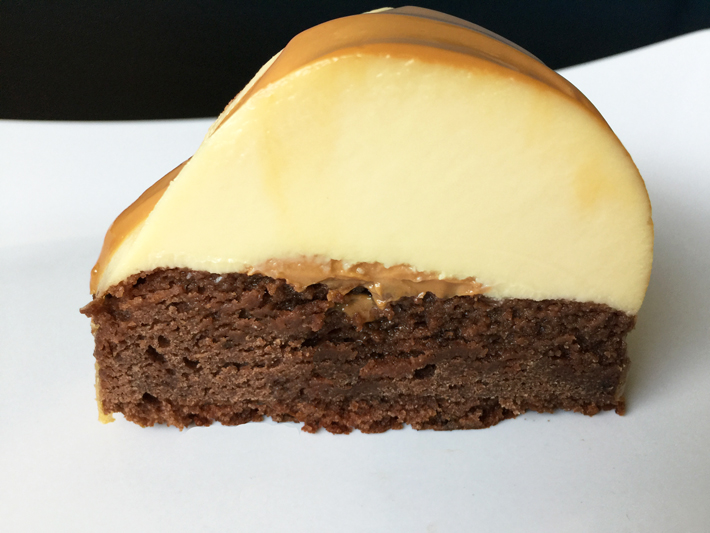 And, yes, this chocoflan cake is as delicious as it looks. I can't wait for you to dig in. Let's get started!
Chocoflan cake recipe
Makes about 12-16 servings
Chocolate cake ingredients
1½ sticks (12 tablespoons) butter

1½ cups flour

1 cup sugar

1 teaspoon baking powder

½ teaspoon baking soda

⅓ cup cocoa powder

1 teaspoon instant coffee granules

2 eggs, at room temperature

2 teaspoons vanilla extract

⅔ cup plain Greek yogurt at room temperature
Flan ingredients
One 12-ounce can evaporated milk

One 14-ounce can sweetened condensed milk

4 ounces cream cheese, softened

3 eggs, at room temperature

1 teaspoon vanilla extract
Topping ingredients
⅓ cup dulce de leche

1-2 tablespoons milk
Additional ingredients
Butter for greasing the pan

⅓ cup dulce de leche for the bottom of the pan
Preparing the bundt pan
Step 1:
Preheat the oven to 350 F. You'll need a 12 cup–capacity (10″) bundt pan and another pan that can carry 1 inch of water (like a roasting pan), which the bundt will sit in. We'll be baking this in a water bath.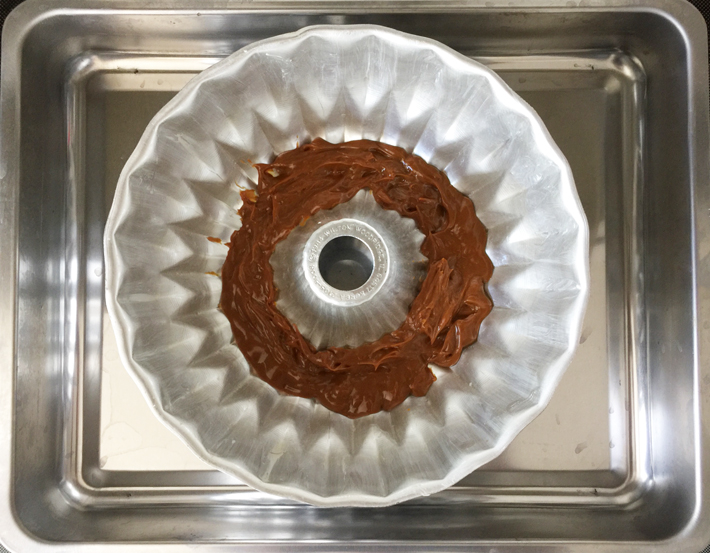 Take your time buttering the pan, making sure to grease within the little crevices.
Step 2:
Warm the dulce de leche in a small bowl until it's easy to spread. Spoon and smooth it into the bottom of the pan. Set aside for now.
Preparing the chocolate cake batter
Step 1:
Melt butter in a microwave using the defrost mode in 30-second bursts. Let cool and set aside.
Step 2: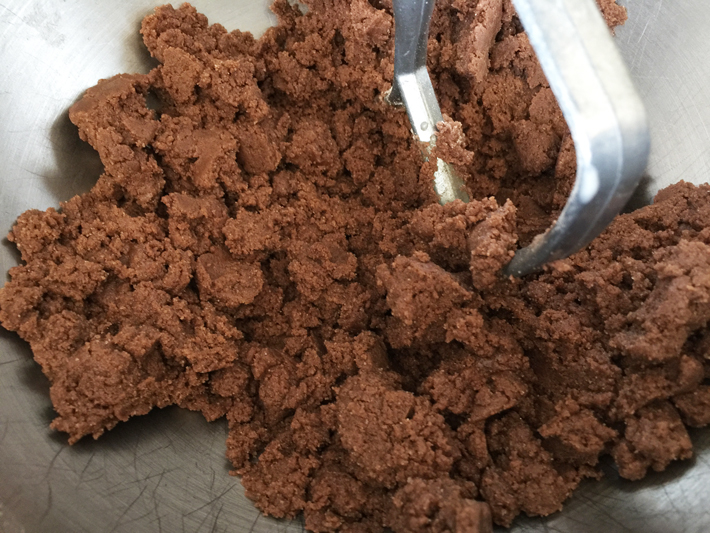 Place all dry ingredients, except coffee granules, in the bowl of a stand mixer and whisk together. Using the paddle attachment, beat dry ingredients with the cooled butter until it's fluffy.
Step 3:
In a bowl, whisk together eggs, yogurt, vanilla and coffee granules until smooth. Pour into the butter mixture and beat on medium high speed until combined. This batter is thick!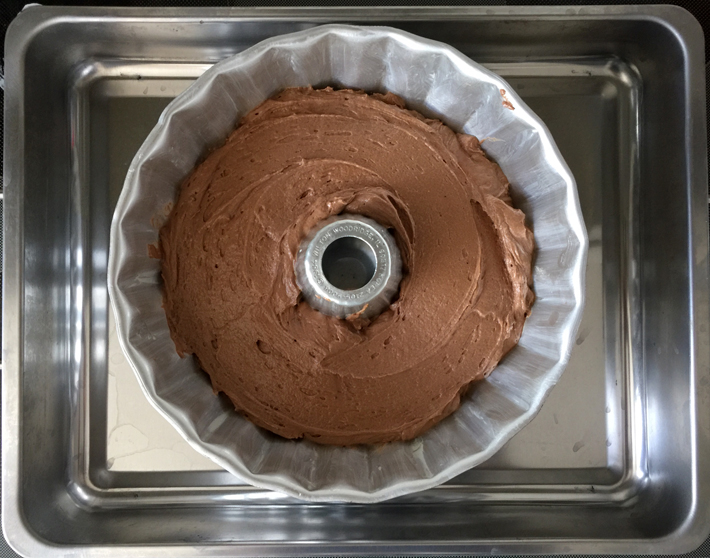 Spoon and evenly spread batter into the bundt.
Preparing the flan mixture
Step 1:
Place all ingredients in a blender or food processor. Blend or process until completely smooth. There should be no visible lumps from the cream cheese.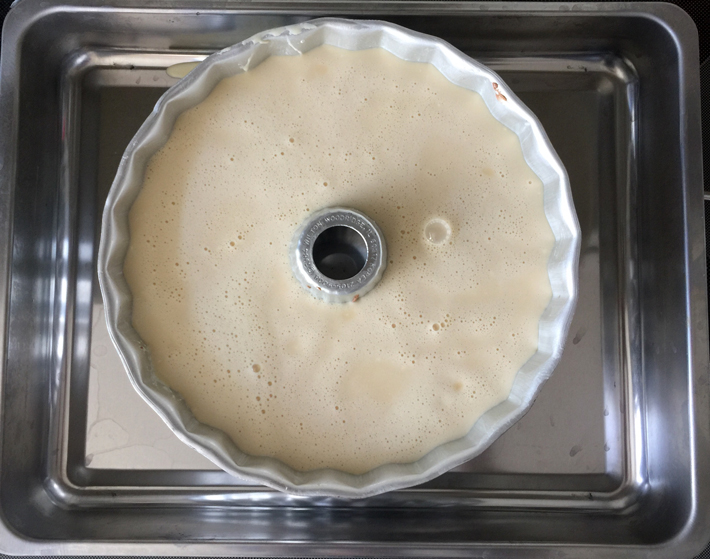 Step 2
Pour mixture into the bundt using a ladle. I find it's much more effective this way than just pouring it right in.
Baking the chocoflan cake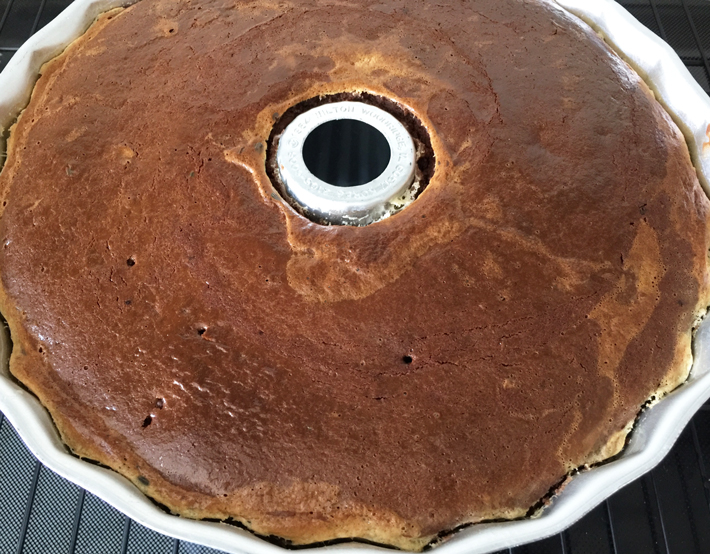 If you haven't done so already, place bundt pan inside the roasting pan. Place the pans in the oven, then pour an inch of hot water into the roasting pan.
Bake for 70-80 minutes. Check it after 60 minutes and insert a skewer, toothpick or fork as a tester. The tester should pull out free of chocolate batter. Just remember, there will be sticky dulce de leche on the cake tester but no chocolate.
Lift the bundt from the water bath and let cool completely on a wire rack. Once it's completely cooled, cover the bundt with foil and let the cake chill for 4-5 hours in the  fridge before inverting it onto a platter and serving.
Serving your chocoflan cake
Once it's completely chilled, invert it onto a plate. Place 1/3 cup dulce de leche in a bowl and warm in the microwave. Add 1-2 tablespoons of milk to thin it out into a pouring consistency. Pour over the entire bundt before serving.