Chicken tikka masala is unvaryingly the most popular dish at Indian restaurants in the U.S. and Britain. Why? One word: cream. Think luxurious, unapologetic doses of heavy cream, and while we're at it, some butter too. But chicken tikka masala involves more than just cream. Like so many other dishes in the treasure trove of Indian cuisine, it has complex flavors and aromas built from custom blends of freshly toasted spices, sautéed onions, fresh aromatics and herbs.
The complexity can be daunting, tempting me to shuffle my Indian cookbooks to the back of the cabinet, mentally filing them away for later, thinking, perhaps I'll make Indian food when I have a spare 8 hours plus time to travel to Kalustyan's for fresh curry leaves and asafoetida. However, the ultimate chicken tikka masala doesn't require so much planning. With a few tips and tricks, plus this killer recipe, this seemingly exotic, complex recipe can become an easy weeknight meal. Top it off with some milk fudge for dessert, and you've brought a taste of India home.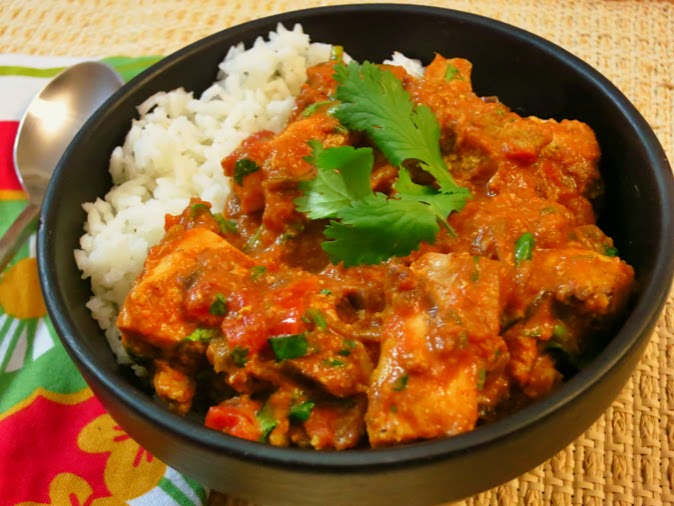 Put down the takeout menu! You can make chicken tikka masala at home.
The true story of chicken tikka masala
Now, lean closer. I'm going to let you in on a (poorly kept) secret: chicken tikka masala is easy compared to a lot of other Indian dishes because…it's not authentically Indian! Just like banh mi sandwiches and California rolls, chicken tikka masala is the result of a blending of cultures.
There are endless disputes about the real origin of the dish, but chef Rati Lohtia, Indian cooking instructor at the Institute of Culinary Education and James Beard House, relayed the story she hears most often:
"During the era of Britain's colonization of India, a colonel returned home to England with a taste for Indian curries. One evening, dissatisfied with his dry chicken cutlet, he sent it back to the kitchen where his cook mixed some spices and cream into a can of tomato soup, poured it over the chicken, and a British national treasure was born!"
Not authentically Indian, but authentically delicious.
Chicken tikka has come a long way since its canned soup days. However, it still is a hybrid dish, so there are wildly different recipes for it. I compared dozens of recipes and did some reconnaissance work at a couple of my favorite Indian restaurants. (Tough job, but someone had to do it. You can thank me later.) Then, I set out to create the ultimate chicken tikka masala recipe with all the lusciousness and depth of my favorite versions, using only ingredients easily found at a local supermarket and in your pantry.
Chicken tikka masala recipe
Serves 6 to 8
For the chicken and marinade
1 teaspoon ground cumin
1 teaspoon ground coriander
1 teaspoon paprika
1 teaspoon turmeric
¼ teaspoon cayenne pepper
¼ teaspoon ground cardamom
6 cloves garlic, crushed
4 teaspoons grated ginger
1 teaspoon kosher salt
14 ounces whole milk Greek yogurt
3 pounds boneless, skinless chicken thighs
Note: For the best cut of chicken, I use boneless thighs for both their flavor and relative ease of cutting. You could substitute chicken breasts in this recipe if you prefer.
For the masala sauce
2 tablespoons ghee (clarified butter)
1 large red onion, thinly sliced into half-moons
1 teaspoon whole coriander seeds
1 tablespoon garam masala
1 tablespoon grated fresh ginger
1 tablespoon crushed garlic
1 serrano chile, ribs and seeds removed, finely diced
2 tablespoons tomato paste
1 28-ounce can crushed tomatoes in juice
2 tablespoons honey
1 teaspoon kosher salt
1 cup heavy cream
¼ cup chopped cilantro, plus cilantro leaves for garnish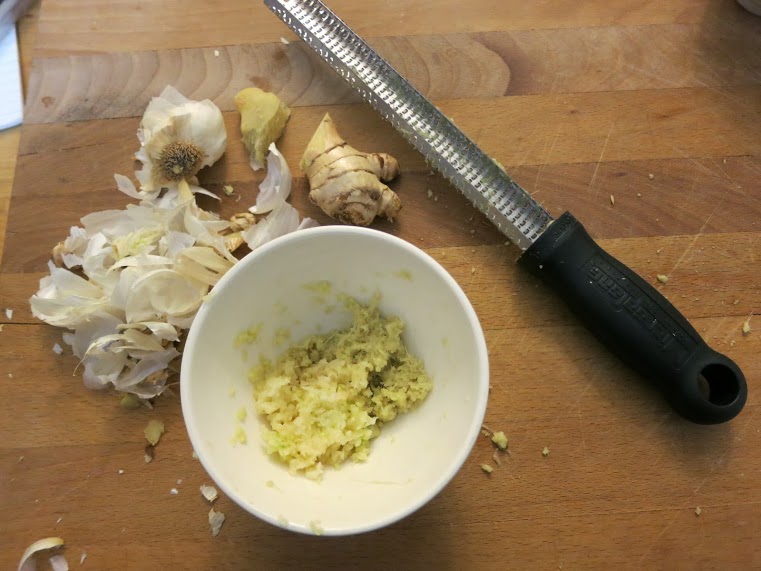 Lots of fresh grated ginger and garlic are some of the building blocks of a great curry.
The building block: fresh, toasted spices
One of the cardinal rules of Indian cooking is to use fresh spices. If anything's been in your cupboard for more than a few months, it's probably past its prime. However, even spices that are a little tired can be miraculously revived by toasting them in a hot skillet. Toasting spices in a hot pan releases the aromatic oils, allowing for greater depth of flavor.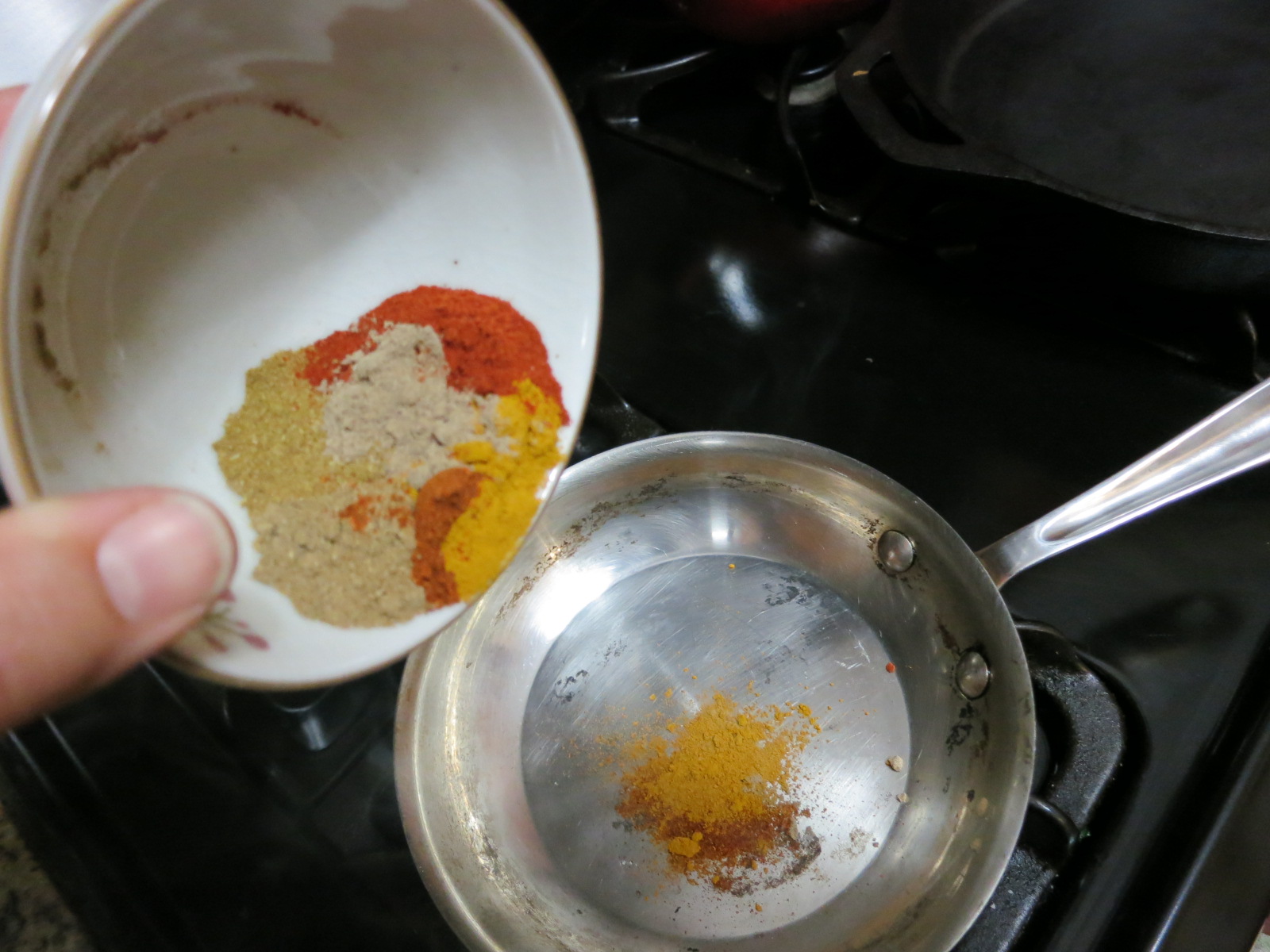 Part one: make the marinade
The first step is to prepare the marinade. Cutting slits in the chicken allows to better absorb the marinade. The key to this marinade is yogurt and lots of spices. Marinating in yogurt is an excellent way to tenderize meat. Because yogurt is far thicker than other acidic ingredients often used in marinades (vinegar, citrus juice, wine), it has the added bonus of easily adhering to the entire surface of the meat.
Step 1:
Heat a small skillet over medium heat. Add all the dry spices (cumin through cardamom) and toast until fragrant, stirring constantly, about 60 seconds.
Step 2:
In a wide, shallow dish (such as a 9" x 13″ baking pan) mix toasted spices, garlic, ginger and salt with yogurt until well combined.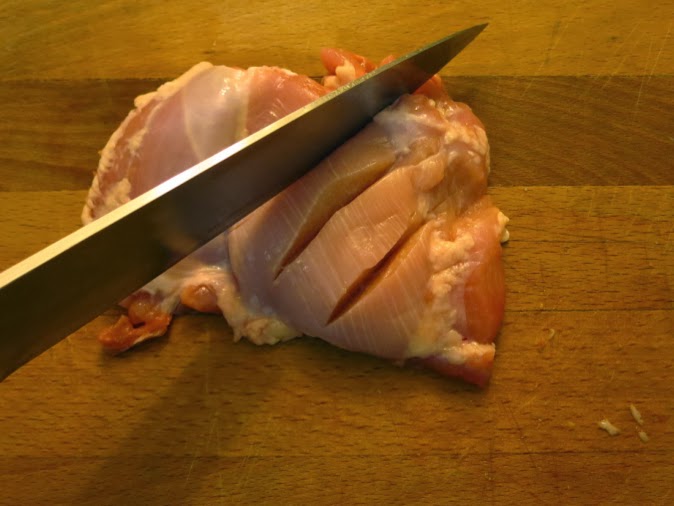 Step 3:
Cut slits in chicken about 1 inch apart and ¼ inch deep, to allow marinade to penetrate.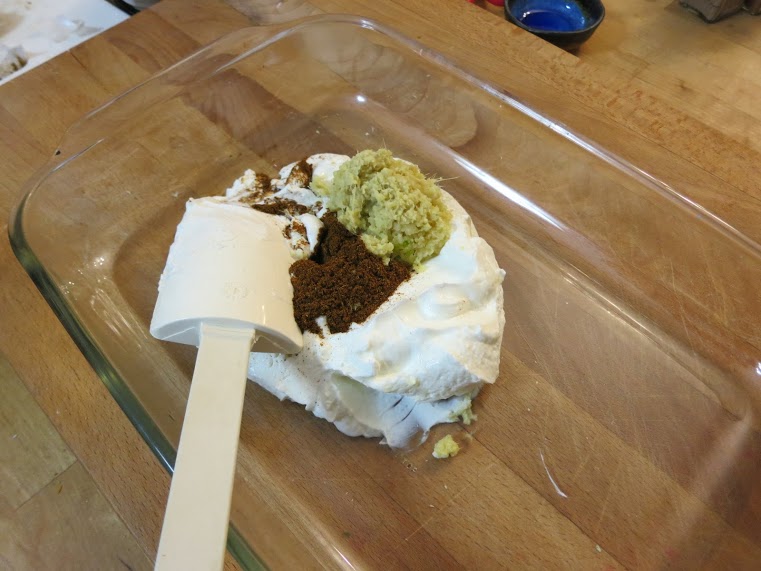 Labor-saving tip: stirring up the marinade in the chicken pan means one less bowl to wash.
Step 4:
Add chicken to dish and coat thoroughly with yogurt mixture. Because chicken is already quite tender, there's no need to marinate it for too long. 4 to 6 hours is about right for boneless cuts of chicken. Much longer than that and the meat will actually start to get mushy.
Part two: cook the chicken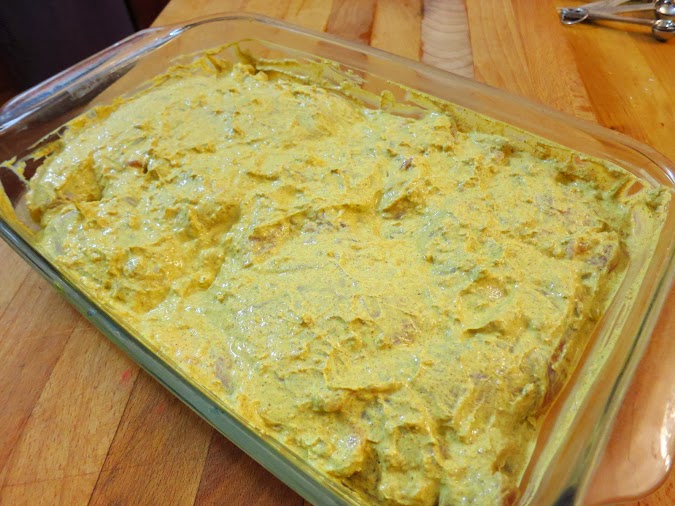 Yogurt is a fabulous tenderizer, and it allows the marinade to thoroughly cover the meat.
Step 1:
Remove chicken from refrigerator about 20 minutes before cooking, to allow it to approach room temperature. (As with all meats, this ensures even cooking).
Step 2:
Move top rack of oven 6 inches from broiler. Heat broiler to High.
Step 3:
Arrange chicken on a half-sheet pan or baking pan lined with foil, wiping off some of the excess marinade.
Step 4:
Broil for approximately 16 minutes, turning chicken over with tongs halfway through cooking, until chicken is browned on the surface and no longer pink in the middle. You may need to rotate the pan or rearrange the chicken during cooking in order to ensure even browning.
Note: I used the broiler because it's the closest thing to a tandoori most home kitchens have. This method creates a sizzling brown finish on our chicken, adding another layer of flavor to the finished dish.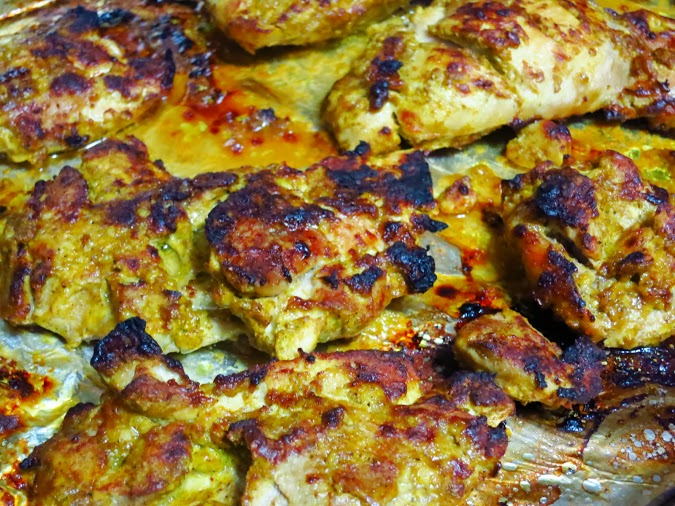 Don't fear the sear. Broiling the chicken on High dials up the flavor factor.
Step 5:
Allow chicken to rest 5 minutes, then cut into 1 inch chunks.
Here's a calorie saving tip: you can can stop the recipe here! When you're not feeling so hedonistic to want a cup of heavy cream in your dinner, the marinated chicken, sans masala sauce, is also fantastic. File it away for barbecue season, or use on days when you want a lighter dish that's still loaded with flavor!
Part three: make the masala sauce
The third and final part is the sauce. Oh the sauce. With plenty of fresh ginger and garlic, toasted coriander, garam masala, caramelized onions, tomatoes, and, oh yeah, a cup of heavy cream, there really isn't any way you can go wrong.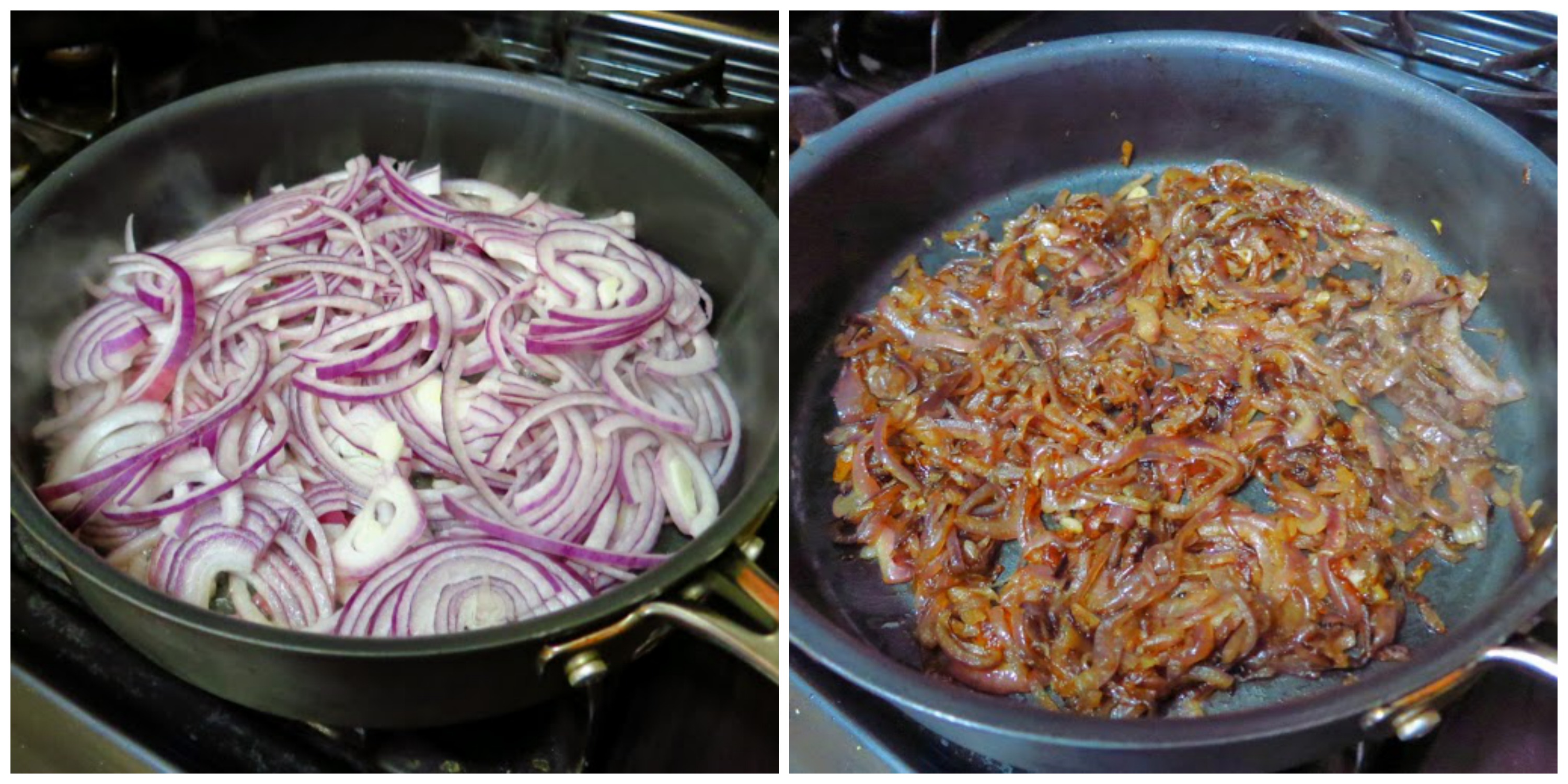 Fun fact: According to chef Rati, red onions are the only kind of onions available in India.
Step 1:
Heat a large, deep skillet over medium heat. Heat ghee until sizzling, then add onions. Stir every few minutes until onions are deep brown and caramelized, about 20 minutes. If the onions smell like they're starting to burn, turn down the heat a little, or add a tablespoon or two of water. Caramelized onions are a fundamental part of a great curry, so don't rush this step. Properly caramelized onions take time!
Chef trick: Cut onions easily by first cutting through root. Then place the onion flat side down on your cutting board and slice. A sharp knife is essential.
Step 2:
Add coriander seeds to pan and toast until fragrant, about one minute. Add garam masala, ginger, garlic, chili, and tomato paste. Sauté, stirring frequently, until garlic and ginger are softened, about 3 minutes.
Step 3:
Stir in tomatoes, honey and salt. Simmer 20 minutes.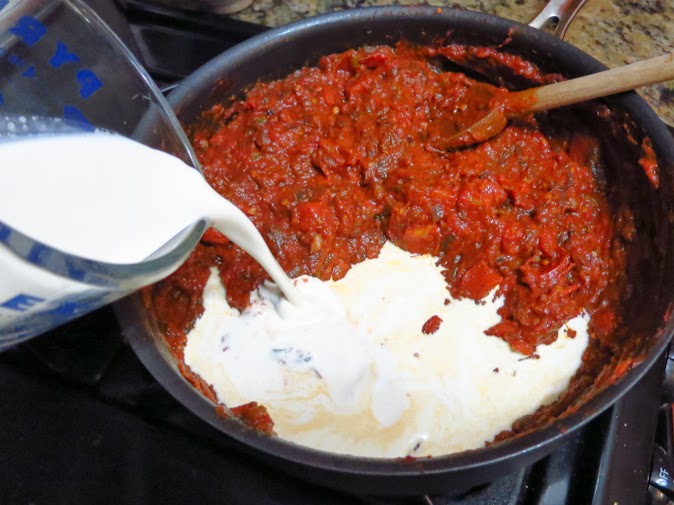 Time for the heavy cream we've been talking so much about!
Step 4:
After simmering the onions with spices and crushed tomatoes, add the cream. Yes, a whole heaping cup of it. The cream makes the sauce! Stir in cream and reduce heat to low.
Step 5:
Once sauce is bubbling gently, mix in diced broiled chicken and chopped cilantro, and simmer just until chicken is hot. Add more salt to taste if you like.
Note: The diced chicken and fresh cilantro are mixed into the masala sauce just before serving, in order to preserve the distinct flavors of each element.
The finished project!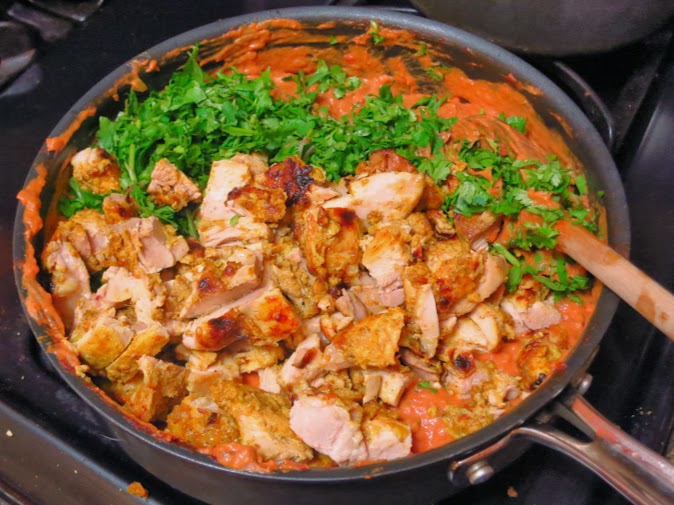 Combining the chicken and the sauce makes a completed dish!
Serve your chicken tikka with steamed basmati rice and a beer, (preferably India pale ale). If your mother is watching, you could be add a side dish of sautéed spinach or roasted cauliflower. Garnish with a touch of cilantro to add a little color and freshness. Time to enjoy! Be prepared to win friends and influence people.