"Drag it through the garden." That is an old-school restaurant call out for a Chicago hot dog recipe — one of the most delicious ways to eat a hot dog that you can imagine. Chicago-style hot dogs are defined by their huge quantity and variety of toppings, all of which are so delicious that it is hard to go back to a plain dog after you try one.
Learn more about this delicious Chicago hot dog recipe below!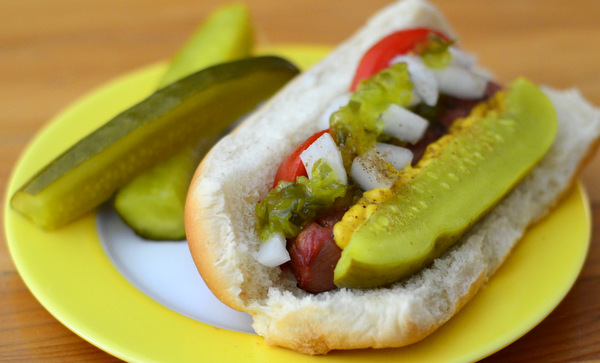 Photos by Nicole Weston of Baking Bites
What makes up a Chicago-style hot dog?
A Chicago hot dog recipe always has several key ingredients: fresh red tomatoes, diced white onion, bright green relish, Kosher pickle spears and yellow mustard. They are never topped with ketchup. (In fact, some hot dog stands in downtown Chicago don't even have ketchup!)
This assortment almost reads like a rainbow — red, white, green, yellow — and that makes it one of the best looking hot dogs around.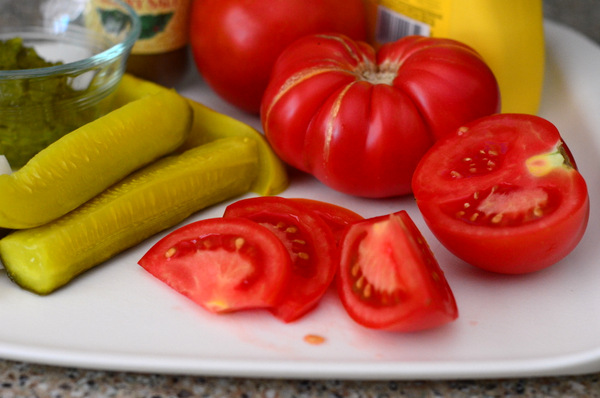 Chicago hot dog toppings and ingredients:
Tomatoes
I always use fresh, ripe, red tomatoes. They don't really have to be red, but it adds a nice color contrast to the dogs.
Onions
Fresh white onions contrast with the sweetness of the tomatoes and give each bite a little bite.
Pickles
Bright green sweet pickle relish is a traditional topping and contrasts with the tang of the large slices of dill pickles that are nestled into the bun. Vienna Beef makes some of the brightest green pickle relish on the market — and that's what you'll find at many outlets that have Chicago dogs on the menu — but any sweet pickle relish will get the job done.
Mustard & salt
The whole thing is topped off with yellow mustard (nothing too fancy) and, if you have some on hand, a sprinkle of celery salt.
Peppers
One other garnish on a Chicago hot dog recipe is a "sport pepper." These are small, spicy green peppers that are packed in vinegar and used whole on the dogs.
Sport peppers are easy to find in the Midwest and the South, but difficult to find in other areas. If you can handle the heat, you might want to track them down online, but you can skip them if you prefer less spice (I go without, even in Chicago).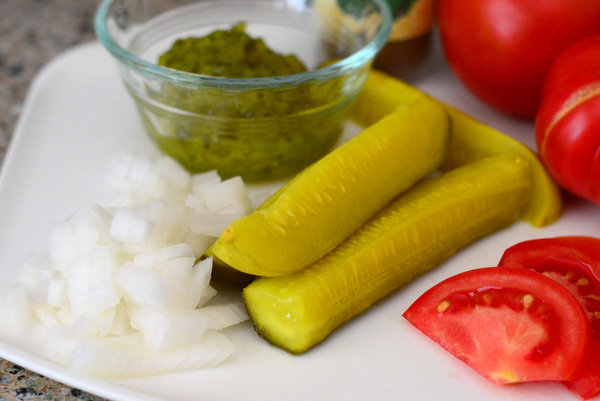 The bun
Last but not least, you have the bun and the hot dog itself. A traditional Chicago hot dog should be served in a poppy seed bun, but these are hard to find outside of Chicago. It's uncommon to even see sesame seeds on hot dog buns in my area, so I usually substitute plain buns.
You might catch a bit of slack from Chicago-area friends for this sort of substitution, but I'm sure that they'd agree that a plain bun is better than a hot dog slathered in ketchup.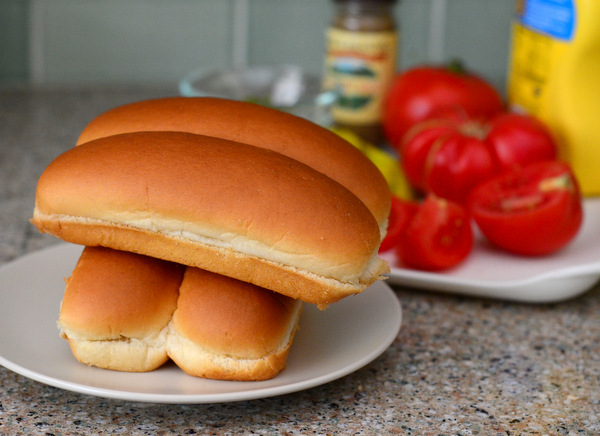 The hot dog
The hot dog should be an all-beef dog with natural casing. The casing will give it a nice snap when you bite into it, while the all-beef sausage will pack plenty of flavor to stand up to all those toppings. While you can try a Chicago hot dog with turkey dogs, they are less flavorful than beef (on average) and can get lost in the ingredients.
The hot dogs are usually steamed or boiled before being plated, however you can cook them in a skillet or grill them, if you prefer.
Chicago Hot Dog Recipe: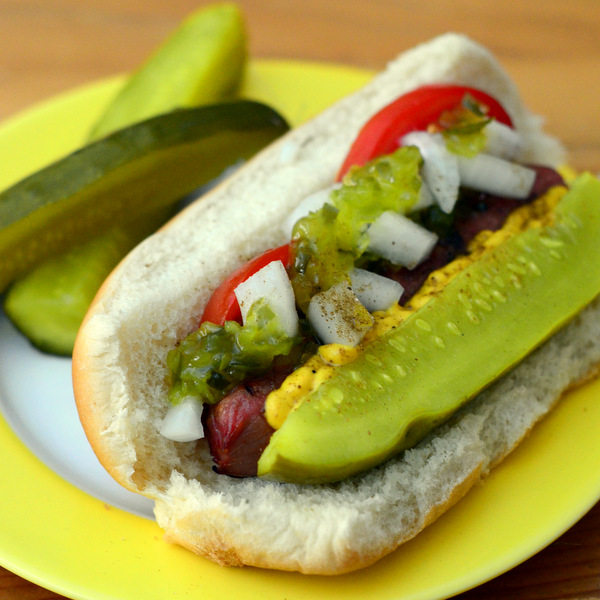 Ingredients:
All-beef hot dogs with natural casings
Thinly sliced red tomato
Diced white onion
Sweet pickle relish
Dill pickle spear
Yellow mustard
Celery salt
Sport peppers (optional)
Step 1:
Bring 1″ of water to a simmer in a large skillet. Add hot dogs and simmer until heated through. Remove from water and drain.
Step 2:
Place hot dog in bun. Cut one slice of tomato in half (to form two half circles) and tuck between the bun and the hot dog. Place dill pickle wedge on other side of the bun. Generously spoon on sweet pickle relish, chopped white onions and mustard. Sprinkle with celery salt, then top with two, whole sport peppers (if using).
Low & Slow BBQ at Home
Master the craft of real American barbecue in your backyard!
Enroll Now »