Champagne and truffles are a perfect pair, and when combined into the same dessert, they make a delightful, bite-sized treat! These dark chocolate champagne truffles are smooth, velvety and the perfect indulgence to share with others (or not!).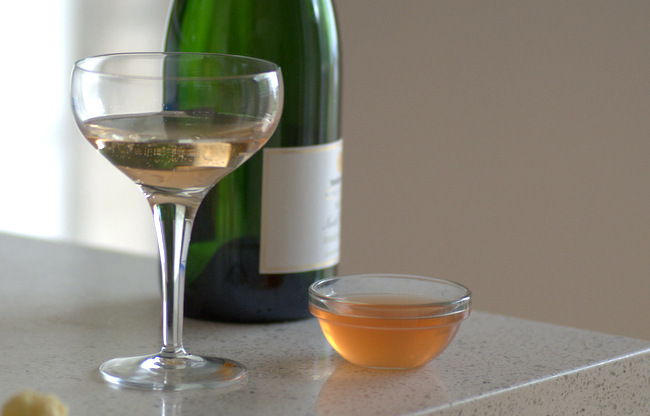 The Ingredients
Champagne 
You don't need an expensive champagne, but you do want a decent one for two reasons. First, you won't use the whole bottle (unless you're making a really big batch), so you want it to be tasty enough to enjoy drinking. Second, better-tasting champagne equals better-tasting truffles! 
To intensify the flavor — and keep from adding too much liquid to your truffles — you must reduce the champagne. Once reduced, it should retain a hint of that yeasty, nutty bread flavor, the hallmark of many nice champagnes. 
I used sparkling wine from California produced in the méthode champenoise (or méthode classique) —the same way sparkling wines are made in Champagne, France. I reduced it from a ½ cup to 2 tablespoons, then fortified it with a bit of cognac to emphasize its fruity notes.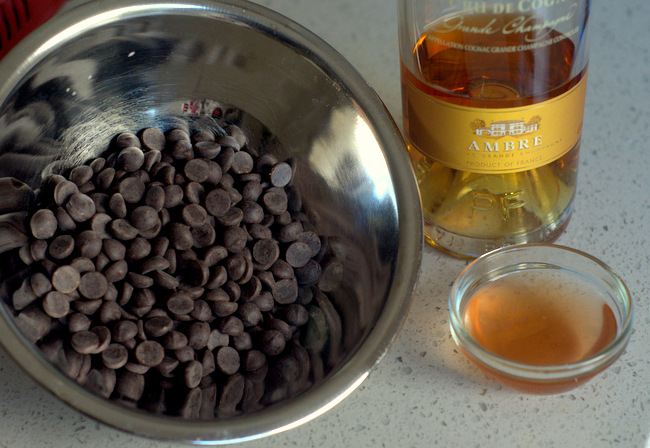 Chocolate
When making truffles, the cacao percentage of your chocolate is important, as it indicates the amount of cocoa solids and cocoa butter. Chocolate with a higher cacao percentage sets up firmer than chocolate with a lower percentage.
For example, if you use a 70 percent chocolate, your truffles will be quite firm and may not have the silky melt of a mid-range cacao chocolate. If you use a 35 percent chocolate, it may be difficult to roll your truffles without refrigerating the ganache first, and they will likely need to be stored in the refrigerator to maintain their shape. Your truffles will taste best and have the best texture at room temperature, so it's best to avoid refrigerating them if possible. 
I recommend using chocolate between 53–55 percent cacao for this recipe. It has plenty of fruity, dark chocolate flavor without being so intense that it overwhelms the champagne.
Making the truffles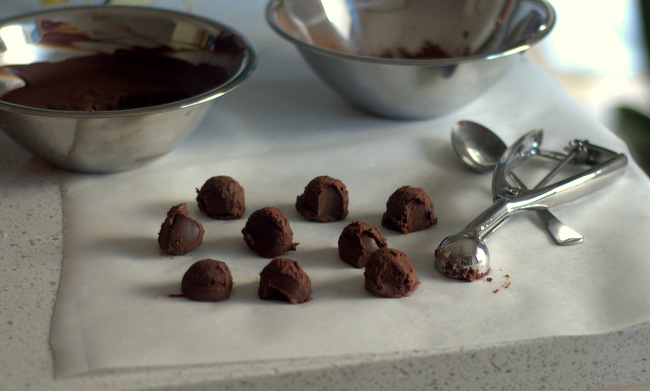 Once you have your champagne and chocolate, you're ready to make the ganache — it's easy! Bring cream to a boil and pour over the chocolate, champagne and cognac, then stir everything together until it forms a uniform ganache.
The ganache takes several hours to set up. I usually leave it overnight to ensure that it's the same consistency throughout. Once set, shape it into bite-sized balls with a pair of spoons or a small portion scoop. 
Roll the balls between your palms to smooth them out, then roll them in cocoa powder to coat. Remove excess cocoa powder by gently rolling them in a sieve. You can also cover them in sprinkles, like these brigadeiros, or in powdered sugar for a contrasting finish. Store them at room temperature for about a week — if they last that long! 
Dark chocolate champagne truffles recipe
Makes about 36 truffles
Ingredients
½ cup champagne
1 cup heavy cream
13 ounces dark chocolate chips/chunks (

53–55% cacao

)

½

 tablespoon cognac
¼ cup cocoa powder
Step 1:
In a small saucepan, reduce champagne by 75 percent (to 2 tablespoons). Set aside and allow to cool at room temperature. 
Step 2:
Place chocolate in a medium bowl with champagne reduction and cognac. In a small saucepan, bring cream to a boil, then pour over chocolate.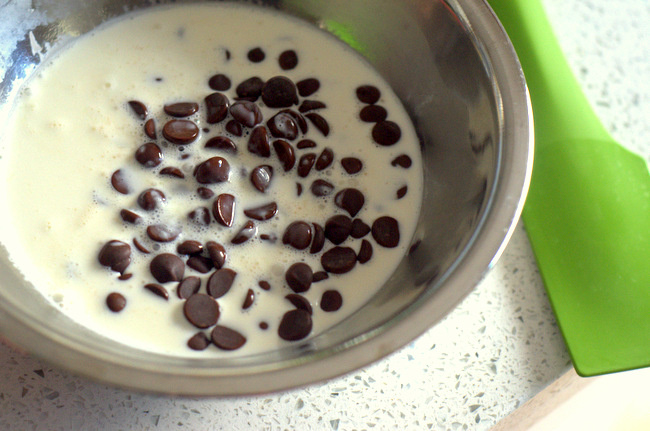 Allow mixture to stand for 20 seconds, then use a spatula to gently stir until the chocolate melts completely and the ganache is smooth.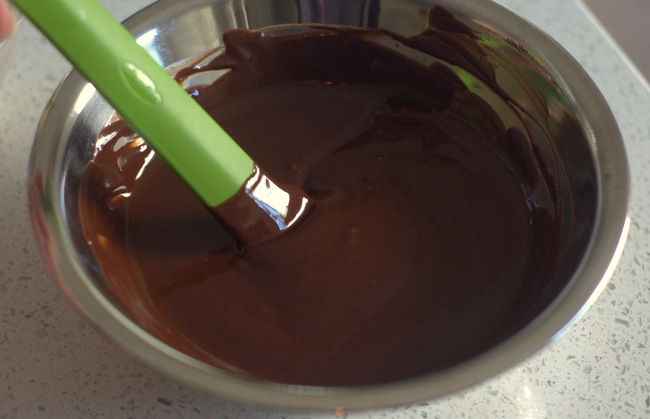 If chocolate does not melt completely, heat mixture for 20-25 seconds in the microwave and stir again until smooth. Set for at least four hours, or overnight, until firm.
Step 3:
Using a small scoop or spoon, portion ganache into 36 individual balls. Roll into smooth balls between the palms of your hands. Fill a small bowl with approximately ¼ cup cocoa powder, then toss ganache balls around the bowl until well-coated. Store at room temperature until ready to serve. Enjoy!
Do you have a favorite chocolate truffle recipe?