If you're like me, receiving certificates in elementary school was always a proud moment. Whether they proclaimed perfect attendance or participation in a sport, I framed those pieces of paper and hung them on the wall like they were Ivy League degrees.
Those feelings easily return when I think about the possibility of earning certificates as a certified knitting instructor. Would I frame them and hang them on my wall? You bet I would!
As you check out Bluprint classes and read about the instructors, you probably ached with jealousy when you noticed that a few experts, like Angela Tong, boast certified knitting instructor status on their bios. What is this prestigious certification and how can you get in on it?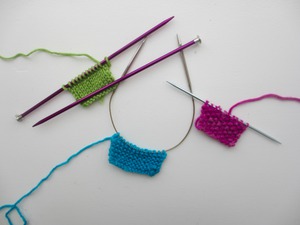 What is a Certified Knitting Instructor?
The Craft Yarn Council of America has sponsored the Certified Instructors Program (CIP) since 1982. The purpose of the program is to give knitters and crocheters skills and confidence to teach other people the craft. Completing the CIP is a way to show that you're not only an awesome knitter, but you're also a great teacher.
How Do I Get Certified?
There are no crazy requirements to meet in order to apply. You just have to be an advanced beginner knitter. It's as simple as that!
There are two options for completing the CIP: either on-site or through the mail. Workshops are offered occasionally at major guild shows. These workshops can last 2-3 days and combine the first two levels of coursework. (See the Craft Yarn Council's website for a list of upcoming on-site courses.) The Yarn Council also has a partnership with the Fashion Institute of Technology, so if you live near New York, you can take the class in person.
There are three levels in the certified knitting instructor program: Instructor, Teacher, and Professional. Students have six months to complete each level. (You can have more than six months, but you'll have to pay extra fees.) The first two levels cost $75 each.
Here's a breakdown of what you can expect for each level:
Instructor (Level I): You'll knit swatches, write lesson plans, develop patterns, design beginner projects, and complete 15 hours of student teaching. Completing this level qualifies you to teach beginner classes.
Teacher (Level II): Just like Level I, you'll continue to swatch, write lesson plans, develop patterns, design projects, and complete 15 additional hours of student teaching. You can expect to be doing more intermediate work on this level.
Professional (Level III): You'll complete more advanced knitting tasks, like creating an original knitted garment, taking a written exam, and completing a graded teaching demonstration. You'll also complete 20 more hours of student teaching.
Why Should I Get Certified?
Not only do you get a pretty little pin after completing each level (which is almost as awesome as a certificate), you'll also be added to the Yarn Council's education database. When the Council receives requests for teachers from retailers and schools, they check out their database to connect those retailers and schools with teachers. In other words, getting certified can hook you up with new teaching opportunities.
The certification might also be beneficial if you plan to teach in a lot different settings, since some retailers and schools require that knitting teachers be certified.
And let's face it. How awesome would it be to have those framed certificates on your wall? Bragging rights, for sure.
How Do I Apply?
Just go to the Yarn Council's registration page. You can submit your application online or by mail.
If you're not advanced enough to become a certified knitting instructor just yet, check out Bluprint's online knitting classes for all levels and improve your skills. Or explore Gwen Bortner's Bluprint class How to Teach It to take your knitting teaching to the next level.