One of my favorite bead types to create with are ceramic beads. I absolutely love this medium. I have always been drawn to pottery, and it's really amazing how versatile the clay medium is.  The many different glazing techniques and colors can transform a little blob of clay into something so amazing!
Follow along to learn more about ceramic beads and how to enter to win your own set of beads and cording!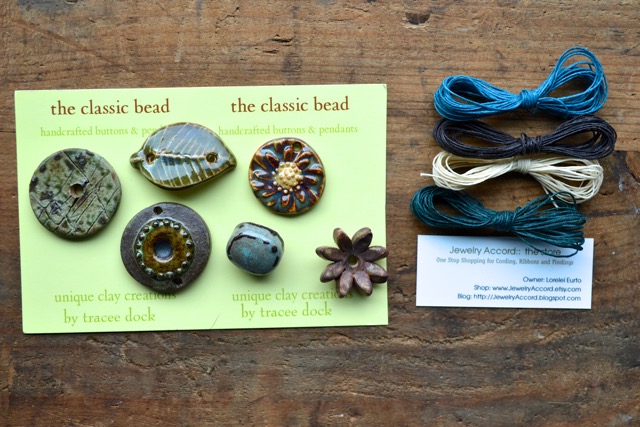 Photos via Lorelei Eurto Jewelry
I am usually drawn to the earthiness of the beads. Over the years I have met probably upwards of 20 different ceramic bead artists. I have yet to find a ceramic pendant or bead or component that I didn't like. Each artist has such a unique talent and creates the most beautiful pieces that transform my beaded jewelry into works of art.
There are quite a few different types of ceramic beads on the market. Identifying each might be tricky at first. With the help of my friend Nancy of Round Rabbit Extra, I comprised a short list of some of the most popular types of ceramic beads.
Types of ceramic beads
1. Slab beads: Slab-constructed pieces would be anything flat that is cut from a slab. You can texture the slab or leave it plain and go crazy with glaze.
2. Hand-built/carved beads: Hand-built pieces and hand-carved pieces are different from each other but both involve sculpting or construction.
3. Press-molded beads: Press-molded pieces are pieces that are individually made by pressing clay into a mold of any kind.
4. Slip-cast beads: Slip-cast pieces are made from liquid clay (slip) that is poured into molds. It's a great way to mass produce the same shape over and over.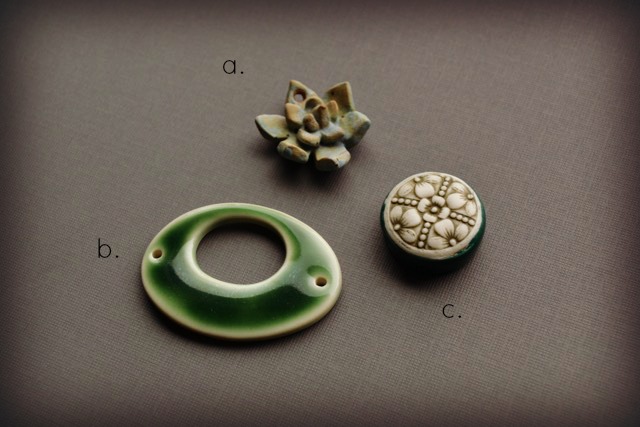 a. Example of hand-built beads by Kylie Parry.
b. Example of slab-made beads by Round Rabbit Extra.
c. Example of press-molded beads by Round Rabbit Extra. 
d. Example of slip-cast beads by Amazing Porcelain Fantasies.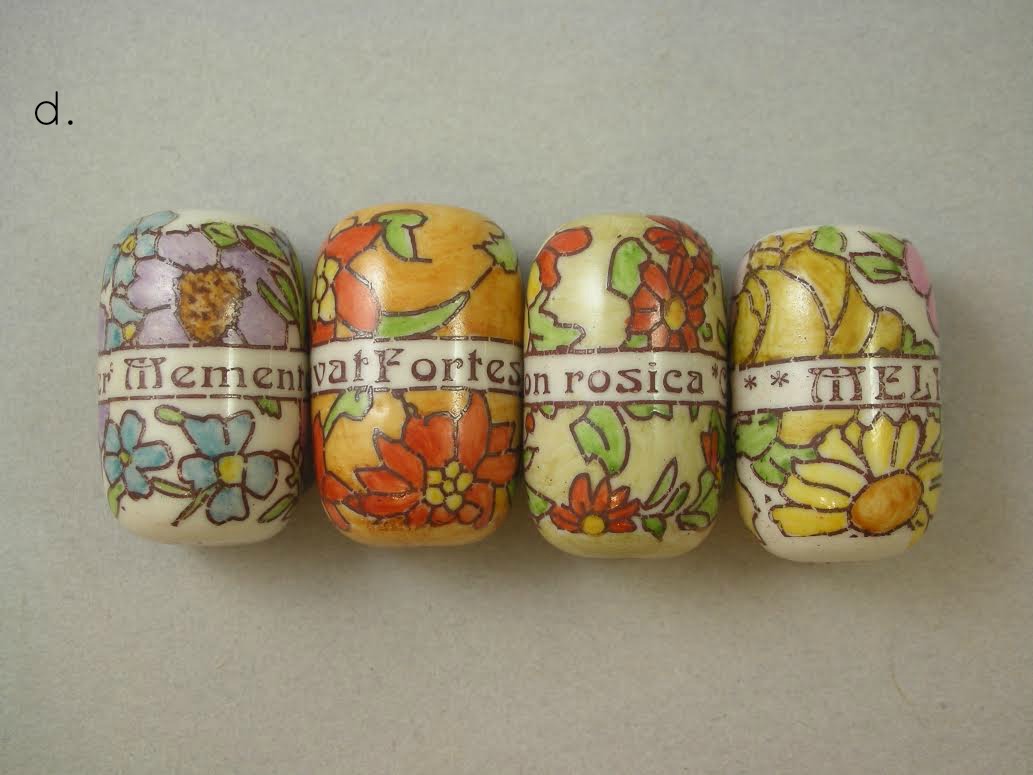 There are many, many different types of clay beads in between all of those but these are probably the most common.
How to get ceramic beads
If you want to incorporate some handmade ceramic beads in your designs, you can learn how to make your own clay creations in Bluprint classes or use other resources to purchase beads.
A great source for information and contact information for many different current ceramic artists is www.ceramicbeadartists.com. Another great source to buy artisan-made ceramic beads is the Facebook group  Ceramic Art Bead Market. This auction group hosts many different artists and posts beads and pendants for sale.
I also recommend checking out Etsy for handmade beads, too. Most artists are pretty good about describing how their beads are made in the listing descriptions. Read through these descriptions carefully so that you know what you're purchasing. Some Chinese beads can be difficult to identify and can be low quality if they weren't fired correctly, which can result in breakage or chipping.
What you could win
One of my favorite bead artists is Tracee Dock of Classic Bead. Tracee has been creating ceramic beads and selling them online at Etsy since 2008. Tracee's beads epitomize nature and her incredible talent for glazing transforms her clay pieces into masterful art objects.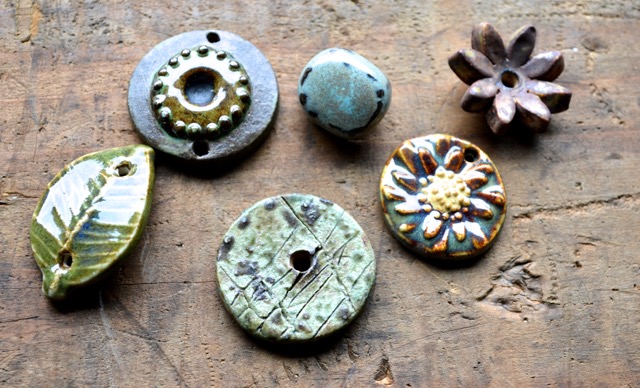 Tracee was kind enough to donate several pieces for a giveaway. A shank button, and several pendant components are going to be up for grabs. To add to that, I am donating a coordinating selection of 4-ply waxed linen cording from my Etsy supplies shop, Jewelry Accord. I chose ivory, forest green, teal and chocolate brown for this particular kit. The winner will receive 3 yards of each color in this giveaway. 

How to win this prize
Click here to enter to win this set of six beads and 12 yards of cording. 
Enter to win »
One winner will be randomly selected on July 13, 2015 and will be contacted via email. 
Online Clay Jewelry Classes
Learn to shape, fire and finish clay into ornate, one-of-a-kind jewelry pieces.Enroll Now »