The following post was written by Bluprint team member Catherine, an avid knitting and crochet aficionado and practitioner. Here, she discusses the history of Tunisian crochet, as well as her own introduction to the technique.
A brief Tunisian crochet history & overview
Above: Alex Holderness, VP of Ecom, in his birthday bandana cowl [a purl bee pattern I did in Tunisian, minus the short-rows]; a lacy shawl for my friend Amber from Fancy Tiger; a Tunisian crochet "in-the-round" cowl pattern for one of my classes.
Falling in love with Tunisian
Like a lot of crocheters, I learned how to crochet on my own. I'm happy to say that I've been blessed to be able to combine my love of crochet and yarn into a career. In addition to being a yarn buyer for Bluprint, for several years now I've taught all kinds of crochet (traditional, Bosnian and Tunisian) at one of Denver's Local Yarn Shops (LYS). A couple of years ago I learned how to do Tunisian crochet and fell madly in love with it. Recently, it's the only kind of crochet I do.
Tunisian crochet: a short history
For those of you unfamiliar with Tunisian crochet, here's a little background for you- Tunisian crochet is also known as Shepard's Knitting, German Work, Railway Knitting (named after the girls on the trains going to work in English factories in the 1800s), Russian Work, Tricot Work, and many more including my personal favorite- Royal Princess Knitting (I think for Queen Victoria, who was a Tunisian Master, apparently). I've read many conflicting views about the origins of the craft.
Like many needle crafts, Tunisian crochet originated somewhere in central Asia ("Afghan" in all probability comes from "Afghanistan") and moved west through the Middle East (with a pit stop in Tunisia) and up into Europe and Scandinavia. No one can say with any authority about where the name comes from or where it originated, but what most people can agree on is that it's the perfect blend of crochet and knitting. Some say that both of those crafts come from Tunisian crochet, but I'm sure most knitters would disagree. *wink wink*
Characteristics of Tunisian crochet
The one thing I can say with total certainty, is that Tunisian is, by far, my most favorite craft and that very few things make me happier…maybe chocolate, but not with the same lasting effects. The fabrics created by Tunisian tend to be denser and heavier than normal crochet, which makes it great for creating things like afghans, sweaters, scarves, etc. Lately, however, I've been experimenting with lighter weight yarns and lace stitches. The effects are quite pleasing. With practice, you can make very airy, light pieces with Tunisian.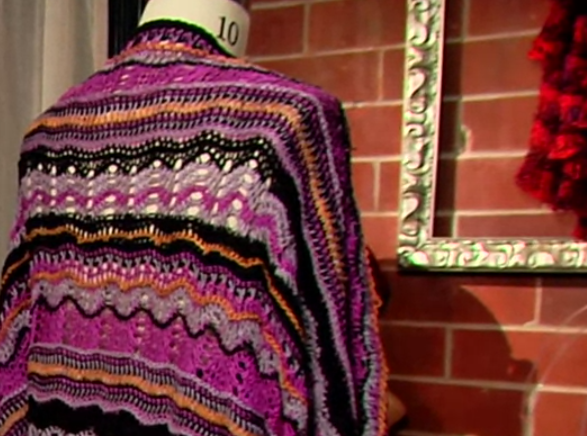 This beautiful shawl was created by Jennifer Hansen, instructor of the course Tunisian Crochet: Revolutions in Color and Style
Tunisian crochet begins like traditional crochet with a chain of stitches, but that's where most of the similarities end. The rest of the fabric is worked onto and then off of your hook- onto your hook on the "forward pass" then off of your hook on the "return pass" or "backward pass." Your work is never turned, you work the same side back and forth. Because of this, most Afghan hooks are longer so you can keep all of your stitches on them. Some look like a blend of a crochet hook and a knitting needle with a hook on one end and a little knob on the other. Some have hooks on both ends (for double-ended crochet and Tunisian in the round).
By hook or by crook
I prefer what's called a "flex hook." This is a hook with a long cord on one end. I made a 3′ x 5′ afghan with a hook and cord that measure 12 inches- you can get a lot of stitches on those hooks! Most flex hooks have a large stopper on the end to keep your stitches from falling off. I've tried bamboo hooks and other hardwood hooks, but my favorite is the Addi Turbo interchangeable set I recently received for my birthday (Thanks Chuck and Rob!!!). These hooks are so darn fast! I dropped a few stitches at first, but now I will never use anything else.
Tunisian crochet stitches
There are an endless number of Tunisian crochet stitches. The most common are Tunisian Simple Stitch (TSS), Tunisian Knit Stitch (TKS) and Tunisian Purl Stitch (TPS). With these three basic stitches you can make endless projects. The simple stitch (TSS) makes a lovely grid-like pattern that is perfect for embroidering on. This makes it wonderful for afghans and tapestries or rugs (which were popular to make in the 19th century). The knit stitch looks very much like knitting's stockinette stitch. People often ask me if I have "finally" learned to knit when they see my Tunisian crocheted items. There are many "fancy" stitches and techniques as well. Tunisian can also be done "in-the-round" or worked flat and seamed.
You may have read my Stitches East blog post where I talked about the Tunisian crochet class I took with Ragga Eiriksdottir of Knitting Iceland (she has an amazing Lopi Sweater class here on Bluprint, for you knitters). As I mentioned, I'm a self-taught crocheter, so it was really exciting for me to take a class with a world-class instructor/knitter/crocheter. I got some great tips for doing Tunisian in-the-round. I'm now making cowls and mitts like crazy. Guess what everyone is getting for Christmas this year?? *wink wink*
If you think you might like to try Tunisian crochet, be sure to check out Jennifer Hansen's Tunisian Crochet- Revolutions in Color and Style course here on Bluprint. This fantastic craft is making quite a comeback! After doing just a few rows, Gentle Reader, you will know why. 
Have you done any Tunisian crochet before? If so, what was your favorite project?