For as long as they've been around, people have been continually inspired by church buildings. No matter what type of religion, these buildings have moved people to create. An example of this in the form of quilting is the Cathedral Window quilt. This is a stunning, traditional quilt pattern that is truly unique. The pattern became very popular in the early 1900s. Bits and pieces of fabrics were showcased within large amounts of inexpensive fabric (like muslin), making this a pattern that many at the time could afford to make.
Photo via Mary Dugan of Molly Flanders blog
What are Cathedral Window quilts?
Cathedral Windows quilts are quite different from the typical. The majority of quilts consist of a pieced top, batting and backing that are sandwiched together, quilted, than finished with binding.
The construction of a Cathedral Window quilt is completely different! It is comprised of individual squares that are folded precisely and sewn with curves to create small windows. Those squares do not require batting, those you can add it in if you'd like a warmer quilt! No additional backing is needed. Once the windowed squares are completed, they are sewn together into the larger project. All of the quilting is done while you make the smaller blocks rather than later on. The folded blocks are added together until the quilt is the desired size, and then it is finished!
While that is a very basic overview of the construction of cathedral windows, there are so many ways to actually make them. They can be sewn by hand or machine, and the folding can be done in a variety of ways.
This classic block can be used in many different projects! Large quilts, though time-consuming, make incredible heirloom quilts. Smaller versions make beautiful minis and wall hangings. If you make just a few blocks, they can be turned into bags, pillows, even pincushions. The possibilities are endless!
Ready to try your hand at quilting Cathedral Windows? Here are some fun patterns to get you started!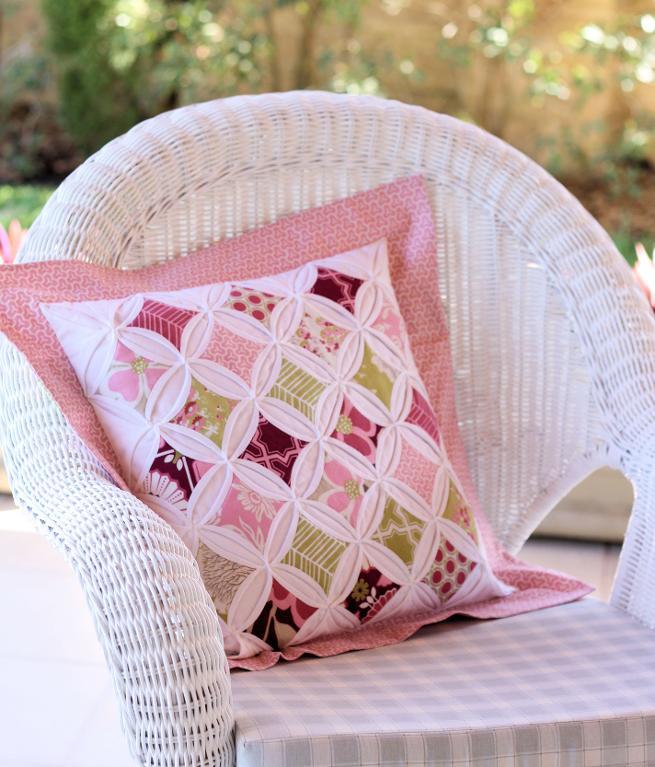 Photo via Craftsy member aspoonfulofsugar

Cathedral window pillow
Quilt a stunning pillow with the Cathedral Window Pillow pattern. Make the classic design modern with contemporary prints, or use your favorite calicoes for a traditional version. A flange edging adds a professional, finished touch! The final project measures 21 inches and is made with both machine and hand sewing.
Get the Cathedral Window Pillow pattern.
Photo via Craftsy member Inventive Denim
Denim circle rag quilt
Clean out your closets and recycle those old jeans with this fun rag quilt! Inspired by Cathedral Window quilts, with the Denim Circle Rag Quilt pattern, a simple method is used to create a "faux" version.  Plenty of diagrams and clear step-by-step directions are included to walk you through this technique.
Get the Denim Circle Rag Quilt pattern.
Photo via Craftsy member Foot Loose
Cathedral window pincushion
Are you ready to give Cathedral Windows a try? This free pattern is perfect! Directions are for Cathedral Window pincushions in two sizes, approximately 3″ and 4″.  Four coordinating fabrics, fiber fill and a couple buttons are all you need for this fun project!
Get the FREE Cathedral Window Pincushion pattern.
Be sure to come back to the Craftsy blog tomorrow for the latest installment of Free Pattern Friday!
Have you ever made a Cathedral Window quilt? What is your favorite method of construction?