Perhaps it's no coincidence that a few years after I started quilting, I adopted a cat. Murph has "helped" with so many quilt projects over the years that I decided I had to have a second quilt cat, Chloe. Together, they make sure that my quilt tops stay grounded to the floor when I'm not working on them. With care and concern, they "try out" my quilt binding before I use it, just to make sure it's durable. They also test my quilts for comfort after they are bound and freshly washed. Honestly, I don't know if I could quilt at all without a the support of my furry quality assurance team.
If you are a feline-loving quilter, you'll enjoy this roundup of Bluprint cat quilting patterns and member projects!
From paper-pieced blocks to appliqué patterns and inspirational ideas, these cat quilts are the perfect way to honor your four-legged sidekicks.
Photo via Bluprint member Anna – Six White Horses
Modern cat quilt:
First up is a modern cat quilt with a bold and graphic look that works well with solids or monochromatic prints. The Whiskers Paper-Pieced Quilt Block Pattern is a FREE download from Anna of Six White Horses Patterns. Perhaps you can use this paper-pieced block to create an interactive quilt (Twister, anyone?) that will entertain and delight your cats.
Photo via Brittany Love
Halloween mug rug:
Brittany of Stitches of Love Quilting offers this Halloween-inspired Boo Cat Mug Rug pattern. We love the whimsical take on a traditionally spooky holiday with her picks of polka dot fabrics! This cat quilt features cool shades and a sweet smile that looks great with a bold blanket stitch used for appliqué.
Photo via Bluprint member Darlee
Cat mousepad:
Ready for a fun game of cat and mouse? This quilted mousepad pattern is a simple project that makes a great accessory for your computer workstation. It's also a fun handmade gift idea! Who said that cat quilts have to be for cats? Practice your appliqué with this classic cat silhouette.
Photo via Red Boots
Lots of kitties quilt:
Fusible appliqué is a great technique for adding in the tiny details to capture a cat's sweet expression. The Red Boot Quilt Company shares the Catnip! pattern in their Bluprint shop. If you like your cat quilts to really pop with color, this mix of jewel tones and earth tones makes a darling bedspread. There are even some mice and birds thrown in for good measure!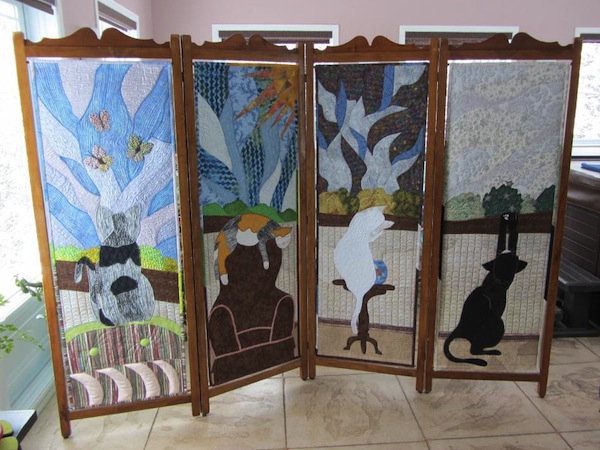 Photo via Bluprint member angele.rh919776
Quilted room divider:
Although it's not a pattern, Cats in the Saisons is a project featuring four different scenes displayed on a room divider screen. Bluprint member angele.rh919776 made the cat quilt as a gift for her aunt. She used fabric and thread to depict four different cats having fun.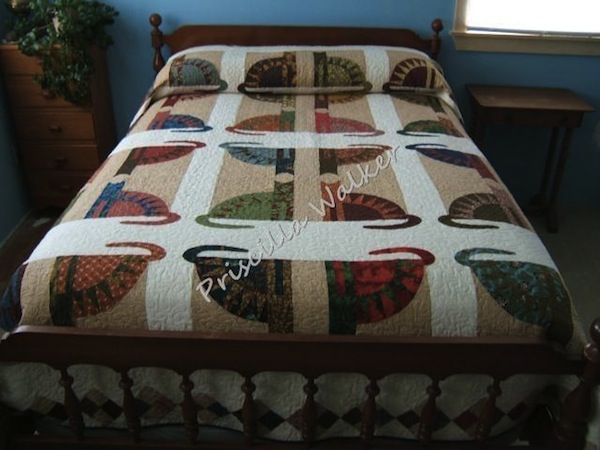 Photo via Bluprint member pw_quiltworks
Traditional cat quilt:
The Sawtooth Cats Quilt, a project by Bluprint member pw_quiltworks, marries a traditional quilt pattern with the whimsy of cat faces and tails. The sawtooth design decorates each cat's back to give it a striped look. The geometric look of this quilt almost disguises the fact that the blocks are cats.
More cat quilting patterns can be found here. You might also enjoy our roundup of 12 pet-inspired art projects.
Come back to the Bluprint blog tomorrow for tips on finishing your quilt edges!
Do your cats like to "help" with your quilting projects? What do you think of cat quilts?