All was peaceful in my world of knitting until my boyfriend's cat, Sartre, came into the picture.
Sartre is a 2-year-old kitty who is more obsessed with yarn than I am. This cat loves playing with yarn — heck, she even loves eating some of it — and wreaked havoc upon my stash. Knitting while she's around is a real challenge as I try to stop her from unraveling the yarn or eating what's moving from the skein to the needle.
I wouldn't say all is perfect with the two of us now, but I have learned a lot about dealing with a cat who loves playing with yarn. Here are a few of my tips, and I hope you'll leave some of yours in the comments so we can all live peacefully with any cat playing with yarn!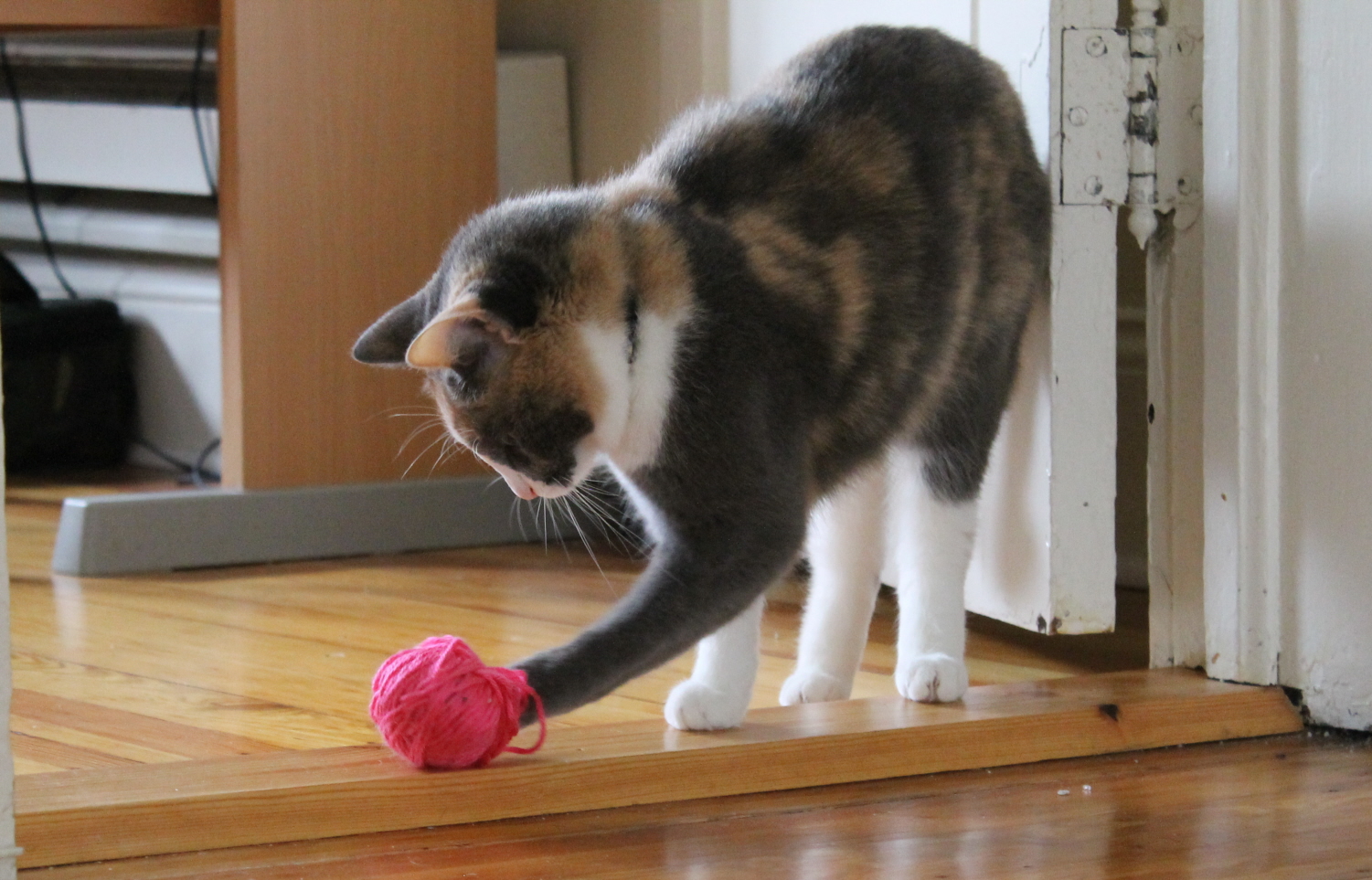 1. Change up your storage.
Sometimes I swear that Sartre has opposable thumbs. She can dig her way into almost any yarn storage, especially if it involves Velcro. If your cat is constantly able to break into where you're storing yarn, opt for containers with plastic snap handles, and don't overstuff the container. A cat's paw can grab any strand of yarn and make a mess.
2. Make a yarn toy.
When you bring out your knitting, be sure you also bring out some yarny goodness for the cat. This could be a mouse that you knitted or any other kind of toy. (Our post on The Cutest Pet Knitting Patterns has a couple for cats in there, including a cute jingle fish toy.) The
3. Hide a few balls of yarn just for the cat.
One of my cat-owner friends suggested this one to me: hide a little ball of yarn (or two) somewhere in the house for the cat to find. This can be scrap yarn or an inexpensive yarn that you don't mind sacrificing.
Here's what I did: Roll the ball up halfway, then glue it securely down. Roll the rest of the yarn around the ball, then glue it securely again. This avoids letting the cat play with lengths of yarn which might be easily swallowed.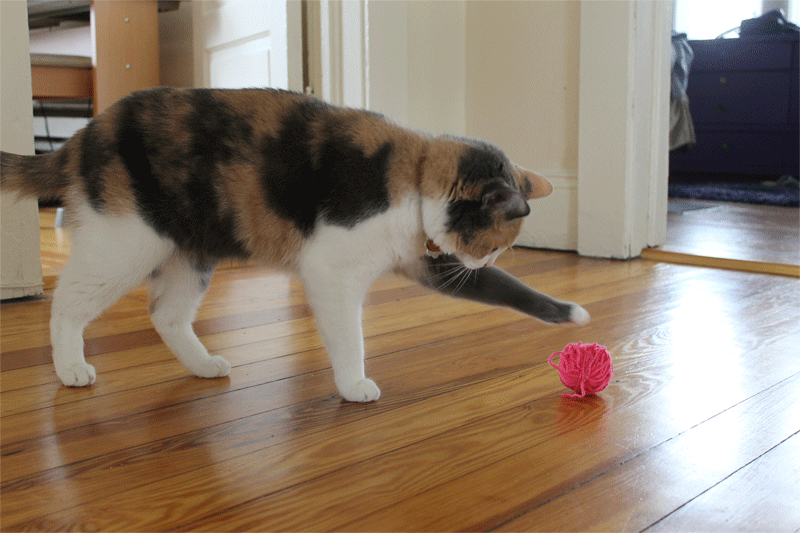 4. Close the door.
Sometimes I just can't stop Sartre from swatting at the yarn, so in that case I go into a room and close the door. It's not always as relaxing, but it does let me knit a little more peacefully.
5. Keep your working yarn in a zipped project bag.
While I'm working, I hold the project in my lap and keep the yarn inside a zipped project bag. I leave a small section of the bag unzipped so that the yarn feeds from there. Sometimes Sartre is mesmerized by the movement of the yarn, but she keeps her paws to herself because she doesn't actually see the yarn.
6. Keep a knitted blanket or throw nearby.
I have an acrylic honeycomb throw on the couch, and I noticed that if I keep that near me while I knit, Sartre will sometimes knead her paws into the throw while she watches me knit. This is somehow distracting for her, but I don't ask questions. It works!
Do you have any tips for knitting when there's a playful cat around?