Dogs, cats and other cherished pets are very important parts of people's lives and most of the time considered to be a member of the family! Thus, pet and animal-themed decorated cakes and celebrations are extremely popular with kids and adults alike.
Be inspired to replicate your favorite pet with these tail-waggin' cat and dog cake designs…and some other endearing animals, too!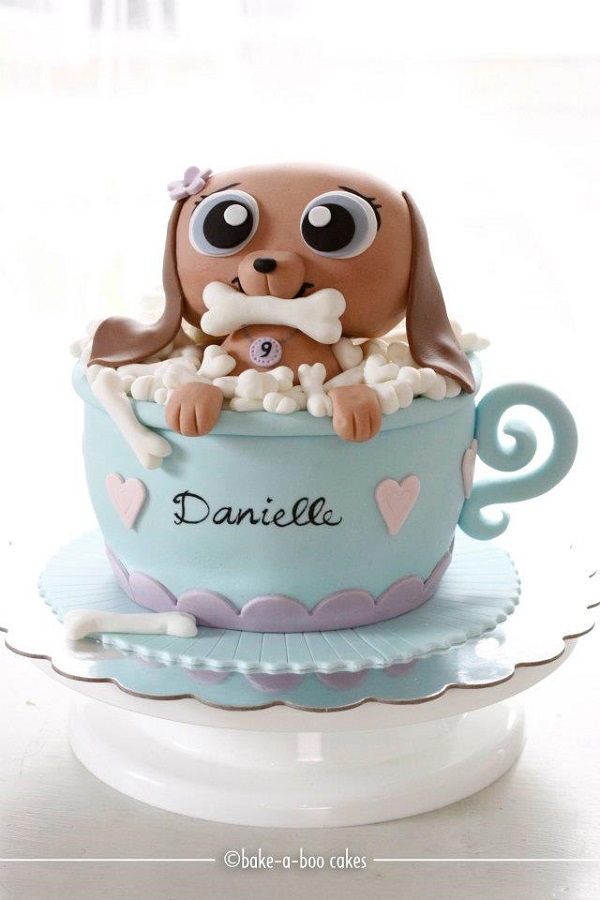 Photo via Bake-a-boo cakes
Littlest Pet Shop puppy teacup cake
The Littlest Pet Shop is a children's toy collection that continues to be made popular with an animated show. Replicating one of the puppy characters, Bake-a-boo cakes created this incredibly adorable sculpted cake! The puppy sits inside an oversized teacup cake, entirely covered in fondant, while additional molded dog bones fill the remainder of the cup. The birthday girl's name is carefully hand-painted on the front of the cake, adding a personal touch to the entirely sweet presentation.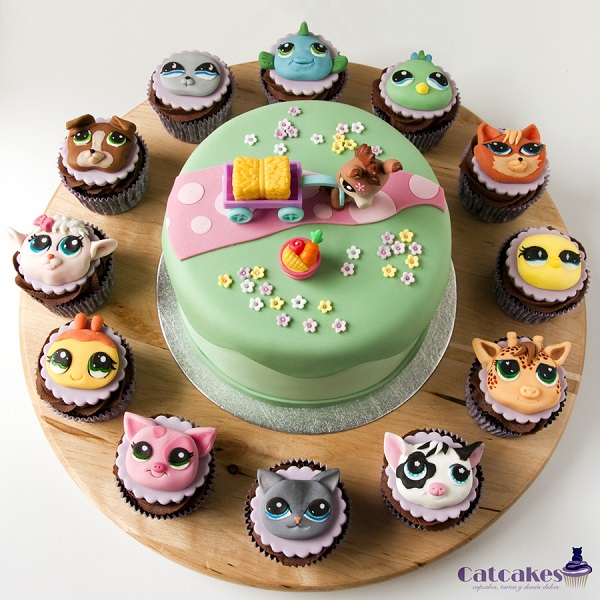 Photo via Catcakes
Littlest Pet Shop cake and cupcakes
Catcakes continues with the Littlest Pet Shop theme with this precious cake and cupcake collection. The small cake is covered in fondant, embellished with small decorations and topped with an actual toy for the birthday girl to save as a keepsake. The outlying cupcakes portray various characters with exceptionally detailed fondant toppers, molded and adorned with fondant and hand-painted accents that bring them to life.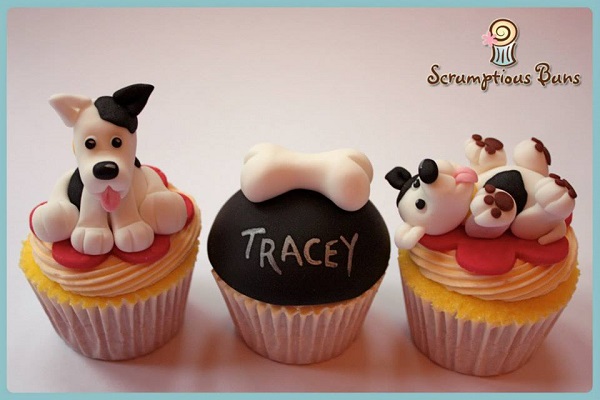 Photo via Scrumptious Buns
Playful dog cupcakes
This fun and adorable cupcake set by Scrumptious Buns displays a playful puppy and his bone! The puppies are hand-molded perfectly out of fondant in various positions to add variety. Details, such as the paw pads and the tongue sticking out, are what truly adds character and friskiness to the figures. Once again, personalization is added with a hand-painted name on the center cupcake.
[box type="shadow"]To hone your modeling skills to replicate similar puppies, try Sharon Wee's Cake Topper Techniques: Fondant Animals.[/box]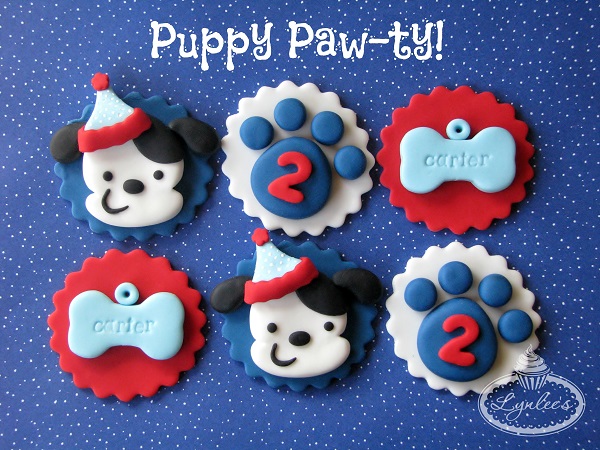 Photo via Lynlee's Petite Cakes
Puppy paw-ty cupcake toppers
Pretty My Party styled an adorable "Puppy Paw-ty" for her son's 2nd birthday. These fondant toppers, matching back to the party motif and decor, embellished cupcakes at the dog-themed bash. To add dimension to the designs, the fondant was rolled out thicker and cutout shapes were rounded out and molded for more of a 3-D effect.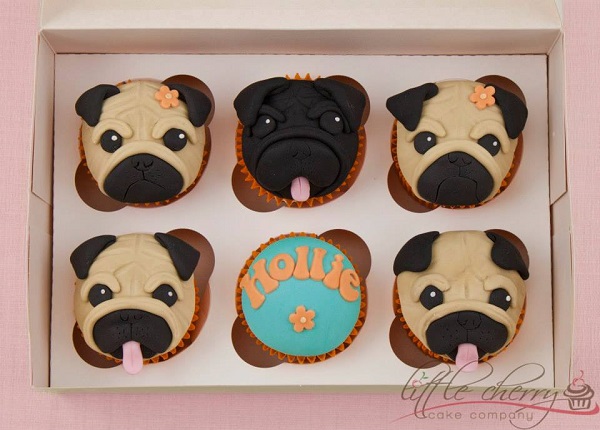 Photo via Little Cherry Cake Company
Pug cupcakes
Little Cherry Cake Company made a little girl's day with these captivating and sweet pug cupcakes! The entire surface of each cupcake is covered completely and the dog's facial features are added, capturing all the wrinkles, folds and expressions attributed to this specific breed! Small details, such as the dog's tongue and flowers, always take designs to the next level. The collection is personalized with the birthday girl's name in fondant letters.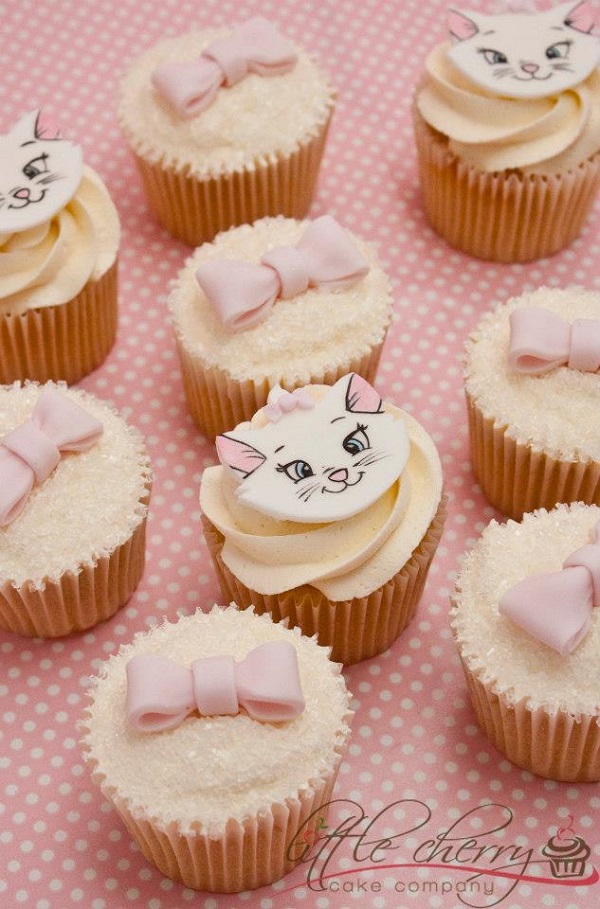 Photo via Little Cherry Cake Company
Marie kitty cupcakes
Cats are also a beloved pet to many and the kitty character, Marie, from the classic Disney animated movie "The Aristocats" is so perfectly captured in these incredibly sweet and charming fondant cupcake toppers by Little Cherry Cake Company! Each cat topper is cut from fondant and hand-painted in amazing detail. Coordinating bows top additional cupcakes and serve as a time and cost-saving addition to a collection.
[box type="shadow"]Learn how to achieve and similar look and techniques for painting on fondant with Erin Schaefgen's FREE mini-class The Hand-Painted Cake.[/box]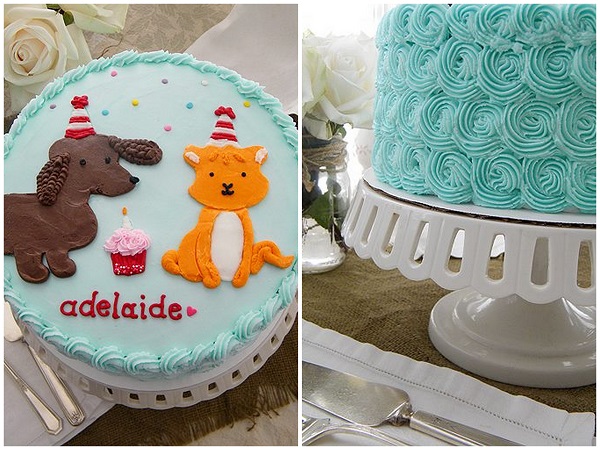 Photo via My Sweet Things
Furry friends buttercream cake
My Sweet Things is a master at creating incredibly gorgeous cakes decorated entirely with buttercream! This adorable cake is topped with Adelaide's furry friends achieved with icing shaped and spread out with a spatula and the addition of intricately piped details. The side of the cake was gorgeously piped with icing rosettes, finishing off the precious cake.
[box type="shadow"]Perfect your piping skills with Beth Somers as she demonstrates The Wilton Method®: Buttercream Skills.[/box]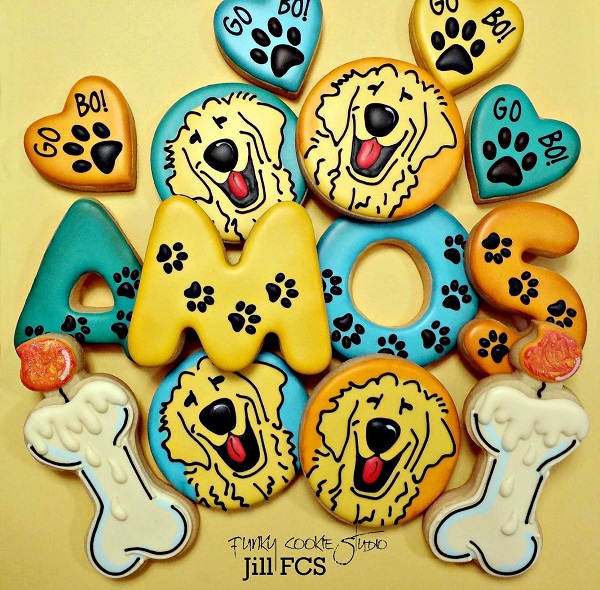 Photo via Jill FCS
Amos the dog cookies
Jill FCS makes use of her tremendous talent by transforming her work into charity and fund-raising efforts. To benefit the Go Bo! Foundation, these mind-blowing cookies were decorated with the use of royal icing in honor of a therapy dog named Amos who visits his local library and listens to children read aloud to him. The layers of icing provide extraordinary dimension to the designs, in addition to the shading effects.
[box type="shadow"]Learn more about cookie decorating in the course Decorating Essentials: Designer Cookies with Autumn Carpenter.[/box]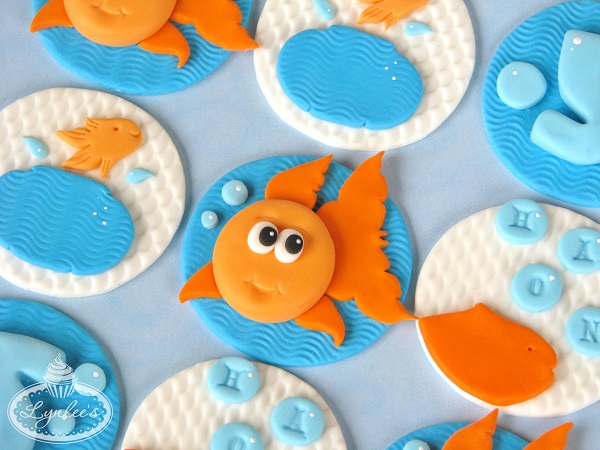 Photo via Lynlee's Petite Cakes
Goldfish cupcake toppers
Fish are also a popular pet from small fish bowls to giant tanks! To celebrate her son's birthday who was "o-fish-ally" turning 5, Craft That Party threw a goldfish-themed party. The fondant toppers by Lynlee's Petite Cakes were designed to match the goldfish graphics by Piggy Bank Parties to embellish coordinating cupcakes. Different impression mats were used to add texture to the bottom toppers, as well white soft gel paste to further embellish the bubbles.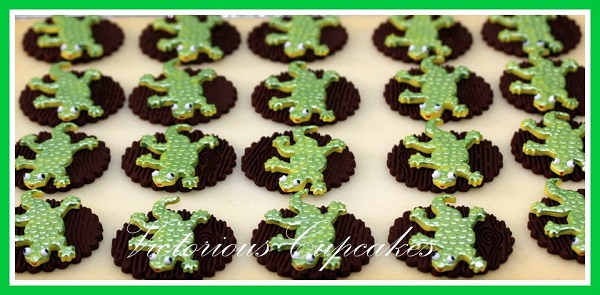 Photo via Victorious Cupcakes
Lizard cupcake toppers
Some people call cold-blooded animals their pets, such as lizards and snakes. These adorable and detailed lizard cupcake toppers by Victorious Cupcakes were created with the use of a lizard cutter to punch out the shapes from fondant. Again, impression mats were used to add texture and dimension to both the lizard and the tree bark toppers and the little guys were finished off with edible green paint for added sheen.
[box type="shadow"]If you love lizards, you might also love our roundup of reptile-themed cakes![/box]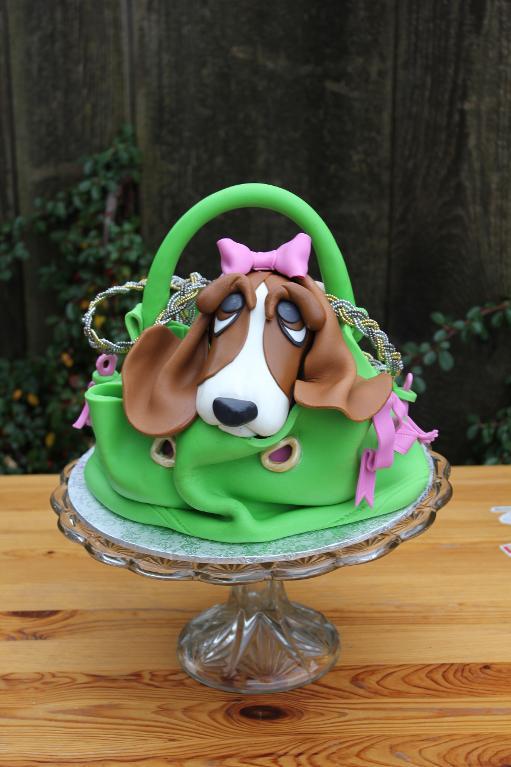 Dog in the Bag via Bluprint member oliwia
Dog in the bag cake
With the help of the lessons acquired in the FREE Bluprint course Basic Fondant Techniques, Bluprint member and cake decorator oliwia created this absolutely captivating cake portraying a dog inside a handbag! The fondant bag execution is amazing, capturing the perfect folds, while the adorable pet protrudes from the inside with irresistible puppy dog eyes.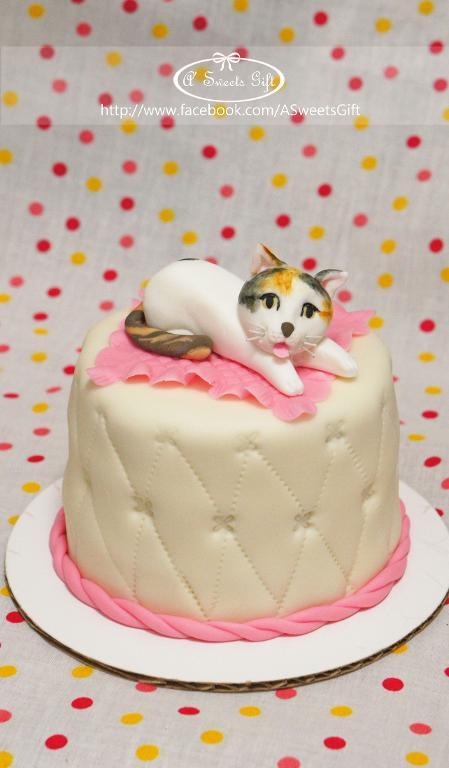 Relaxing cat cake via Bluprint member AgnesTang
Relaxing cat on a cake
This precious little cake topped with an adorable relaxing cat was made by Bluprint member and cake decorator AgnesTang. As part of the course Cake Topper Techniques: Fondant Animals with Sharon Wee, the cat was modeled from fondant and details were hand-painted to capture the facial features and coloring.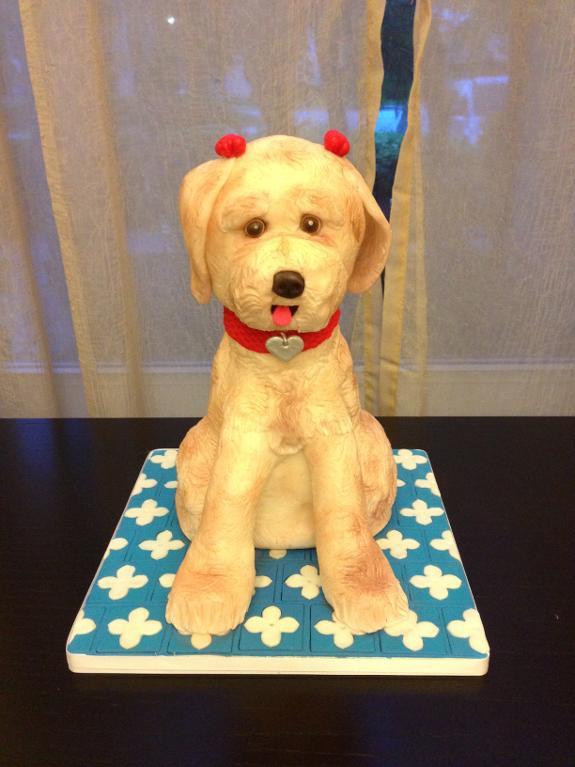 Photo via Bluprint member claudial11136074
3-D dog cake
Bluprint member and cake decorator claudial11136074 enrolled in the course Sculpted Dog Cake with Elisa Strauss where she learned the skills needed to create this amazing three-dimensional dog! Everything, including the textured fur and the patterned base, were executed beautifully!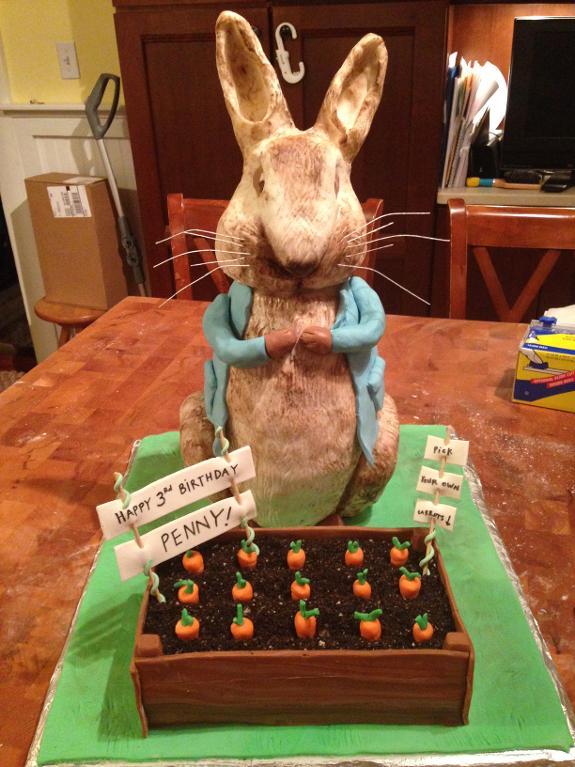 Photo via Bluprint member gottesmd
Peter Rabbit cake
Bunnies are also a popular pet and this Peter Rabbit cake from Bluprint member and cake decorator gottesmd is simply incredible! With a combination of techniques learned in the course Sculpted Dog Cake with Elisa Strauss and Cake-o-Saurus Rex: Basic Cake Sculpting with Catherine Ruehle, this marvelous work of art was created with the use of a variety of mediums, including fondant, modeling chocolate and gum paste. Get additional details and photos of the process on the project page.
What favorite pet would you replicate into cake form?