By now you know breakfast is my favorite meal and hopefully I've turned you into a breakfast lover, too. I've showed you everything from buckwheat bakes to a protein-packed mocha smoothie to breakfast for dinner, and the list goes on from there.
But today we're doing something a little different. We're taking a classic cake and turning it into a waffle! Carrot cake waffles to be exact. You won't believe the spiced aroma that fills your kitchen as they cook.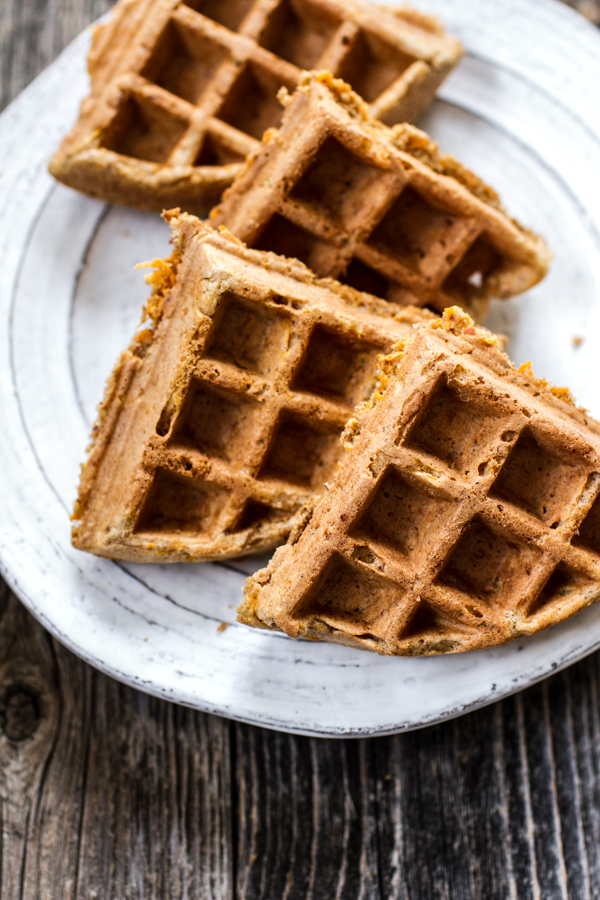 Photos via Ashley McLaughlin
These waffles are made with oat flour and almond meal, which makes them gluten-free and also quite nutrient dense. But don't worry, these carrot cake waffles are a definite crowd pleaser. They have a crispy, flaky exterior and a light and fluffy interior. There's nothing not to love!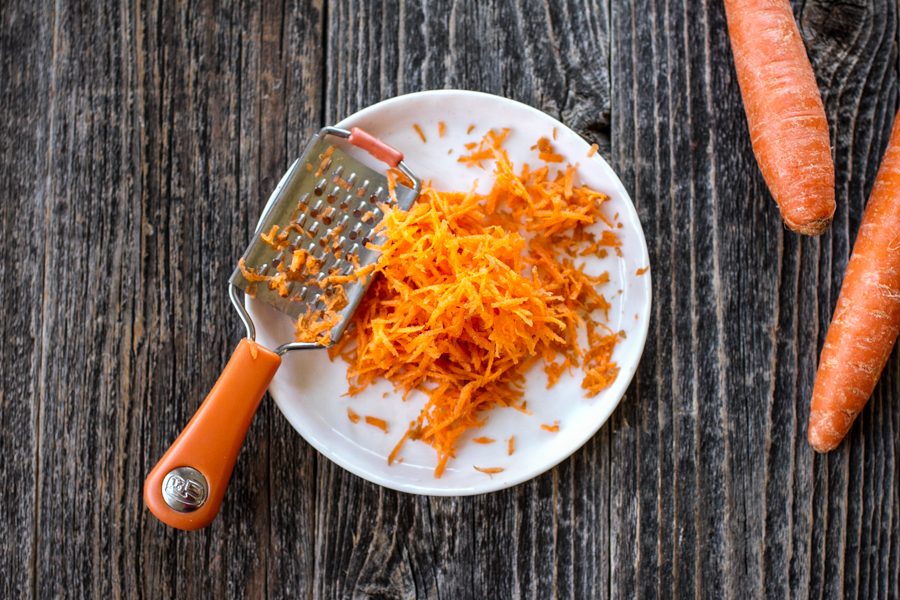 The spice combination compliments the deep, maple syrup flavor that you'll pour into all of those nooks and crannies. I like finishing off this waffle with a sprinkle of walnuts and coconut oil. The oil melts on the steaming hot waffle into the pockets of maple syrup and adds a faint coconutty flavor, that is, to die for.
These carrot cake waffles are a cinch to throw together on the weekend, and I highly recommend making a double batch because you are going to want leftovers. They can be stored in the fridge for about 4-5 days or frozen (after fully cooled) and placed in a freezer bag. Just pop them in your toaster for a quick and super tasty weekday breakfast.
Another brilliant on-the-go topping idea is nut butter! Simply quarter your waffle and make two nut butter waffles sandwiches.
Seriously. Mornings cannot come fast enough.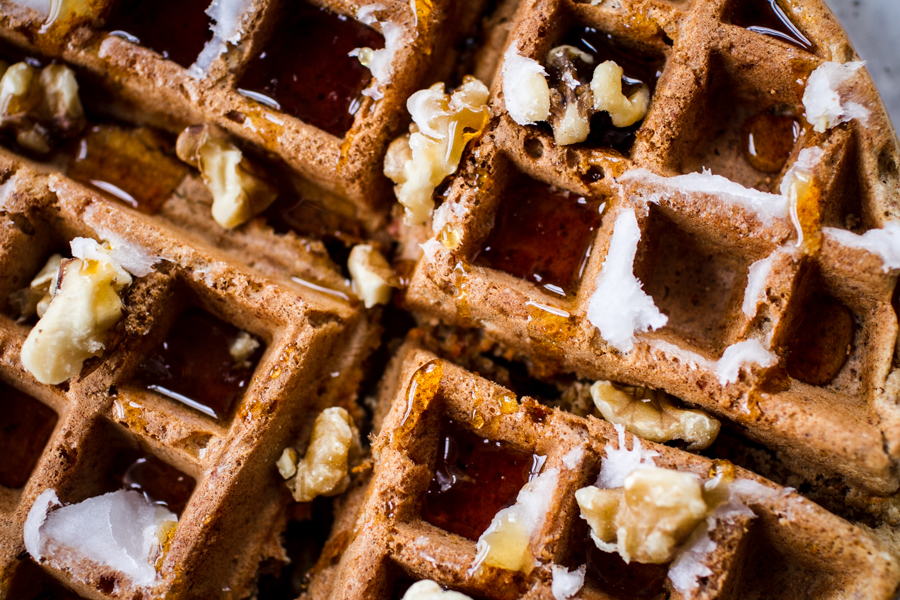 These are probably the healthiest but most decadent tasting waffles you'll ever eat. You'll want to grate the carrot with the smaller holes on your grater so they blend into the waffle more seamlessly. Feel free to add other toppings like raisins, blueberries, butter, pecans, or a cream cheese glaze. The cream cheese glaze would turn these into the perfect dessert waffle!
I'm drooling.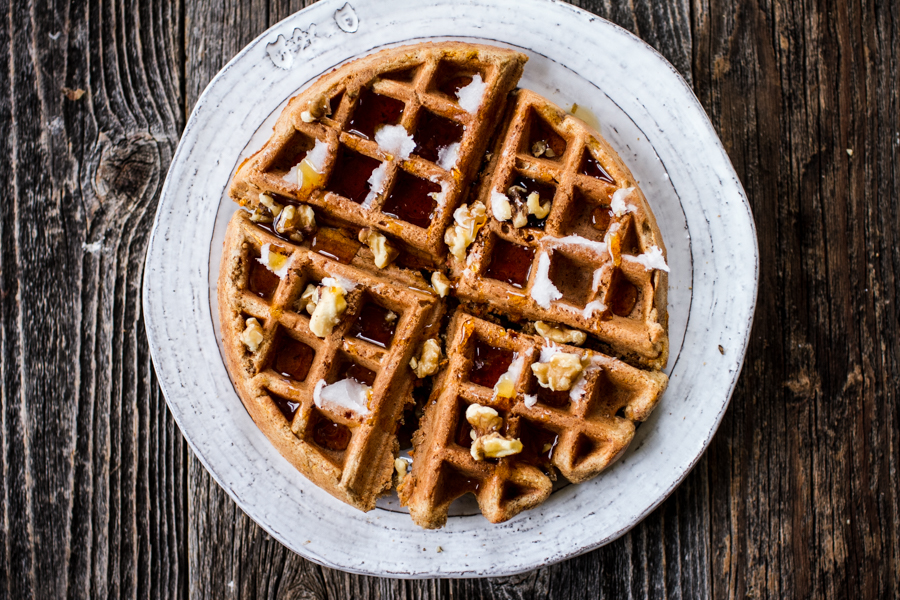 Carrot Cake Waffles
yields: 2, 6-inch Belgian waffles
Ingredients:
3/4 cup oat flour (gluten-free if needed)
1/2 cup almond meal
1 tablespoon muscovado sugar (coconut sugar or pure cane sugar)
1 teaspoon baking powder
1 teaspoon ground cinnamon
1/4 teaspoon ground ginger
1/8 teaspoon ground nutmeg
1/16 teaspoon all spice
1/4 teaspoon salt
1 large egg
6 tablespoons unsweetened almond milk (or soy, 2%, whole)
2 tablespoons applesauce
1/2 teaspoon pure vanilla extract
2 tablespoons coconut oil, melted and lightly cooled (or butter)
1/2 cup finely grated, lightly blotted carrot
Directions:
Preheat your waffle iron according to manufacturer's instructions and grease if necessary.
Place the flour, almond meal, sugar, baking powder, spices, and salt in a large bowl and stir together.
In another bowl, whisk the egg. Then whisk in the milk, applesauce, and vanilla.
Whisk in the oil then pour into the dry and whisk until just combined. (When you no longer see dry flour.)
Fold in the carrot until combined.
Pour into your waffle maker and cook until desired doneness has been reached.
Serve immediately and top with walnuts, maple syrup, coconut, butter, etc.