I was scanning my Facebook newsfeed quickly for a photo of a knitting pattern I'd spotted earlier, when I spotted Carol Milne's knitted glass for the first time — her amazing work stopped me in my tracks.
Sometimes as a knitter, I limit myself to needles and yarn when it comes to creativity. I rarely think outside those two supplies. After all, they are what we use to knit. But, what would happen if we all started thinking of knitting as not just yarn and needles, but rather a beautiful way to knit something — anything — into a beautiful object full of loops and twists?
Carol's work makes me appreciate knitting in a whole new way, and it even inspired me to try and think outside of the realm of yarn.
Read on for more about Carol and her knitted glasswork. You'll never look at  your knitting the same again!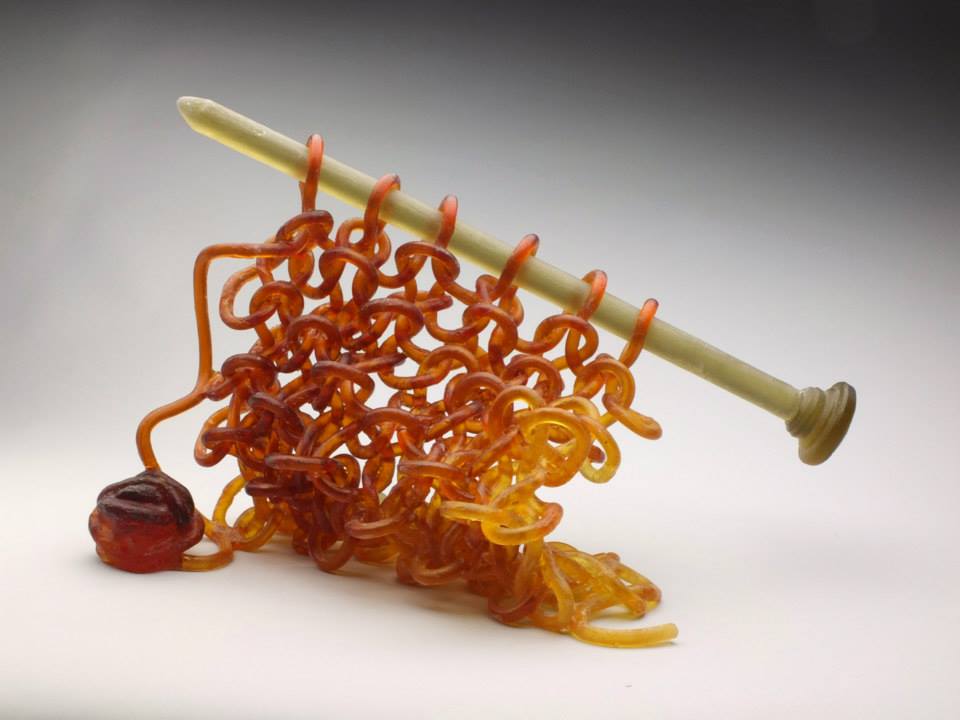 Strike a Balance by Carol Milne
The inspiration behind Carol's work
Carol is a Seattle-based artist who taught herself to knit, but says knitting was more of a hobby than a career. Carol eventually became a sculptor working with glass and metal. One day Carol decided to experiment with knitting in wax using her self-taught knitting skills. After a few unsuccessful attempts, Carol finally figured out a process that worked. Now her knitted glass is unstoppable. She's created dozens of beautiful pieces since then, and I'm in love with all of them!
See photos of the entire Knitted Glass collection here.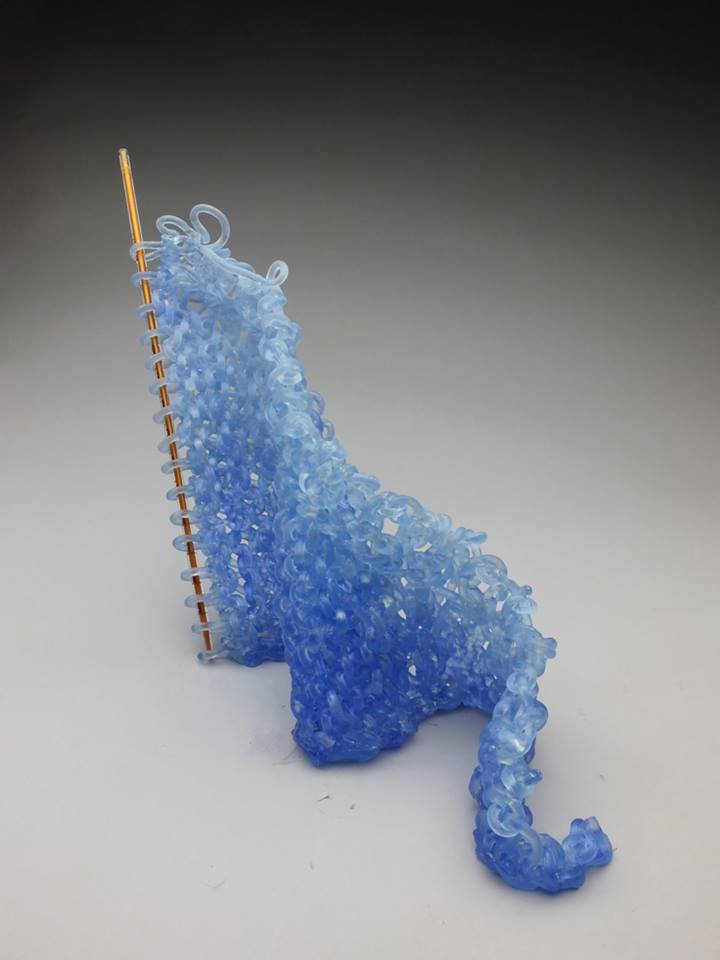 Beyond Measure by Carol Milne
The process
After figuring out a process for knitting with glass, the possibilities were endless. Carol first knits something with wax using a technique just a little bit different than the straightforward knitting we use with our needles and yarn. She then surrounds the wax with a heat-tolerant material. Once heat is applied, the wax melts out and the heat-tolerant material remains, giving the object its shape. This creates a mold that's then placed in a kiln. Glass fills the empty space and the mold is removed to reveal the beautiful glass objects you see here.
You can read about Carol's process in more detail, plus see process photos, here.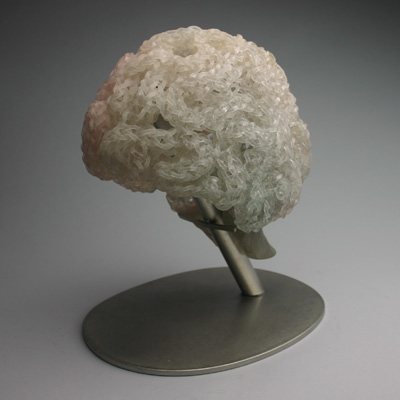 This is Your Brain on Knitting by Carol Milne
Carol seems to find inspiration in some of the same places that most knitters do, including patterns. About the knitted glass pictured above, Carol says on her website: "This was inspired by a pattern for a knitted hat made of I-cord sewn together to resemble the structure of a brain. It makes me laugh to think a knitter's brain might be made of I-cord."
Next time you look at a complex pattern with lots of twists and turns, imagine it in another medium. What would those stitches look like in glass, for instance? How about clay? In pipe cleaners? Looking at Carol's work made my brain buzz with ideas.
Where to find carol
Are you as intrigued with these glass sculptures as I am? Here's how you can see more of Carol's work.
In person
Carol's work is featured in galleries in Pennsylvania, Ohio, and North Carolina.
See a full list of galleries here.
Carol also has a list of current exhibits that feature her work.
Local to Seattle? You can make an appointment to stop by Carol's Seattle studio in person.
Online
Check out Carol's web site to see galleries of all her knitted glass. You can also follow her on Facebook and Twitter.