I've tried for years to create the perfect caramel apple from scratch, but this year I think I've finally done it. And, I'm going to share my secret with you!
Here's my (now) foolproof recipe for the tastiest caramel apples ever!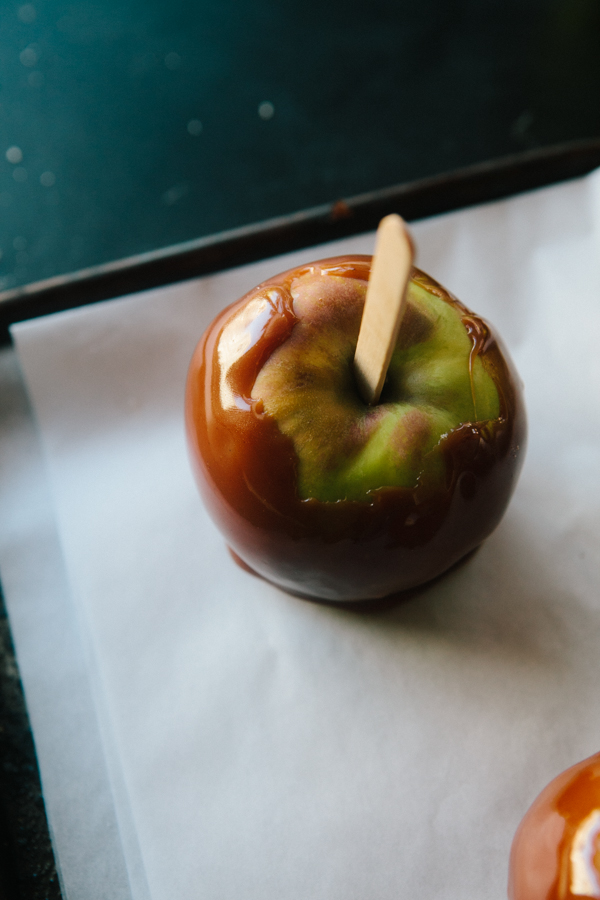 It took several tries as many attempts yielded caramel that was too soft or too hard, or some that just slid right off the apple. Some were too gritty, too sweet, too difficult and just too frustrating.
This version has a deep caramel flavor with a hefty bit of salt to balance the sweetness. I use Lyle's Golden Syrup for more flavor but corn syrup would work too. It does require a candy thermometer, but the process is still fairly straightforward. In the end you have a shiny, deep copper colored caramel covered apple. Fall's sweet mascot.
Caramel-making is the foundation of making candy at home. If you master this technique you've opened the door to so many other recipes and sweets. It can be intimidating, but if you use very clean pans and utensils, you should be in great shape. Keep a bowl of ice water nearby in case of hot caramel splattering on you.
How to make caramel apples from scratch
Ingredients
1 pound/ 2 cups sugar
12 oz/ 1 cup Lyle's Golden Syrup (or corn syrup)
1/2 cup water
8 oz/ 1 cup heavy cream
4 oz/ 1 stick unsalted butter, soft
1/2 teaspoon kosher salt
6 – 8 apples, preferably unwaxed
Popsicle sticks or chopsticks
Step 1:
Combine the sugar, golden syrup and water in a large saucepan. Stir gently to combine, then wash off the sides of the pan using water and your clean hands to feel if any sugar remains on the side.
If stray bits of sugar fall into the caramel, it can cause the caramel to crystallize, so it's important to make sure all the sugar is in the bottom of the pan mixed with the water.
Step 2:
Place the lid on the pan and put over high heat. Having the lid on during the first few minutes of boiling creates condensation, which further helps to wash away any sugar that may be left on the sides of the pan. After 5 minutes remove the lid and let the caramel continue to boil until it reaches 300 degrees F. If some of the caramel starts to color you can gently swirl the pot to combine.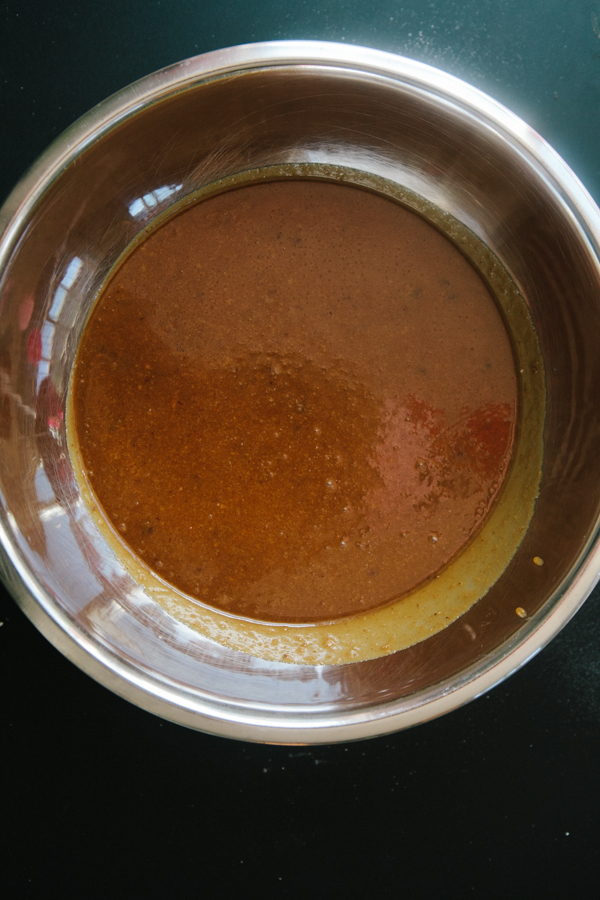 Step 3:
Add the cream and butter once it has reached 300 degrees F and then continue to cook until the caramel reaches 248 degrees F.
Step 4:
Carefully pour the hot caramel into a heat-safe bowl. Let the caramel cool until slightly thickened, about 20 minutes.
Step 5:
Meanwhile, prepare your apples. Wash and dry them. Place a popsicle stick or chopstick in the stem end of the apple. Set the apples on a parchment-lined sheet tray and refrigerate until cold. This will help the caramel quickly stick to the apples.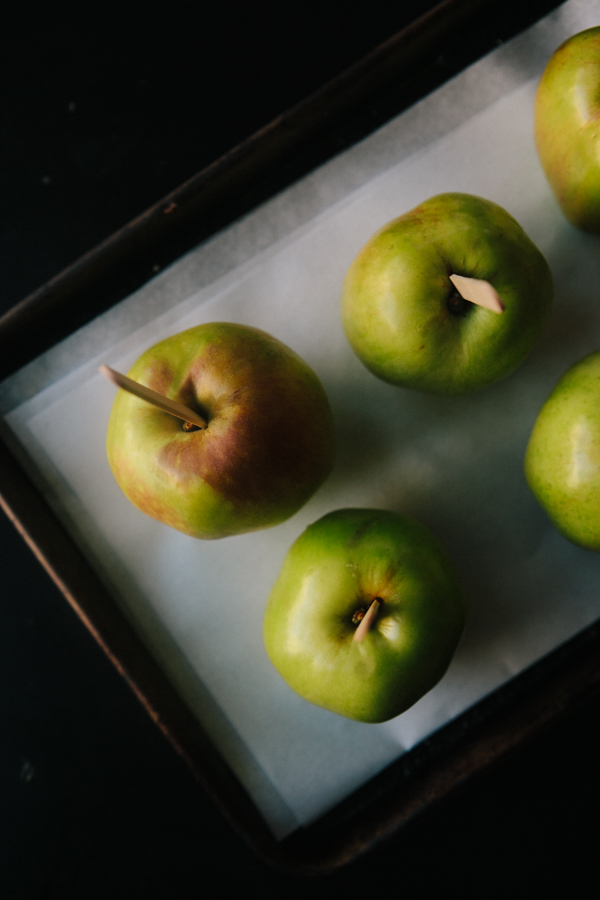 Step 6:
When the caramel has cooled a bit dip the apples in the caramel and set on the parchment.
Step 7:
Refrigerate once dipped to prevent too much dripping.
Step 8:
Before the caramel has set you can add chopped nuts or candies to the caramel.
Step 9:
If the caramel starts to set stir in a couple tablespoons of warm heavy cream or gently warm over a pan of simmering water.
Caramel apples make a great fall hostess gift. Wrap the apple in a wax paper bag and tie with a ribbon.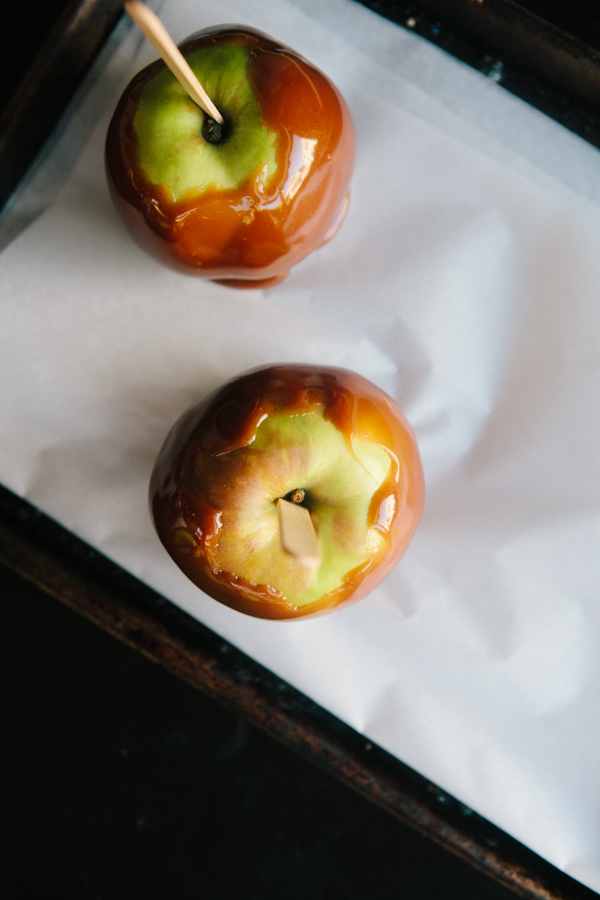 Want to skip the caramel apples and just dip slices into the caramel? Simply add 1/2 cup more cream to the recipe and dip while still slightly warm.
How about a caramel apple sundae? A bowl of sliced apples topped with the caramel and finished with whipped cream, toasted and chopped peanuts and a cherry for good measure.