Many kids and adults alike are born with an affinity for a variety of transportation methods that can translate into hobbies and lifelong collecting pastimes.
From planes to trains to automobiles, these transportation-themed cakes and cupcakes will gear you up to get carried away with your next sweet project!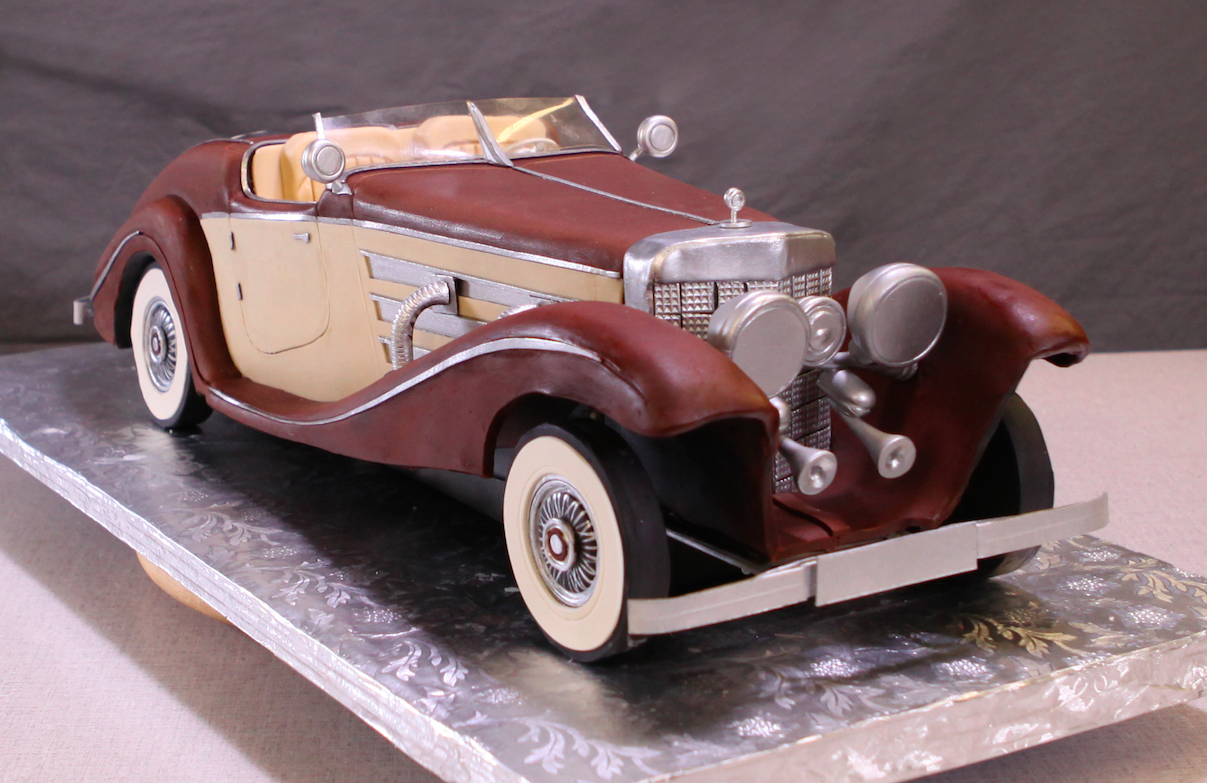 Photo via Bluprint instructor Mike McCarey
Sculpted classic car cake
In Mike McCarey's Bluprint course Classic Car, Timeless Techniques, you will learn to carve and sculpt cakes in the shape of your desired car, such as this jaw-dropping classic 1936 roadster cake! The details and accessories on this car are just incredible, including the windshield made of gelatin. The techniques taught in this class can be applied to re-create this project or toward your own car cake and cupcake ideas, constructing any vehicle of your choice.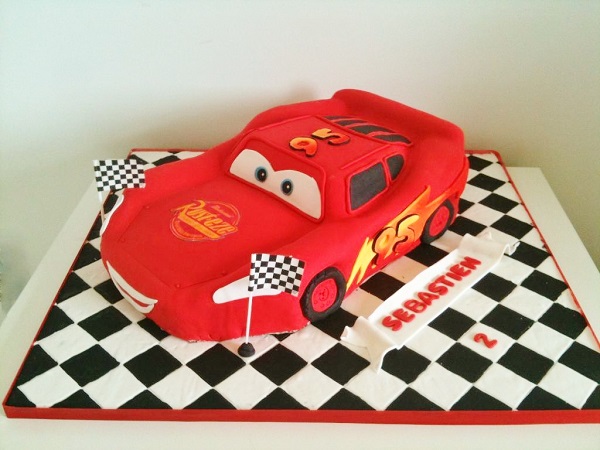 Photo via Bluprint member arielelle962124
Lightning McQueen carved cake
This Bluprint member learned how to make a car cake while enrolled in Classic Car, Timeless Techniques and took the techniques she learned to create this amazing Lightning McQueen cake! The car was sculpted and covered with fondant to resemble the character from the Cars animated movie series, while the added details bring the car to life. The presentation was completed by decorating the cake board with a fondant checkerboard pattern. Paying attention to all aspects of the display, including the cake board or stand makes, a big impact on the end result.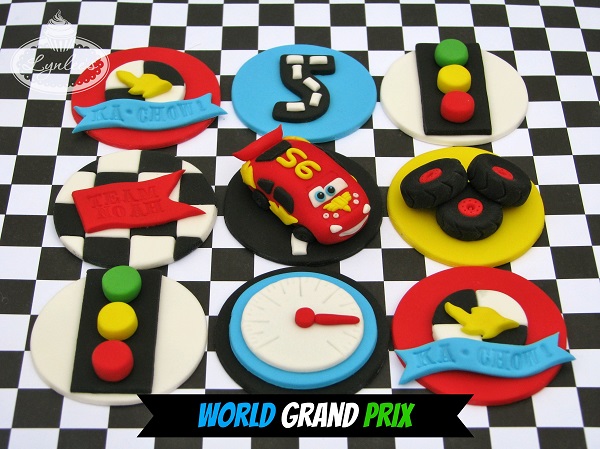 Photo via Lynlee's Petite Cakes
Cars racing cupcake toppers
Similar to the above Lightning McQueen cake, this miniature version is molded out of fondant to be used as cupcake toppers. The car character is accentuated with simpler, race-themed designs, which serve as time-saving options. Especially when working on a large quantity of cupcake toppers, choose a couple of more difficult designs to serve as the centerpiece for the guest of honor, then accent the set with easier ones that can be made with the use of cutters and molds to balance your workload.
[box type="shadow"]Practice working with smaller scales in the Bluprint course Tiny Cupcake Toppers with Sheryl Bito to feel comfortable with a miniature scale to adorn your petite confections.[/box]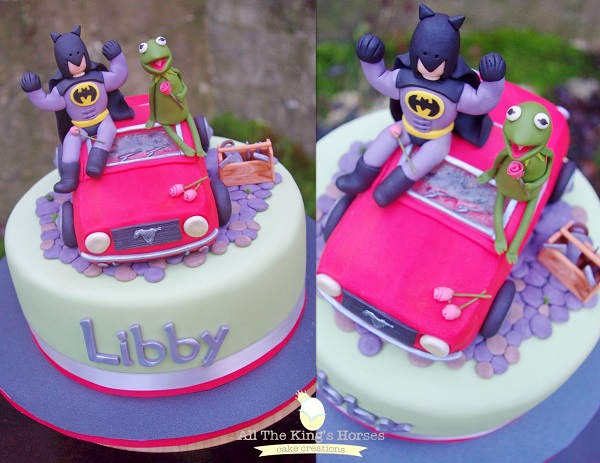 Photo via All the King's Horses Cake Creations
Mustang character cake
Cars aren't only for the boys! This absolutely adorable and fun cake was created by All the King's Horses Cake Creations to reflect the birthday girl's favorite things, including the beloved Mustang she's owned since the age of 16! The vehicle was sculpted out of Rice Krispies Treats and wrapped with fondant. The remaining details were also molded from fondant, while the windshield was created with the creative use of candy glass. The cake was finalized with toppers reflecting her cherished characters.
[box type="shadow"]Learn the basics of working with fondant in the Bluprint course The Wilton Method®: Decorating with Fondant with Beth Somers and perfect your skills for sculpting fondant figures in Cake Topper Techniques: Figure Modeling with Anne Heap.[/box]
Photo via Royal Bakery
P-51 bomber stamp cake
Bluprint blogger Lesley of Royal Bakery made this gorgeous cake take off by combining the guest of honor's love of stamps and P-51 bomber planes! The flat fondant decorations resembling a landscape design on a stamp covered a double-layered sheet cake, while the three-dimensional clouds and airplane are sculpted out of fondant. The birthday sign trailing the aircraft is created with the use of letter cutters, adding personalization to the final cake.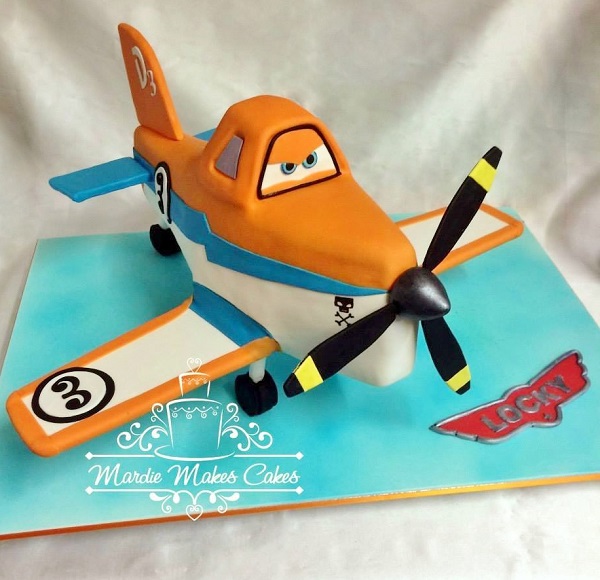 Photo via Mardie Makes Cakes
Planes character cake
This three-dimensional airplane cake by Mardi Makes Cakes is just marvelous! The incredible aircraft, was carved and decorated with fondant to resemble the main character, Dusty, from the animated movie Planes. The cake was so delicately constructed to stand above the cake board on its three wheels.
[box type="shadow"]For in-depth tips and techniques in carving and constructing incredible edible works of art, such as plane-themed cakes and cupcakes such as the ones seen above, check out Mike McCarey's course Advanced Cake Sculpting.[/box]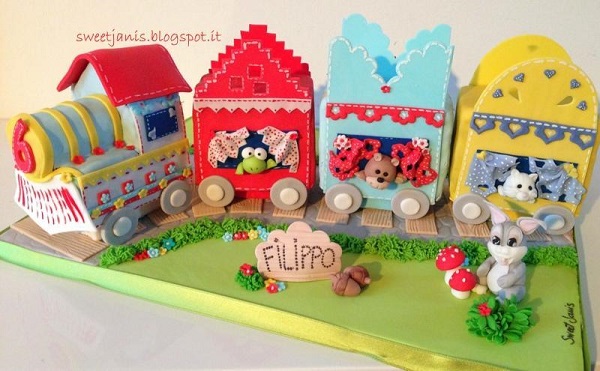 Photo via Bluprint member Sweet Janis
Choo Choo animal train cake
This Choo Choo animal train cake by Bluprint member Sweet Janis is absolutely precious! The train engine and each connecting car is carved out of cake and meticulously covered and decorated with fondant. The animals are also molded out of fondant, while the embroidery details are hand-painted with white soft gel paste.
[box type="shadow"]Practice modeling similar animals out of fondant in the Bluprint course Cake Topper Techniques: Fondant Animals with Sharon Wee and learn more about adding hand-painted details in Kate Sullivan's The Art of Painted Cakes for your train-themed cakes and cupcakes.[/box]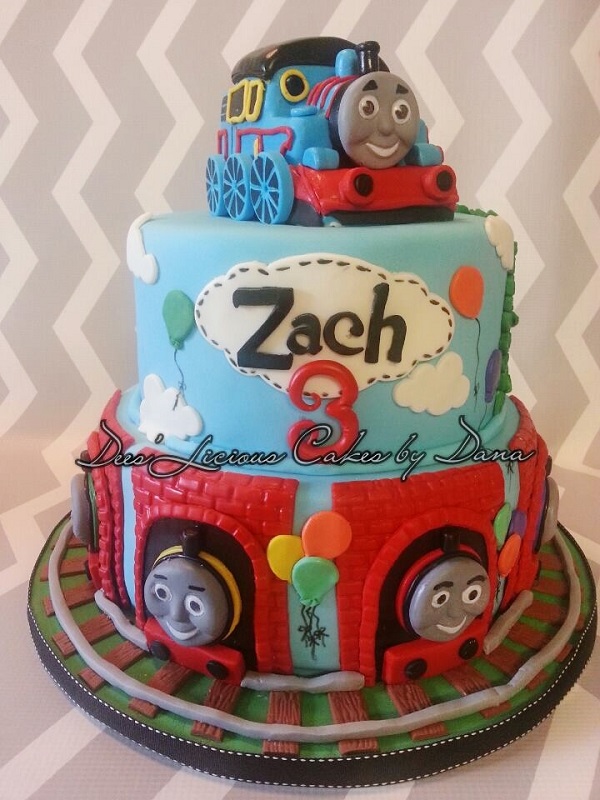 Photo via Dees'Licious Cakes by Dana
Thomas the Train cake
This delightful two-tiered cake made by Dees'Licious Cakes by Dana is designed and decorated to reflect the characters and aspects of the popular children's stories of Thomas the Train. The main character is molded as a three-dimensional figure, topping the cake, while his friends are depicted coming out of the train tunnels on the bottom layer. The second layer includes personalization with the birthday boy's name and age. Again here, the cake board is incorporated into the design with the addition of train tracks. The use of fondant texturing is applied on the wood grain in the tracks, as well as the bricks, providing additional interest and dimension.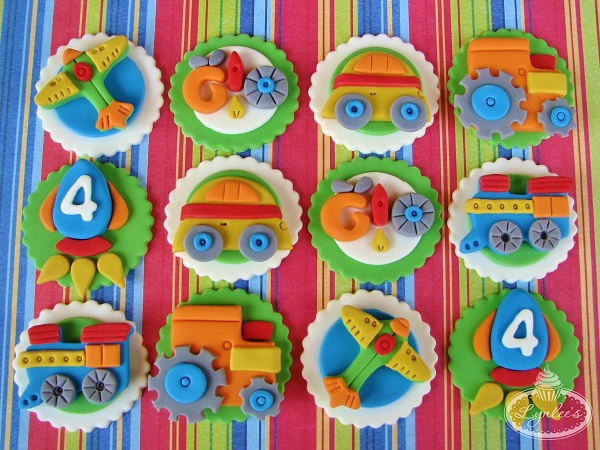 Photo via Lynlee's Petite Cakes
Transportation-themed cupcake toppers
These vibrant and colorful cupcake toppers reflect a variety of transportation means, inclusive of planes, trains, automobiles, tractors and even rockets! Several of the designs are achieved with the use of shaped cutters and embellished further with additional colors and shapes. The birthday boy's age is cut out and added to the rockets, while his name is creatively spelled out to match the theme, using propellers, rockets and wheels to accentuate the letters.
[box type="shadow"]You might also enjoy our roundup of fun car cakes.[/box]
After riding along with this inspiring set of confections, what mode of transportation will you create next?