The short answer is NOT REALLY.
I love this title of this post because it is sure to generate some feuding and draw out all the loyalists in the comments. For some people, this is a fun photography debate and for others it is a moot point. For most people, the differences between Canon and Nikon are minimal and the similarities are monumental.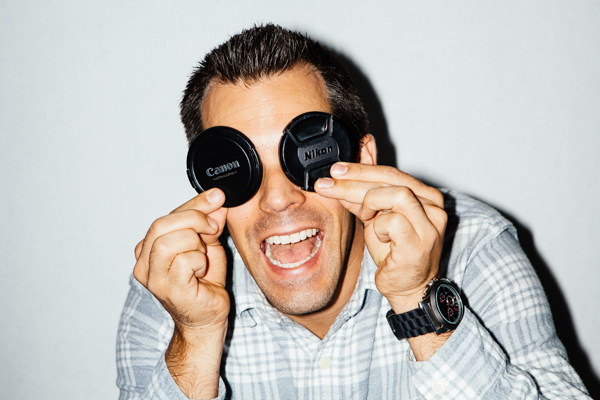 Here is what you need to know if you are getting ready to invest in one system or the other:
The companies
Canon and Nikon are both based in Japan. They both have a long history of manufacturing optical equipment. They both have massive R&D budgets, high levels of quality control, and similar warranty coverage. I can't find updated numbers, but they each have traded the #1 spot in camera sales over the past 50 years. Nowadays, they are the two largest DSLR and compact camera manufacturers by far.
The cameras
Nikon and Canon both have a range of cameras geared toward the amateur all the way through the professional. I don't want this to be a review of each product line, but for comparison sake, let's look at the Canon 5D MkIII and the Nikon D800 stats, fairly evenly priced competitors.
The Nikon has higher resolution at 36 megapixels vs. 22 for Canon. The Canon shoots faster at 6fpfs (frames per second) compared to Nikons 4fps. The Nikon has slightly less high ISO noise. The Canon weighs slightly less. The Canon has more autofocus points. The Nikon has a greater dynamic range. Beyond the stats, both cameras have been used for awesome magazine covers and editorial spreads. Both provide a sharp, clear, vivid picture when used in the hands of a capable photographer. Which one is sharper, clearer or more vivid? The large majority of viewers would not be able to tell you.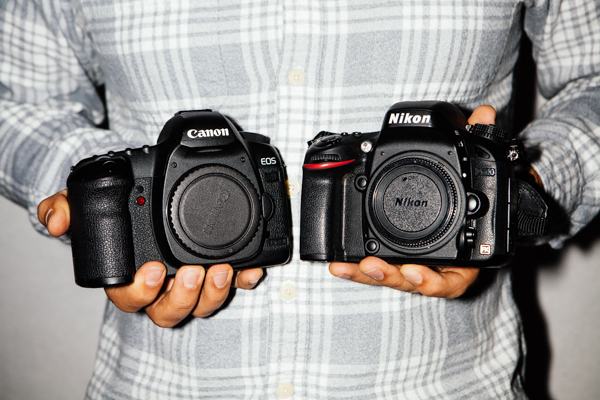 The lenses
Canon and Nikon both have a wonderful selection of lenses from which to choose and many of their offerings have nearly identical technical specifications. For nearly every Canon lens I have, there is a similar Nikon lens. They both have a 24-70mm f/2.8, a 70-200 f/2.8 with stabilization, a 85mm prime and a 50mm prime. There are some slight differences, with Canon's flagship 50mm being a f/1.2 and Nikon's being an f/1.4. Canon's 100mm macro would be compared with Nikon's 105mm macro. Each manufacturer has over 150 different lenses.
Reasons to choose one over the other
There are some considerations that may cause you to lean toward one or the other.
1. If you have already invested any money in lenses for one system, it makes some sense to stick with it, unless you can cash out your gear without losing too much in the process.
2. Canon has had a larger market share for about 10 years now, which means there is a larger inventory of used gear on the market. If you are shopping on a tight budget and are willing to buy used, this may work to your advantage.
3. If you know someone who has a set of lenses for one system or the other, you may be able to borrow or trade more easily.
4. If you work as part of a team or your employer is invested in a system, it's helpful to be on a similar system. Nikon and Canon have small variances in their capture of color. If you are post-processing groups of photos from both cameras, it could be difficult to maintain consistency among all your images.
For some people, it comes down to the way the camera feels in your hands and if the menu options are intuitive. I bought my first Canon DSLR because I was comfortable with the menu after having used a Canon compact camera.
What made you choose one system or the other? Or did you invest in something other than Canon or Nikon?
Understand Exposure for Better Photos Fast