When it comes to cake decorating, having a set of amazing go-to tools really helps make your life easier! This is definitely the case with the fantastic CakeSafe items we were lucky enough to use. In fact, since we received them and tested them out, we've abandoned our old decorating utensils for our shiny and fabulous CakeSafe pieces! To find out how CakeSafe can make cake decorating a breeze for you read on.
Here are 7 ways CakeSafe products can help make cake decorating a whole lot easier!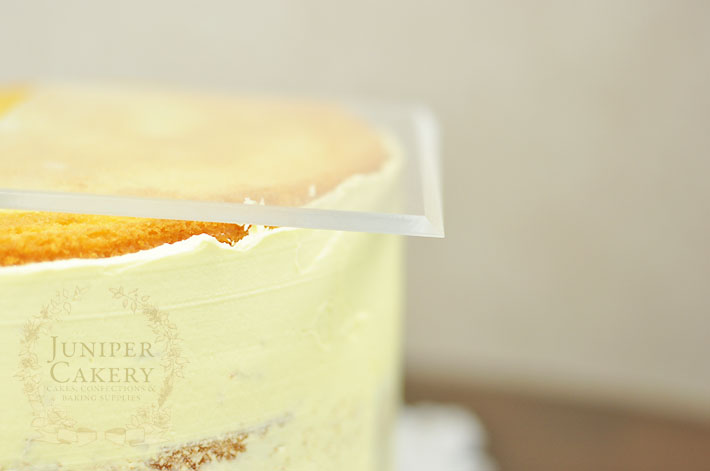 Super sharp means super sleek!
Our absolute favorite CakeSafe item is the acrylic icing scrapers (though every item we were lucky enough to test were amazing). They're created using 1/4″ thick plexiglass and they are incredibly sharp which means sleek and level buttercream or ganache smothered sides.
The sharpness also helps when you're scraping off any excess buttercream from your cake and even from your scraper. We used to have to stop and wash our old scraper or even have a variety of them waiting for their turn. Now we simply scrape the excess off as the sleek edges enable us to get a cleaner result mid-crumb coat.
No more tall orders!
Beautiful deep buttercream tiers can be frustrating to frost with some of the small and even flimsy scrapers on the market. Whilst a lot of decorators utilize longer bench scrapers or even huge palette knives they can get a little clumsy and not have the sharp beveled edge the CakeSafe scrapers have, which can lead to vertical lines appearing in your buttercream where you've paused.
CakeSafe offer up their tough see-through scrapers in three different lengths: 6″, 8″ and 10″. Now, deeper cakes will never be left out of the equation.
The gift of sight!
We also love the simple idea of the plexiglass scrapers being see-through which enables us to view where we've just scraped in order for us to better judge our surface. It's pretty essential to be able to view your work well whilst in the middle of your task.
We even used to have a partially mirrored wall so that we could see if what we had just crumb coated or butter creamed was nice and even. Now we can actually see through our scraper which has shaved off (or scraped off) a bit of time and effort making us that little bit more efficient… and stress-free!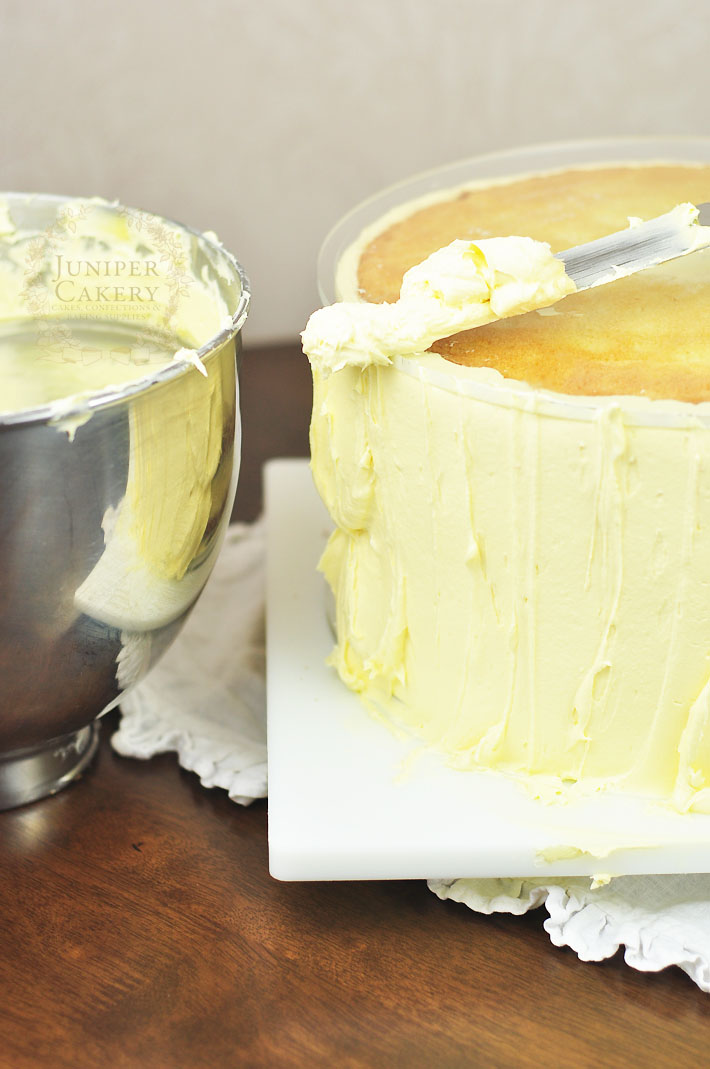 Save your cake boards!
When crumb coating and even icing a cake a lot of decorators (us included) often utilize cake boards or drums to help make storing, transporting or moving a cake around from turntable to fridge or counter a little more flexible.
The problem with this is that you end up using lots of cake boards a week that won't be in a good enough or safe enough state to use again – after all they're just cardboard at the end of the day. This is where CakeSafe's super handy reusable work board makes life easier! They're created using High Density Polyethylene, which means they're super tough and durable. Available from 6″ x 6″ to 18″ x 18″ CakeSafe's work board is great for both hobbyists and the professionals.
Work on smaller projects too!
The great thing about the CakeSafe work boards is that you don't have to use them just for cake tiers. They're also incredibly versatile and are perfect for having a clean, chilled and re-usable surface for setting petit fours and chocolates!
We've found that they get super cold when in the refridgerator (which we think has helped our crumb coated cakes chill that little bit faster too). Simply leave in the fridge for around 20 minutes, cover with parchment paper and get creative. You'll find your tempting chocolates and petit fours will set a little faster and you can move on to the next project.
These work boards are also great for simply using to top or drizzle mini cakes and cupcakes with. Sometimes when you're busy fulfilling a huge order and you're running out of free counter space a work board will be a pretty nifty place to finish a batch of cupcakes, macarons or cookies on!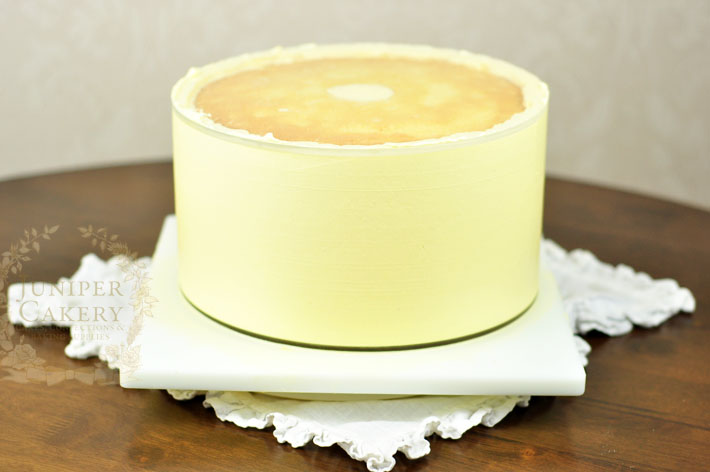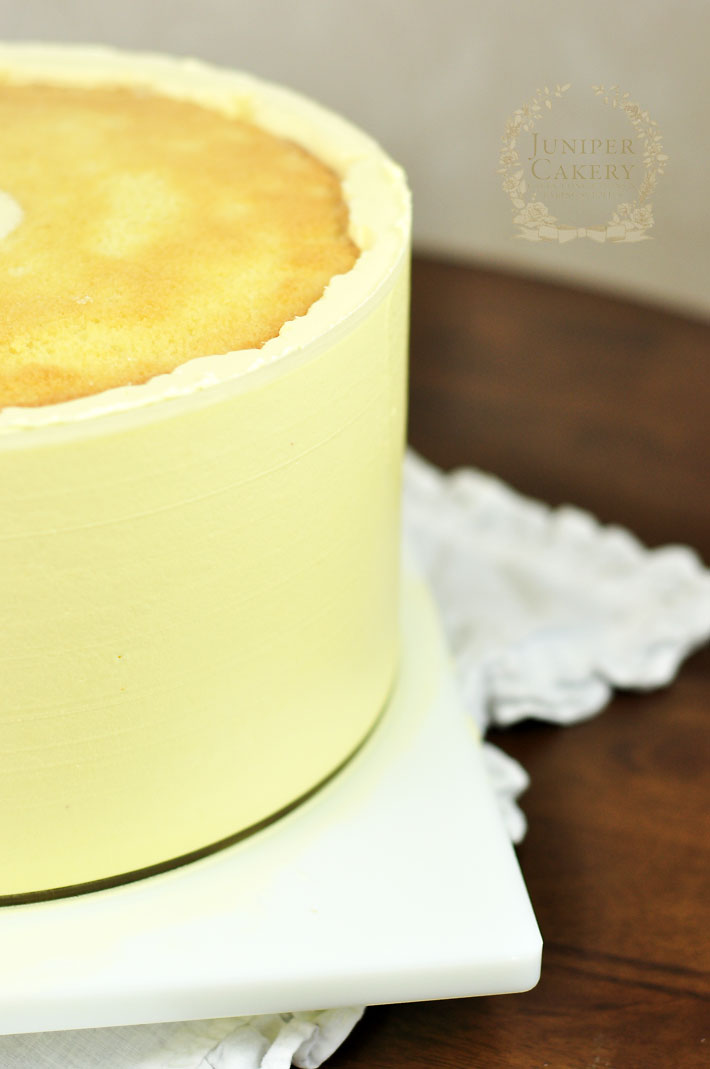 Buttercream (and ganache) perfection!
Lots of cake decorators use cake boards for another technique too… to get super sleek, smooth and level edges to their cakes. This really helps to achieve those sharp edges that has been very on-trend lately. Instead of having to throw away cake board and drums every time you need to crumb coat a new cake use a set of CakeSafe buttercream acrylic disks (or squares) to sandwich your cake and use as crumb coating or frosting guides! Easy!
These disks come in increments of .25 and .5 so you can opt for whichever is best for the thickness of buttercream or ganache for you!
Feel centered!
A quick and handy trick we've learned with the CakeSafe buttercream acrylic disks and squares is that each is engraved with not only their size, but with a center marking! If we've needed to place something in the center of a cake the same diameter as an acrylic disk we've marked lightly where we think the middle is then placed a disk on top to double check and adjust if incorrect. This is great if you're making an 'explosion cake' and just aren't sure where to begin cutting!
[one_half_last]
We're giving away a starter kit filled with $100+ worth of CakeSafe supplies you can use to create cakes you're proud of.
Simply sign in to your Bluprint account or create one for free, and enter here before 11:59 p.m. MST on April 30, 2015. If you're the lucky winner, we'll contact you by email. Best of luck!
Enter to Win »
[/one_half_last]
**This giveaway has ended. The lucky winner is Liz from Florida.