Sometimes, looks can be deceiving. But in the case of these confections, the trick is all treat: they're cakes that are cleverly crafted to look like other foods!
Making a trompe l'oeil cake is a fun way to pay homage to the cake recipient's favorite treat, whether it be candy, fizzy beverages, healthy stuff, or even a big hunk of meat! These cakes are sometimes tongue in cheek, but the end product is always totally sweet.
Dig in!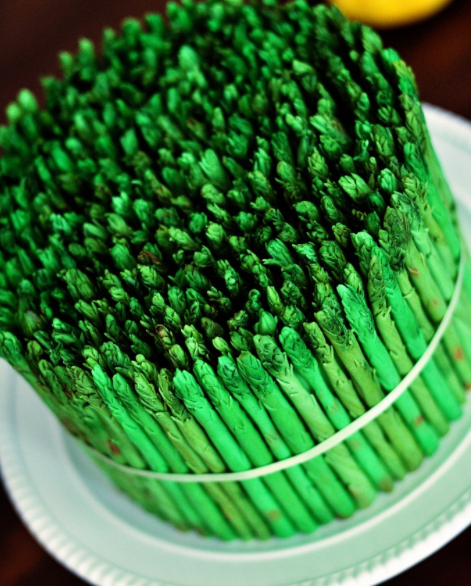 Photo via Sweetapolita
Asparagus Cake: This cake might look like seriously healthy business, but it's actually a surprise cake party! Sweetapolita crafted these stalks of "asparagus" out of fondant, and nestled inside of their sugary circle are luscious layers of cake.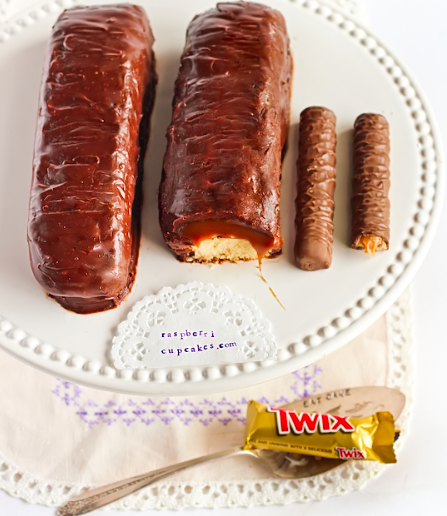 Photo via Raspberri Cupcakes
Twix Cake: If you want candy but love cake, have it both ways with a Twix Cake! Follow the example of Raspberri Cupcakes and create this decadent sweet by layering golden cake with a rich salted caramel topping, then coating the whole thing with ganache. Surprisingly easy and tremendously delicious!

Photo via CakeSpy
Watermelon Cake: Getting a leg up on your "five a day" has never been so sweet as with this confection! The cake and the frosting on the top is tinted pink and dotted with chocolate chip "seeds"; the sides of the cake are frosted in green to artfully mimic the look of watermelon rind. The perfect summer sweet!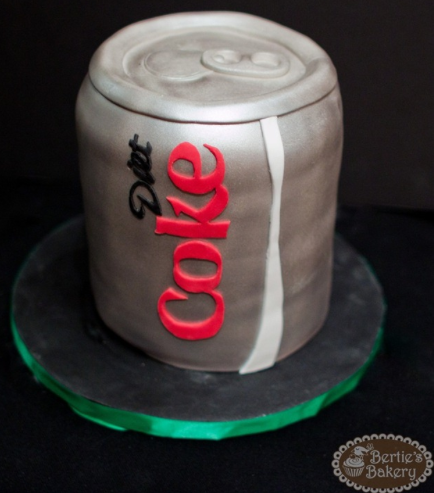 Photo via Bertie's Bakery
Coke Cakes: This cake may not fizz, but it sure will impress. As in the case of this cake by Bertie's Bakery, a cylinder of cake coated with fondant and painted with edible silver paint is an impressively realistic Diet Coke can!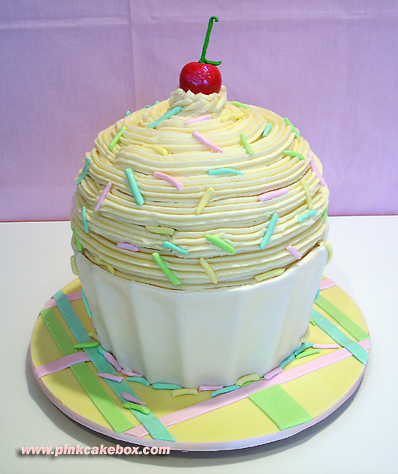 Photo via Pink Cake Box
Cupcake Cake: Cake? Cupcakes? Why decide? Have it both ways with a jumbo cupcake. There are several pans which make baking such a cake easy. Decorating is a snap, too–simply decorate as if it were a cupcake, but add a lot more icing and sprinkles! This example, by Pink Cake Box, shows how sweet the final result can look!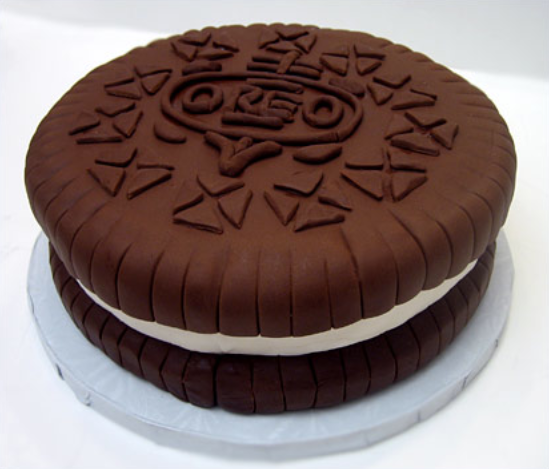 Photo via The Sugar Syndicate
Oreo Cake: Perhaps Oreos dream of becoming cake when they grow up? Such a dream realized would probably look like this cake: made with two chocolate cake round "wafers" filled with vanilla buttercream, this jumbo sandwich can be accentuated by covering the "wafers" with fondant and adhering decorative letters, or simply by icing with buttercream and topping with molding chocolate or fondant lettering.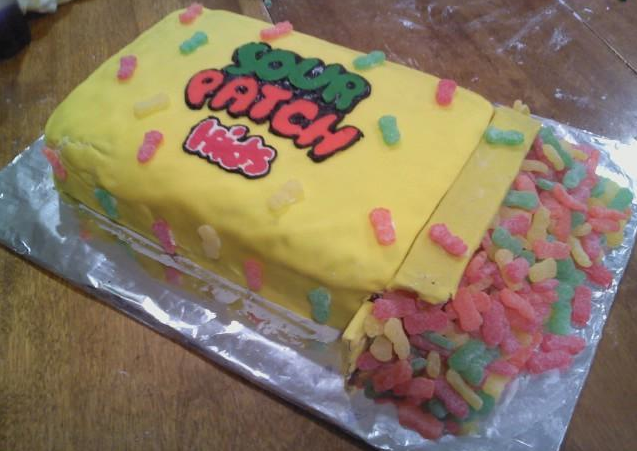 Photo via Craftsy member jcavasos
Candy Box Cake: Talk about a sugar rush: a cake decorated to look like a box of candy, complete with sweets pouring out! Created by topping a sheet cake with rolled fondant, you could personalize the result by using your favorite candy box as a reference for decoration.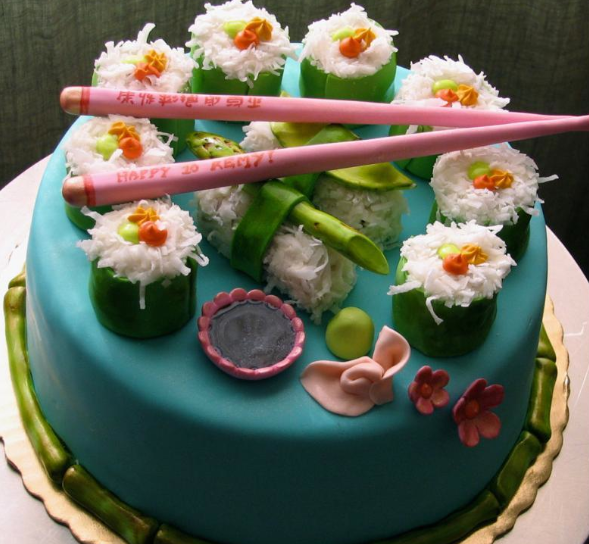 Photo via Whipped Bakeshop
Sushi cake: Here's a cake inspired by fish, but it's certainly not a fish cake! This sleek and modern design by Whipped Bakeshop of Philadelphia takes its inspiration from Japanese cuisine, creating a delicious array of sushi-esque rolls using hand-painted fondant, sugar paste, and various other toppings such as coconut to attain a realistic texture.

Photo via Elisa Strauss' Confetti Cakes
Cheesesteak Cake: This is not steak–it's cake! This incredible concoction was created by Elisa Strauss of Confetti Cakes, and features cake covered with rolled fondant and gum paste and most artfully decorated. Talk about a tricky treat!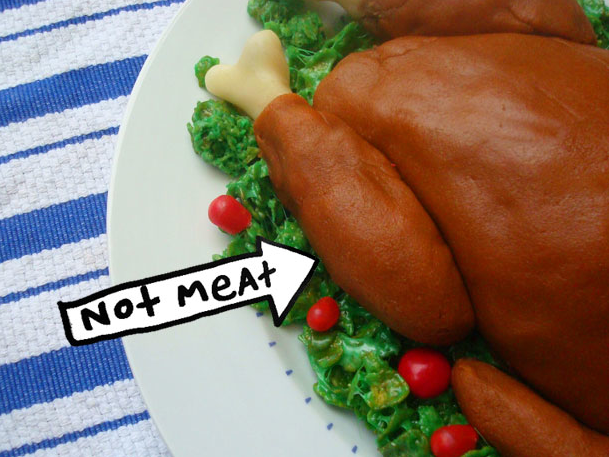 Photo via CakeSpy
Christmas Goose Cake: Visions of sugarplums will have no space to dance in your head after you've had a healthy serving of this cake! While it may look like a traditional main dish, the taste is all sweetness: it's actually a huge cake truffle topped with tinted marzipan! The look is accentuated by resting this "beast" atop a bed of red candies and colored cornflakes which look like berries and holly.
Which cake do you want to make?
Be sure to come back to the Craftsy blog this Sunday for great wedding cupcake ideas! And in case you missed it, learn how to make sugar flowers.