One cake, two cakes, three cakes more! Here comes a collection of bright, cheery and artful cakes inspired by children's book favorites, including books by Dr.Seuss, Eric Carle and Richard Scarry! Colorful and clever, from fondant to buttercream to meticulous hand-painted detail, these cakes are literally incredible (and, edible!).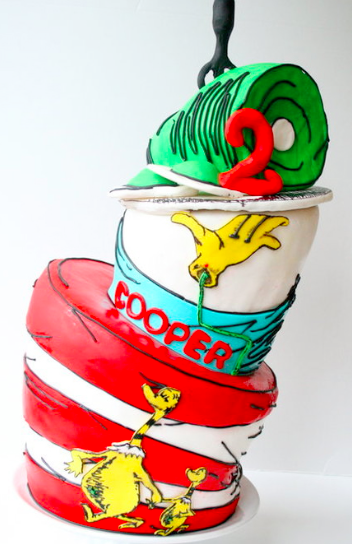 Photo via Fondant Flinger
Dr.Seuss Inspired Topsy Turvy Cake: Who can resist a big slice of ham with a side of green eggs? I love Dr.Seuss for his surrealist tendencies, books chock full of gibberish rhyme and bold color. How appropriate to make a topsy turvy cake based on his books; the world of Dr.Seuss is upside down! Bold and well designed, it's tough to mistake this fondant covered and icing piped cake for anything other than a Dr.Seuss cake, and I love the bottom tier's sneaky use of the Cat in the Hat's top hat. My favorite part though is, of course, the spot-on green eggs and ham.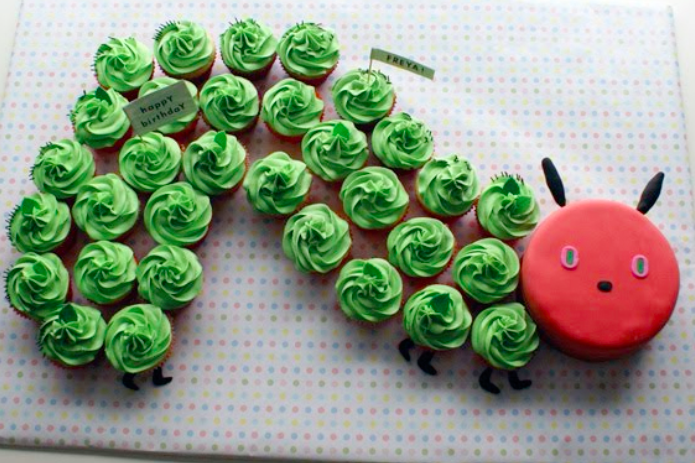 Photo via Coco Cake
The Very Hungry Caterpillar Cupcakes Cake: This puffy bodied caterpillar cake by Coco Cake has eaten way too many snacks! Lovely swirled two tone green buttercream iced cupcakes make up the body of this Eric Carle classic. A two layer fondant covered round cake as the "head" and little fondant feet help this guy move along to his next snack destination. Chocolate sprinkles were carefully positioned in the outer edge cupcakes for "hair," and fondant antennae are held in place by wooden skewers.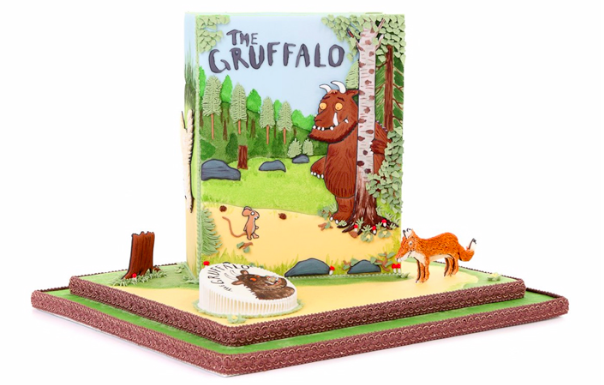 Photo via Cakes by Helen
Incredible Gruffalo "Book" Cake: This cake is truly incredible! From the hand-painted detail of the book itself, to the exact replica of the characters, to the buttercream iced "fur"- it's a work of art! I love the use of both 2D and 3D elements to make this cake pop. You must visit this cake album to view more photos, including the "back" of the cake, which is as detailed as the front.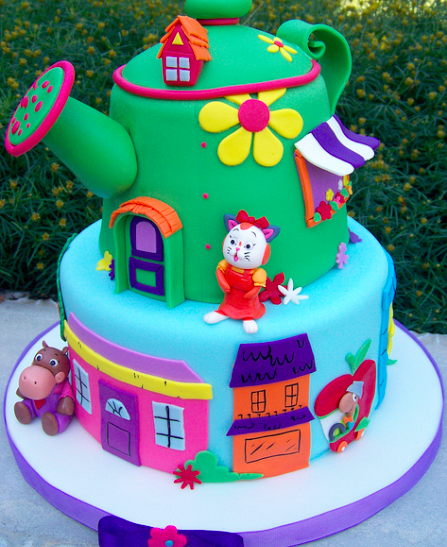 Photo via Erin Salerno Cakes
Richard Scarry Busytown Inspired Cake: This colorful two tiered ode to Richard Scarry's Busytown really hits its mark! There's so much to look at on this cake, just like Busytown. Wormy cruising around in his apple car, cat girl hanging out in front of her watering can home, flowers blooming on the windowsill; what a fun cake.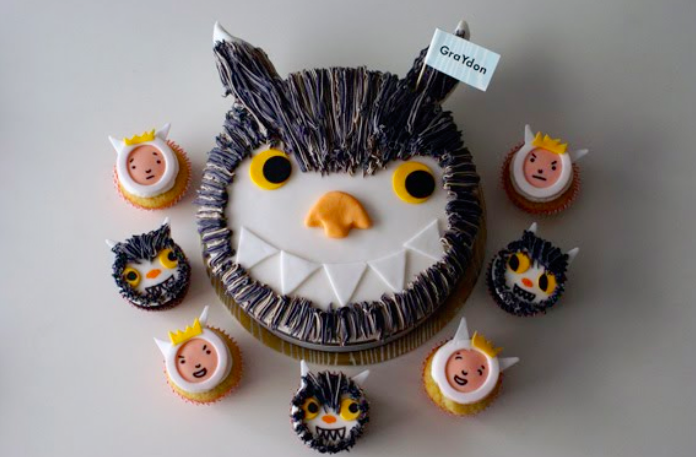 Photo via Coco Cake
Where The Wild Things Are Cake and Cupcakes: This Where The Wild Things Are-themed cake is so much fun for kid's parties. Each Max cupcake has its own expression drawn on in edible marker, and check out the eyes of the furry monsters looking every which way. The main cake is covered in fondant with fondant details and iced in buttercream "fur" using a multi-opening piping tip. For more on this fun birthday theme, visit Coco Cake's post!
So many cakes, so little time – which cake to make, and for whom? Perhaps one of Craftys's many awesome classes may inspire you to choose – including this great Topsy-Turvy Cake Construction class with Richard Ruskell! Learn how to make the Dr.Seuss inspired cake of your dreams! Or explore lovely adult literary cakes!