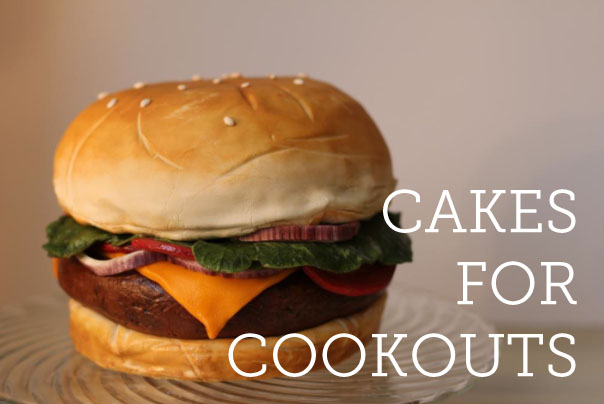 Eating outdoors in warm weather is a singular pleasure, especially when enjoyed with good company. But no matter what's on the grill during barbecue season, the icing on the cake will always be dessert–so here's a collection of sweet treats that don't mind if the sun is shining on them and are guaranteed to please a crowd.
Summery Sweets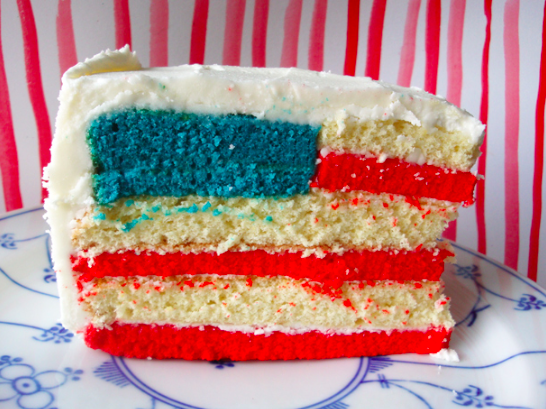 Photo via CakeSpy
American Flag Cake: For All-American celebrations such as the 4th of July, a flag cake is a particularly pretty patriotic treat to serve. While the result is a crowd-pleasing stunner, this cake is surprisingly easy to make! Simply divide the batter into three parts, then fit the pieces together just-so. The result: an All-American flag which doubles as a cake!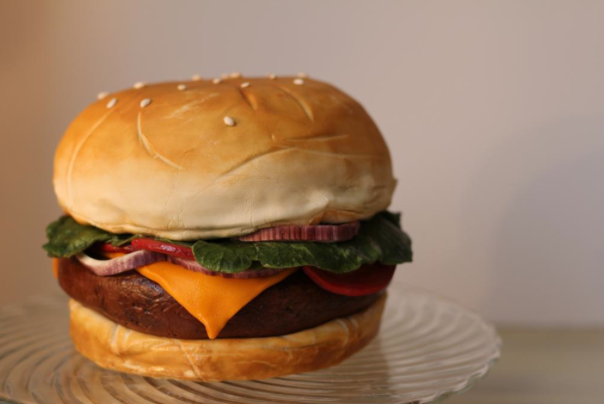 Photo via Bluprint member Wringged
Burger Cake: Burgers for dinner…what's for dessert? What about an amazing burger cake? This aspirational version by Bluprint member Wringged was expertly crafted using banana cake for the "buns", chocolate cake for the patty, and was accentuated using modeling chocolate and ganache. Wow! Learn how to make your own burger cake with this step-by-step tutorial.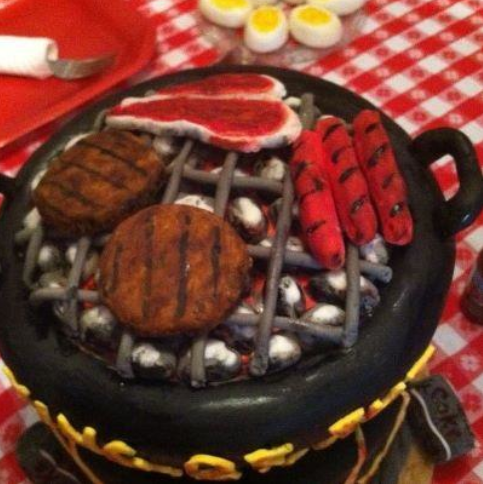 Photo via Bluprint member Pfitz1953116809
Grill Cake: Don't compete with the grill: make your cake look like a grill! This impressive cake was made simply by covering a cake with fondant–and adding a lot more sculpted fondant details to bring it to grilling life.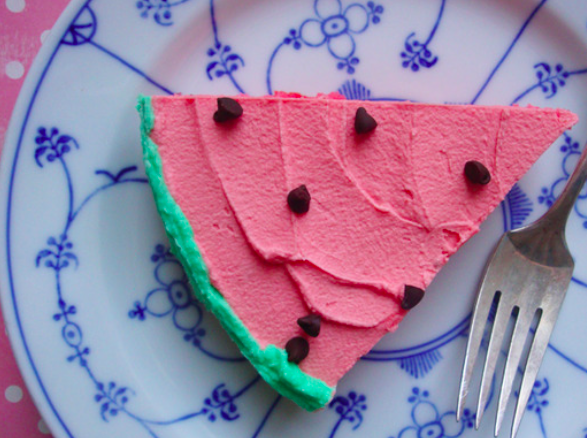 Photo via CakeSpy
Cake that Looks Like Watermelon: It may look like fruit, but it's an indulgent dessert! You can either dot a pink cake with chocolate chip "seeds" and frost green on the sides, or take it further like Bluprint member Vicki and add some "ants"!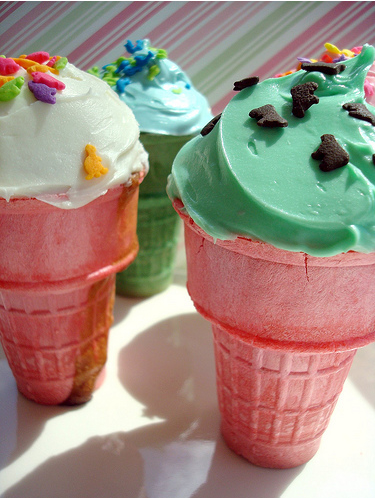 Photo via CakeSpy
Cupcakes Baked in Ice Cream Cones: Ice cream is great for cooling down in the heat. But here's something equally sweet, that won't melt: cupcakes baked in ice cream cones! It couldn't be easier: pretty much any type of cupcake batter can be spooned into flat-bottomed cake cones and baked as usual. Treat your frosting as if it's a scoop of ice cream, and be generous!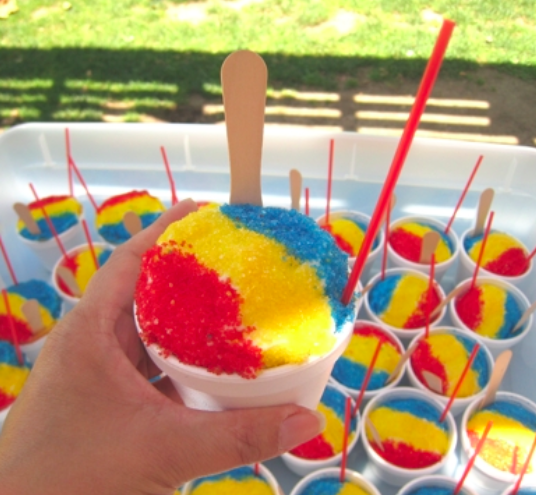 Photo via JustJenn Recipes
Shave Ice Cupcakes: Wondering why that ice isn't melting? That's because these are actually cupcakes, cleverly decorated to resemble shave ice! Simply put your cupcake in small cups, frost, and top with sanding sugar–voila, shave ice cupcakes!
Seasonal Sweets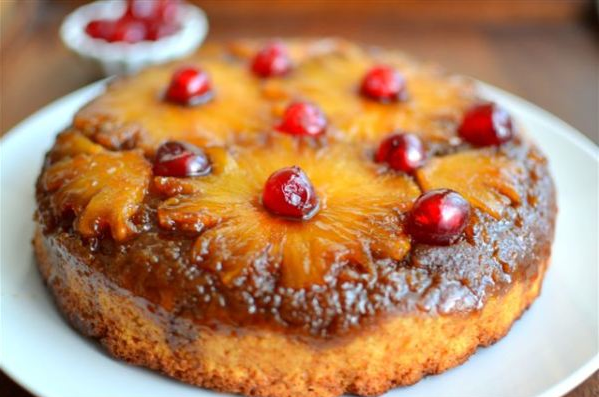 Photo via Spice in the City
Upside-Down Cakes: These easy to prepare cakes are forgiving and friendly for outdoor eating. Quite frankly, beauty isn't their strong suit, but that's just fine for a barbecue, when homey deliciousness reigns. Make your cake with whatever fruit's in season, and you've got yourself a crowd pleaser!
Sheet Cakes With Fruit: Another easy to make sweet is a sheet cake–you choose, vanilla or chocolate–topped with whipped cream and the fruit of your choice! Fresh, refreshing, simple, and delicious.
Grill It!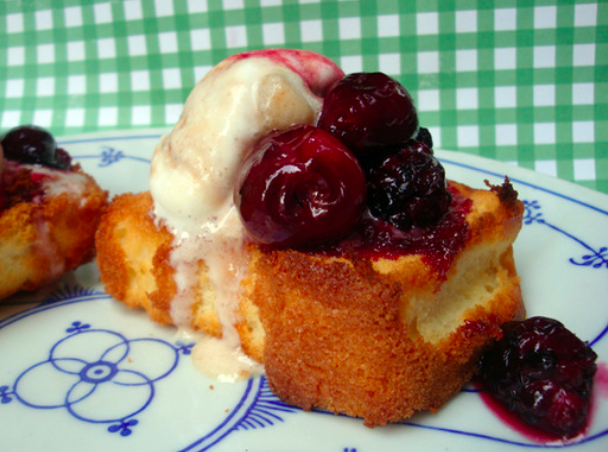 Photo via CakeSpy
Grilled Pound Cake: Why compete with the grill when you can join it? Add some pound cake to the grill (before grilling meat, please)–in just a couple of minutes, you'll have a buttery and toasty treat that is perfect when paired with ice cream and/or fruit!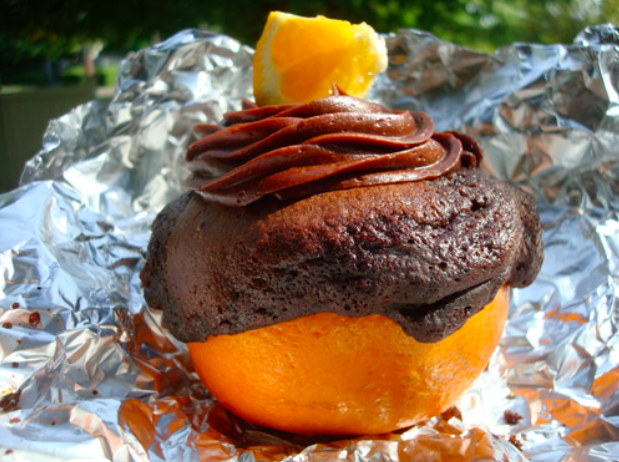 Photo via CakeSpy
Cakes Grilled in Oranges: Another grill-friendly treat? Cake grilled in orange shells. It's actually a tip from retro Boy Scout recipe pamphlets, and it works like a charm! Simply empty out an orange shell, fill ¾ with cake batter, and put on the grill (surrounded by foil, for safety!) until the cake has baked through. The orange imparts a delicious flavor, and the novelty of cakes in orange shells beats s'mores any day!
As you can see, the dessert course need not suffer during the sweltering days of summer. Enjoy these fun ideas for sweet outdoor eating–and get grilling, or baking. Or both!
Come back to the Bluprint blog tomorrow to see graduation cakes you don't want to miss!