Happy 55th Birthday, Mr. Tim Burton! To celebrate the birthday of this American film director, producer, writer, artist and animator, 100 cake decorators from around the world have quietly collaborated over the past few months to create an edible collage worthy of the man with Hollywood's most bizarre imagination!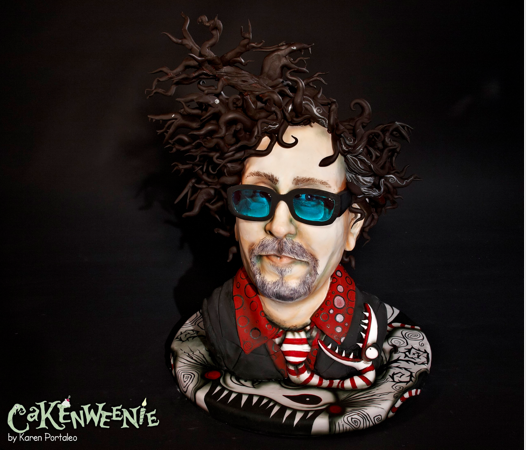 Tim Burton bust
Photo via Karen Portaleo
Discussions about a collaboration to celebrate Tim Burton's 55th birthday began in April this year. Tracey Rothwell, owner of Little Cherry Cake Company in Lancashire, England, is a long-time Burton fan and self-professed geek.
"I have a love of all things 80s, horror, gaming, Freddy Krueger, Disney, skulls, cake (obviously!), classic films, and cute and geeky things in general!" she says. So when she brought the idea to a few friends and a few more friends of friends, her excitement was contagious, and the collaboration was born.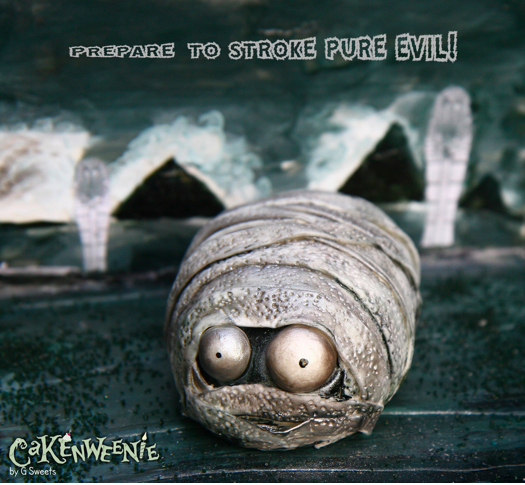 Mummy Hamster from Frankenweenie
Photo via G Sweets
Tracey's first undertaking was to find 100 decorators willing to take on the task of creating an iconic Burton character. It proved easier than she hoped, with each new collaborator suggesting another who would bring something special to the project.
Bakers from as far afield as Australia and Ireland, Malaysia and Italy, Canada and the Netherlands joined the group — household names and famous faces from TV rubbed virtual shoulders with hobby bakers and small local businesses. Popularity, renown and even ability were not criteria for inclusion — just a willingness to work hard together and create something unique.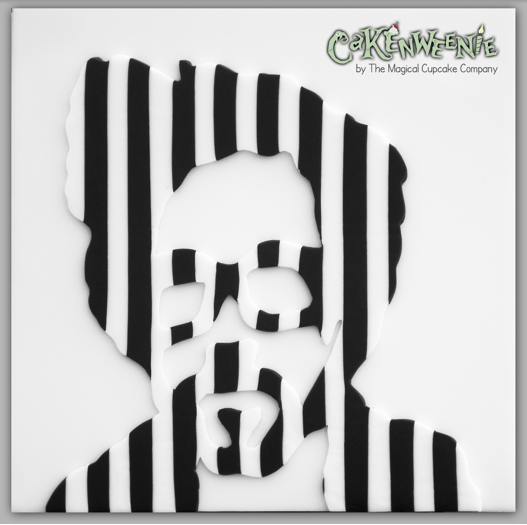 Signature stripes
Photo via The Magical Cupcake Company
Soon, 100 decorators were on board, and a list of characters, scenes and props was prepared. Abstract items like Burton's signature black and white stripes and swirls were also added to the list. Pieces were allocated by lottery and work began. Tracey stipulated only that each finished piece be edible, or suitable for use as a cake topper if Styrofoam or wire armatures were used. The only "rules" were to finish by an early August deadline and keep the project a complete secret.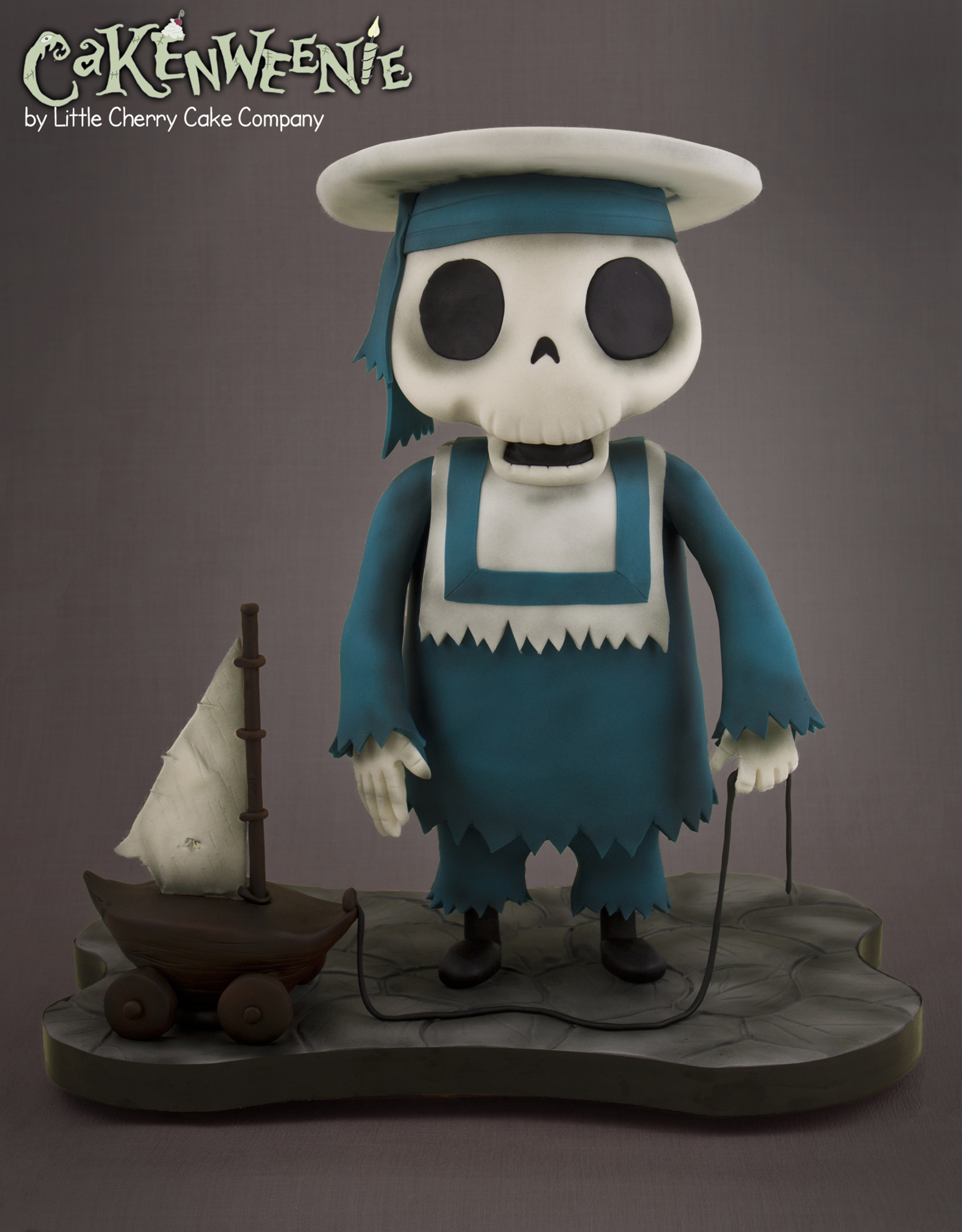 Skeleton Boy from Corpse Bride
Photo via Little Cherry Cake Company
A Facebook group was created, allowing collaborators to exchange ideas, post progress photographs and discuss the project. The group also allowed Tracey, and admin assistants, upcoming Bluprint instructor Sheryl Bito from BunsInTheOven Cupcakery and myself, to keep track of the 100 members as, inevitably, some dropped out and were replaced due to illness and time constraints.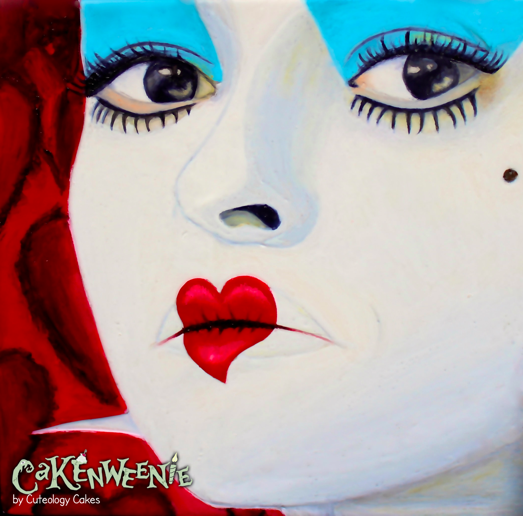 The Queen from Alice in Wonderland
Photo via Cuteology Cakes
Finished pieces were soon being posted to the Facebook group in a diverse range of media. Fondant and gum paste figures, Rice Krispies Treat models, painted or airbrushed fondant portraits, piped and painted cookies, cupcake toppers, sculpted chocolate, buttercream and, of course, cake were all used. Corn syrup mixed with alcohol and red food coloring to create fake blood made more than one appearance!
Many decorators went above and beyond to create elaborate backdrops — some working for many weeks to construct realistic rooms and authentic environments for their characters.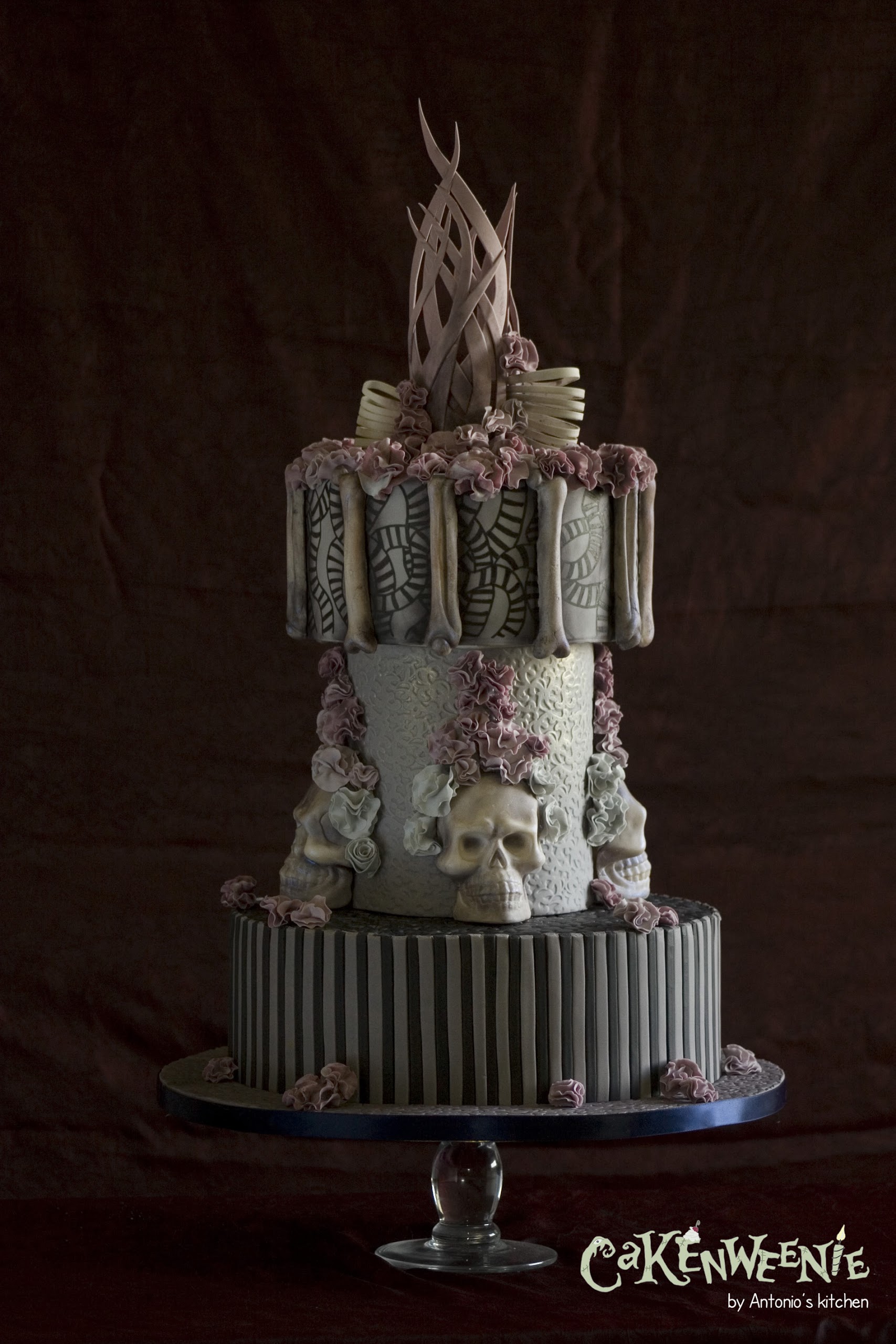 Wedding cake from The Corpse Bride
Photo via Antonio's Kitchen
As the deadline drew closer, as many as 10 new pieces were being posted to the group every day and excitement mounted. However, it became clear that not all 100 decorators would manage to finish on time. New members were drafted in at the eleventh hour – some, like Mike Elder from Black Sheet Custom Cakes, completing a picture-perfect gum paste Sparky from Frankenweenie in just over a day.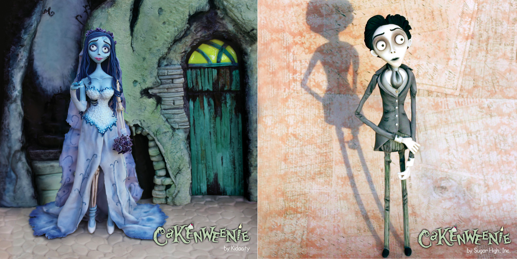 Emily and Victor from The Corpse Bride
Photos via Kidacity and Sugar High, Inc.
Tracey began the task of arranging the finished pieces into a collage of perhaps the most recognizable Burton character of them all, Jack Skellington.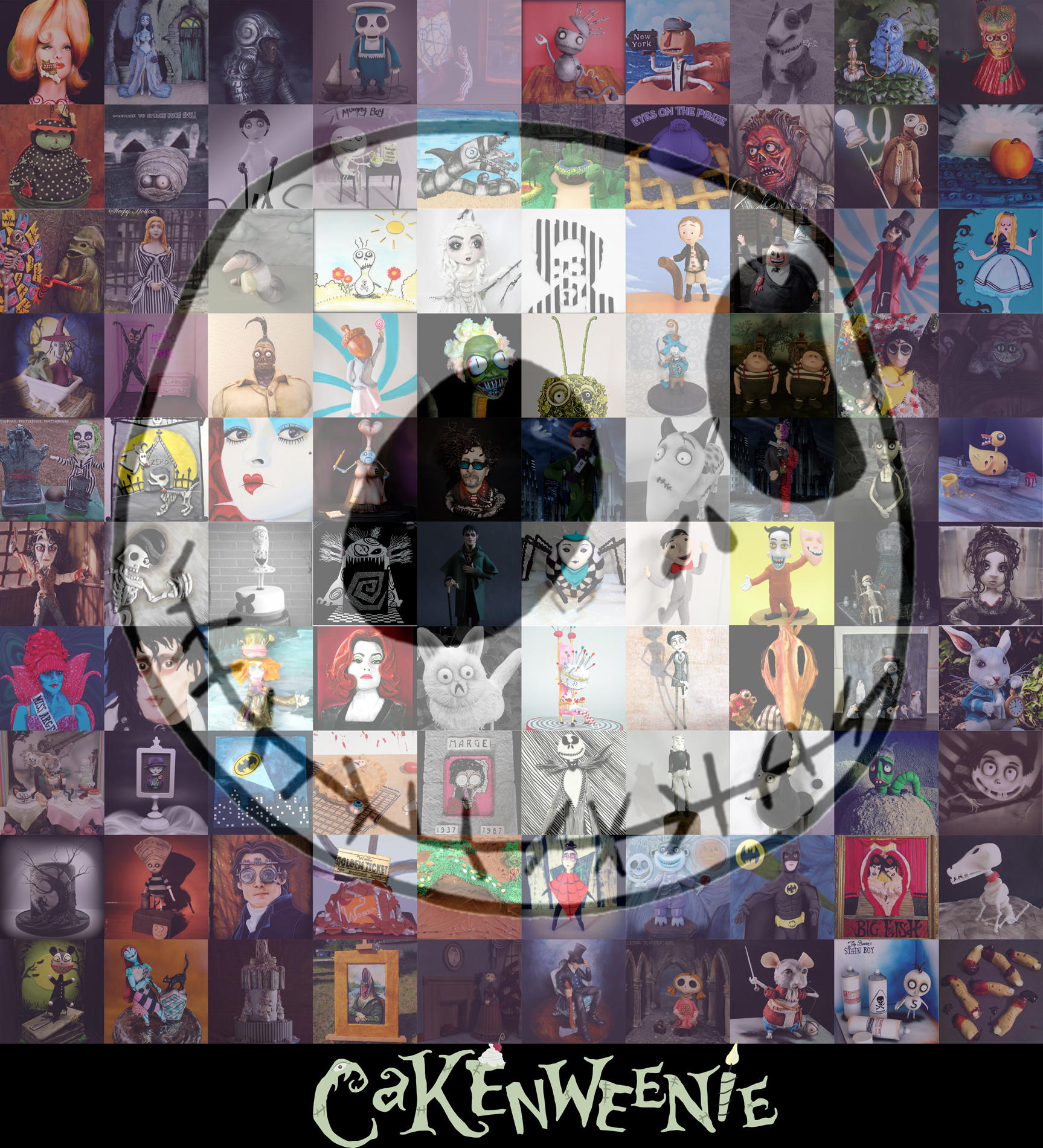 Photo via Cakenweenie
Ultimately, the project was undertaken in the spirit of fun, unity and a shared love of everything sweet. Whether or not Mr. Burton sees the finished tribute to his incredible imagination remains to be seen, but Tracey does have plans to print and frame the collage and send it to him via his Hollywood agents. We have no doubt it will take pride of place above one of his many Gothic fireplaces.
To see the 100 finished pieces created by"Burtonesque Bakers," including Bluprint instructors Sharon Wee (instructor of Design Your Own Castle Cake and Cake Topper Techniques) and Jacqueline Butler (instructor of Handcrafted Sugar Flowers) plus upcoming Bluprint instructor Sheryl Bito, visit the Cakenweenie website: www.cakenweenie.com.
Which Tim Burton character would you most like to re-create in cake?