Jessica Harris' secret waxed-paper transfer method for cake is the stuff of legends, helping cake decorators of all levels create clean, beautiful designs with both speed and ease. And now, with brand-new cake decorating templates available exclusively on Bluprint, you can readily access her incredible cake designs with just the click of a button!
[box type="shadow"]
Elevate your next cake into a trendsetting masterpiece with cake design templates from Jessica Harris!
This October, cake decorating genius and Bluprint instructor Jessica Harris released a new collection of cake templates right here on Bluprint. And, for a limited time only, select templates are available free of charge. That's right, FREE cake templates created by Jessica herself. Check out the amazing collection by clicking the orange button below.
Shop the templates! >>
[/box]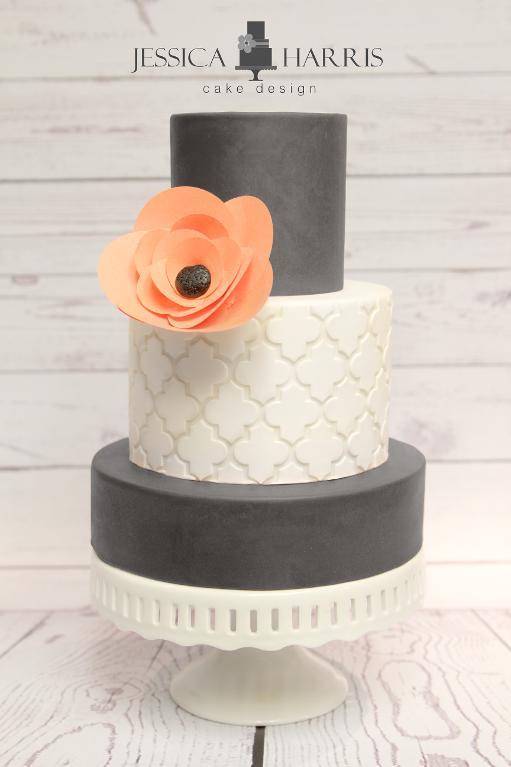 Get the FREE Moroccan Cake Design template here.
We got a chance to speak with Jessica, who told us the inspiration behind her "cake patterns." As a bonus, she wanted to share some expert tips on how to use the templates to ensure sweet success each and every time!
How did you come up with this amazing idea?
I love using the waxed-paper transfer method and do so in some way on almost every cake I make. I think it's because I love having things perfectly lined up. Plus, I love using graphic patterns on my cakes! And, as you all know, graphic patterns can be so difficult to execute precisely without a guide.
In my Bluprint classes and on my website, whenever I make a cake, I create a template for it, then put the template up in the class or on my website so others can duplicate that cake easily. I think because I do this, people get curious and email me asking how they can create their own templates. Due to my commercial design background, I use AutoCAD, which is an architectural/engineering type drawing program that most people don't have.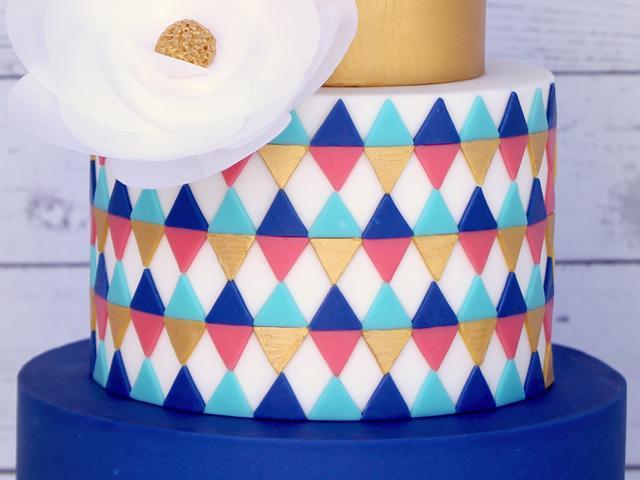 Get the Modern Triangles template here.
So, I thought one day, I should create a line of templates so others can have lots of options for designing cakes without needing AutoCAD or other design programs! I have so many ideas for other graphic patterns on cakes, so I felt this was the perfect way to get these designs out there and help others who might be design-challenged with a huge array of designs they can use on their next cakes.
I'm crazy about the idea of my design shop being a source of inspiration! You can come, look around and discover that creative spark for your own modern cake designs! And if you can't create your own template, you can find one here on Bluprint for super cheap (my favorite price!). The great thing about these cake templates is that they can be used over and over and over again. So, it's not a one-time-use tool.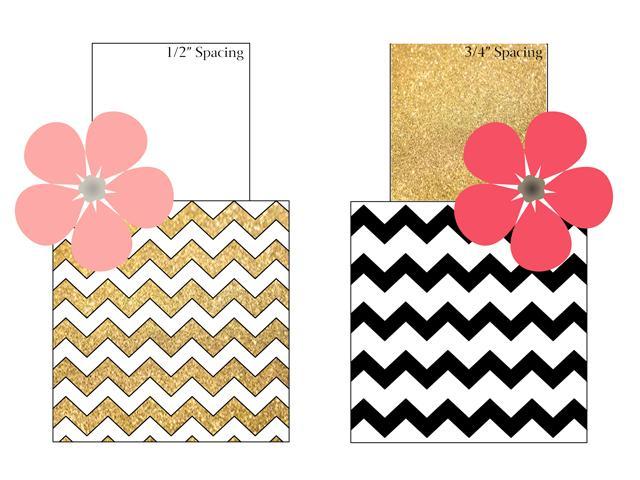 Get the Small Chevron template here.
Jessica's top tips
Stick with the basics.
The waxed-paper transfer method is so simple to use and doesn't require a whole bunch of expensive materials. You need waxed paper, tape and shortening. That's it! You can also use cellophane or parchment paper, but cellophane is pretty thin and parchment paper can be a bit thicker and harder to work with on the long horizontal wraps… so, like Goldilocks, wax paper is "just right!"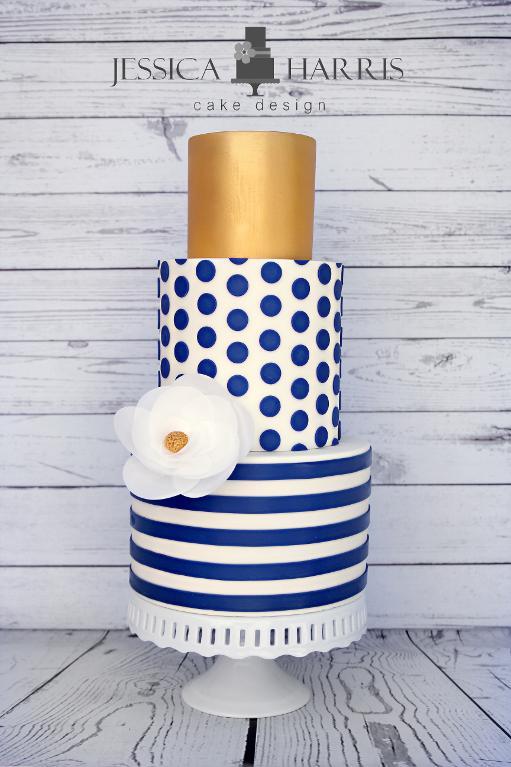 Get the Large Polka Dot Cake Design template here.
Take it step by step.
All you do is tape the template you want to use to your counter. Line up the bottom straight edge of the wax paper (I use the side of the roll as my straight edge since I never tear it off the roll straight) with the bottom line of the template…that's like the bottom edge of the cake. Tape it. This keeps things nice and straight when you go to apply it on your cake. Grease it LIGHTLY with shortening and begin placing your cut pieces on top of the waxed paper right over the design you see under it on the template.
Once everything is nicely lined up, wet the back of the decorations, un-tape the wax paper sticker you've made, place the bottom of the wax paper against the counter so it's straight, lined up with the bottom of the cake, and gently press it onto your cake. While my marshmallow fondant recipe is my personal favorite, this works for chilled buttercream and ganache cakes too! Once the pieces are on there, pull away the wax paper leaving a perfect design! I LOVE it! I get giddy thinking about how pretty it is when you pull it off!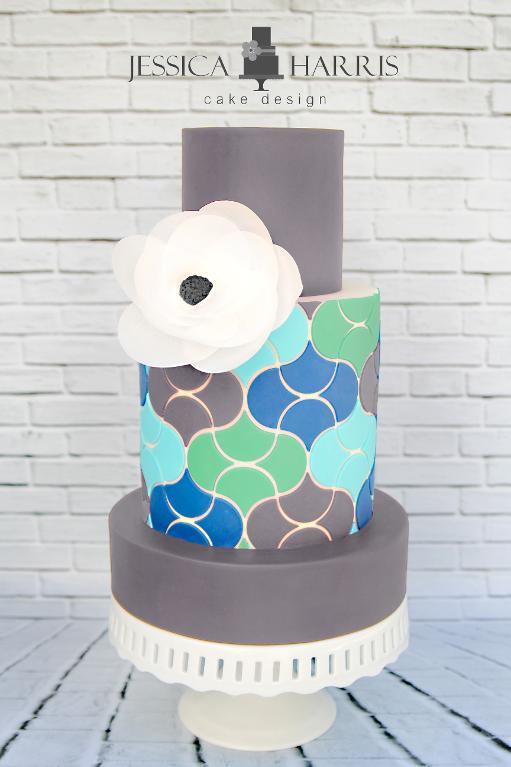 Get the Scales Like Tiles Cake Design template here.
Play with color.
Now, one thing I have to mention is how to use color with these patterns. As you can see, I love bold colors. I love contrast, so I pick colors that speak to me. What's amazing about these patterns, is that they can also look like texture, instead of graphic patterns, when you color them white on white.
So, if you like a softer look and aren't into the bold color palettes, remember to play with the designs. White on white with any of these graphic patterns would add a beautiful texture-like feel to a cake, which is so very elegant and timeless. The pattern fades and you get a stunning porcelain textured effect on the cake.
When you look at these designs, look past the colors I'm using and see the possibilities of subtle color combos to make them your own and even using white on white for a beautifully vintage look.
Inspired yet? Start browsing the cake templates now!
[box type="shadow"]
More about Jessica

Jessica Harris is a self-taught cake decorator, who "fell" into the craft by sheer chance. Her background in interior design and engineering has allowed her to think creatively about methods and approaches to cake decorating, creating techniques unlike any other instructor out there today. It is no wonder then that her instruction is in high demand — her Bluprint classes, including Simply Modern Cake Design and Clean & Simple Cake Design, are some of the most popular cake courses to date!
You can find out more about this wife, mom and cake decorating sensation on her NEW website!
[/box]
Have you checked out all the cake templates yet? Browse the collection and then tell us which one is your favorite!