You might think this gorgeous cake took hours to make, but the secret's in the stencil — and you can learn to create the same layered look in minutes. Creating a look that really wows can be complicated, but when you watch this design come together step by step, you won't believe how easy it can be.
What you need:
A small, round, fondant-covered cake
A small, round cake pan (for storing stencils)
Shortening or medical tape and a clothespin
Metallic dust and a cosmetic sponge
Royal icing and gel color (if desired)
Bench scraper or flat metal straight-edge
Get the supplies you need for this cake!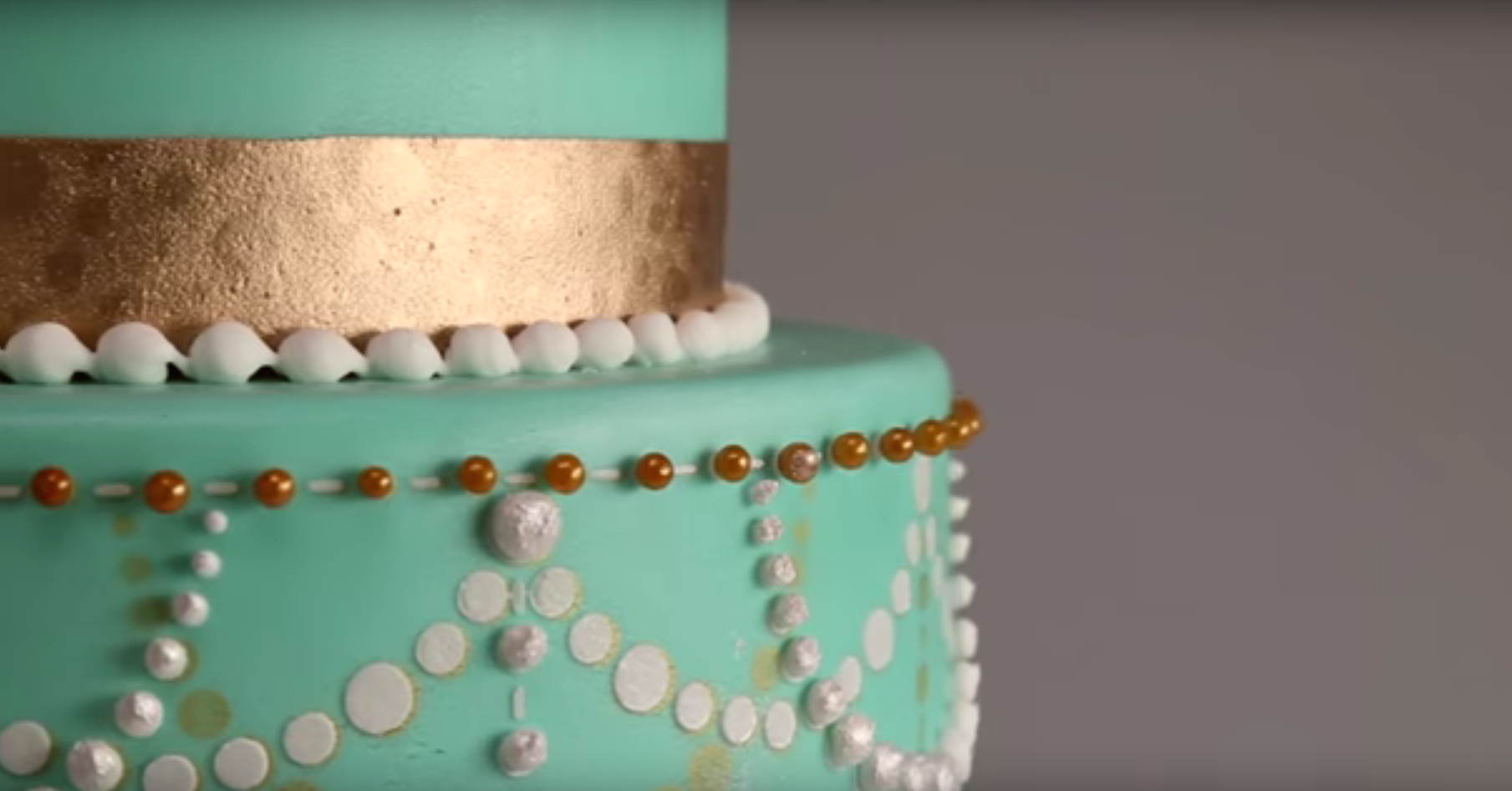 From stencils to spatulas, discover the supplies you need to create this stenciled cake design.Learn more »
1. Shaping your stencil
There are a few secrets to successful stenciling, and the first one comes before you even put the stencil on the cake. In fact, it's best to do this a few days ahead of time if you can. When you're working on the side of a cake, you want to make sure every part of the stencil follows that curve. If it doesn't, the icing can sneak in through the sides of the opening and ruin your design.
Try storing your stencils in a small, round pan like the one below. A new stencil can take a long time to shape, but it's worth it.
This is a key technique for a clean, professional result. Let it sit for about a week if you can, but at least try to plan for a couple of days.
2. Getting your stencil in place
To stick the stencil to the cake, just put a little shortening on each corner and stick it in place. You want to make sure it won't move while you're working.
If you're using a fondant that has set, you can use medical tape and a clothespin. Cut slits on each side of your stencil, about an inch long. Cut a piece of tape to fit around your cake, run it through the slits and clothespin it together in the back.
Then, use a fondant smoother just to make sure the stencil is really on there.
3. Dusting
For a layered look for your cake, start with dusting. Grab some gold dust, pour it out in a small bowl and use a cosmetic sponge to dab it right over the stencil. Now be careful — make sure to cover inside the stencil. Keep your sponge away from the edge or you could end up with dust in the wrong place, and it can be a pain to clean off.
Once you've dusted, pull off your stencil. Move it down so the end lines up with the middle of your dust design, and secure it again. You can use a little extra shortening if you need it.
4. Making the icing
Now let's talk about how to make your royal icing. You can make your own or buy pre-mixed royal. Just add water — be sure to follow the instructions on the bag to get the right consistency. Sugar can vary from brand to brand, but pre-mix is always the same. You want to make sure it's not under-mixed or it will flatten out on your cake (and we don't want that!).
You can add gel color to your royal icing, but the more you add, the more it breaks down.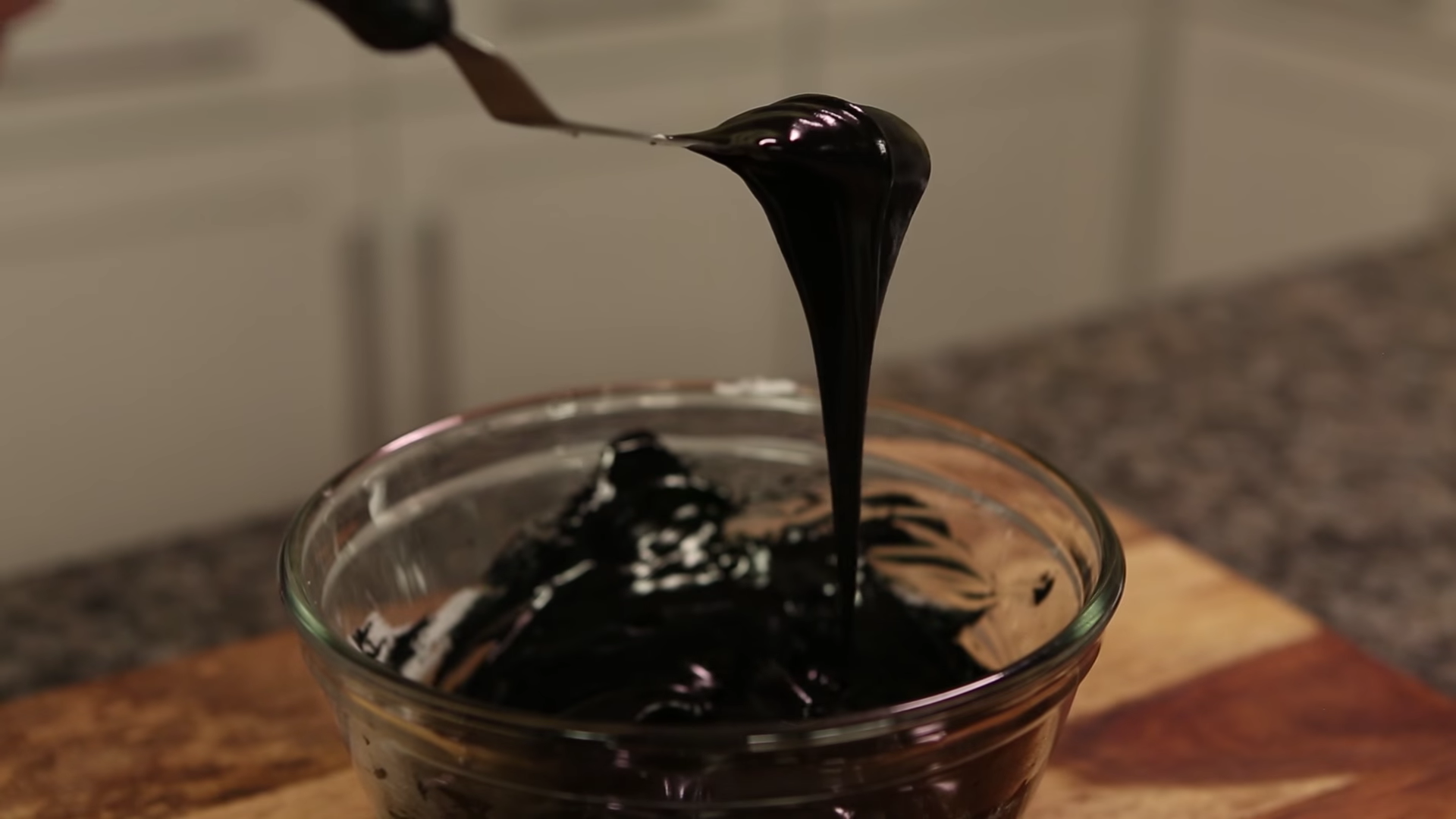 If you're going for something dark like black or red, you might want to use a pre-mix that's already been colored.
5. Spreading the icing
Spread the royal icing over the stencil, covering the entire design. Once again, remember to color inside the stencil.
When the design is covered, take a flat metal straight-edge or a bench scraper and go across in one swoop. Use your turntable here help you keep an even pressure all the way across the stencil. You might want to use non-skid under your board to make sure it doesn't move around.
6. Removing the stencil and continuing your design
Now it's time for the grand reveal. This is the part that makes a lot of people nervous, but don't worry — it's really not as hard as it seems.
Just hold one side down, keeping constant pressure so your stencil doesn't shift around, and use your free hand to peel off the stencil starting from the other side.
Get your stencil cleaned off right away using a damp cloth. You're going to use it again and you don't want to have any royal stuck on there. (By the way, when you're finished with your cake, make sure you wash the stencil, dry it and put it back in your pan.)
Let the royal sit for about 15 minutes, until it's dry to the touch. Then, you're ready for the next round. Match your stencil up to your last design. Make sure your next stencil is at the same height, then stick it on again and just keep going all the way around, waiting for the royal to dry between each round.
If you get to your last one and don't have enough room, just mask off the part you don't need with some tape, stencil the rest and finish the seam with a little extra decoration.
7. Customizing your cake
Now it's time to make this design your own. Use the same royal as before, but instead of spreading it, we're putting it in a piping bag.
Cut the tip off the bag, drop in the coupler, then screw on the tip and collar. Then fill the bag with royal — just enough to fit in the palm of your hand. If you use too much, you're like a kid trying to use one of those giant pencils.
Use your creativity here: This is your chance to make this cake yours and really make the design pop. Try piping right over the stencil to give it some dimension.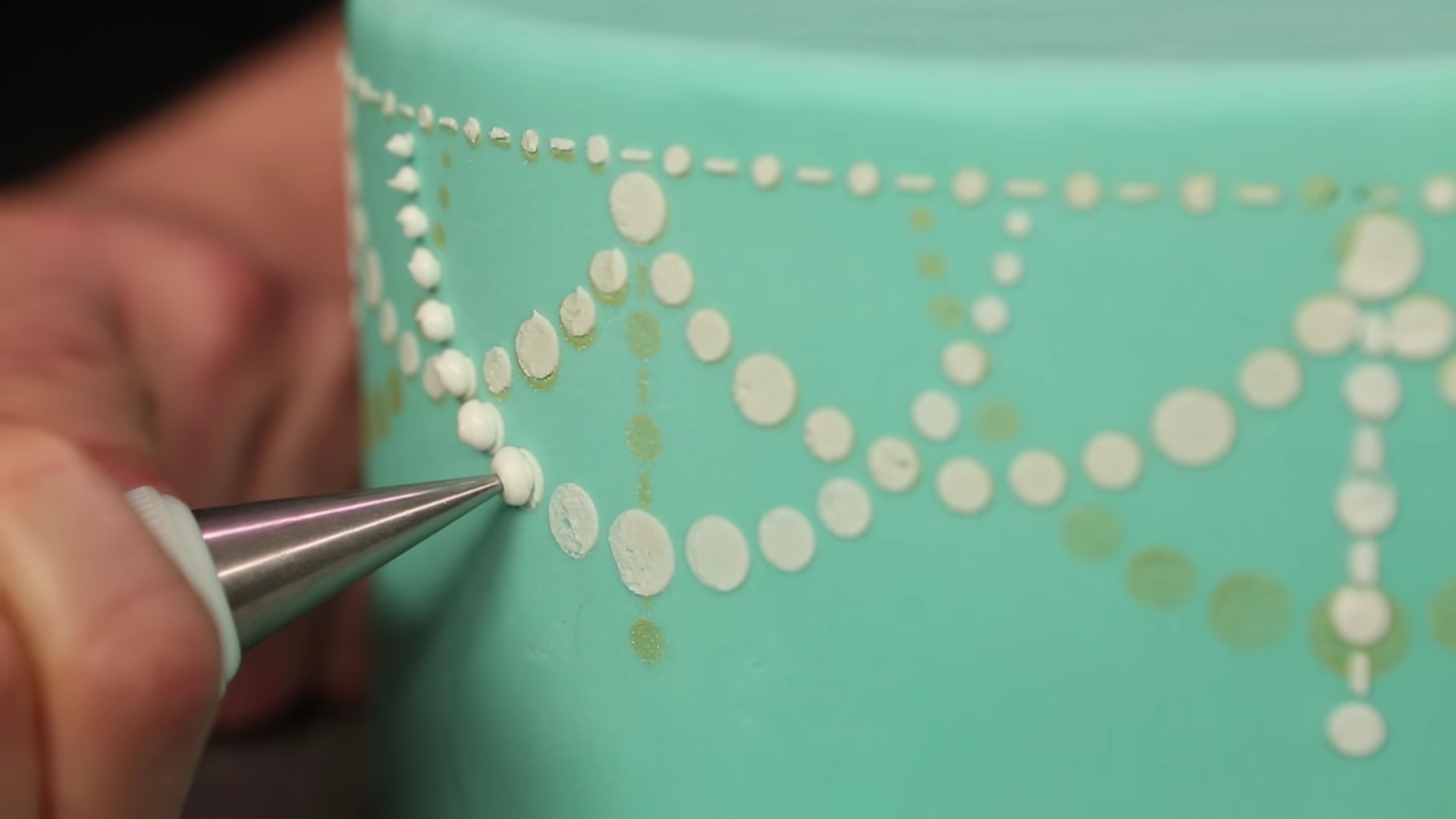 Once you have all your piping in place, let your design dry for about 20 minutes.
8. Adding the finishing touches
Take some pearl dust and mixing it with vodka to make a paint. Then use a regular paintbrush to add highlight to your piping.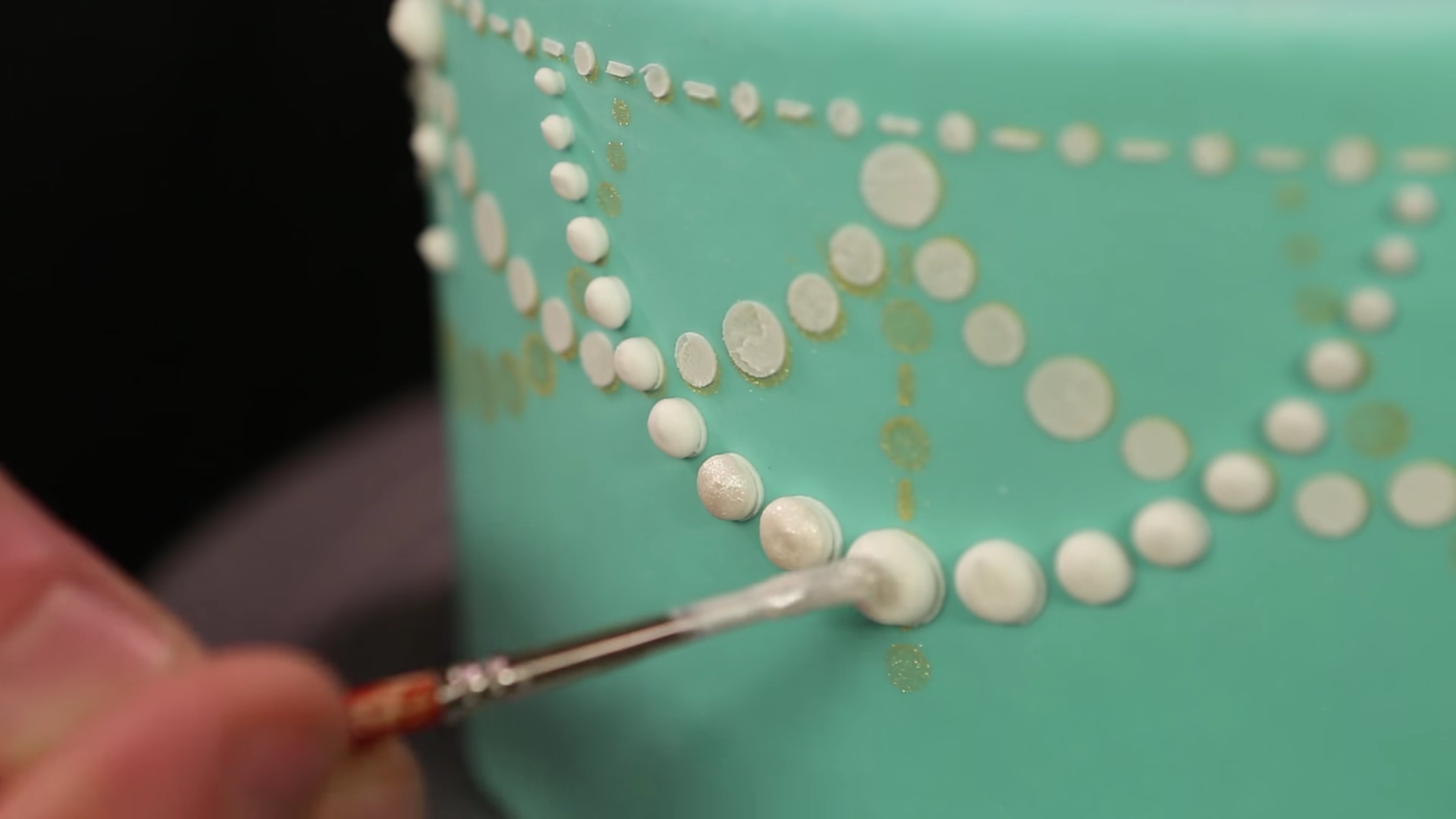 For this cake, we used royal icing to attach small, gold pearls along the top of each tier, and on the bottom, a gold ribbon made from gum paste and some simple piping gave the cake its finishing touch.
If you do end up with stray royal on your fondant, use a dry, clean paintbrush with vodka or water to slowly rub it off, layer by layer.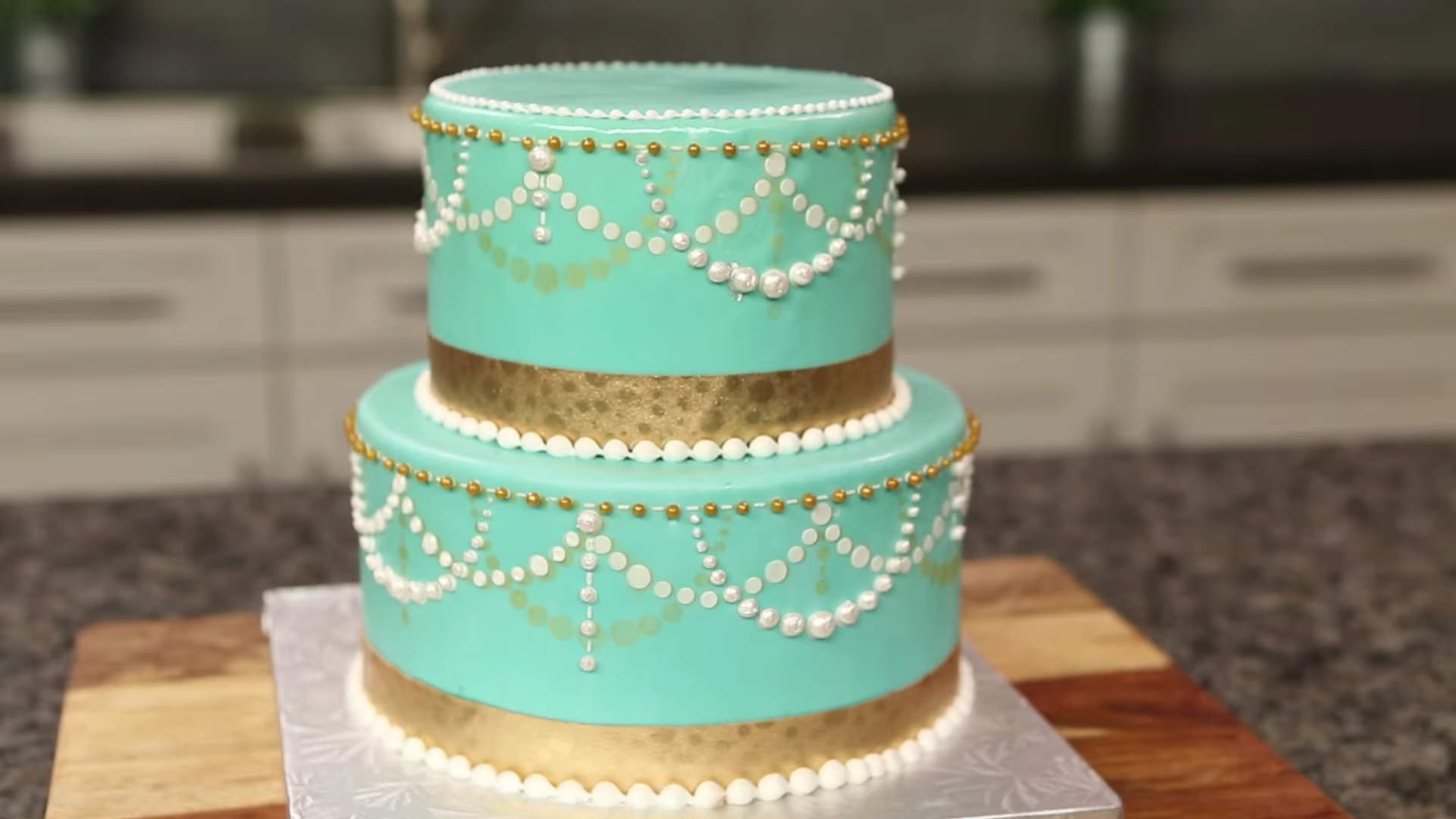 Remember when we said it was easier than it looks? With just a stencil and a little creativity, you have a beautiful, one-of-a-kind cake.
Get the supplies you need for this cake!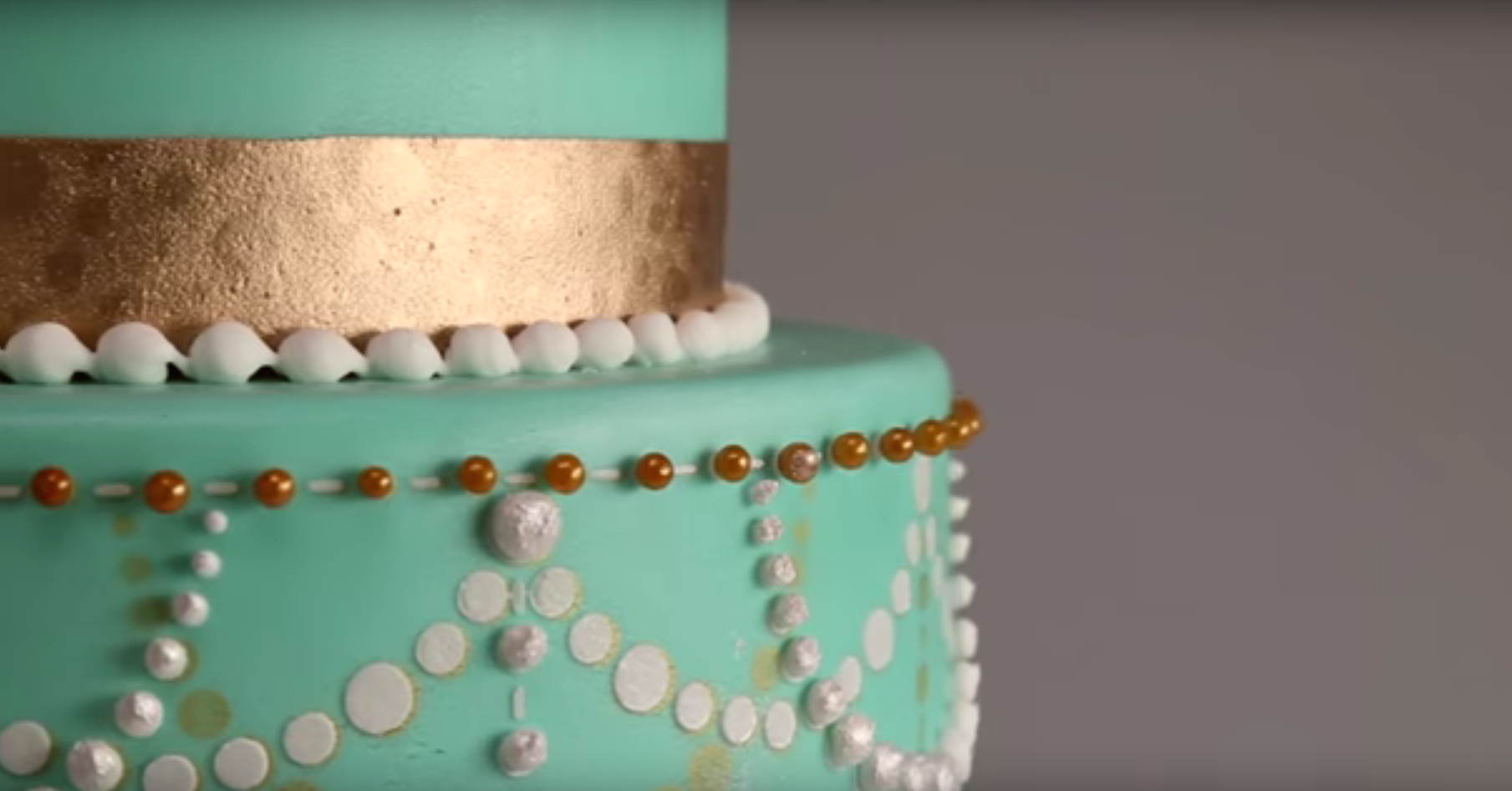 From stencils to spatulas, discover the supplies you need to create this stenciled cake design.Learn more »