I remember when I first started cake decorating and I would see these intricate and amazing icing designs on cakes, I was so baffled as to how the cake designer created the pattern. Were they the best royal icing pipers in the universe? Yes, sometimes that was the case, but more often than not, the answer to creating beautiful iced patterns on cakes: cake stencils!
There are so many incredible cake stencil designs out there, and several ways to apply them. From royal icing to buttercream to hand painted, check out some of these tips and tricks of the trade.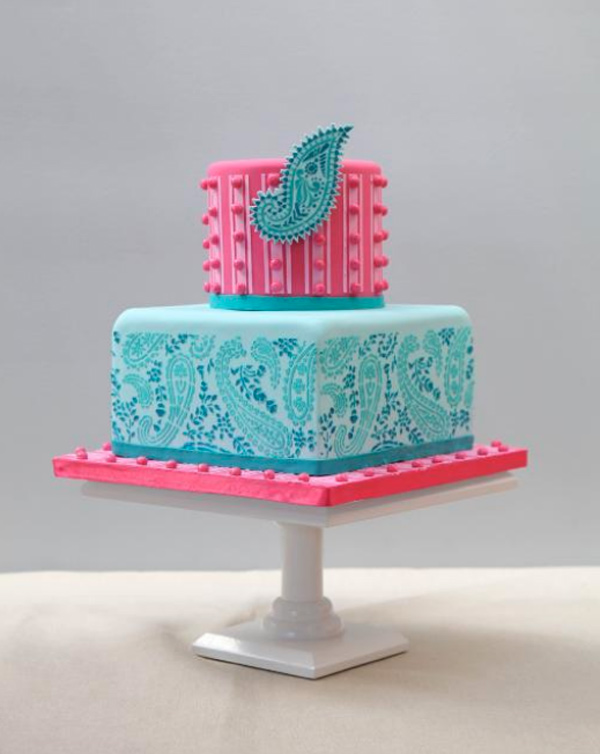 Photo via Bluprint instructor Alan Tetreault

Fuchsia and turquoise paisley stenciled cake
Bright vibrant colors, a vintage paisley pattern and modern sensibility clash delightfully in this splashy stenciled cake by Alan Tetreault, instructor of The Secrets to Perfect Stenciling. I love the royal icing stenciled pattern and the stand-alone paisley leaf perching at the top for a perfect balance of whimsy and color.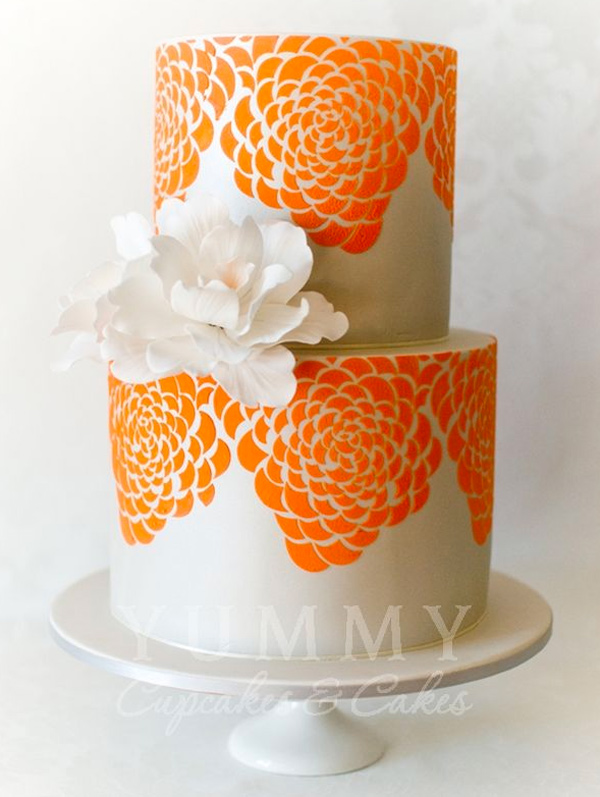 Photo via Yummy Cupcakes & Cakes
Orange stenciled peony power
This two-tiered ivory fondant cake utterly pops with bright orange peony power – stenciled on with lovely skill. The white sugar flower gives added 3-D texture to this modern patterned cake.
[box type="shadow"]Learn how to craft a lovely sugar peony like the one seen on this cake, as well anemones and tulips in the Nichols Lodge's Bluprint class Classic Sugar Flowers.[/box]
Photo via Frost Cake Co
Dusky pink painted damask cake
An Old Hollywood glamor themed wedding was elevated to glitzy sweet heights by this dusky pink stencil painted damask beauty. Soft pink sugar roses and teensy pearl and sparkle borders plus a flay of feathers heightens this cake even further. A fun and glamorous cake!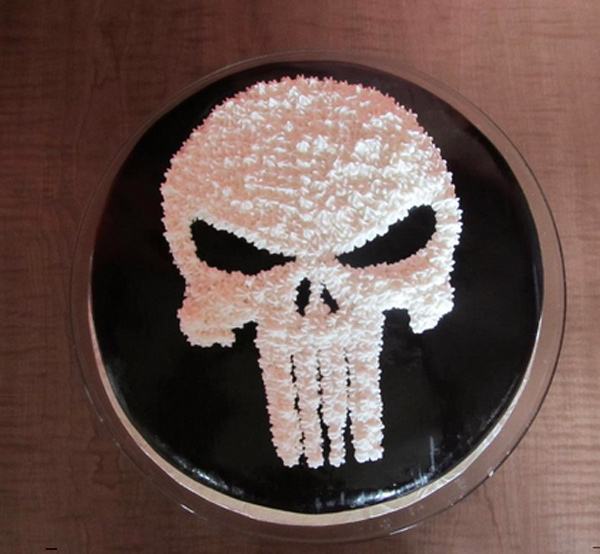 Photo via Bluprint member Zombie Girl
Punisher themed black fondant cake
Stencillng isn't just for froo-froo uptown cakes. Bluprint member Zombie Girl used a stencil from the popular comic The Punisher to create the iconic cartoon skull logo. The cake was covered first in black fondant, the logo was traced on top, and she piped it in white buttercream.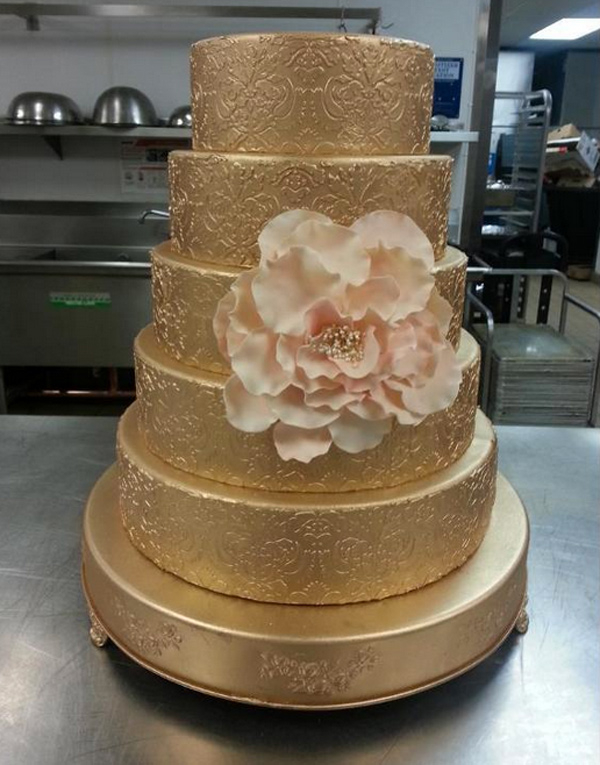 Photo via Bluprint member Laura Vaccaro
Stenciled gold wedding cake
The gilded gold look of this stenciled wedding cake truly shines. I love the technique of applying the stencil first on a monochrome ivory cake then painting the whole thing with gold luster dust to achieve the allover gold shimmer.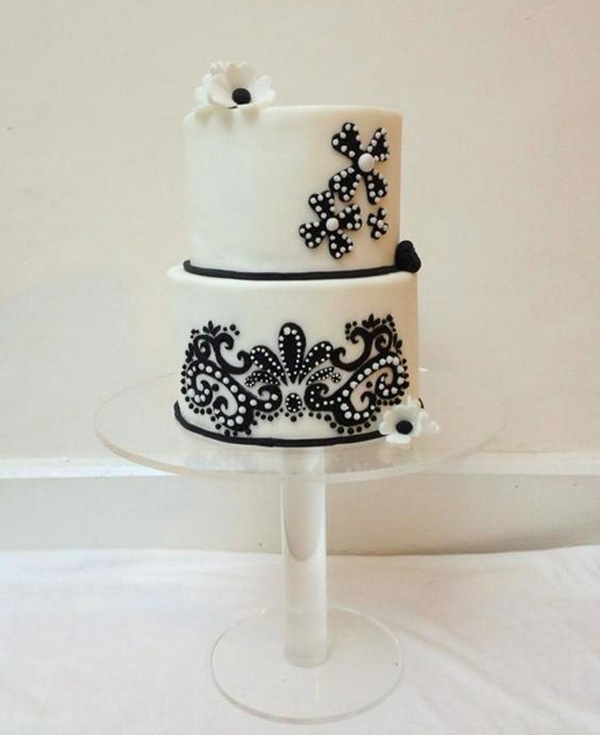 Photo via Bluprint member Nicole Kwong
Black and white patterned cake
This royal icing piped beauty is black and white and cute all over! The demure white sugar flowers with black centers provide a nice contrast to the clean white background. How lively the pattern looks with the use of piped "dots" in varying sizes, too!
Photo via Coco Cake Land

ABC hand-painted stencil cake:
Vintage-inspired ABC and 123 stencils and bold primary colors make a playful combination in this cherry cake, which is just perfect for a back-to-school party or a child's birthday bash.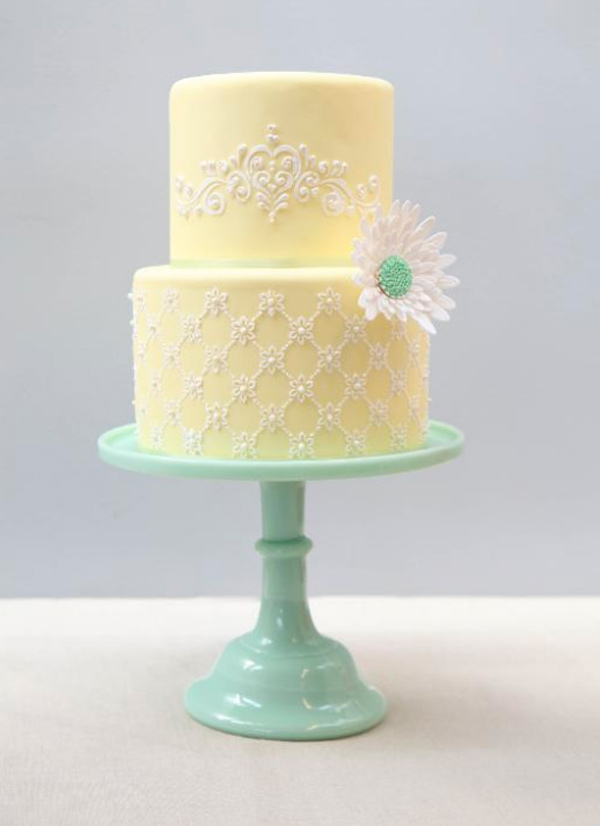 Photo via Bluprint instructor Alan Tetreault
Perfect princess cake
This sweet two-tiered pale yellow cake with royal icing stenciling is a cake fit for a princess! Alan Tetreault uses royal icing over-piping on his stencil pattern to really make it shine. The white sugar daisy sits like a sparkly jewel, adding extra depth.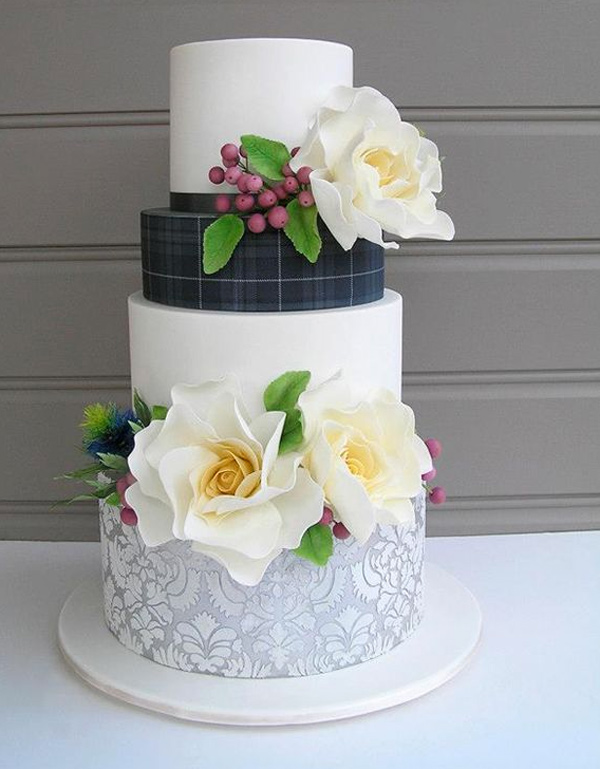 Photo via Erica O'Brien Cake Design
Tartan and damask wedding cake
Cake designer Erica O'Brien seamlessly ties together two themes in one in this lovely tartan, damask and sugar flower cake. A great way to combine the likes and loves of both bride and groom – or an homage tier to a couple's heritage.
[box type="shadow"]Loving the look of stenciled cakes? Want to learn the tips and tricks of how to stencil royal icing on fondant with a sturdy, no-fail system? Bluprint instructor Alan Tetreault walks you through all of his tried and true methods in his new Bluprint class The Secrets to Perfect Stenciling![/box]
How do you use stencils in your cake decorating?