A lot of people seem surprised that photography and knowing how to style and stage a scene goes hand-in-hand with cake decorating. In this day and age, the world relies more on the Internet and how things look cake designer's need to up their game in order to keep up with the times!
Of course hiring a professional is an okay option. However, learning how to do this yourself can save time, money and even improve your visual skills as well, giving you more control over your own style!
Discover our top cake photography tips and tricks for creating stunning cake images!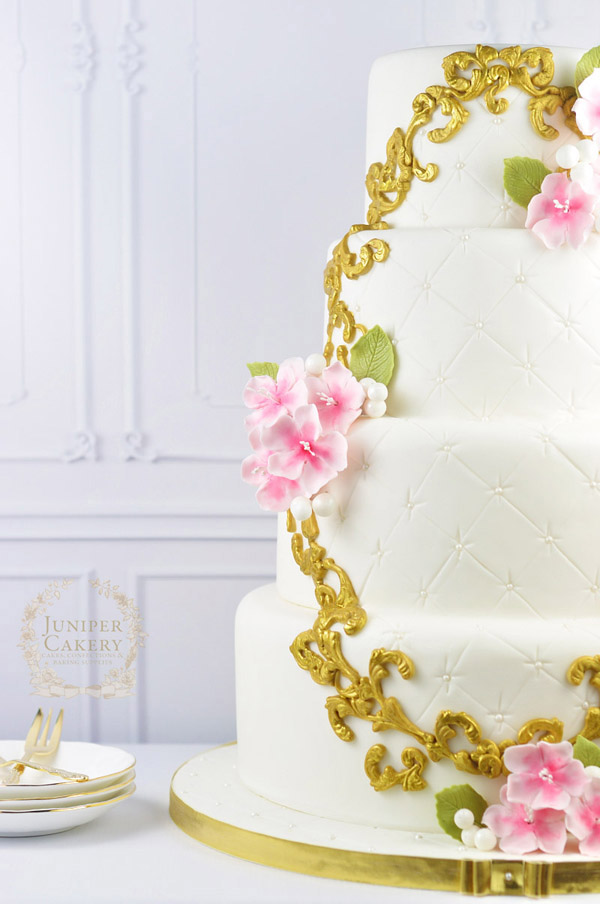 All photos via Juniper Cakery
Keep it simple
Try not to photograph your hard work in a messy kitchen or studio space. It helps to have a designated photography spot as part of your work space. No one wants to see your collection of whisks, batter covered counters or pile of cake pans waiting to be scrubbed clean. If you don't have the space to set a full scene then make sure to clear a counter of any utensils or tools before snapping away!

Overly cluttered scenery is also a major no-no. You want the viewer's focus to be solely on your cakes, cupcakes or treats so don't bamboozle them with too much visual information! Keep clear from overly chintz-y, novelty or fussy fabrics or crockery (e.g. cupcake print aprons and tea sets) as these can not only over power your work, but can make a scene look a little "sickly."

You not only want your work to stand out, but you want your work to look sleek and professional. Note that in the photograph above the small stack of gold rimmed plates topped with gold pastry forks are a simple side note to the main subject — the cake!

[box type="shadow"]

If you're in need of some more helpful and handy tips for photographing your incredible designs then we suggest signing up for Carrie Sellman's Building Your Business: Better Cake Photography class today. With this amazing class you'll open up a whole new world of how to shoot, style and sell your work like a pro!

Sign me up! »


[/box]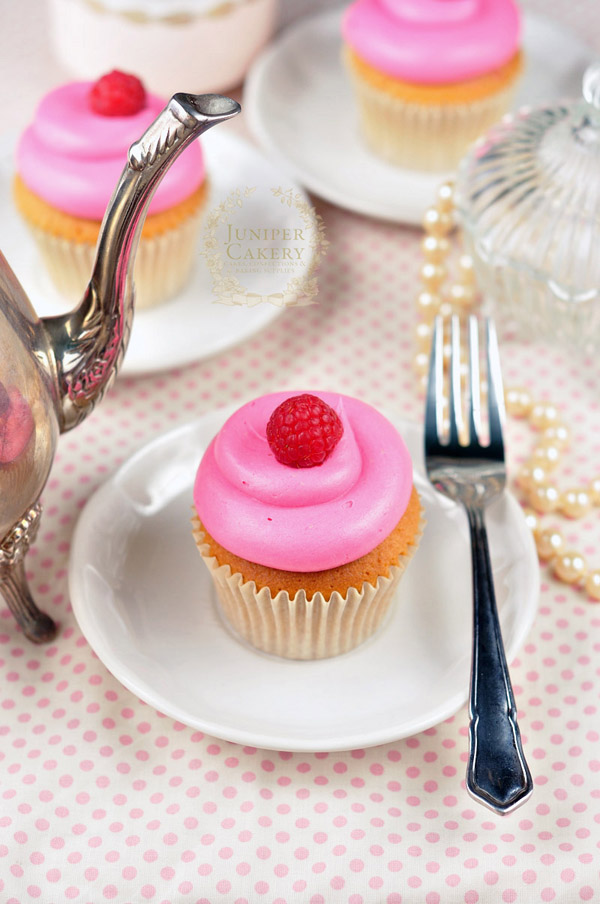 Give it personality
Finding out your own personal style and replicating it for your styled scenes can take a little time to perfect so don't be disheartened. An incredibly valuable tip is to do a bit of research! Use the internet to find lots of different food photography that you like and keep a note on why you like it. Do you prefer bright scenes or dark work surfaces? Does the rustic look appeal to your visual senses or are you more of a glamor-puss?
For our own shots we always try to create bright and elegant afternoon tea settings inspired by The Ritz. We utilize clean white ceramics, traditional looking pastry forks and cutlery with a little gold trim for good measure. For certain themed cakes and treats we adjust our props and settings slightly.
To photograph the cupcakes above we used an antique silver teapot, simple white plates, pearls, a small glass bon-bon dish and a more traditionally style silver fork to balance the shine of the pot.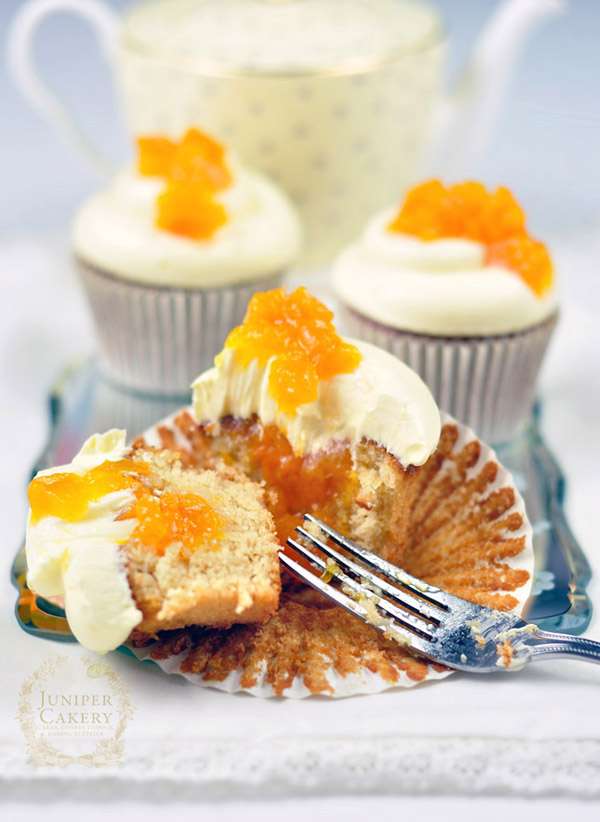 Sometimes it's ok to crumble
When snapping more home made looking cakes such as Victoria sponge, naked cakes or simple iced cupcakes you can afford to have a little staged mess. This technique is perfect if you keep a blog full of your own recipes.
A few seemingly wayward crumbs, scattered rainbow sprinkles or a supposed out of control drip of caramel can really help whet someone's appetite and make them desperate to re-create your freshly baked cakes at home! Always try to sell an ideal and imagine what a delicious treat would look like just as you're in the middle of devouring it (with style of course!).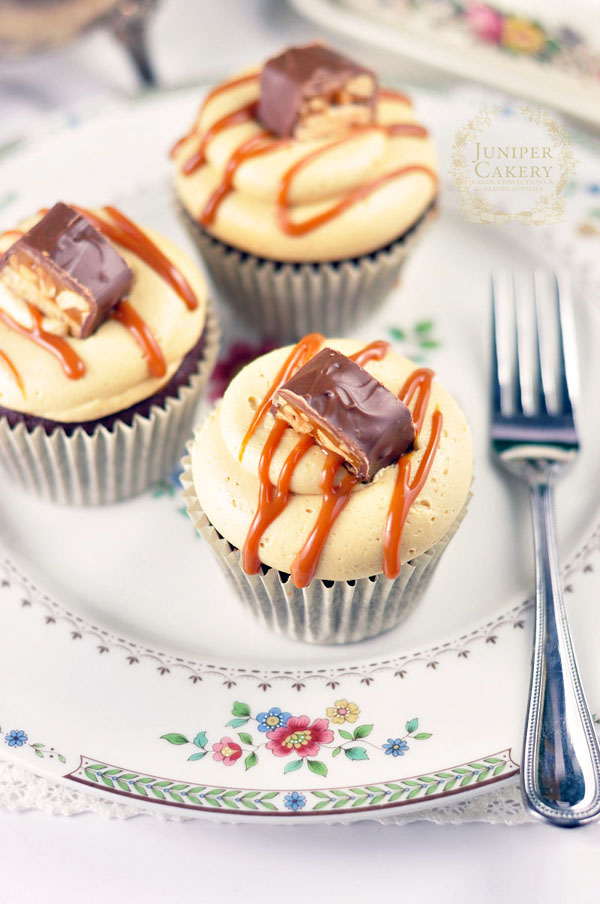 Choose quality over quantity
Collecting and using props is an essential part of styling photography shoots. One important thing to learn when searching for and buying ceramics, cutlery, stands, linens etc is that you need to look for quality rather than quantity; a photograph can reveal the true quality of an inanimate item.
Spending $50 on one  fine china piece is always going to be better than spending $1 on 50 cheaper made pieces. To shoot the Snickers-inspired cupcakes above we used a Royal Douton plate and a Wedgwood butter dish to add little rustic sophistication to an otherwise fun cupcake flavor!
You also want to keep things simple in terms of space, storage and selection. Too many different pieces can be overwhelming and can interfere with your own personal style too as you'll be tempted to flit from one piece to the next. You also don't want to be wasteful too! As Vivienne Westwood once quipped "Buy less. Choose well."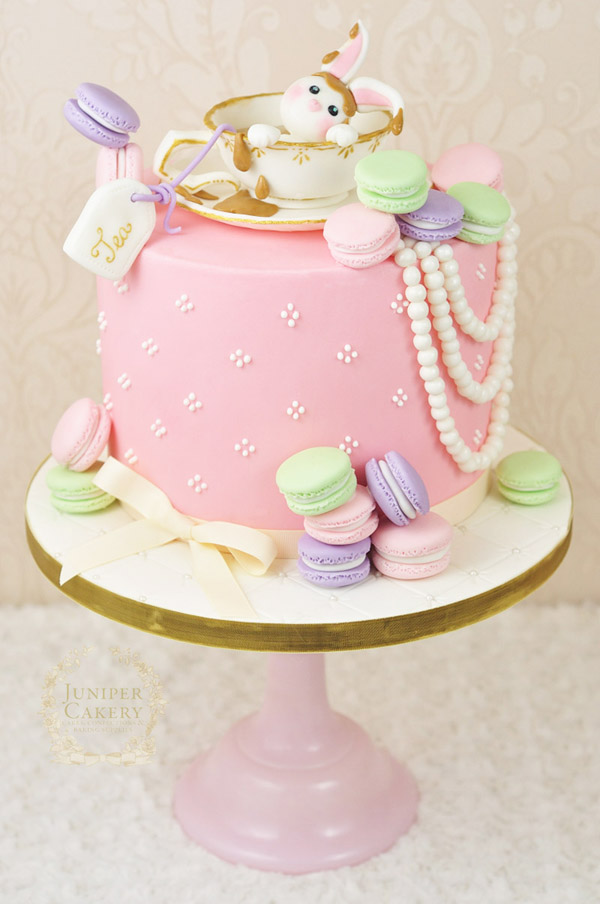 Think about texture
Adding interesting textures into a scene is a great way to make a photograph more enticing. Think about using a flocked wallpapered wall as the background to an image of a cake sat on a smooth milk glass stand and perhaps a little curled grosgrain ribbon either tied to the stand or strewn across the table top. Sequins and glitter can also help when scattered onto the scene.
For the shot of the above cake we sat our finished piece on our favorite milk glass stand then we simply styled our set with a faux fur throw and some decadent yet neutral textured silk damask wallpaper!
How do you photograph your cake creations — simple and sweet or adorably styled?