Techniques are a plenty when it comes to modern cake decorating, but one that seems to have endless potential is the art of hand-painted cakes. Fondant is a smooth and forgiving canvas for brilliant colors, layers of texture and playful patterns. So how do you get in on this hot and happening trend? Seek inspiration, of course, then experiment away! These hand-painted cakes are so beautiful, you might just want to frame one and hang it up on your wall!
Be inspired by some dashingly good strokes of genius!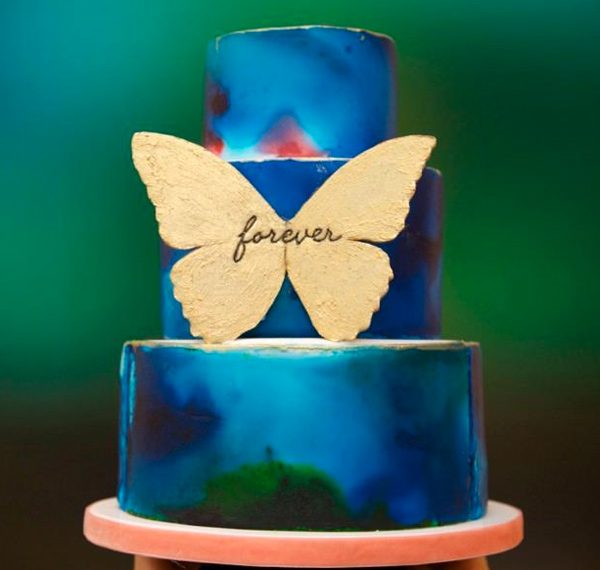 Photo via Kate Sullivan
Forever tie-dye cake
I'm so in love with this watery tie-dyed beauty. Using a special technique of soaked fondant and spurts of gel color paint, this hand-painted cake is spectacular. In her new Craftsy class The Art of Painted Cakes, Kate Sullivan shows you how to re-create this beautiful technique along with several other tricks of the painted cake trade. Once you learn the mysteries of her cake painting techniques, you'll be delighted to use them in your own cakes.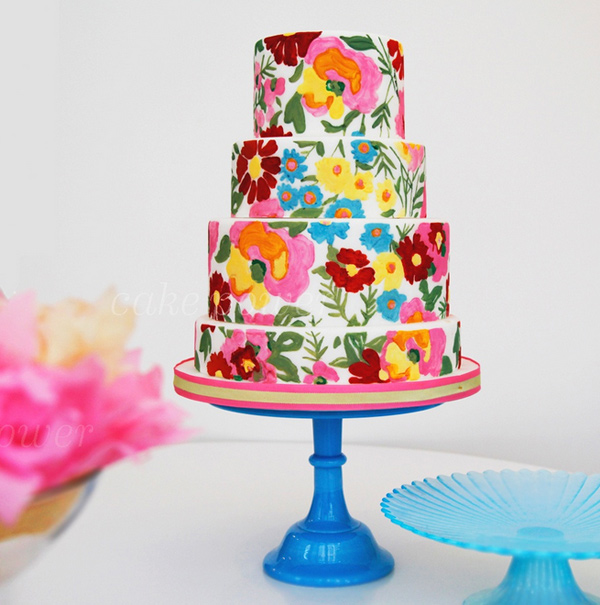 Photo via Cake Power
1960s vintage floral inspired party cake
This cake makes me want to shimmy into a pair of heels, throw on a pretty floral frock and host a 1960s vintage inspired tea party! Hand-painted impressionist flowers in bright colors makes this cake a fabulously happy sight indeed.
Photo via Sweet & Saucy Shop
Bright modern wedding cake with hand-painted Impressionist tier
Delicate on top and with waves of vintage color and texture on the bottom, this wedding cake would shine at an artful modern reception. The white sugar flowers bloom, creating sculptural interest, and the bottom tier echoes something out of a Monet painting.
Learn how to make a gorgeous sugar magnolia like the one seen here in Maggie Austin's Southern Sugar Flowers class.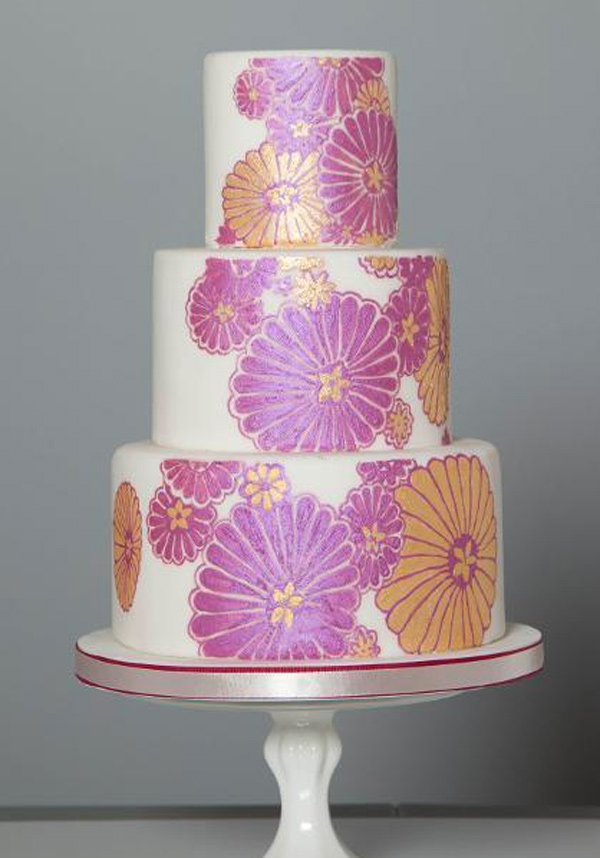 Photo via Craftsy class The Art of Painted Cake
Cascading circles floral cake
Three tiers for this bright, fun and modern vintage floral cake! These cascading circle blooms were traced onto the fondant then hand painted to fill in the color. The dusty shimmery fuchsia and golden yellow colors give this cake a vintage yet modern feel.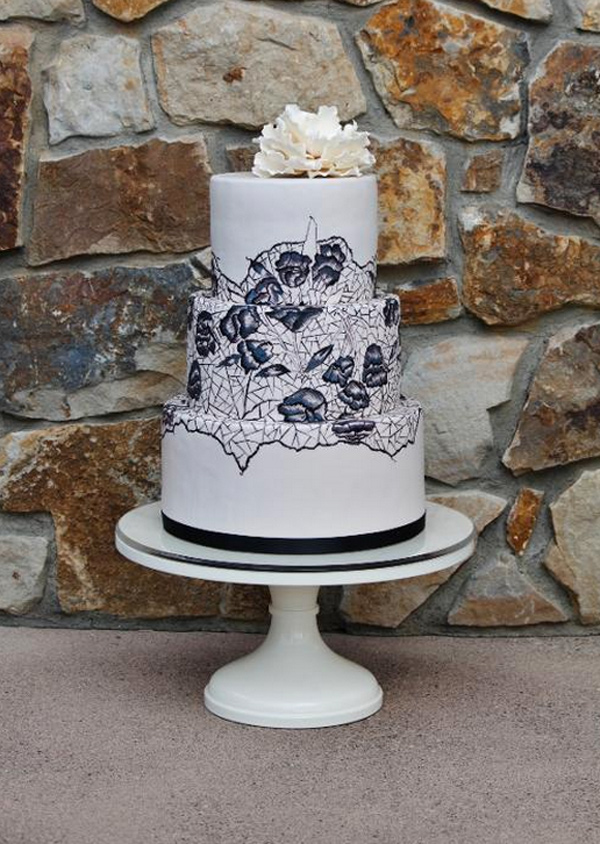 Black lace wedding cake via Sweet and Swanky
Black hand-painted lace wedding cake
Following a bride's instructions for hand-painted black lace with roses, Sweet and Swanky created a lace wedding cake that was elegant, sophisticated and sexy. The concept was actually based on a piece of lace fabric. The sugar peony on top is created from gum paste and the black paint was made by mixing gel colors and vodka.
Nicholas Lodge details the step-by-step process of creating gum paste peonies, along with anemones and tulips, in his class Classic Sugar Flowers.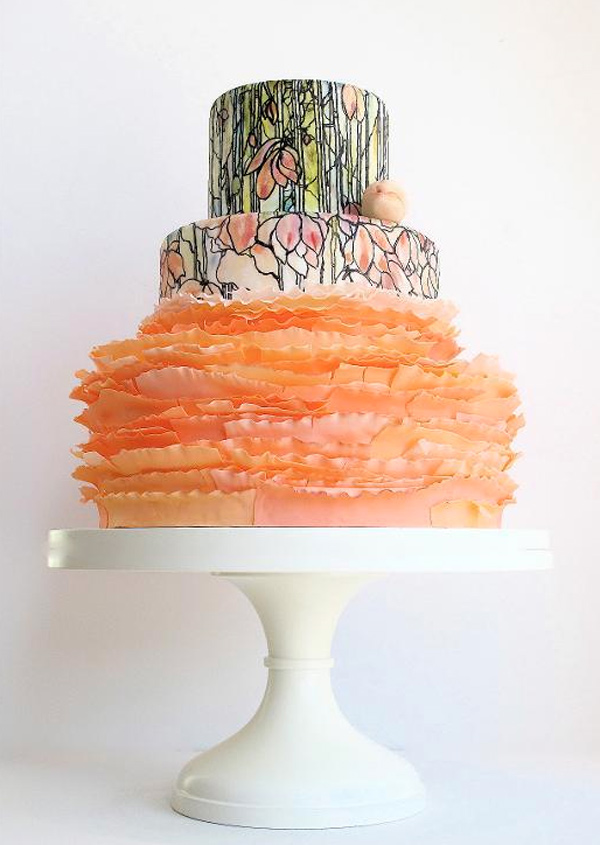 Photo via Craftsy class Fondant Frills
Stained glass and peach ruffle cake
A work of art. I love the contrast between the black outlined hand-painted stained glass top tiers against the gradients of peach fondant frills. This cake is like a modern couture dress. Maggie Austin's hand-painted cake tiers are so artful, reminiscent of light pouring through tall stained glass windows of a chapel.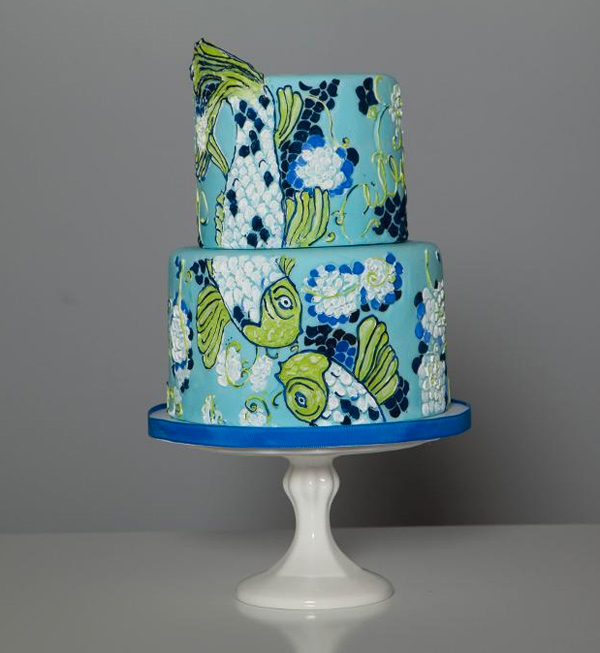 Photo via Kate Sullivan
Koi cake
Inspired by a beautiful koi fish dress, this cake utilizes unique embossing techniques using handmade stamps pressed into fondant. The stamp impressions are outlined with piped icing and hand painted to give both texture and fluidity. I especially love how the koi tail acts as a cake topper, giving the cake 3-D life via modeling chocolate!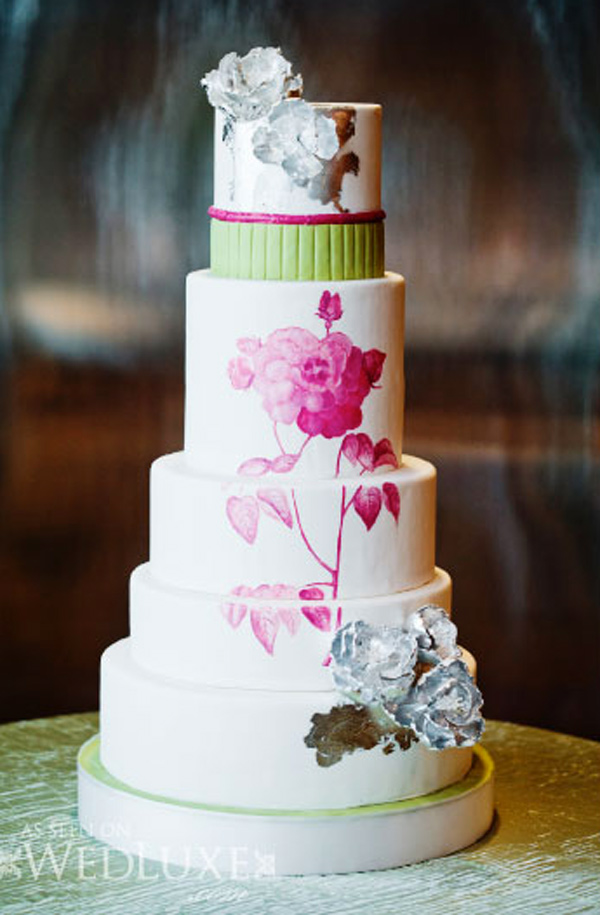 Anna Elizabeth Cakes via Sweet Pea Photography
Hand-painted Victorian anatomical floral wedding cake
Fuchsia hand-painted anatomical flowers from the Victorian age are the star element of this unique five-tiered cake, offset by sparkling silver sugar flowers and complementary green stripes.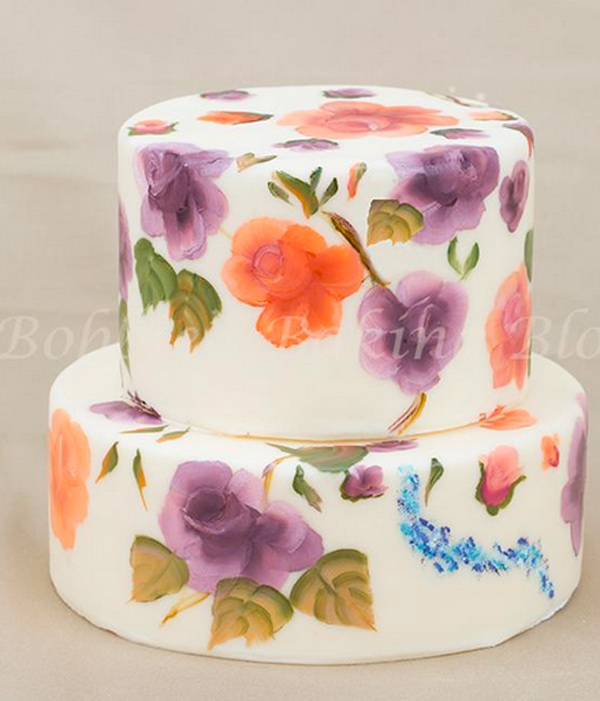 Painted cake via Bobbie's Baking
Limoges inspired vintage flowers hand-painted cake
Even porcelain china patterns can inspire your latest cake design. Purple and orange flowers along with green hand-painted leaves give this cake the look of a tea party just waiting to happen.
Learn the basics of using cake as a canvas for painting in Craftsy's FREE mini-class The Hand-Painted Cake with Erin Schaefgen. Then, build upon your skills with Kate Sullivan in her new class, The Art of Painted Cakes.
What's your favorite technique for decorating fondant?