Trying to make your cake clients happy can be tricky. There must be a balance between providing great customer service that is customized for each special event and making sure you have the time and energy to complete the cake decorating you have promised. Well thought out policies and procedures can help protect your company as well as help it run more efficiently and effectively.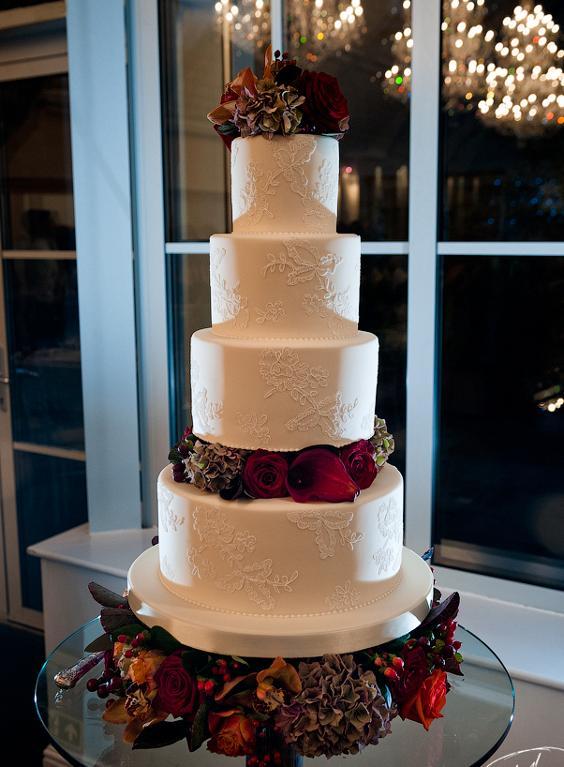 Photo via Zoe Clark
Many customer complaints and issues can be avoided by explaining your policies thoroughly during the consultation. Make sure your customers understand what you require and what to expect and you will have happier more relaxed customers.
Here are some of the policies I established when opening my company.
These are for you to think about when establishing your policies. Take the time to decide what will work best for you in your area.
Deposits:
"In order to schedule your cake on your event date a 50% non- refundable deposit is required. Without the deposit, we will not hold your date. Priority will be given to the paying customer."
Your deposit may be a little more or a little less. Set a deposit amount you feel comfortable with. The deposits are to ensure the customer will be ordering the cake and to cover your costs (time and ingredients) in case the cake is cancelled after you have started on it.
Final Payment:
"All final payments are due 2 weeks prior to your event date. If payments are not made by the due date the cake may be cancelled."
I always required final payments before starting on a cake. You do not want to spend your time and money on a cake that is not completely paid for. You also do not want to be trying to track someone down during or after the event to receive payment.
Refunds:
"Refunds are not provided for any reason. Due to our full schedule and our attention to detail we spend many hours planning and preparing before even beginning on a cake."
You can choose if you want the money to be transferable and let people reschedule their event or to use the deposit to order a different cake. Some decorators state the deposit is non-refundable and non-transferrable. You decide what works best for you.
Our cakes:
"Our company will not provide a wedding cake when sheet cakes, cupcakes, grooms cakes, cheesecakes or cake pops are provided by any other baker without our permission. We have a reputation to maintain of having beautiful and delicious cakes and it would unfair for your guests to assume another baker's cake was our cake. The cake provided by our company will be removed from the venue if another cake as stated above is served at your event."
This policy is also to protect yourself in case another cake makes people sick at the wedding. You do not want to be blamed for food poisoning when it was not your fault. I also added "without our permission" because I know many kids birthday parties or even some wedding are DIY events and many people are helping to provide different desserts or other food.
I always make sure to discuss this policy during a consultation to make sure I know who will be providing any other desserts, so I can be prepared in case the need arose. I have also heard many stories about professional cake companies getting to the wedding venue and there is a cheap grocery store groom's cake on the cake table. Make sure this does not happen by discussing this policy before the event.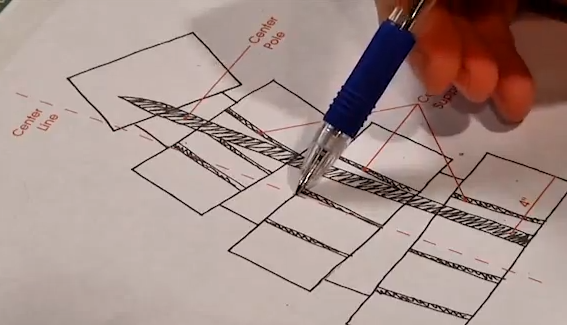 Image via Richard Ruskell
Sketches:
"Once the non-refundable deposit is made a full sketch of your cake will be emailed to you for confirmation. Changes on the design can be made up to 1 month before the event."
Full sketches can be very time consuming, make sure you have the deposit first before taking the time to provide a sketch. While at the consultation draw a quick sketch as you discuss the design ideas, this should be enough to help your customers decide if they want to use your services.
Outside events:
"Any cake placed outside during an event has the possibility of melting or deforming due to the heat. We are not liable for a cake once it has been delivered or picked up."
Climates around the world are very different, but this is your time to specify what you will and will not provide for an outside wedding. Many times people have a beautiful image in their minds of an outside wedding but then decide to get married in the middle of summer. Make sure you discuss their options for an outside wedding and do not agree to conditions you do not feel comfortable with. Give them options, such as keeping the cake displayed inside or getting an air-conditioned tent. Many people do not understand what can happen to cakes outside in the heat. Make sure you explain these issues, so there are no surprises the day of the wedding. It would also be good to have them sign that you have explained this to them and they understand the consequences.
Delivery:
"The cost of delivery is $0.55/per mile between the event and the bakery. The distance will be determined by the shortest distance as calculated by mapquest.com. There is a minimum delivery fee of $30."
Charge for delivery! Deliveries take time and are very stressful, so charge accordingly. The going rate for delivery fees is about $0.55/mile. Make sure to charge for both ways. I got on MapQuest and figured out a radius around the bakery that I included in my $30 delivery fee, if the event was beyond that radius, I charged more for the delivery and based it on mileage.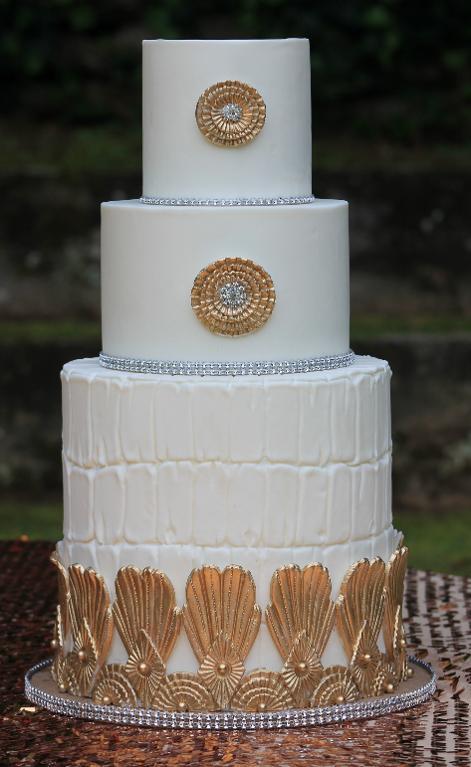 Photo via Joshua John Russell
Pick-up:
"If you choose to pick up your cake and transport it yourself, we are not liable or responsible for the cake once it has left the bakery. You should prepare your vehicle so it is clean and free of items that could roll or slide into the cake. We do everything in our power to provide a well-structured cake, but please note that cakes are very fragile and brake easily, drive carefully and slowly."
Customers may choose to pick up their cakes rather than have you deliver them. In this case you want to make sure to protect yourself. Most people do not know how fragile cakes are, make sure you discuss how to deliver a cake, so there again no surprises. I also make sure they initial this policy before leaving the bakery, so they understand that they are completely liable once they walk out that door.
Serving sizes:
"Wedding and custom cakes are designed to serve the number of people you specify. Our cake serving size is 1" x 2". If you are serving larger slices of cake and run out, we are not responsible to provide additional cake."
Choose a cake cutting chart and stick with it, explain the portion sizes to your customers during the consultation. If they feel it will not be enough cake for their guests give them options like making the cake larger or adding a sheet cake. Do not just make the cake larger without having them pay for it. It is also good to remind customers that the cake slices are 4"-5" tall and that the serving is actually quite large. Many customers would tell me they didn't think it was enough cake per serving until I reminded them how tall the slice was, then they would agree it was enough.
Other policies that you may want to consider adding to your list could be related to:
Food allergies
Cake stand rentals
A privacy policy
Specifics due to location, climate, or culture
Whichever policies you choose, make sure you stand by them, have the customer sign the bottom of the page acknowledging that they have read and understand your policies. Then if customers complain or come back to you asking for a refund, you are ready to defend yourself and your company.
What other policies have you established or do you plan to establish for your cake business?