Credit cards, hair dryers, dental floss. No, this isn't a packing list for your next vacation. These familiar objects have something else in common: they're all tricks of the trade for cake decorating! Through trial and error and lots of experience, bakers have plenty of cake decorating tips up their sleeve, all with the idea of creating a better and more beautiful finished product.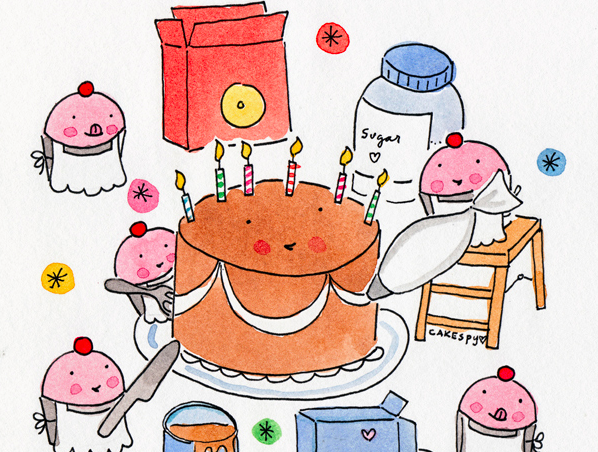 Illustration via CakeSpy
Here are just a few of these tricks to add to your repertoire!
Creating smooth surfaces: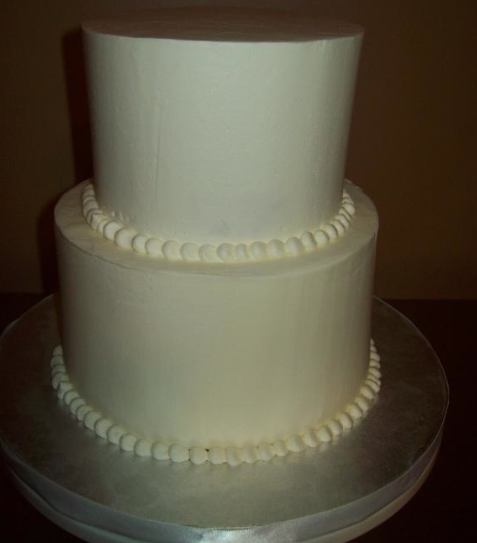 Photo via Bluprint member Courtney Glover
Buttercream:
Sometimes, a homespun-looking iced cake is desirable–oh, to bite into those sweet swirls of buttercream! But other times, you may desire a smooth surface, perhaps for a more sophisticated look, or maybe just for a more even surface for decorating. Whatever the reason, there's a trick or two for that.
To smooth out existing lines of buttercream on an iced cake, lightly warm an icing spatula in water that is just slightly warmer than lukewarm. Don't use hot water, otherwise your spatula will become too hot and might even melt the buttercream (not desirable!). Dry the spatula with a clean cloth, and then gently smooth the buttercream. The slightly warmed surface of the spatula will make the icing just yielding enough so that you can smooth any lines.
If the buttercream has been applied and has slightly set, here's another tip. Place a sheet of parchment paper over the top of your buttercream iced cake, and gently smooth with your hands, then lift. Voilà, a smooth surface! Repeat on the sides of the cake.
Don't want to use your hands? Use a (new and clean) credit card to smooth out buttercream. This can be combined with the parchment trick by placing the parchment over the buttercream and smoothing with a credit card, too.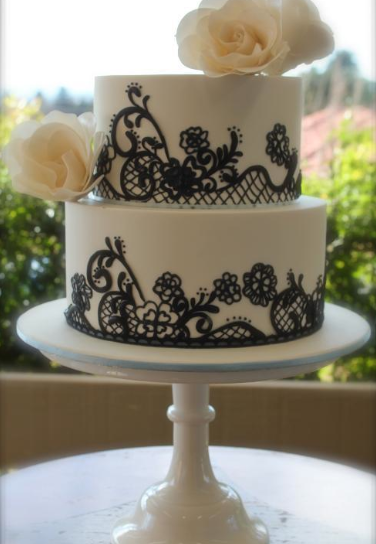 Photo via Bluprint member Aemelia George
Fondant:
Lumpy or bumpy fondant simply doesn't look polished, and nobody wants unintentional pleats on the sides of their cake!
Of course, it should be noted that it's going to be very helpful to have a surface that is smooth as possible before draping the fondant. Ensure this by leveling the cake and applying a smooth-as-can-be crumb coat first. When draping the fondant over the cake, be sure to lightly (very lightly!) pull the fondant out and away from the cake while simultaneously smoothing it down and under. This takes some practice, but it will make sure that the fondant fits snugly over the cake.
Now that the fondant is draped over the cake, you want to smooth it. While there are specific fondant smoothing tools, it's also possible to get a smooth finish without them. One trick is to gather your fondant scraps, form them into a ball, and press together. Now, bunch them in your hand almost as if they are a rag, and gently rub against the top and sides of your cake. It will actually act like a buffing pad (think "wax on, wax off") and smooth your fondant.
You can also use the parchment trick mentioned above, but with fondant, using a flat edge to smooth the surface rather than your hands is preferable. Any number of flat objects would work–for instance, place a sheet of parchment over your fondant topped cake, and gently smooth with the side of a ruler.
Bonus tip: If at any point your fondant begins to crack around corners or edges, smooth a bit of solid vegetable shortening in a circular motion into the edge. It will act like grease on a squeaky wheel and smooth things out. Of course, note that this trick works best with white fondant as some types of food coloring may not like the shortening.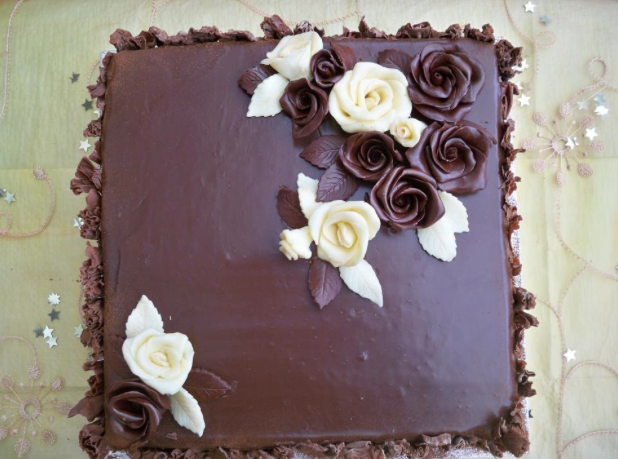 Photo via Bluprint member Monumental Cake
Got some lumps in your tasty ganache cake topping? Not to fear. As odd as it may sound, your savior in this situation is going to be a hair dryer! What you'll want to do is start out by powering up the hair dryer on low heat and letting it warm up away for the cake for a few moments. Once blowing warm air, aim it toward the cake at a safe distance. If in doubt, keep it further away from the cake and bring it closer (you'll want to remain between six inches and a foot away from the cake). Heat the ganache. You'll notice it starting to become slightly glossy looking–depending on the power of your dryer, you may want to use medium heat. Once it is malleable, smooth out the lines with a spatula, and let set to a smooth finish.
Of course, in all cases, a smooth surface is always easier to attain if your cake layers are level. Sort of like how applying primer will help paint look its best. Don't know how to level a cake? Don't worry–it's easy, and you don't even necessarily need any expensive tools! In addition to traditional methods, you could also do it quickly and easily by using dental floss to drag through the cake layers, or you could also use an embroidery hoop fitted snugly around the cake to make sure you make a smooth and even cut! Here's a primer on how to level a cake.
These tips are wonderful illustrations of the concept of necessity being the mother invention. Perhaps the result of quick thinking and using materials readily on hand, these cake decorating tricks have become common because they work, and are very helpful for creating beautiful cakes.