Whether you're a novice at cake decorating or a seasoned professional, you can always use some cake decorating tips and ideas. Learning from the experiences of other decorators can help improve your work by helping you expand your knowledge of baking and decorating and allowing you to refine various techniques.
Here's some cake decorating advice from some highly talented professionals in the cake decorating field. They dish on some valuable tips they've learned along the way, and also share some of the things they wish they knew when they were just getting started.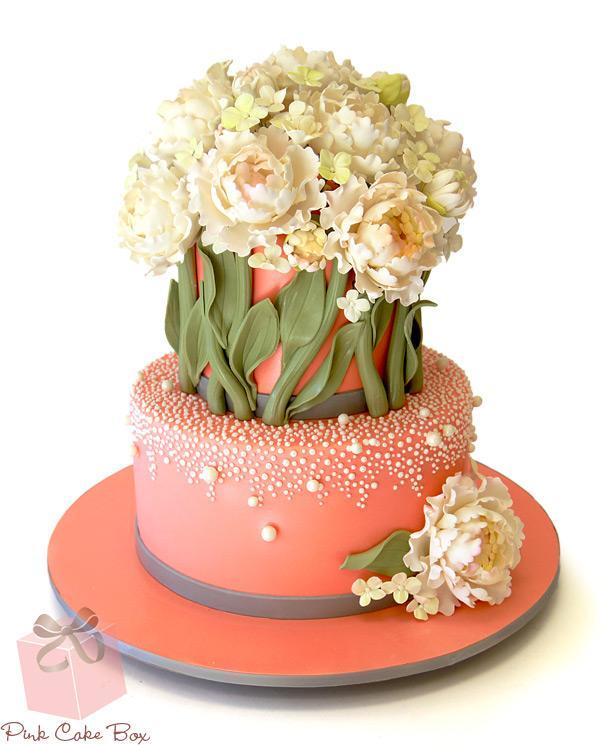 Peaony and Pearl Bridal Shower Cake via Bluprint instructor Anne Heap
Anne Heap
Owner of Pink Cake Box; instructor of Bluprint course Cake Topper Techniques: Figure Modeling.

"I remember the first cake I ever made. I had no concept of crumb coating and especially the idea of putting the cake in and out of the freezer in between layers of buttercream. I soon after learned that applying fondant to a cold firm cake is much easier than trying to cover a room temperature one! Learning these techniques saved my life!"
Amanda Rettke
Blogger at I Am Baker; instructor of the upcoming Bluprint class Decorating From the Inside Out.

"My advice to new cake decorators would be this: know your voice, know your strengths, and focus on them. There are so many ways to express yourself through cake decoration and design, so find the way that shows off your talents the best and truly delights your soul. In my humble opinion, the most beautiful designs are from people who love their art but at the same time understand their specific skill set and hone those talents. Find a community to be a part of. Learn from others and be inspired by them, but don't copy outright. You are better than that! Encourage others always!"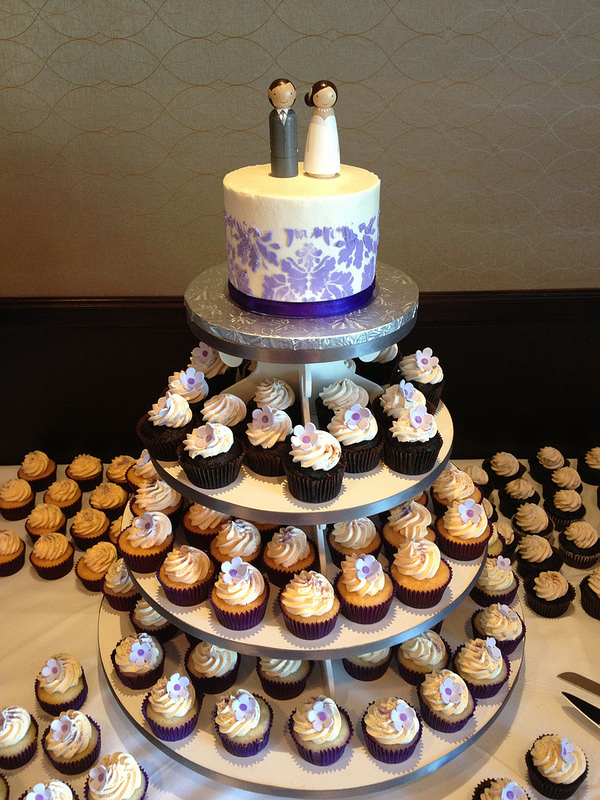 Photo via Meringue Bake Shop
Kristin Ausk
Owner of Meringue Bake Shop.
"The thing I've learned that has helped save time and money has been how to properly prepare your cake pans so that you bake level and same size cakes. This cuts down on having to trim and waste cake plus the time it takes to do all that. So now I spray my pans with a release spray, then line the bottoms with parchment and spray that. Then I put my pan on my scale and zero it out and pour in batter until its about half full. Then I take my other pan and do the same until both pans have the same weight of batter in them and I've used up what's in my bowl. The more you do it, the better you get at recognizing weight by sight.
Of course though, the weight and fill depends on the type of cake you are making. Some batters are heavier than others, some rise more than others. I also used to poo poo the cake strips you wrap around the sides of the pans, but not anymore. They always work for me and I never have to level my cakes any more. So worth the price."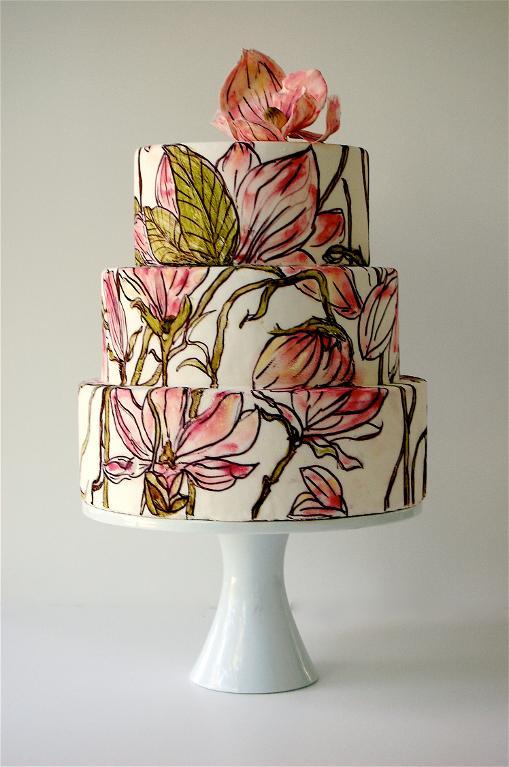 Painted Magnolia Cake via Bluprint instructor Maggie Austin
Maggie Austin
Owner of Maggie Austin Cakes; instructor of Bluprint courses Fondant Frills, Southern Sugar Flowers and Sugar Berries, Leaves & Blossoms.
"My first experiments with fondant frills were incredibly frustrating. I was working in my sister's steamy Washington DC kitchen and the frills would simply wilt. Then I went to visit our father in arid Fresno, CA, and the cakes I made there were perfect! When I came back home, I bought a dehumidifier and haven't turned it off since. Fondant and gum paste absorb moisture like sponges. A simple dehumidifier is key if you're working in a humid climate."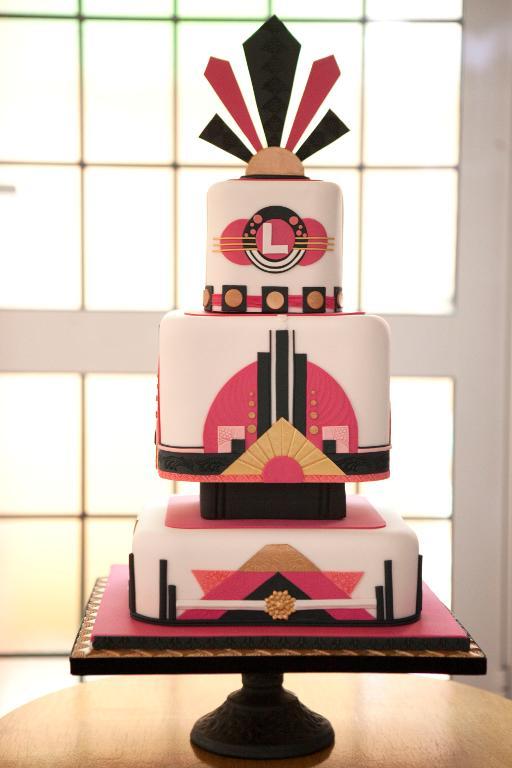 Photo via Bluprint instructor Lindy Smith
Lindy Smith
Owner of Lindy's Cakes; instructor of Bluprint courses Vintage Cake Design and Cake Design Made Simple: Art Deco.
"Take out the guess work when rolling out sugar paste or fondant — use sugarcraft spacers. Spacers are quick and easy to use and your paste will always have a beautifully uniform thickness."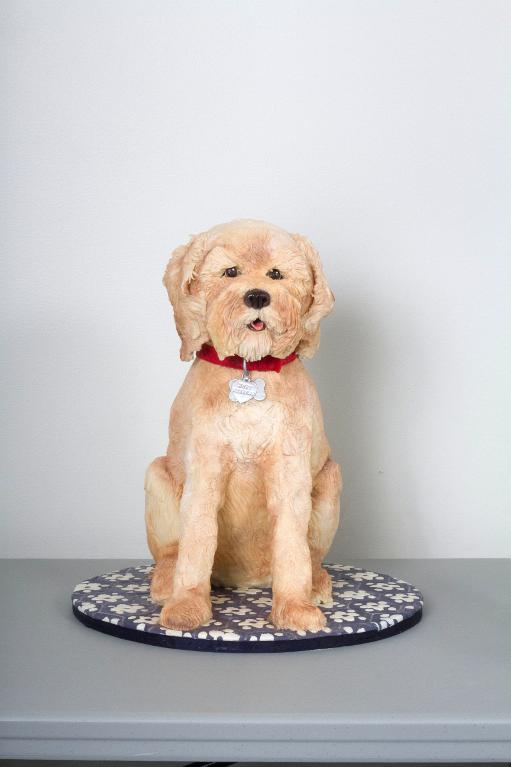 Scuplted Dog Cake via Bluprint instructor Elisa Strauss
Elisa Strauss
Owner of Confetti Cakes; instructor of Bluprint courses Designer Handbag Cakes, Sculpted Dog Cake and the FREE mini-class

"One of the best things I learned was to make cakes out of half-sheet pans, which measure 13″ by 18" by 1. That way there is very little waste, especially when making square cakes but even if I am making an unusual shaped cake like a heart or a cloud — I don't have to spend anytime leveling the cake."
What's the best cake decorating advice you've ever received?