My thumb is so black that I can't even keep succulents alive. There. I said it. I even kill plants that require minimal water! But, even though I often kill them, I'm still a big fan of succulents. Fortunately, I've learned to appreciate them in several different forms. A cactus crochet amigurumi pattern is just one way that you, too, can bring a taste of the west into your home — no watering required.
Check out these cute cactus amigurumi patterns to create your own crocheted dessert oasis!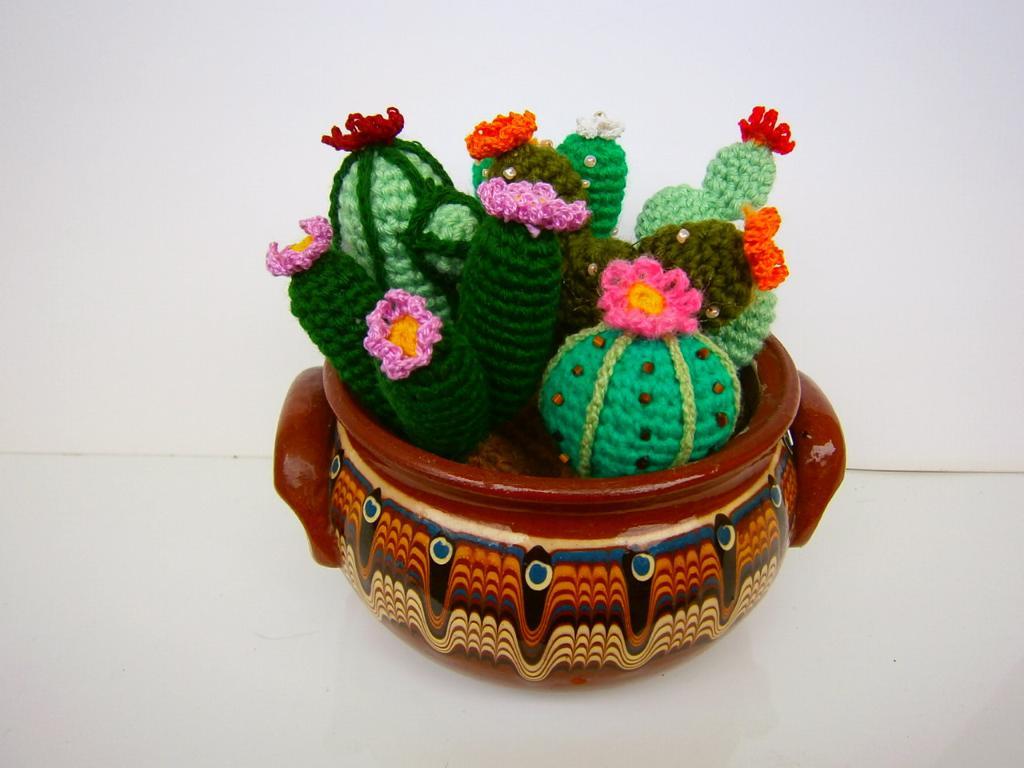 Photo via Craftsy member Favouritetois
Cactus collection
Have your eyes on this little garden? You're not messing around then! This collection of crochet patterns includes instructions for six different types of cactus so that you can create and arrange your very own little garden. You probably already have an extra bowl hanging around the house that you can use as the container.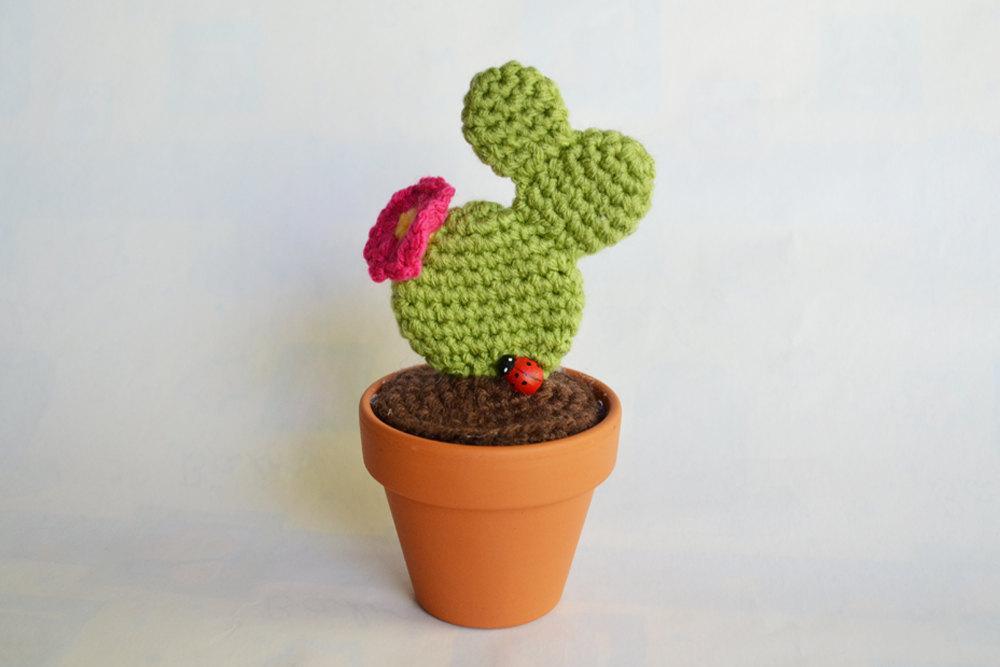 Photo via Craftsy member Bubblegumbelles
Prickly pear cactus
The flowering succulents are always the most coveted. Here, a ladybug joins the party too. You can find little planters similar to the one above at any store where gardening supplies are sold. (You'll probably want to buy extra, because these make great gifts, too!)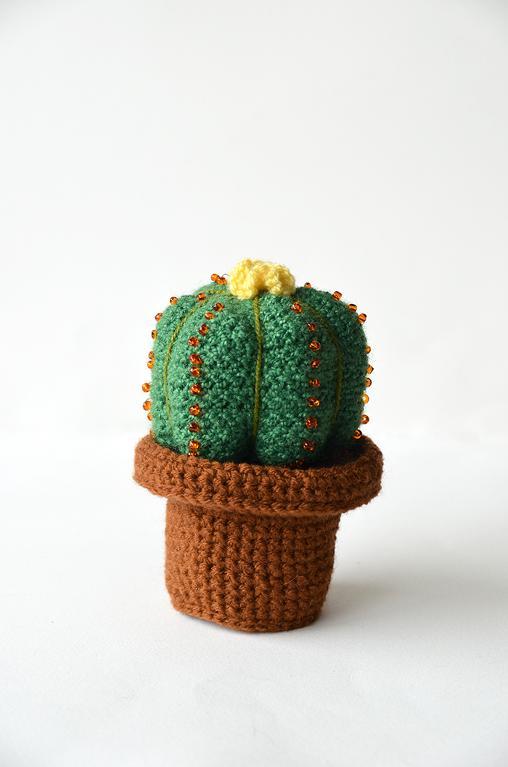 Photo via Craftsy member FlyingDutchman
Ball cactus
Small beads and little embroidered stitches are what set this cactus apart from the rest. Of course, the embellishments are totally optional, so you can skip them if you're not digging the look.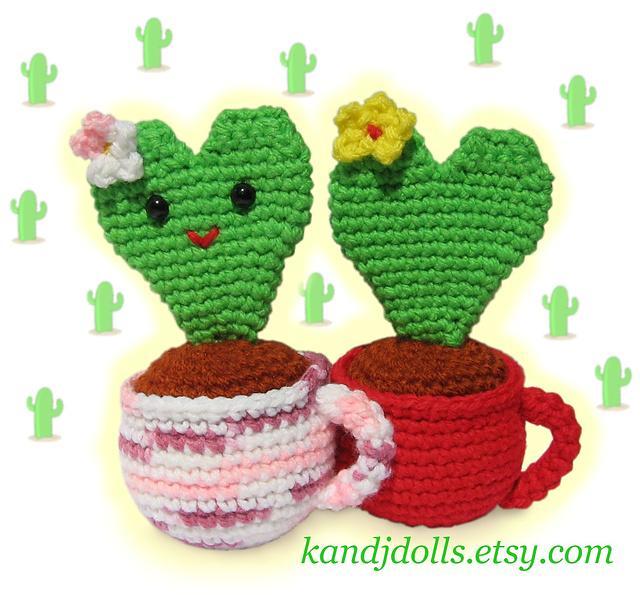 Photo via Craftsy member Sayjai
Amigurumi heart cacti
No need to look for a container for this amigurumi. You'll crochet the teacup container that it sits in, plus the little flower embellishments. Use buttons for the eyes, or just embroider them yourself with scrap black yarn.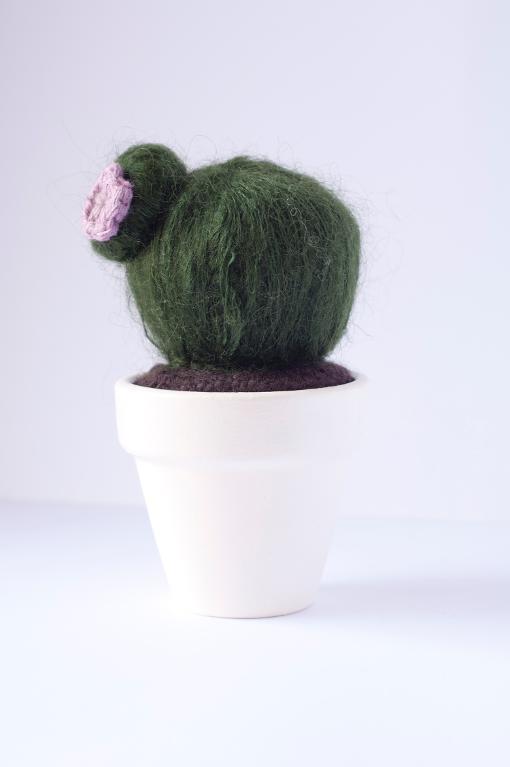 Photo via Craftsy member marys_des2283555
Amigurumi cactus
This cactus would be a great way to use those mohair yarn scraps! The mohair gives the cactus a fuzzy texture that mimics the look of a live cactus. As with any other amigurumi, you can change up your needles and yarn weight to crochet a cactus that's bigger or smaller than the original.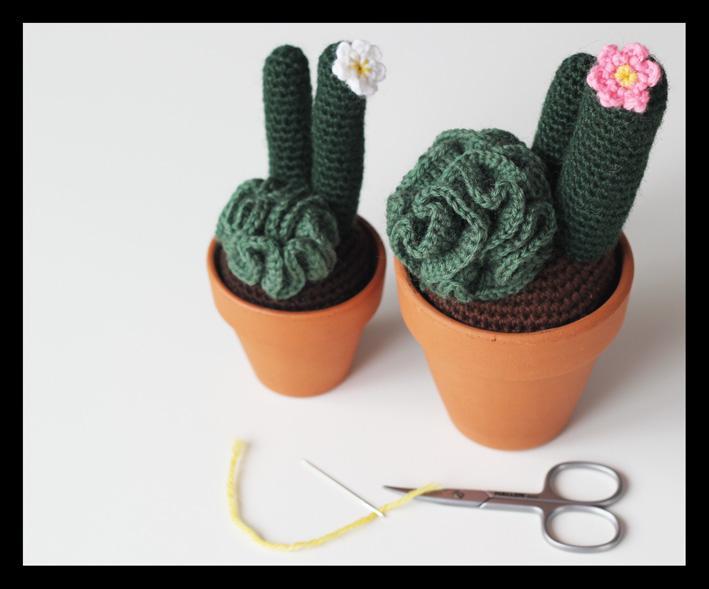 Photo via Craftsy member magicphylum
Curly cactus
It looks like these two cacti are giving me a peace sign with their fingers. What do you think? I'm really digging the curly little addition to this ordinary cactus. An entire set of these would look great grouped together on a windowsill or table.
If you're not confident enough to jump right into these cactus amigurumi patterns, (or just want to learn even more about these adorable crocheted creatures) ease yourself in with a Craftsy class like Amigurumi: Woodland Animals with Stacey Trock. Each skill you learn in the class, from crocheting in the round to stuffing your amigurumi, will be helpful in making any of these cactus patterns. Plus, you'll get patterns for some unbelievably adorable animals, like a bluebird and a raccoon. Awww!
Which do you have when gardening: a green thumb or a black thumb?