Ask any beginner knitting student enrolled in Bluprint's Explorations in Cables class with Patty Lyons and they'll tell you that knitted cables can twist in ways they never imagined — and all those twists are super easy to knit! Maybe cabling is what's standing between you and that pretty sweater pattern you've wanted to knit for years. Or maybe you're a beginner who's not at all familiar with cable knitting.
No matter what your situation, check out these tips and tricks for beginners trying cables. You'll be twisting stitches in no time!
Photo via Bluprint instructor Patty Lyons
Cables: Not just for sweaters
When you're choosing a cable pattern, consider more than just knitting sweaters. Case in point: This Erin Afghan Kit (seen above) available to students of Bluprint's Explorations in Cables class. Cables make this afghan gorgeous and cozy. Imagine cuddling up to all those cables and you won't give a second thought to adding this to your cable-knitting pattern list!
Resist the tug-o-war
Tugging stitches is common when cabling, but don't tug so much that it affects the gauge of your project. After you place stitches onto the cable needle, keep them close to your knitting. Try your best to knit those stitches with the same tension that you knit the rest of the row so that your cables will lie flat and blend right into the stitches.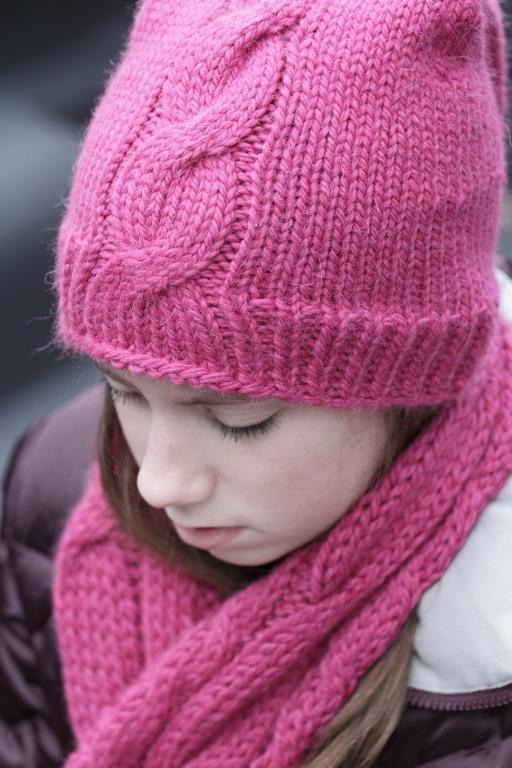 Photo via Bluprint member lisaellisdesign 
One cable at a time
If you're a beginner cable knitter, start with patterns that only have one cable, like this Winter Cable Hat & Scarf pattern (seen above). See how the hat only has one cable twist down the front center? This will take some of the pressure off since you'll only have to worry about a few cable stitches per row. The rest is a familiar stockinette stitch that will give you a little breather between cabling.
Get the Winter Cables Hat & Scarf pattern.
Stay calm
When I first knitted a project with cables, I noticed that the cables were a tighter gauge than the rest of the project. Here's why: Because I was unfamiliar with cables, I'd get nervous every time a cable popped up in the pattern. That nervousness went straight to my hands, making all my cables tight.
Try to relax when it's time to cable. Getting worked up will mess with your gauge. Take your time and shake out your hands if you need to loosen up while knitting.
A cable needle for all seasons
Cable needles are similar to knitting needles in that there's a cable needle for every type of project and stitch. There are many different types of cable needles, and after experimenting you may find that the cable needle you use depends on the type of cable you're making. If one cable needle doesn't seem comfortable, switch it out and try another.
Need even more cable help?
Knitting cables are the perfect way to up your knitting game. That's why Bluprint is chock full of cable information!
[box type="shadow"]Start out perusing our 5 cable knitting patterns for beginners. Once you're feeling inspired, you can also read even more tips for knitting cables. And don't forget to check out the Explorations in Cables class with Patty Lyons for step-by-step help through gorgeous scarves, sweaters and the afghan we featured above.[/box]
Are you already a cable pro? Have any tips to share with us?