November 16th is a day to celebrate! Celebrate what? Buttons, of course!
You might not have heard of National Button Day, but that's no reason not to join in on the fun! Buttons are the guilty pleasure of crafters everywhere. They are very handy, holding together your clothes, fastening pockets and they also make a great addition to embroidery projects.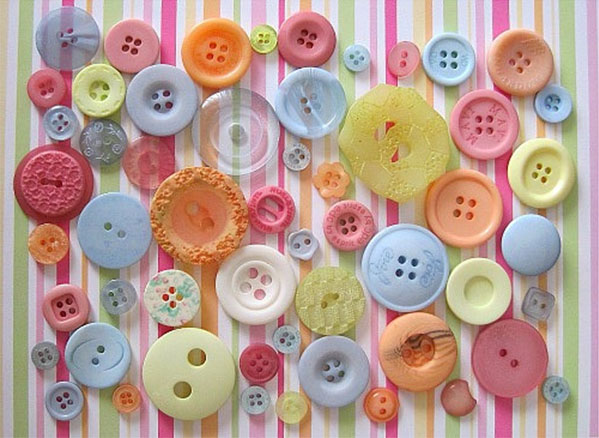 Photo via Katie-Rose
Spill open that button box and create something beautiful!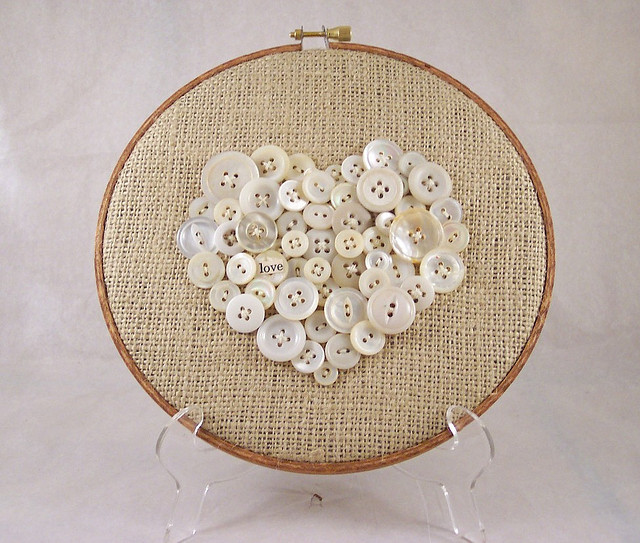 Photo via PisforPaper
Hoopla heart shapes
Using buttons to create a shape can be a very effective way to craft a beautiful piece of artwork for your walls. Hearts make great gifts, whether it's a wedding, new baby or birthday. A few other ideas could include initials, favorite foods or animals, or a pattern with buttons that are colored or themed to match a specific room. Play around with colors, fabrics, and frames to create totally different looks. Plus, this project is bound to use up a good portion your button stash.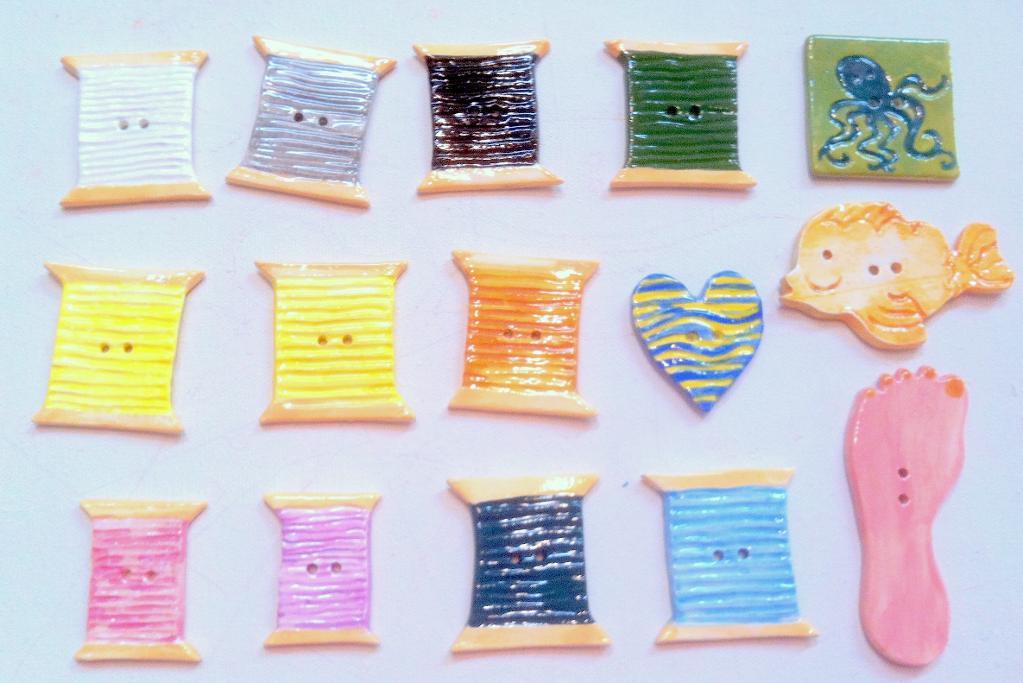 Photo via Craftsy Member Pam Sews
Novelty novellas
Buttons come in all shapes and sizes — they're not all round. Make use of the creative shapes in your collection or seek out specific themed buttons to create an embroidered scene. This would work brilliantly for a child's room. Just imagine a button world, with button trains, flowers, animals, and trees! You could combine stitches with ribbons, beads, and buttons to give a rich texture and create whole stories.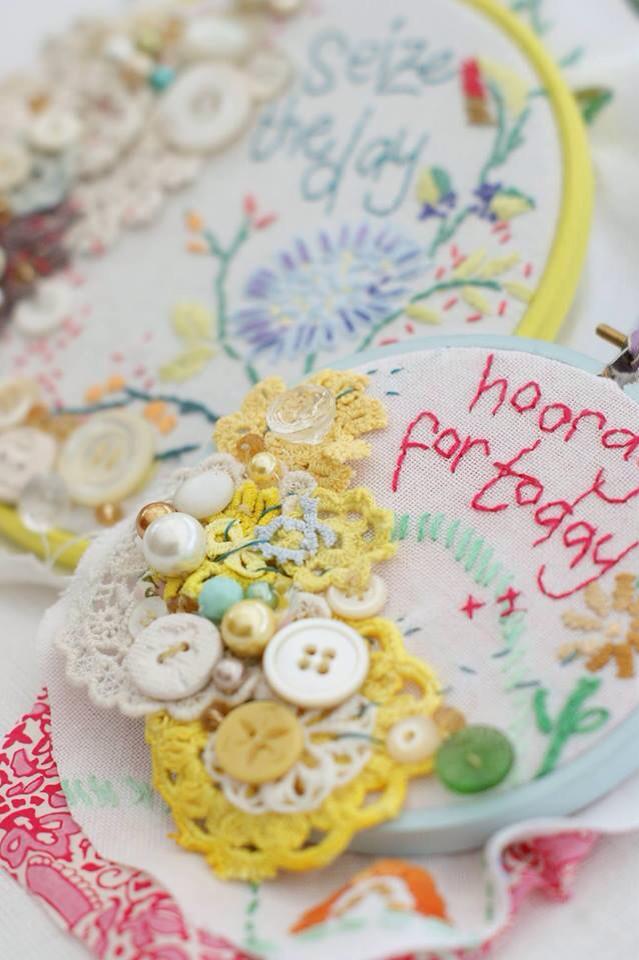 Photo via Marna Lunt
Heaped up hoops
If anyone knows how to create amazing layered embroideries, it's Marna Lunt. Combine crafts to create hoops with heaps of heart. Knit, crochet, lace, beads, paper, you name it, it can work. Don't be afraid to go over the top — fill the entire hoop if your feeling inspired and add items that are personal. It could include jewelry or even dried foods!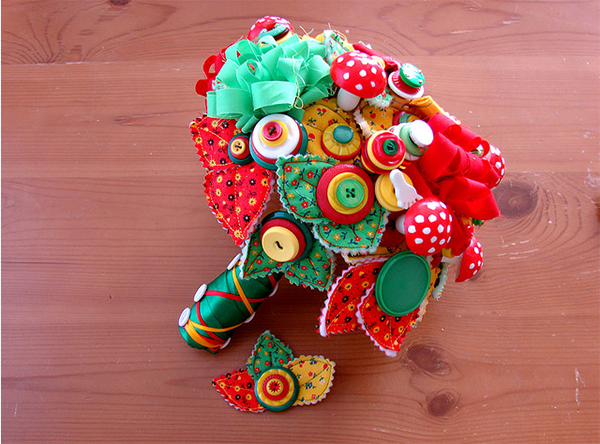 Photo via KreatedbyKelly
Beautiful bouquets
Surely something so sumptuous cannot exist? No, your eyes are not fooling you, it truly is a bouquet with buttons! This button bouquet cleverly combines fabric, ribbon, and buttons to give it an elegant but fun aesthetic. If you want to learn how to create your own button bouquet, the Internet has a huge range of online tutorials.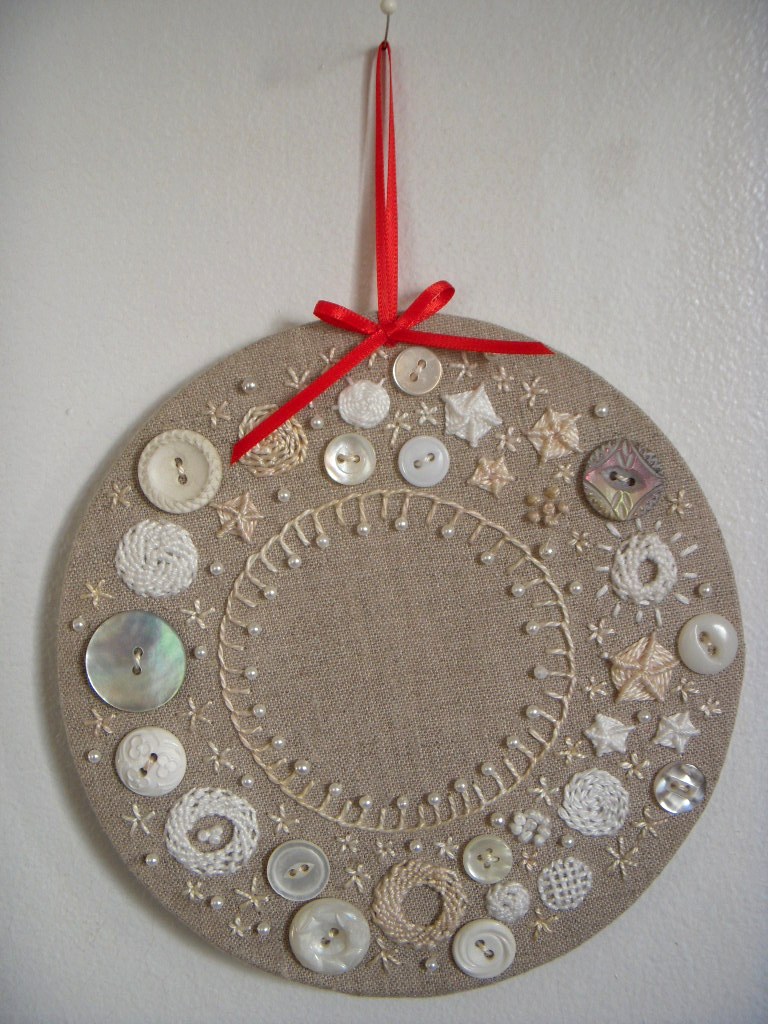 Photo via Kleio's Belly
Wonderful wreaths
Christmas is fast approaching. Although natural trees and wreaths are tradition, why not try something new? This embroidered button wreath puts an unexpected twist on the classic decoration. For more inspiration and ideas, check out the button wreath search on Flickr.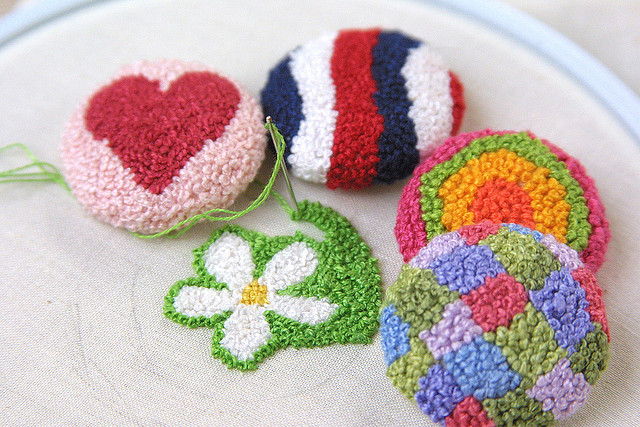 Photo via Anina
Perfect pins
When talking about buttons, it may also refer to pins or badges. Embroidery doesn't have to be restricted to flat surfaces. Decorate your buttons or pins with floss to make them unequivocally unique. Choose your favorite stitches, mix and match styles and make them represent whatever you like!
If you're inspired to break out your buttons why not also learn all about layering and texture with Sue Spargo in her NEW embroidery class Embroidering Texture & Dimension by Hand.
How can you picture using buttons in your embroidery?