Beautiful buttercream florals are becoming quite the must-know technique in the world of cake decorating. Tasty blooms add the wow factor to cupcakes and cakes — especially bright, bold flowers like peonies.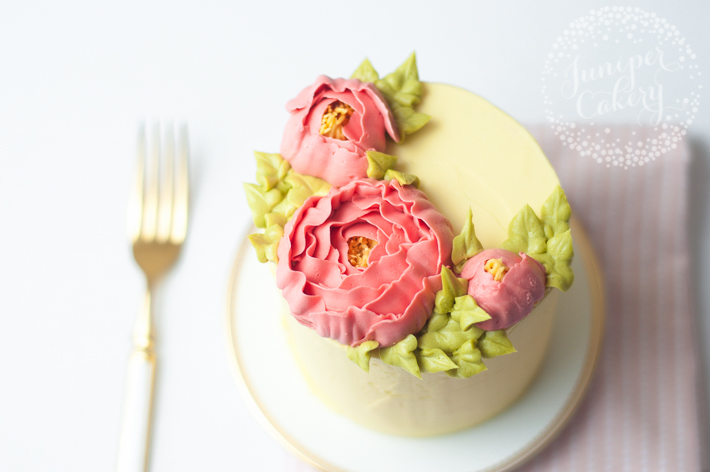 Beautiful buttercream peony tutorial
Materials needed:
Large flower nail
Parchment paper squares (around 3″ x 3″)
Cream or soft yellow buttercream
Pink buttercream
Small grass piping tip
Medium curved petal piping tip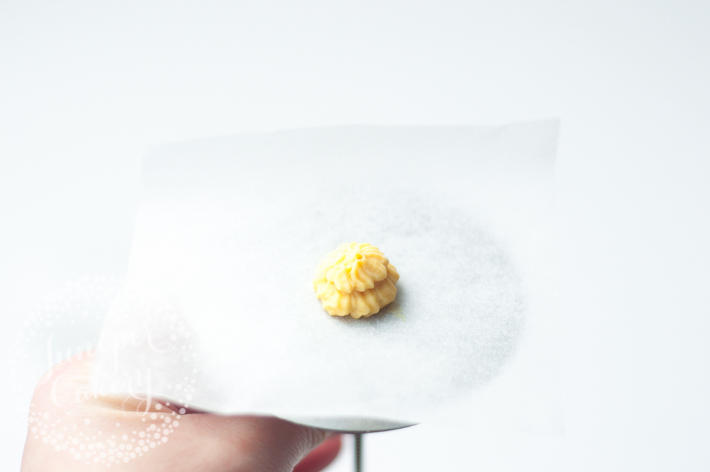 Step 1: Make the base of the flower
Affix a square of parchment paper onto your flower nail with a tiny bit of buttercream. Begin the center of your open peony flower with a fair sized dollop of buttercream. We simply pipe ours with the soft yellow buttercream and grass tip, which we'll use in the next step. This bit of buttercream won't be seen in the end, as it's just going to help guide the shape and height of your flower and stamens.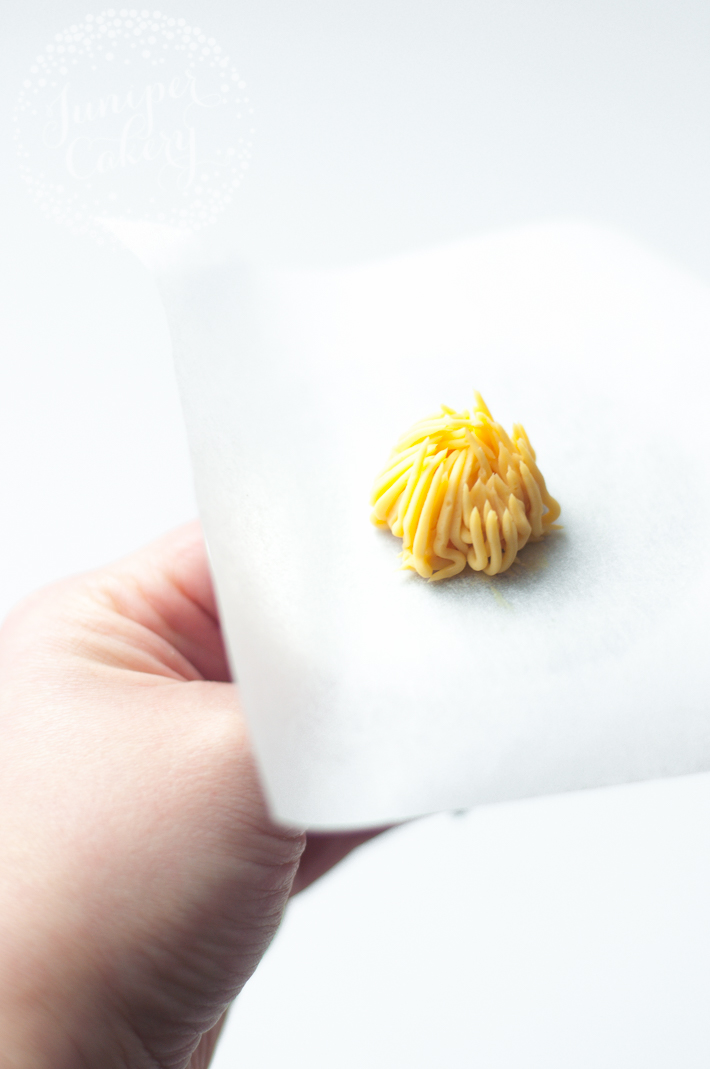 Step 2: Pipe the stamens
With your grass tip and the softer yellow or cream buttercream, pipe out your stamens. Begin from the base of the buttercream dollop you just piped and swipe upward, making sure that the grass-like strands being piped out cover everything up! You should be left with a nice cluster of stamens as in the picture.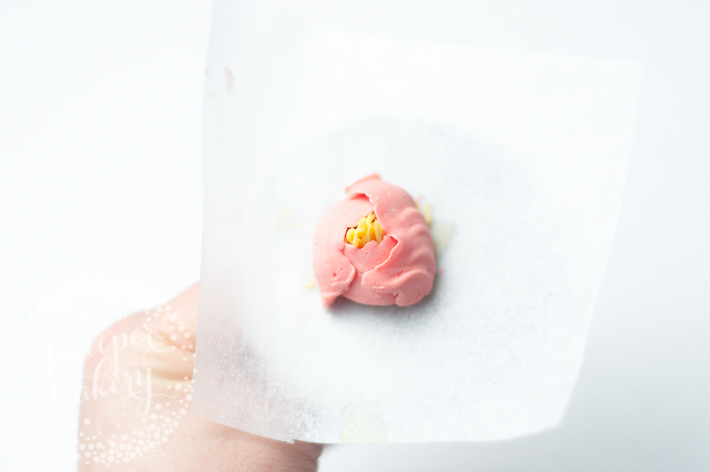 Step 3: Add the petals
Now you can start adding those shapely peony petals! It's tempting to use huge tips for this because peonies are big florals, but you'll lose control over your buttercream. Keep it modest with a medium curved petal tip. Pipe over and around your stamen center three times, creating the lovely cupped look of peonies.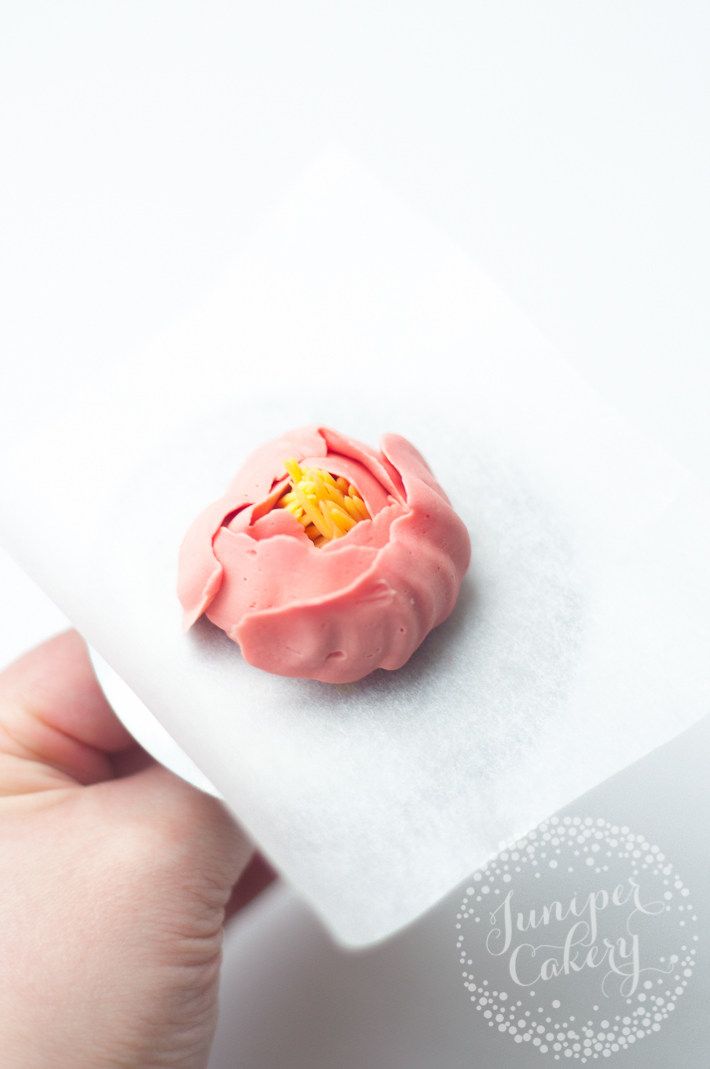 Work your way around using your curved petal tip. You should pipe each petal separately and in alternates. So for each new row of petals, start from the middle of each petal on the previous row. To create a more ruffled look, gently zig-zag your tip back and forth ever so slightly as you pipe.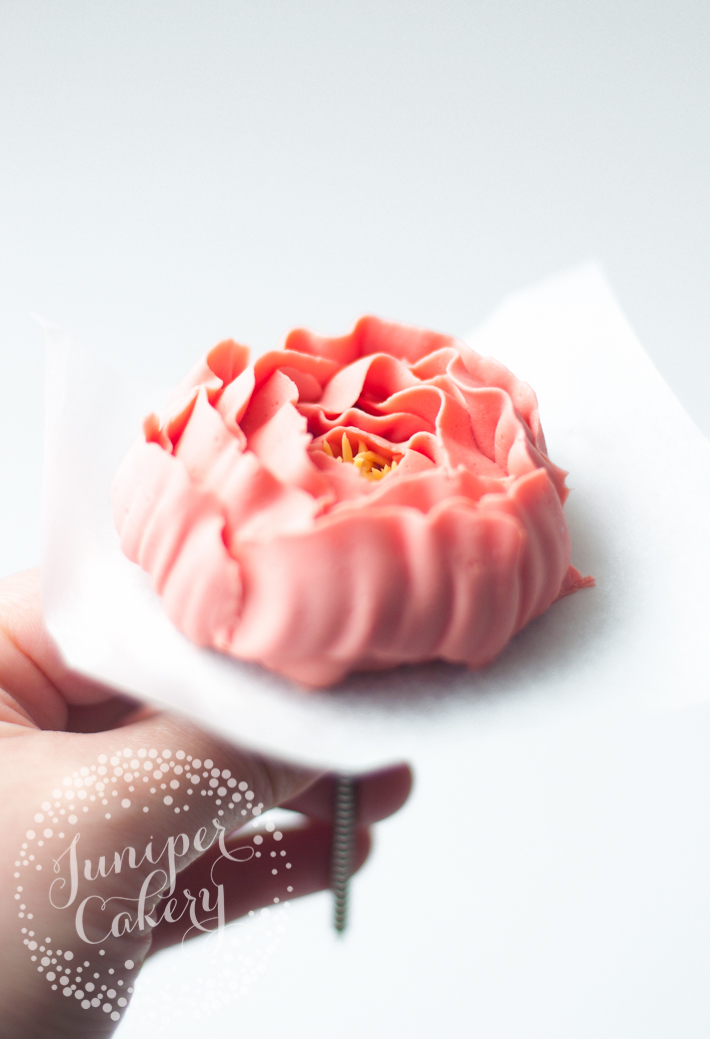 Keep piping out your petals until you have an open peony the exact size you need.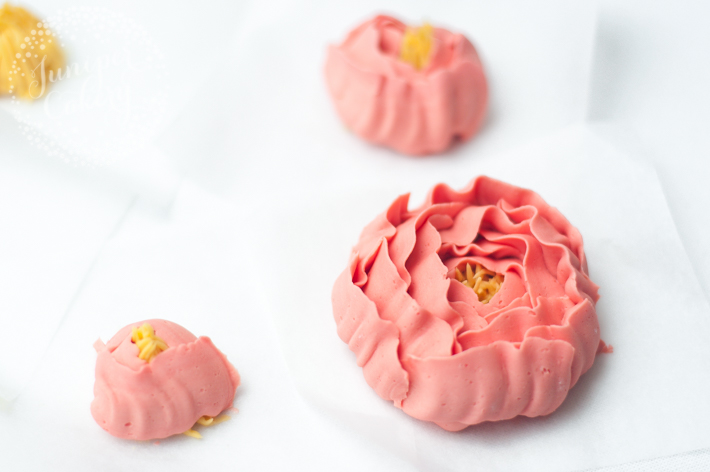 Step 4: Adding buttercream peonies to a cake
Adding buttercream flowers to cakes and cupcakes just needs the extra help of a freezer and some patience. After piping your peonies, gently slide them off your nail onto a flat surface. Then place them in the freezer for up to an hour. When they're set and chilled, use an angled palette knife or even handy flower lifters to remove each of them off their parchment paper squares and set them in place.