Fondant versus buttercream: it's the eternal cake designer's question! I've certainly seen the trend moving towards a return to buttercream of late. I think it's part of a larger movement of back-to-basics in food, creating something that appears more natural perhaps? But most can't deny the smooth and impeccable finish a perfectly covered fondant cake can offer, along with all the fun details you can make from the wondrous sugar paste. Alas, today we're going to pay homage to the beauty of buttercream, in every last piped detail!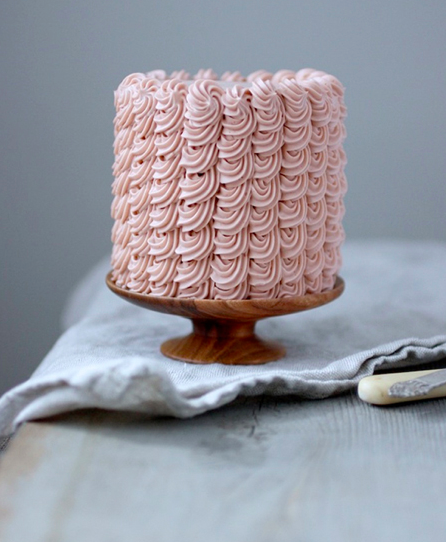 Photo via Herriott Grace
Dusky pink buttercream piped cake:
A perfectly piped buttercream cake sits atop a handmade maple cake pedestal– could there be anything more lovely? The structure and repetition of this buttercream piped pattern draws the eye in, giving it both a vintage and romantic feel, while the wood cake stand gives it a rustic edge: a perfect contrast.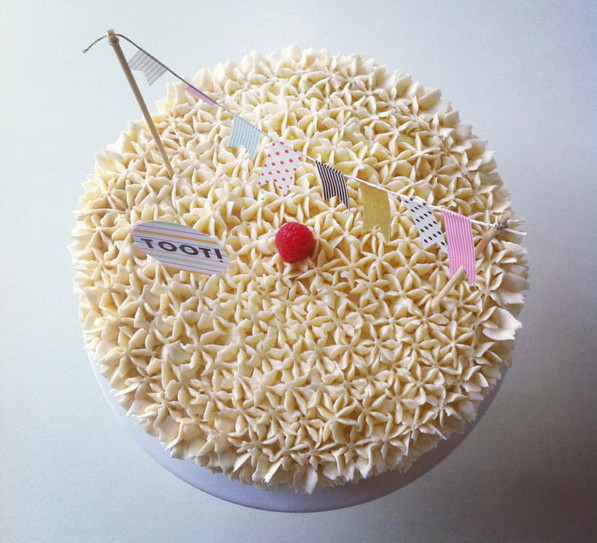 Photo via Coco Cake Land
Piped buttercream star covered cake:
This darling round cake is piped all over using an open star tip, creating a fun buttercream ruffle effect reminiscent of a vintage pillbox hat or bathing cap! A single raspberry adds a pop of color and finish to this gender reveal cake and the cute cake bunting adds a handmade craft touch.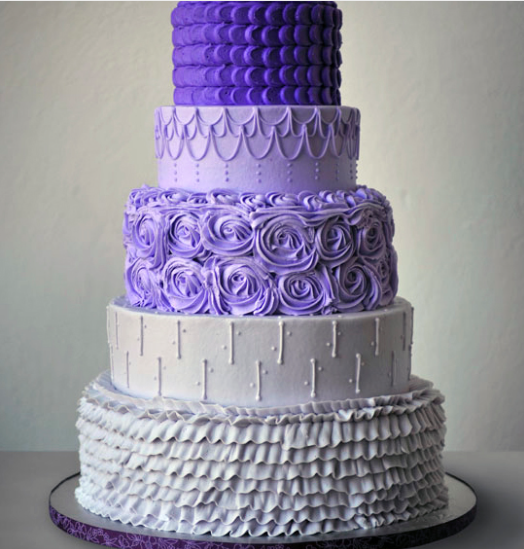 Photo via Fat Girl Cakes
Five tier purple buttercream cake:
Can't decide which amazing buttercream technique to use? Why not make your cake five layers and try them all? Fat Girl Cakes created this lovingly piped in multiple shades of purple beauty. The bottom layer uses a "petal" tip, such as #103, to create the ruffled skirt effect. The next layer is smoothly iced and piped with swiss dots and lines. The darker purple layer uses the popular and pretty rosette effect, created with a 1M tip and starting from the middle and piping outward in circles. The swag layer again uses a small open circle tip to create celebratory swags and dots. The final top layer uses a small spatula and smearing of buttercream technique to create the "petal" effect! Which layer is your favorite?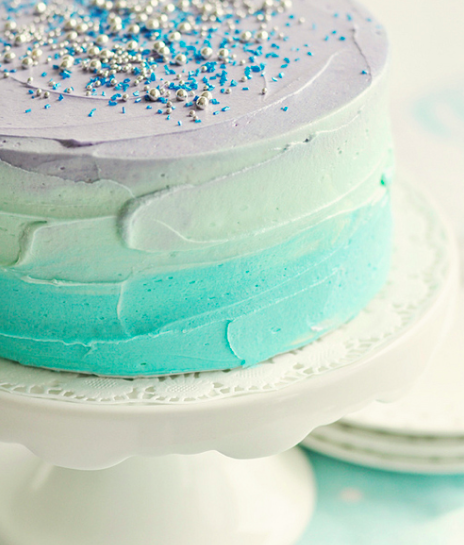 Photo via Sweetapolita
Pretty ombré pastel swirl cake:
Sweetapolita makes such lovely cakes and always includes full and detailed instructions on how to achieve her techniques. This cake is no exception; she calls it a pastel swirl cake and I do love those tropical colors and how they blend seamlessly into each other. The silver drageé candies add a shiny and crunchy finish. Check out Rosie's thorough video tutorial and more of her gorgeous photos here.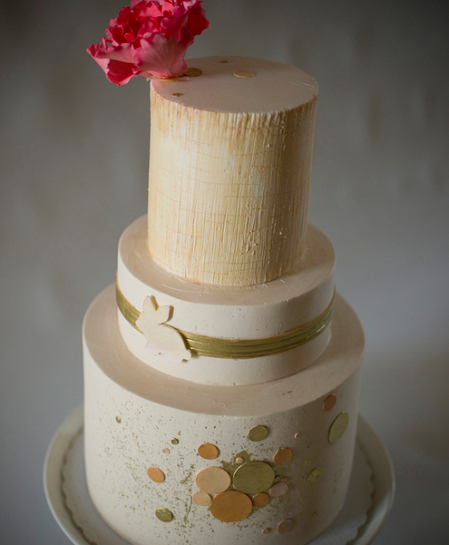 Photo via Tuff Cookie Cakes
Tiered modern buttercream cake:
Sylvia makes incredible buttercream cakes; cakes so smooth you are sure it can't be icing! This cake is a show-stopper of design and technique, from the gold and copper sugar discs to the little bunny silhouette, to the impeccable red sugar bloom that adds just the right amount of contrast of color. You absolutely must view more of her work here.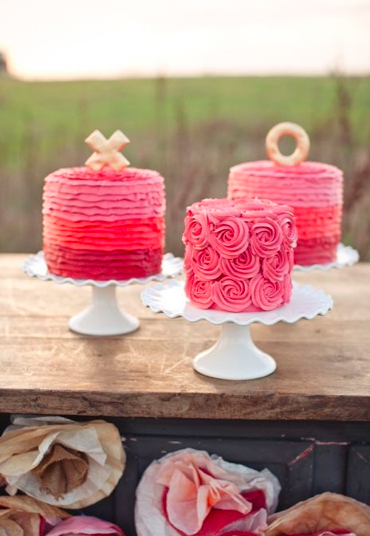 Photo via Sweet & Saucy
Trio of buttercream beauties:
You really can't get much cuter in buttercream than this amazing trio of buttercream iced Valentine's pink-themed beauties with gold XO cake toppers. I love Melody of Sweet & Saucy's gorgeous design and styling sense. The ombré ruffled cakes look so festive and the rosette piped cake screams romance, as does the whole color scheme! I love the fluidity of style too with the rippled cake stands and crepe paper flowers below.
Well? Are you riding the buttercream train to icing town yet? Which cake is your favorite, or are you convinced fondant is your queen of cake coverings? Craftsy has something for everyone, buttercream or fondant lovers alike, with amazing online cake classes for every taste! Why not try Joshua John Russell's FREE mini-class Modern Buttercream today?
You might also enjoy how to make ruffled buttercream cakes and this ruffled peacock cake tutorial.