Chomp right into this delightful and simple-to-make Burger Cake tutorial. This cake is constructed with vanilla cake layers, a chocolate cake layer, and various shades of vanilla buttercream. Serve it up as dessert for a great birthday surprise, or for your first burger cookout of the season. Plus, explore a collection of awesome fast food cakes to inspire your creativity and ignite your deep fried cravings!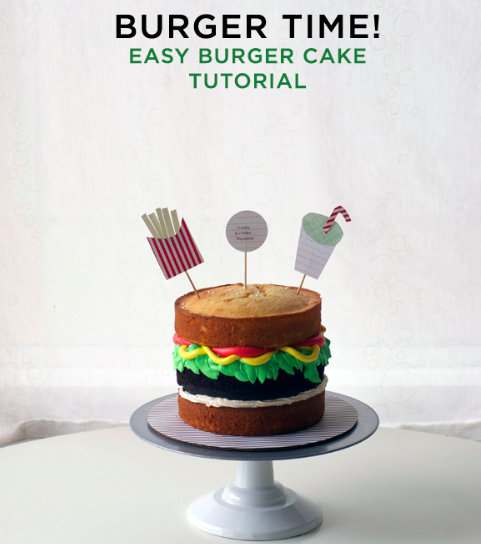 Photos via Lyndsay from Coco Cakes
To create this fun and simple burger cake, you will need:
1. One 8 inch round baked vanilla two layer cake for the "bun"
2. One 8 inch round baked chocolate single layer cake for the "patty"
3. 4 cups of vanilla buttercream for the burger "toppings"
4. Gel colors in Red, Lemon Yellow and Leaf Green
4. Three small mixing bowls to mix your buttercream colors
5. Three spatulas or spoons to mix your buttercream colors
6. Four piping bags
7. Four piping tips: open star tip, open circle tip, leaf tip and small open circle tip
8. White drageé sprinkle candies for "sesame seeds"
9. A cake board and some scissors, wooden skewers, tape and craft paper in various colors for paper flag french fries, soda and Happy Birthday sign (optional)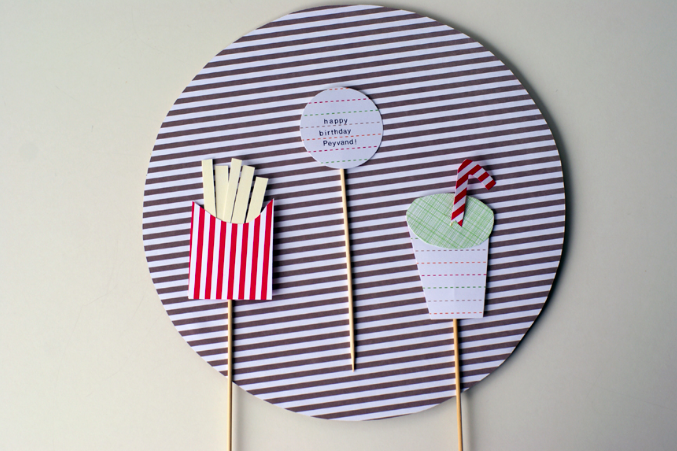 Burger time! Let's begin.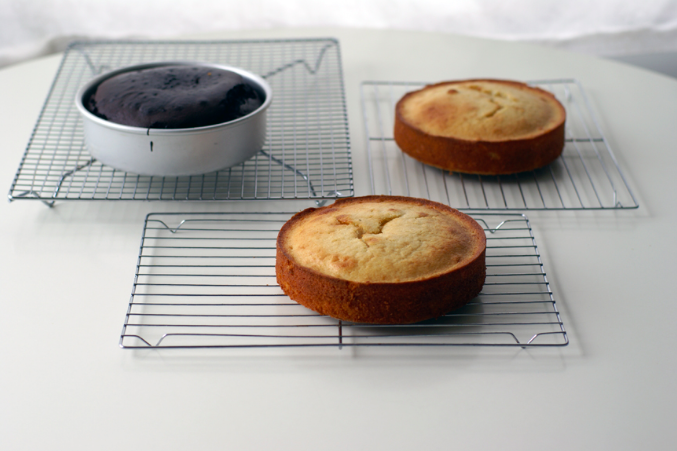 1. Bake your cakes according to your recipe instructions. Let cakes cool completely on wire racks before icing. Level cakes if so desired.
2. Make your buttercream according to your recipe instructions.
3. Divide your buttercream in half – save the "white" half for filling your cake. Divide the other half evenly into three bowls for coloring.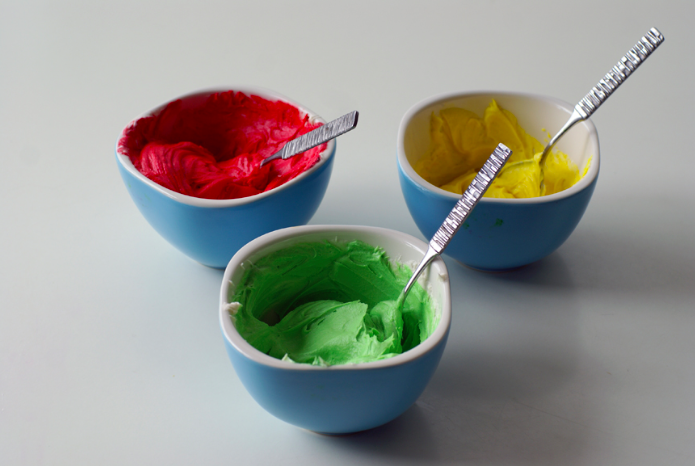 4. Make "ketchup" by mixing a 1/4 teaspoon of red gel color into the first bowl. Add more red if need be.
5. Make "lettuce" by mixing 1/8 teaspoon of green gel color into the second bowl.
6. Make "mustard" by mixing 1/8 teaspoon of yellow gel color into the third bowl.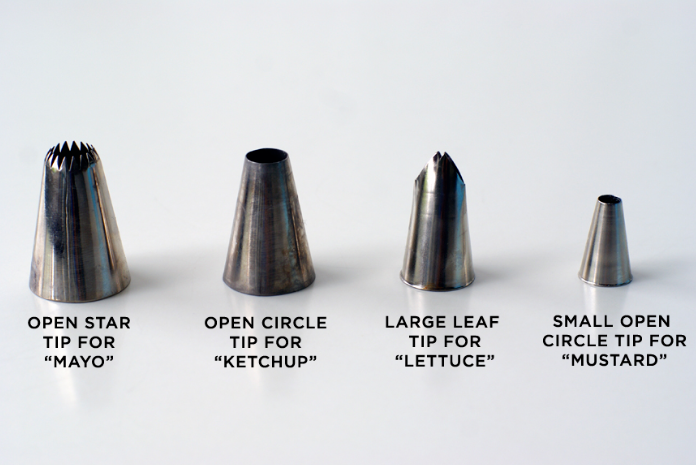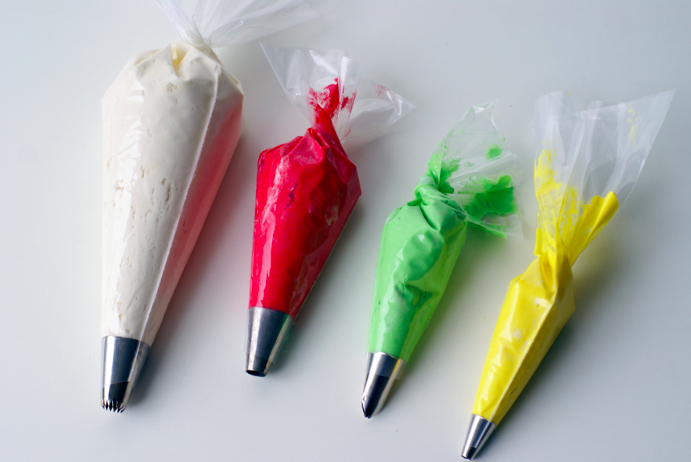 7. Fill your piping bags with each color of buttercream: put white buttercream into the open star tip piping bag, red buttercream into the large open circle piping bag, green buttercream into the leaf tip piping bag and yellow buttercream into the small open circle piping bag.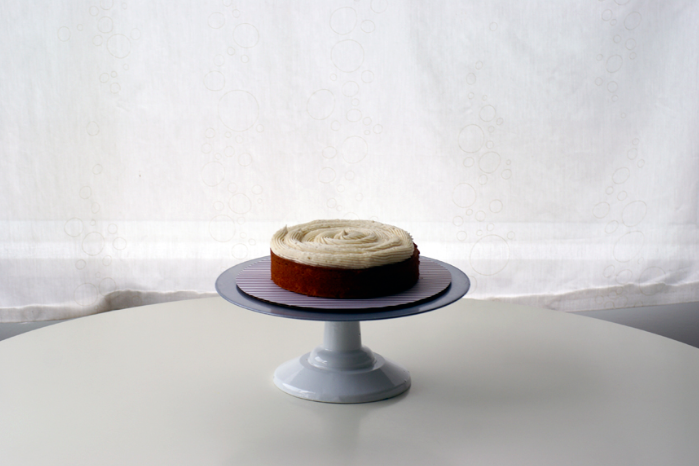 8.Time to create your burger! Pipe a blob of the vanilla buttercream on your cake board and place the first vanilla cake layer on top. Then starting from the outside moving inward, pipe an even layer of white vanilla buttercream on your first vanilla cake layer.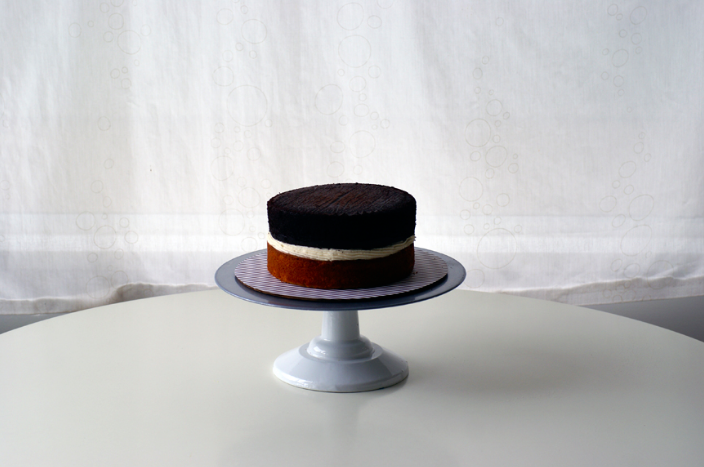 9. Place your single chocolate cake layer on top of the vanilla buttercream iced layer. You've now placed your "patty" on your burger cake!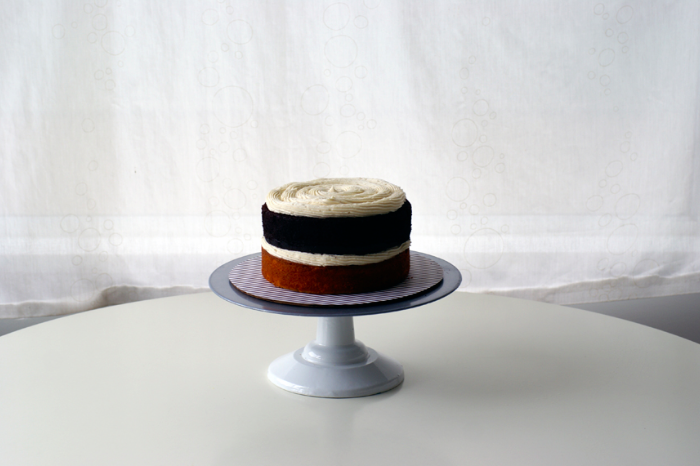 10. Pipe another even layer of vanilla buttercream on top of your chocolate cake layer. Mmm, mayonnaise!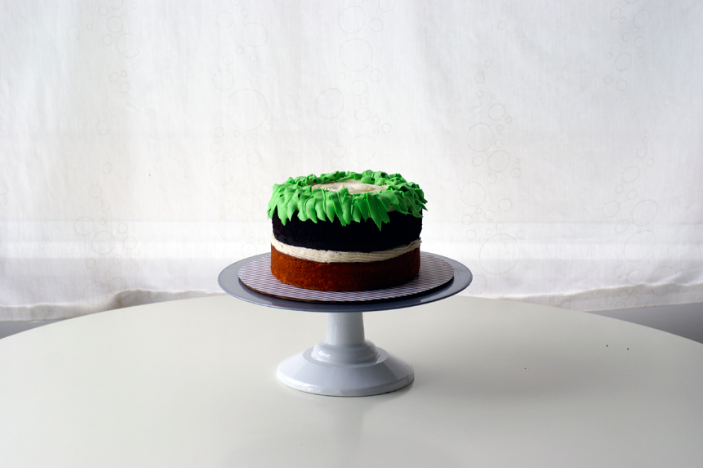 11. Taking your leaf tip piping bag, begin piping "lettuce" all the way around, right on top of the second vanilla buttercream layer.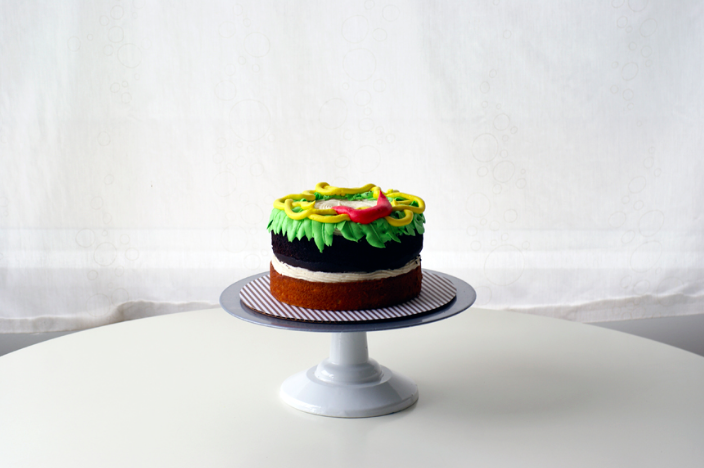 12. Add swirly swags of yellow buttercream "mustard" right on top of the lettuce leaf piping.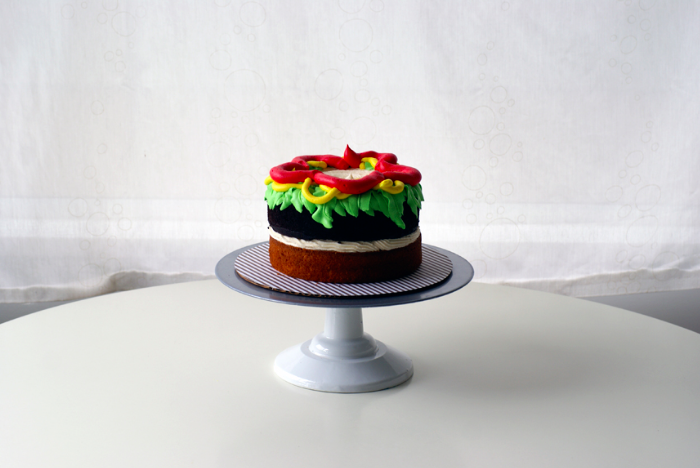 13. Now pipe on your "ketchup!" Don't be stingy with your condiments!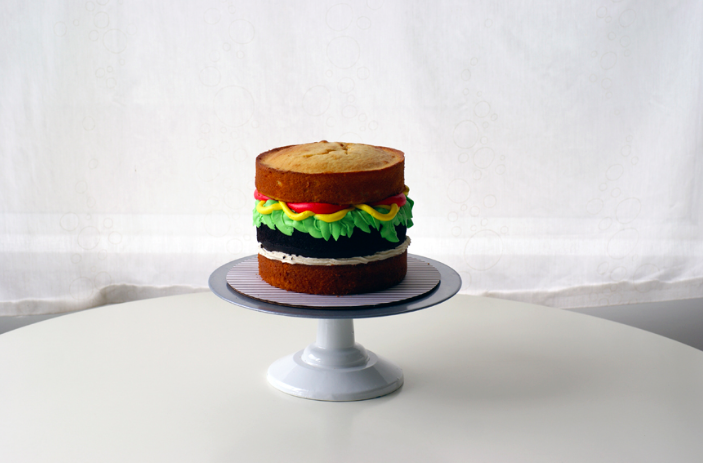 14. Now, simply place the second vanilla cake layer right on top and gently press down so the "condiments" ooze out just a little bit.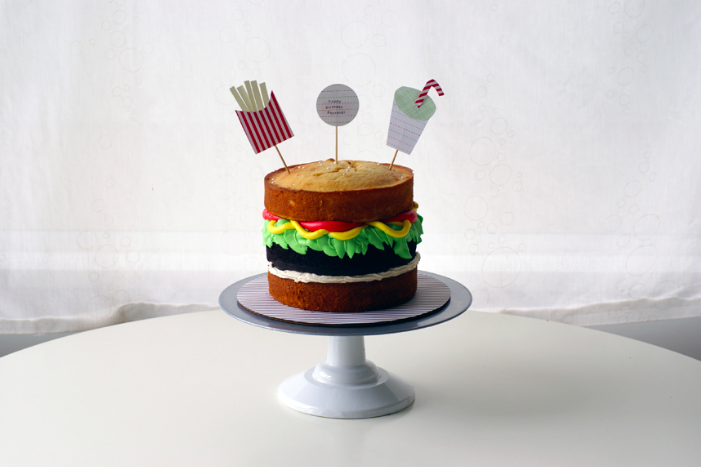 15. Optional: place white drageé sprinkle candies on the top "bun" for sesame seeds and texture! Using craft or construction paper and a pair of scissors, cut out some "french fries" and a "soda" with a cool striped straw. Adhere to wooden BBQ skewers with tape. Plunk in your handmade french fries and soda flags and you are all set for a wonderful burger party!
Now get inspired further by checking out these great "fast food" cake finds below! Which one is your favorite?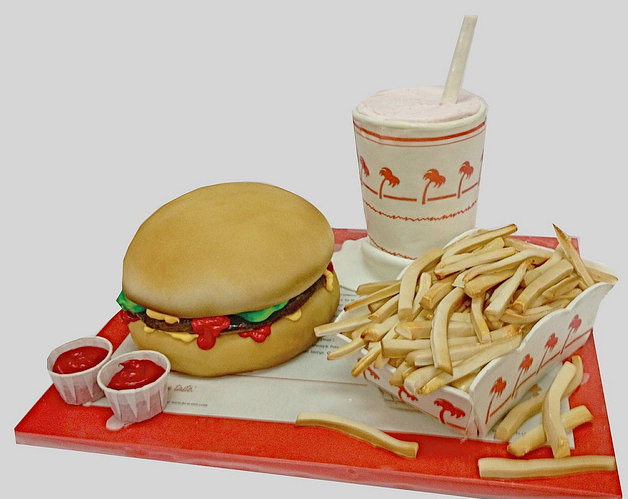 Photo via Debbie Does Cakes
In N Out Burger, Fries and Strawberry Shake Cake: I think fake cakes are ultra successful when they make you crave actual burgers, fries and milkshakes instead of cake! It's such a "Willy Wonka" effect to bite into something this real looking, expecting a juicy burger patty and cheese, only to find delicious sweet and sugary cake instead. Amazing details on this cake, down to the paper "liner" on the "plastic tray."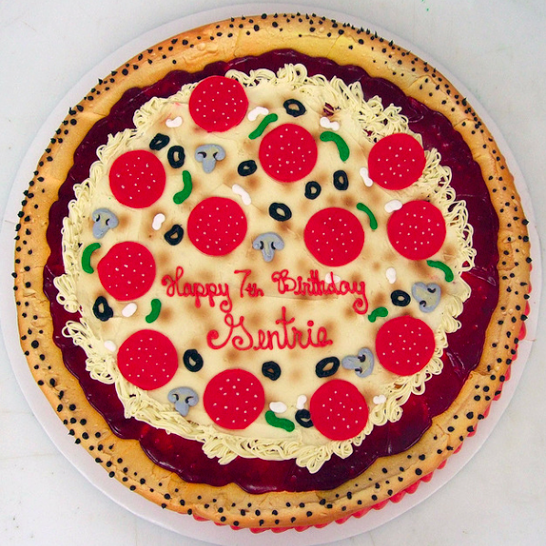 Photo via Live The Chaos
Pizza Cake: Feeling like a little pizza pie? How about a pizza cake? This one has such fun details, including fondant pepperoni, swirls of icing "cheese" and berry jam "pizza sauce."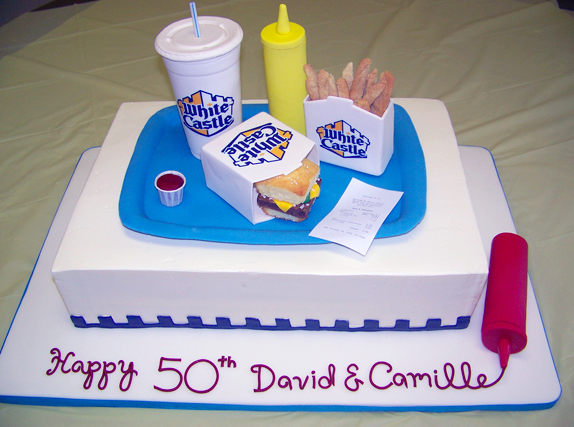 Photo via Cakes By Erin Salerno
White Castle Fast Food Cake: This fast food cake uses edible imagery to create the White Castle logo. Check out the mini slider burger made of vanilla and chocolate cake. Extra cool points go to this cake for having the ketchup squeeze bottle cleverly spelling out Happy 50th David & Camille.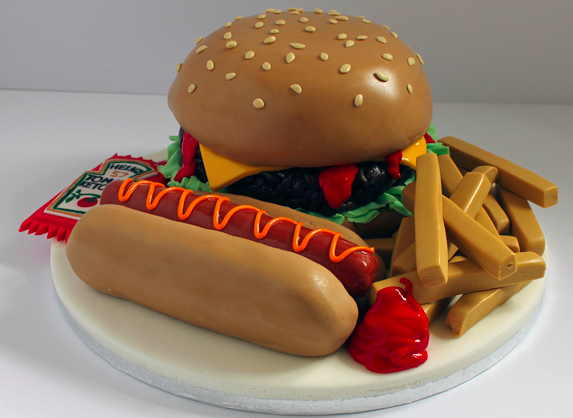 Cake via Paul's Creative Cakes
Hot Dog, Burger and Fries Cake: Are you a hot dog lover or a burger lover? Why not both? Don't forget the fondant fries and blob of shiny red ketchup though. I like the cartoon-like quality of this cake.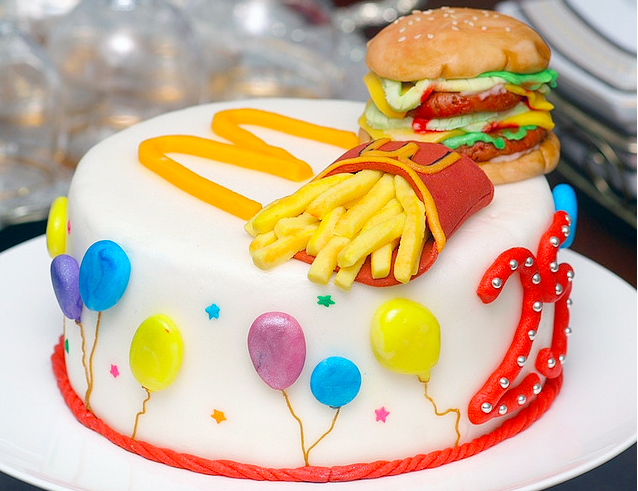 Photo via Min Baking Project
McDonald's Fries and Burger Cake Toppers: There's something so delicious looking about this particular Big Mac mini burger cake topper. I think it's because it looks quite realistic in the way that this is how your burger would actually come at McDonald's, gooping out the sides, a little bit messily stacked with the dips and sauces intermingled. I think it looks fantastic!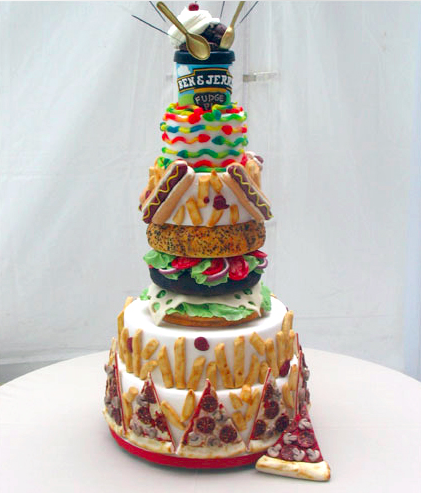 Photo via The Art Of Cake
Something-For-Everyone Stacked Fast Food Cake: The detail on this awesome stacked fast food cake by The Art Of Cake is unreal. Those pizza slices could absolutely fool you with their cheesy pepperoni and mushroom toppings. Perfect french fries and blobs of ketchup and the burger with swiss cheese, fresh tomatoes, onion and lettuce are spectacular. I like how this cake goes from savory to sweet, too, starting at the bottom! Who wouldn't want a huge pint of Ben & Jerry's ice cream for dessert?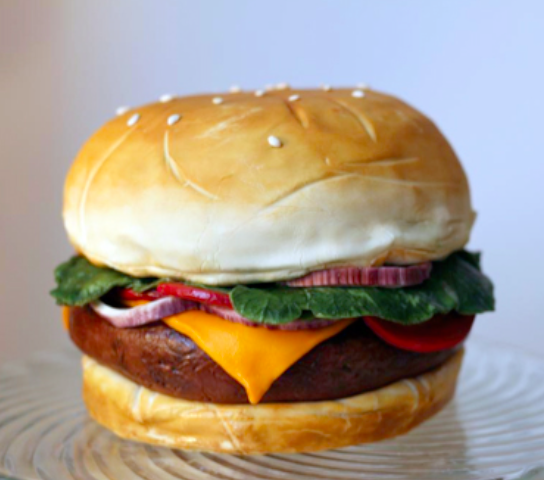 Photo via Winnged
Craftsy Member's Burger Cake: This wonderful burger cake was created by new-to-cake-decorating Craftsy member, Nathan! Pretty incredible looking burger; the "bun" is covered in fondant and painted with lustre dust. The delicious looking lettuce, onion, tomato and cheese are made of modeling chocolate! Intrigued? Craftsy offers a modeling chocolate class, Intro To Modeling Chocolate with Lauren Kitchens.
Are you feeling like going to a drive-thru now? Or are you excited about learning the cake decorating skills you need to make your own cakes like these? Thought so! Try out Craftsy's online cake decorating classes, featuring extensive lessons by the best cake artists in the business.
In case you missed it, you might also enjoy this peacock cake tutorial. Come back to the Craftsy blog tomorrow to learn about fun piñata cakes!