Fall is a busy season for us gardeners. We're putting the garden to bed, harvesting the lass of the summer crops, raking up leaves for the compost pile, and maybe you're assembling some creative fall container gardens to celebrate the harvest or make the yard look spooky for Halloween.
While there's a lot of work to do, we suggest taking a moment to plant these 5 spring-blooming garden bulbs this fall. It won't take but a minute to nestle a few bulbs here and there among the ornamental beds, or in large containers. Come spring when the weather is still drab, you'll be glad you planted these garden focal points as they burst forth with color in the garden.
1. Muscari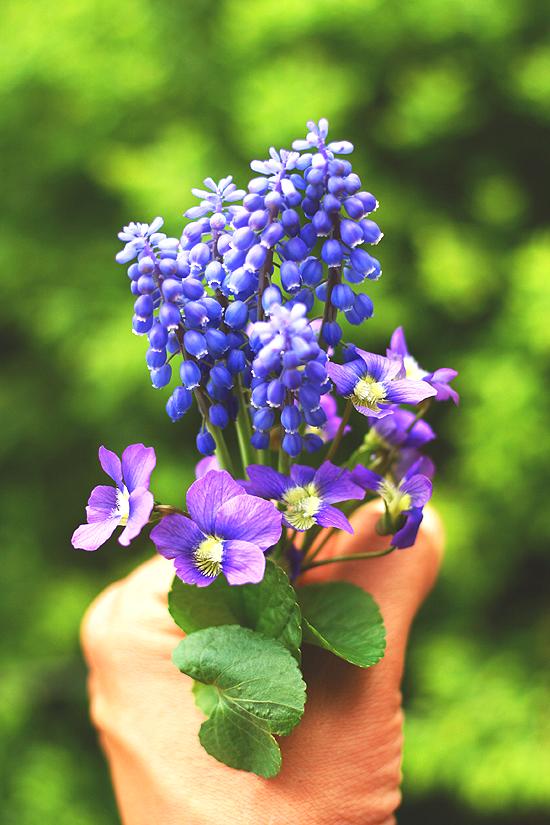 Muscari, also known as grape hyacinth, are wonderful bulbs to plant in the fall for spring. They are charming little bulbs with strappy, grass-like foliage that emerge early in the spring. Single spikes produces these tiny blooms that look like miniature grapes. I like to cut my flowers and make little floral arrangements with the wild violets that spring up in my yard.
Muscari is a perfect bulb for a gardener with a small space or maybe just a few containers that can be dedicated to ornamental and blooming plants. You can find varieties that bloom in blue, white and pink.
2. Crocuses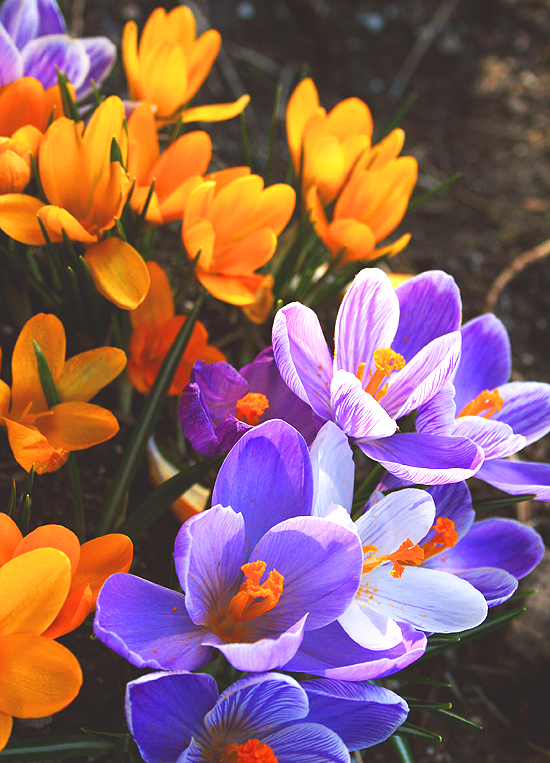 Crocuses are another one of my favorite bulbs to plant in the fall for spring. Like muscari, crocus bulbs are tiny and unassuming when you're planting them. But come spring, you'll understand why we plant such ugly little bulbs in our gardens.
Crocuses come in a variety of colors and are among my favorite miniature garden bulbs for small-space gardens. They're popular blooms with the native bees that visit my garden early in the spring. You can plant crocuses and muscari in garden beds, under deciduous trees, in containers and under your lawns. The green foliage of these bulbs starts to die back by the time you have to start mowing your lawn.
3. Lilies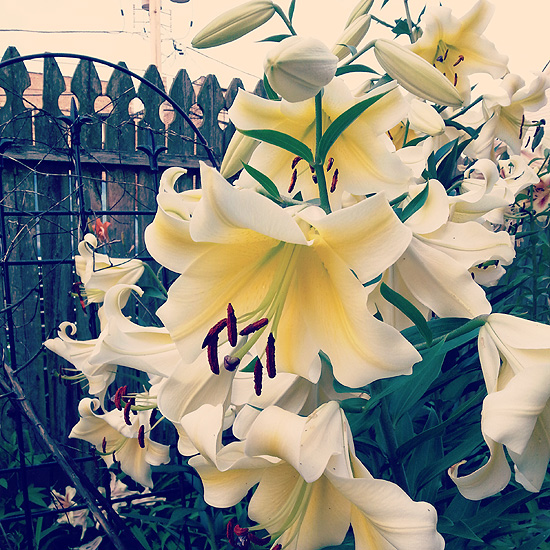 I can't sing the praises of lilies in the garden enough. I dedicated a whole post to the lovely lilies in my garden. Check it out and plant some this fall in your garden.
4. Tulips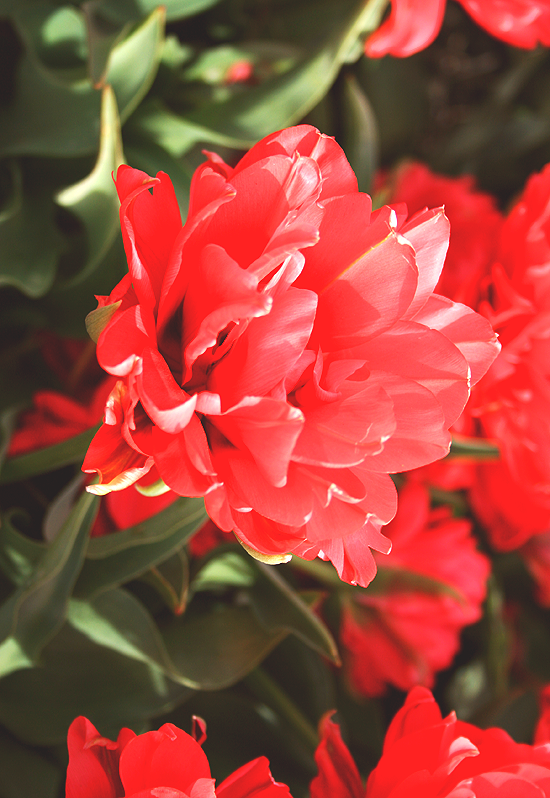 I wasn't always a fan of tulips. In fact, I kind of hated them. But that was because I wasn't aware of the diversity of flower shapes and colors available. Take the tulips above for example. In recent years double-flowering tulips have become favorites of mine. So have the flamboyant parrot tulips and species tulips, which are great for those gardeners who turn their noses up at any hybrid plants.
5. Alliums

Like the bulbs mentioned above, alliums will put on a show in the garden come spring. There aren't as many color options as some of these other spring-blooming bulbs, but they deserve a spot in any garden. Being related to onions, they can be a good candidate if you're searching for plants that deer and other garden critters will pass over in favor of more delicious plants.
Garden bulbs are the perfect plants for gardeners who may be too busy to keep up with a lot of pinching and trimming of foliage and flowers. You plant them once in the fall and these spring-blooming bulbs will burst forth with color in the cold and dreary spring days to provide you a much needed dose of color.
Other fall garden chores and cleanup can wait. Head to the garden center and pick up some of these spring bulbs to plant in the fall today. When the foliage of bulbs that bloom in the spring dies back in summer, you can plant annuals or summer-blooming plants right on top of the resting bulbs below.
Design a professional-looking garden at a fraction of the cost!
Sign up for Gorgeous Garden Design: Foliage & Focal Points today and enjoy expert guidance from garden pro Karen Chapman, who will answer all your questions, throughout HD video lessons.
Enjoy Instant Access Here >>
What makes online Craftsy classes great?
Learn for life! With lifetime access to your classes, you can watch lessons at your preferred pace and easily revisit your favorite concepts with just a click.
Kick up your feet! Enjoy classes anytime from the convenience of your home or even on-the-go with our mobile apps.
Get personalized guidance! Ask your instructor questions to receive all the answers and feedback you need to succeed.
Love it! There's no risk in trying with our 100% money back guarantee.